#350: Lodi by Creedence Clearwater Revival
Peak Month: June 1969
9 weeks on CKLG's Vancouver Chart
Peak Position ~ #3
Peak Position on Billboard Hot 100 ~ #52
YouTube: "Lodi"
Lyrics: "Lodi"
John Fogerty was born in 1945 in Berkeley, California. He was raised in nearby El Cerrito. He learned to play guitar in his youth. In 1959 John Fogerty, Stu Cook and Doug Clifford formed a trio named the Blue Velvets. Based in El Cerrito, California, just north of Berkeley, they were joined in 1960 by John's brother, Tom, who had been in a band called The Playboys. The Blue Velvets were influenced by Little Richard and other rock 'n roll greats. They played a number of hits on the radio and their cover of Bobby Freeman's "Do You Want To Dance," was an audience favorite. In 1964 the Blue Velvets changed their name to the Golliwogs. They had a Top Ten hit called "Brown Eyed Girl" in San Jose (#7), Fresno (#3) and Miami (#8) in the winter of 1965-66. It was a blues infused tune, but not the same-titled song that Van Morrison would take up the charts the following year.
In 1966 John Fogerty was drafted into the U.S. Army reserves and was stationed in Fort Bragg, NC, and then in Fort Knox, KY, and finally Fort Lee, VA. Meanwhile, Doug Clifford went into the United States Coast Guard Reserve. Fogerty and Clifford finished their respective service in 'Reserves in 1967. And in 1967 the Golliwogs changed their name to Creedence Clearwater Revival. This was because Saul Zaentz bought Fantasy Records and offered the Golliwogs a chance to record a studio album provided that they change their name.
The band chose the name to Creedence Clearwater Revival based on several different influences. Creedence was named after a friend of Tom Fogerty's named Credence Nuball. The first name, with its connotations of faith and trust, appealed to the group. They all knew what it meant to give credence to something that you accept or trust is true. Clearwater also had several meanings. It came initially from a beer commercial. However, clearwater also connected with the emerging environmental movement and its back-to-the-land sentiment, a sentiment that was expressed in the Woodstock Festival and Joni Mitchell's urgent message: "we've got to get ourselves back to the garden." The word, revival, reflected the band's intention to switch up their performance and recordings to a new level.
Doug Clifford was born in Palo Alto, California, and learned to play drums in his teens. Thomas Richard Fogerty was born in 1941 in Berkeley, California. In his teens he had a band called Spider Web that included future Seeds guitarist Jimmy Levine. Guitarist, Stu Cook, was also raised in the Bay Area. Their self-titled debut album was released in the summer of 1968. It included a cover of the Dale Hawkins classic from 1957, "Susie Q". Creedence Clearwater Revival recorded an eight minute version of the song and pitched it to the progressive FM station, KMPX, in San Francisco. The station began to play it prior to the release of the album which created a buzz for CCR all over the Bay Area. They also put a "z"in Suzie, perhaps to designate the artistic uniqueness of their cover of Dale Hawkins rock 'n roll classic. CCR's cover made it to #11 on the Billboard Hot 100 and #1 in Vancouver. It may be that CCR were thumbing through the "H" section of rock n' roll singers when they decided to cover another song by a singer with the surname of Hawkins. Another track of their debut album was "I Put A Spell On You."
It was their next album that put Creedence Clearwater Revival on a path of almost constant success. They hit #2 in February 1969 in Vancouver (BC) and in March on the Billboard Hot 100 with "Proud Mary". Their next single release was "Bad Moon Rising". The B-side was a song called "Lodi".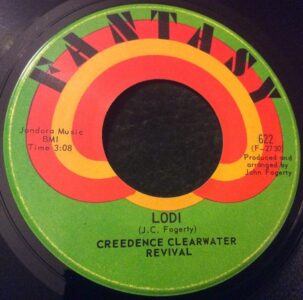 "Lodi" was written by John Fogerty. The song describes the plight of a down-and-out musician whose career has landed him playing gigs in the town of Lodi (pronounced "low-die"). Lodi is a small agricultural city in California's Central Valley. It's 70 miles east of Fogerty's hometown of Berkeley, 35 miles south of Sacramento, and 14 miles north of Stockton (CA).
Having arrived on a Greyhound into Lodi, the musician plays a one-night-stand in a local bar. However, the narrator finds himself stranded and unable to raise bus or train fare to leave Lodi. Though he has some positive press – "a man from the magazine said I was on my way" – this never materializes into anything, and the singers plans fall apart. Fogerty later said he had never actually visited Lodi before writing this song. He just picked Lodi for the song because it had "the coolest sounding name." However, the song unquestionably references the town's reputation as an uninteresting farm settlement, though the narrator does not make any specific complaints. The song's chorus, "Oh Lord, stuck in Lodi again," has been the theme of several city events in Lodi.
In 2006 City Councilwoman Susan Hitchcock was keen to advance her "Stuck On Lodi" slogan to promote the town. Though Crystal D'Angelo, a 16-year Lodi resident, enjoys Lodi, she told the Lodi News-Sentinel she resonates with the lyrics. "You can relate to it, especially if you're middle or lower class. You're stuck in Lodi. You can't leave Lodi."
Here in British Columbia, the Cariboo city of Quesnel has been ranked among the Top 5 most dangerous cities to live anywhere in Canada. It has a rate of physical assault three times higher then the average Canadian city, and a rate of sexual assault twice as high. The town of 23,000, located 75 miles south of Prince George, had an official rate of 13.5% unemployment in November 2019 – before the COVID-19 pandemic.
"Lodi" peaked at #1 in Madison (WI), Sacramento (CA), Albany (NY), St Petersburg (FL), Fort Lauderdale (FL), Greenville (SC), San Bernardino (CA), San Diego, and Jackson (MI), #2 in Oshkosh (WI), Davenport (IA), Billings (MT), Chicago, Fredericton (NB) and Stockton (CA), #3 in Vancouver (BC), Portland (OR), Houston and Cleveland (OH), #4 in Calgary (AB), New Haven (CT) and Savannah (GA), Detroit, #5 in Springfield (MA), Minneapolis/St. Paul (MN) and Hartford (CT), #6 in Denver, Birmingham (AL) and Miami, #7 in Cincinnati (OH), Kansas City (MO), #8 in Albuquerque, and #9 in Salt Lake City.
Just after "Bad Moon Rising"/"Lodi" had spent 5 weeks in the Top Ten of the CKLG Boss 30 in May-June, the band appeared in concert in Vancouver (BC) on July 11, 1969, at the Agrodome.
"Fortunate Son" was a song protesting the hypocrisy involved in the draft. In his autobiography, Fortunate Son: My Life, My Music, John Fogerty recalls, "You'd hear about the son of this senator or that congressman who was given a deferment from the military or a choice position in the military. They seemed privileged and whether they liked it or not, these people were symbolic in the sense that they weren't being touched by what their parents were doing. They weren't being affected like the rest of us." The flip side of "Fortunate Song" was "Down On The Corner", which also went to #1 in Vancouver.
They charted one single after another into the Top Ten. Many of their singles were double-sided hits. Of the 19 songs that charted on the Vancouver pop charts between September 1968 and May 1972, CCR charted 18 into the Top Ten and 17 of these into the top three positions. Nine of the songs made it to #1. Some of these #1 hits in Vancouver include "Run Through The Jungle" with its commentary about the proliferation of guns in America, "200 million guns are loading, Satan cries 'take aim.'" It's flip-side, "Up Around The Bend", also made it to #1. As the single was climbing the pop charts in Vancouver, CCR appeared in concert at the Pacific Coliseum on May 1, 1970.
Dissension between bandmates led to the demise of Creedence Clearwater Revival. Tom was not getting along with his brother, John. Tom left the band in 1971. Stu and Doug quit in 1972 after the band released the album, Mardi Gras, that critics panned.
Tom Fogerty moved to Arizona and from a blood transfusion contracted HIV in 1986 and died in 1990. Doug Clifford played drums on 14 albums between 1972 and 2008, including for Tom Fogerty, Sir Douglas Quintet and Steve Miller Band. Stu Cook, along with Doug Clifford, joined a roots band named the Don Harrison Band. In 1995 Cook and Clifford formed Creedence Clearwater Revisited, along with three other musicians.
John Fogerty wrote many of CCR's songs, including "Proud Mary", "Bad Moon Rising" and "Green River". After Creedence Clearwater Revival split up in 1972 John Fogerty pursued a solo career. His cover of "Jambalaya (On The Bayou)" climbed into the Top 20 across the USA and in Vancouver in 1972. Fogerty had a Top Ten single in 1984 titled "The Old Man Down The Road."
February 5, 2021
Ray McGinnis
References:
Creedence Clearwater Revival Bio, Creedence Online.net.
John Fogerty, Fortunate Son: My Life, My Music, (Little Brown and Company, 2015).
John Fogerty tour dates.
Ross Farrow, "Residents Are Proud to be 'Stuck In Lodi'," Lodi News-Sentinel, Lodi, California, October 31, 2006.
Kendra Mangione, "Quesnel is B.C.'s Most Dangerous City, in Canada's Top 5," CTV, November 20, 2019.
Hank Bordowitz, Bad Moon Rising: The Unauthorized History of Creedence Clearwater Revival, (Chicago Review Press, 2007).
Thomas M Kitts, Finding Fogerty: Interdisciplinary Readings of John Fogerty and Creedence Clearwater Revival, (Lexington Books, 2012).
Dorian Lynsky, " John Fogerty: 'I had rules. I wasn't embarrassed that I was ambitious'," Guardian, May 29, 2013.
Bob Baker, "Their Son was Fogerty's Baby," Los Angeles Times, October 23, 2002.
Cydney Henderson, "John Fogerty 'troubled' by President Trump's use of 'Fortunate Son,' issues cease and desist," MSN.com, October 17, 2020.
"Boss 30," CKLG 730 AM, Vancouver, BC, June 13, 1969.
For more song reviews visit the Countdown.