#1000: Look Who's Blue by Don Gibson
Peak Month: November 1958
9 weeks on Vancouver's CKWX chart
Peak Position #8
Peak Position on Billboard Hot 100 ~ #58
YouTube.com: "Look Who's Blue"
Lyrics: "Look Who's Blue"
In 1928 Donald Eugene Gibson was born in Shelby, North Carolina. His family was poor and he stopped attending school in grade two to help out his sharecropping parents. He developed an interest in music at an early age and was inspired by recording artists like Tennessee Ernie Ford. Don Gibson began performing at local clubs before he was 18. In his late teens he held down a number of jobs including a as soda jerk, baby diaper deliveryman and dishwasher. A friend came home from Paris, France, after World War II with records by the jazz guitarist Django Reinhardt. This enhanced Gibson who began to experiment with different styles by his mid-teens. In 1946, he became a regular with the Tennessee Barn Dance in Knoxville, but things weren't what Gibson expected. The fans wanted old-time country, not Gibson's brand of crooning. He hung on to the radio job but struggled on $30 a week earned playing beer joints.
After World War II he formed a band called the Sons of the Soil who, in 1949, appeared live on a local radio station, WHOS. With some early success, he recorded some records for Mercury Records and later with Columbia. Next he relocated to Knoxville, Tennessee, and played on the WNOX Midday Merry-Go-Round and Barn Dance series there. In 1950, he assumed control of the band, renaming them Don Gibson & His King Cotton Kinfolks and switching their musical direction to honky-tonk. Although their sound was more focused, they remained unsuccessful. Gibson continued to perform on the radio, as well as at Esslinger's Club in Tennessee. Wesley Rose of Acuff-Rose signed him to a writing contract after seeing Gibson perform in a Knoxville club.
Rose then moved his protégé over to MGM, and in 1956 Don Gibson scored his first hit with "Sweet Dreams", which climbed to #9 on the Billboard Country charts that year. But success was elusive for Don Gibson. Cover versions of "Sweet Dreams" by Faron Young and Kitty Wells cover of a song Gibson wrote in 1956 called "I Can't Stop Loving You," set Gibson on a trajectory to getting a record contract with RCA in 1957. At RCA it was Chet Atkins who began to produce all of Don Gibson's records through 'til 1964.
In 1958 Atkins produced Don Gibson's follow-up single to "Sweet Dreams" which was titled "Oh Lonesome Me", with "I Can't Stop Loving You" on the B-side. The single became a double-sided hit on the country charts and then crossed over with respectable success on the Billboard pop charts. The A-side made it to #7 on the Billboard pop charts, but only to #37 in Vancouver.
"Oh Lonesome Me" became a template for the "sound" Don Gibson that radio listeners would identify with. Other hits that followed included "Blue Blue Day" which became a #1 country hit in 1958. Gibson's fifth Top Ten country tune in 1958, "Look Who's Blue", charted on Top 40 radio in Vancouver (BC).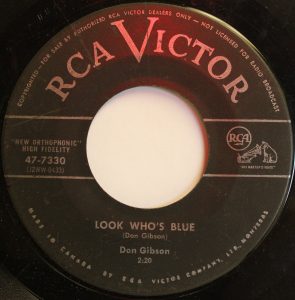 "Look Who's Blue" concerns a guy who's met someone who has left them "begging like a fool" and in "misery." It seems this guy has promised himself "There ain't no girl that's ever gonna tie me down." His plan was to live his days footloose and fancy free, painting the town each night. But now that has all changed since"I've met you." It seems he has a choice to make: abandon the promise he made to himself to keep on living it up as a single guy or face up to the impact the person he's met has had on his life and change his ways.
Before we meet someone who effects us deeply, love is an abstract idea. We can't plan how we'll feel when we encounter someone who starts to matter to us. We can hear others talk about their relationships and qualities they found in each other. The character in Gibson's song hasn't expected the person who walked into his life to have the impact they are having on him. What exactly is making him blue is speculation. Is this person elusive and playing hard to get? Is he going to have to grow up in some way? Does he feel ready to dive in, head first? Does he feel he doesn't have the right stuff to enter a steady relationship? And what is the response of his amour to all this begging? Is he being rebuffed? Does he feel he's humiliating himself to try to win them? All we can do as listeners is to hope this love interest does have pity on him and help make this a happy ending.
"Look Who's Blue" climbed peaked at #8 in Vancouver and #18 in Seattle.
After "Look Who's Blue", Don Gibson had more hits on the Billboard country charts with "Don't Tell Me Your Troubles" (1959), "Sea of Heartbreak" (1961), "Lonesome No. 1," "I Can Mend Your Broken Heart" (1962) and "Woman (Sensuous Woman)", a number one country hit in 1972. Some of these crossed over into the Billboard Hot 100 and charted on AM pop radio.
Gibson recorded a series of successful duets with Dottie West in the late 1960s and early 1970s, the most successful of which were the Number two country hit "Rings of Gold" (1969) and the top 10 hit "There's a Story Goin' Round" (1970). West and Gibson released an album together in 1969, titled Dottie and Don. Don Gibson also recorded several duets with Sue Thompson among these being the Top 40 hits, "I Think They Call It Love" (1972), "Good Old Fashioned Country Love" (1974) and "Oh, How Love Changes" (1975).
A talented songwriter, Gibson was nicknamed The Sad Poet since most of his material concerned feelings of being alone and of love and regret. His composition, "I Can't Stop Loving You", has been recorded by over 700 artists. It was a #1 hit for Ray Charles in 1962. He also wrote and recorded "Sweet Dreams", a song that would become a major 1963 crossover hit for Patsy Cline. Roy Orbison was a great fan of Gibson's songwriting, and in 1967, he recorded an album of his songs simply titled Roy Orbison Sings Don Gibson. Gibson's wide appeal was also shown in Neil Young's recorded version of "Oh Lonesome Me" on his 1970 album After the Gold Rush.It is one of the few songs Young has recorded that he didn't compose.
With success came personal setbacks, however. Drug and alcohol problems plagued him, and he later said that he became hooked on speed when a doctor first prescribed it for his weight problem. Unknowingly, he wrote the song that would best describe himself and his career in 1960: "(I'd be) A Legend in My Time." Eventually, he went back to Shelby, met Bobbi Patterson, who became his second wife and who was instrumental in turning his life around. They moved to Nashville where he devoted his life to songwriting, while continuing to record.
In 1973 Don Gibson was inducted into the Nashville Songwriters Hall of Fame. He became a member of the Country Music Hall of Fame in 2001 and the North Carolina Music Hall of Fame in 2010.
Following his death from natural causes on November 17, 2003, he was buried in the Sunset Cemetery in his hometown of Shelby, North Carolina. After he died the Don Gibson Theater opened on November 2009 in historic uptown Shelby. Originally constructed in 1939, the renovated art deco gem features an exhibit of the life and accomplishments of singer/songwriter Don Gibson, an intimate 400-seat music hall, and adjoining function space that can accommodate up to 275 people. One of the events that takes place each year at the Don Gibson Theater is the Don Gibson Singer Songwriter Contest, held over a weekend usually in the spring.
During his career he released 34 studio albums and 4 "best of" collections. He had 22 hits in the Top Ten on the Billboard Country charts, but only one single, "Oh, Lonesome Me", in the Top Ten on the Billboard Hot 100. In Vancouver, Don Gibson had four singles make the Top Ten. However, "Oh, Lonesome Me" was not one of those singles as it stalled at #37 in Vancouver.
September 21, 2017
Ray McGinnis
References:
Don Gibson Biography, Country Music Hall of Fame.org.
Don Gibson Biography, Alan Cackett.com.
Tony Russell, "Don Gibson: Singer-songwriter who was a pioneer of the Nashville Sound," Guardian, November 20, 2003.
Don Gibson Theater, Shelby, North Carolina.
Don Gibson Singer Songwriter Contest, Center For Creative Economy.com, January 2018.
"Sensational Sixty," CKWX 1130 AM, Vancouver, BC, November 3, 1958.
For more song reviews visit the Countdown.