#178: Marina by Rocco Granata/Willy Alberti
Peak Month: December 1959
14 weeks on Vancouver's CKWX chart
Peak Position #3
Peak Position on Billboard Hot 100 ~ #31/#42
YouTube: "Marina" ~ Rocco Granata
YouTube: "Marina" ~ Willy Alberti
Lyrics: "Marina"
Rocco Granata was born in 1938 in Figline Vegliaturo, Calabria, in southern Italy. He is an Italian-Belgian singer, songwriter, and accordionist. When he was ten years old he left sunny Calabria for the coal Belgian mining district. His father had moved to Belgium the year before and intended to return to Italy. But Salvatore felt so lonely in Belgium and sent for his family, his wife Ida and his two young children Rocco and Wanda. At school in Belgium, Rocco continue the solfège lessons he had started in Italy. At the age of fifteen his father let him drop out of school to start working as a mechanic in a Vespa-shop. Vespa and Italian engines were of great interest to Rocco. But his real passion was music.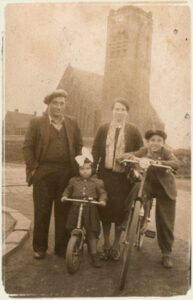 Despite his father not approving of his interest in music, Rocco was able to save money from his work as a mechanic to be able to buy an accordion. He played accordion and toured Belgium with his band, 'The International Quintet'. During the weekends when he played with his combo, at first he only played the accordion. But soon, he became the lead singer for the quintet. Rocco started choosing sentimental Italian ballads to sing on stage, and one of the songs especially loved by the dancing crowd was "Manuela".
So Rocco arranged to book a studio and record the old Italian standard, "Manuela", that Rocco gave a fresh profile. However, when he came to the recording studio, Rocco Granata hadn't thought about the fact that a 45 RPM single record has a B-side. So just before going to the studio and without second thoughts he decided to record "Marina". This was an improvisation that he had made during a performance intermission, while the rest of the band went to the bathroom and Rocco had the stage to himself. Rocco hadn't finished the lyrics of the song. In the studio, it was a great annoyance of the sound engineer to have to wait for Rocco to write some more lines before making the recording of "Marina".
He then recorded the songs "Manuela" and "Marina" as a 45 RPM single in 1959, pressing 300 copies. No record company believed in the song and wanted to release it. So, his friends took copies of the record and gave it to local cafes and soda shops to play in their jukeboxes. All of a sudden everybody wanted to buy that mysterious record that couldn't be bought anywhere. Now record companies found the way to the little miners house and bid for the rights. Rocco was stubborn – a 'testa Calabrese' – and a proud Italian: 'so you didn't believe in my song, now you are not getting it' So he kept the master rights to himself. Nonetheless, his made a record deal in Europe and in America with Laurie Records and Quality Records on the Reo label in Canada. It was the B-side, "Marina", which became an international hit.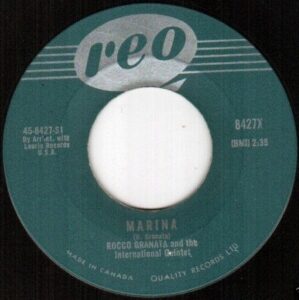 "Marina" sold over one million copies in Germany alone, and was awarded a gold disc. It has was covered by many other recording artists. One of the first was Willy Alberti. The song's lyrics concern a guy who falls in love with "a blackberry girl" named Marina. She does not know at first how he wants to win her love. When he first meets her his heart beats a thousand times. When he tells Marina he wants to love her, she kisses him and love blossoms. He vows to marry her as soon as possible. He asks her to never leave him, because it will be the ruin of him.
It was in New York City that Rocco Granata recorded an album to support the single. He had a live orchestra with him in the studio. The liner notes for the album Marina and Other Italian Favorites, states "Isolationism was one of the most frequently heard terms in international politics thirty years ago. The idea was, according to its proponents, that America could get along just fine in the world by simply throwing up a big fence all along its borders and shores. The advent of the jet age, with the shrinking effect on distances, makes such a concept preposterous. Today there are pipelines of politics and culture reaching out all over the world. And popular music is following the trend. Gone is the day when Broadway and the narrowly confined Tin Pan Alley gave birth to practically everything successful in popular music. In 1960, hit songs and hit records can spring from New Mexico, Texas or Tennessee, just as easily as they can from Broadway's faded palace of pop music, The Brill Building. The business reaches far beyond America. Foreign recordings have never been so popular as today. One of the most important of these…was performed by an unknown 21-year-old, Rocco Granata."
The liner notes from the album continued, "There have been other Italian recordings to have won favor in North America, or course. Few, however, have won the acclaim of the infectious Marina, sung and written by Rocco Granata. A year ago, this young transplanted Italian was an auto mechanic in Belgium. Music and singing were mostly for fun. The young man with the smile in his voice, and the deft, accordion-trained fingers, spent his nights in the cafes and his days at the repair shop. A turning point came when a nightclub impresario underwrote Granata's first recording. The decision was vindicated when across the ocean in America the release of the record caused a great uproar of excitement. Now Rocco Granata has put aside his mechanic's tools for good. Already, his energies have been channeled into into this, his very first album…. Simply put the needle down."
Other covers of "Marina" include recordings by Marino Marini, Ilham al-Madfai, Dalida and Louis Armstrong. The song "Marina" was so popular in Belgium and the Netherlands that many parents named their baby daughters Marina. The catchy melody was even picked up by President John F. Kennedy, whose cook stated in an anecdote – in between recipes – that when the president walked into the kitchen he often whistled the song 'Marina Marina'.
Rocco Granata's original recording of "Marina" peaked at #1 in Belgium, Germany, Italy, the Netherlands and Norway. In North America, "Marina" peaked at #1 in Ottawa, #3 in Vancouver (BC), Milwaukee (WI), Farmington (ME), and Philadelphia, #4 in Montreal, #5 in Chicago, Buffalo, and Providence (RI), #6 in Phoenix, #7 in Toronto and St. Louis, #8 in Minneapolis/St. Paul and Dauphin (MB), #9 in Portsmouth (NH) and Mexico City, and #10 in San Francisco and Cleveland.
On the strength of Rocco Granata's instant hit in Belgium, a singer in the Netherlands recorded "Marina". Willy Alberti (born Carel Verbrugge) was born in Amsterdam in 1926. The cover co-charted with the Rocco Granata original on the CKWX Sensational Sixty.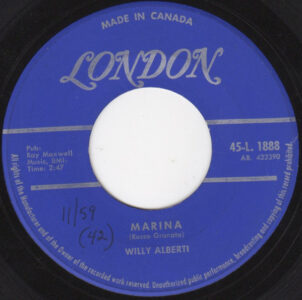 Willy was the third of eight children, and began singing as a child as part of the Verbrugge family singing group. Willy began recording professionally in the early 40s. After the war Alberti established himself in the Netherlands with Italian songs. He became increasingly popular in the Netherlands in the 1950s, when he had a string of hits beginning with a cover of Nel blu dipinto di blu, which climbed to #4 in the Netherlands in 1958. Alberti had more chart success in the Netherlands with "Come Prima" (#2 in 1958), "Piove" (#1 in 1959), "Und Marcia Infa" (#3 in 1959), "Marina" (#1 in 1959) and duets with his daughter Willeke, "Sei Rimasta Sola" (#8 in 1963), "Dat Afgezaagde Zinnetje" (#2 in 1967 and "Niemand Laat z'n Eigen Kind Alleen" (#5 in 1983).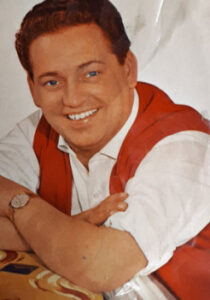 Willy Alberti died of liver cancer in 1985 at the age of 58.
Willy Alberti's cover of "Marina" peaked at #1 in Albany (NY), #3 in Vancouver (BC), Troy (NY), and New York City, #5 in Newark (NJ), #8 in Providence (RI), #9 in Washington D.C., and #12 in Portland (OR).
After the success of "Marina", Granata toured the world, including dates at Carnegie Hall in Manhattan, Montreal and in Toronto's Massey Hall. After his performances in New America, Rocco returned to Europe and especially to Germany. A feature film entitled Marina was released in 1960, which set the stage for a string of German hits. He also appeared in Italy at the Sanremo Festival in 1961. He composed, recorded and scored hit after hit. He played in seven musical movies and toured and toured in Europe.
Rocco's most notable European hits after "Marina" were "La Bella" (#4 in Belgium – 1960), "Buona notte bambino" (#4 in Belgium, #5 in Germany – 1963), "Du schwarzer Zigeuner" (#5 in Belgium – 1964), "Dreh' dich noch einmal um" (#10 in Belgium – 1964), "Noordzeestrand" (#9 in Belgium – 1964), "Hello buona sera" (#3 in Belgium – 1967), "Sarah" (#4 in Belgium – 1970), "Jessica" (#5 in Belgium – 1971), "Zomersproetjes" (#4 in Belgium – 1972) and "Dansen op de daken" (#4 in Belgium – 1973).
Granata later became a successful record producer. He owned both Cardinal Records and Granata Records. Rocco Granata has produced Marva, Louis Neefs, Miel Cools, and De Elegasten. In 1989, Granata commissioned a dance remix of "Marina". It topped the Belgian charts as well as those of Italy, France and Germany. On the strength of his songs second climb to the top of the international charts, Rocco toured in South America.
Rocco Granata has appeared regularly on Belgian television, and served as a jury member for the 2002 Flemish preliminaries for the Eurovision Song Contest. In March 2000 he was awarded the ZAMU Lifetime Achievement Award by the Belgian music industry. Over his career, Rocco Granata has released over 65 singles. He has published an autobiography. In 2013 his early life was captured in another movie named Marina.
The film, Marina, tells how Salvatore Granata is a poor man who lives with his wife, son and daughter in Calabria, Italy. One day Salvatore decides to move to Belgium to work in the coal mine of Waterschei as a Gastarbeiter (Guest worker). His family will stay in Italy as Salvatore will only be in Belgium for three years. He hopes to earn much money in a rather small timeframe so he can buy a forge for his son Rocco who is now still a 9-year-old boy. After a year, Salvatore decides his family should be with him, so they also move to Belgium. They soon discover the life of a gastarbeider is difficult: they have to live in some kind of barracks, they are neglected by the Belgian people and they do not earn much. They are astonished when they hear Salvatore signed a contract of five years and male children of gastarbeiders are obliged to work in the mines as soon they leave high school. Rocco meets Helena, the daughter of the local grocer shop. However, the man is a racist and forbids his daughter to play with Italian boys.
Ten years pass and Salvatore still works in the mines. They now live in a house they rent from the mine. Rocco takes accordion lessons. One day, he falls off his bicycle and his accordion is broken. His music teacher advises him to buy a new accordion, but Rocco's father refuses as he does not want to invest in the musical instrument. It turns out Rocco is a rather good mechanic and he gets an apprenticeship in the local automobile repair shop. Rocco's mother, Ida, earns some money by washing and ironing the clothes of other gastarbeiders. Salvatore, who is a selfish, jealous patriarch is unaware of Ida's job. Rocco uses his savings (as well as a part of Ida's money) to buy a new accordion. He can spend up to ten thousand Belgian francs, but the store owner (played by the real Rocco Granata) asks 25 000 francs for the accordion he wants to buy. However, after Rocco plays him some songs, the store owner is impressed and agrees to let Rocco buy the instrument on credit.
The chronicle of Rocco Granata's early life in the 2013 film, Marina, is a window into the struggles of immigrants to a new country, and the drive to succeed. Marina was first shown at the Montreal World Film Festival in August 2013. It won numbers of awards internationally. Matteo Simoni, who plays Rocco Granata as a teenager in the film, was nominated for Best Actor at the Ostend Film Festival in Ostend, Belgium, and Most Promising Actor at the Magritte Awards. Marina won Best Flemish Film at the Magritte Awards. Marina contains a cameo, with Rocco Granata himself playing the role of the salesmen that sells him his first instrument.
Rocco stopped performing in 2016. Over the years he has enjoyed golf, and has managed to have a handicap as low as 7.
On his website, the biography of Rocco Granata concludes, "Although Rocco has known great success in life he remained 'just Rocco'. He visits his native village Figline Vegliaturo once in a while and enjoys to take long walks late in the evenings when everybody is inside and people don't stop him all the time inviting him to have a drink or a cup of coffee or a plate of pasta. He doesn't want to offend anybody by refusing and enjoys reviving the happy memories all by himself."
April 8, 2022
Ray McGinnis
References:
"Rocco Granata Biography," roccogranata.be.
"Marina – Film," Wikipedia.org.
"Willy Alberti – Bio," Wikipedia.org.
"Sensational Sixty," CKWX 1130 AM, Vancouver, BC, December 21, 1959.
For more song reviews, visit the Countdown.