#1116: Mary, Mary Lou by Bill Haley
Peak Month: January 1958
4 weeks on Vancouver's Teen Canteen Chart
Peak Position #7
Peak Position on Billboard Hot 100 ~ did not chart
YouTube.com: "Mary, Mary Lou"
Lyrics: "Mary, Mary Lou"
Bill Haley was born in Michigan in 1925. His dad played the mandolin and banjo while his mom played the piano. In a story Haley would relate years later in a biography, he recalled as a child when he made a simulated guitar out of cardboard, his parents bought him a real one. Sleeve notes accompanying the 1956 Decca album Rock Around The Clock describe Bill Haley's early life and emerging career: "Bill got his first professional job at the age of 13, playing and entertaining at an auction for the fee of $1 a night. Very soon after this he formed a group of equally enthusiastic youngsters and managed to get quite a few local bookings for his band."
The sleeve notes on the album further related, "When Bill Haley was fifteen he left home with his guitar and very little else and set out on the hard road to fame and fortune. The next few years, continuing this story in a fairy-tale manner, were hard and poverty-stricken, but crammed full of useful experience. Apart from learning how to exist on one meal a day and other artistic exercises, he worked at an open-air park show, sang and yodelled with any band that would have him, and worked with a traveling medicine show. Eventually he got a job with a popular group known as the "Down Homers" while they were in Hartford, Connecticut. Soon after this he decided, as all successful people must decide at some time or another, to be his own boss again – and he has been that ever since.' These notes fail to account for his early band, known as the Four Aces of Western Swing. During the 1940s Haley was considered one of the top cowboy yodelers in America as "Silver Yodeling Bill Haley".
The sleeve notes conclude: "For six years Bill Haley was a musical director of Radio Station WPWA in Chester, Pennsylvania, and led his own band all through this period. It was then known as Bill Haley's Saddlemen, indicating their definite leaning toward the tough Western style. They continued playing in clubs as well as over the radio around Philadelphia, and in 1951 made their first recordings on Ed Wilson's Keystone Records in Philadelphia."
After recording a number of R&B cover tunes in the early 50s, the band recorded "Crazy Man, Crazy", in 1953. This was the first rock 'n roll record to make it into the American pop charts. It peaked at #11 on the Cashbox charts and was the first rock 'n roll song to be seen live in television in America. The song spent three months in the Top 30 and was a sign of something new musically. Contrast the song with what was number one during this time: "Song From Moulin Rouge" by Percy Faith, "Vaya Con Dios" by Les Paul and Mary Ford and "No Other Love" by Perry Como.
In June 1954 Big Joe Turner's suggestive song, "Shake, Rattle And Roll", made it to #1 on the American R&B charts. He had lines like "over the hill and way on underneath…/you make me roll my eyes and baby make me grit with my teeth." Bill Haley & His Comets decided to record a less sexually explicit version passed the American censors in the music and broadcasting industry and went on to peak at #7 in August 1954 and spend six months on the Billboard Top 40 pop charts.
In 1955 Bill Haley & His Comets had the first number one rock 'n roll hit with "Rock Around The Clock." It would sell over 25 million records and remains in 2017 the fifth biggest selling single in over a hundred years of recorded vinyl music sales. The song got exposure in the 1954 movie about juvenile delinquency called Blackboard Jungle. The song was inducted into the Grammy Award Hall of Fame in 1974 for its "historical significance." Haley would score seven more hits into the Top 20 in the American charts before the end of 1956. His most successful follow up was "See You Later Alligator" which peaked at #6 in February 1956.
In 1956 Haley's band starred in two rock 'n roll films: Rock Around the Clock and Don't Knock the Rock. This gave additional exposure to singles they released that year as the films exclusively showcased "white" teenagers dancing to rock 'n roll. African-American performers in the films were The Platters in the first movie and Little Richard in the second.
Bill Haley & His Comets appeared on The Texaco Star Theatre hosted by Milton Berle in May 1955, and The Ed Sullivan Show in August. Berle had commented that the song would go nowhere, but by August, Ed Sullivan had to have the band on his show. On June 27, 1957, Bill Haley and His Comets performed in concert at the Kerrisdale Arena in Vancouver (BC). The concert was opened by the pioneering local rock band the Prowlers.
Bill Haley and His Comets also appeared twice on both of Dick Clark's TV shows (American Bandstand and Saturday Night Beechnut Show) between 1957 and 1960.
When Bill Haley & His Comets recorded "Mary, Mary Lou" at the end of 1957, the band had seven members. Bill Haley was lead vocalist and played double-guitar. Johnny Grande was a piano and accordion player with Bill Haley from 1949 when Bill Haley and the Saddlemen was formed. He continued with the re-formed Bill Haley & Hi Comets until 1963. Billy Williamson was a steel guitar player who was also an original member of the Saddlemen and continued with Bill Haley & His Comets until 1963. Franny Beecher was the lead guitarist and had performed first with Benny Goodman's Orchestra in 1948. Rudy Pompilli was a saxophone player who joined Bill Haley & His Comets in 1955 after the departure of saxophonist Joey Ambrose. Pompilli would almost continuously be a member of the band, including being the band's road manager, until 1975. Al Rex was a bass player with the Saddlemen from 1949, and continued with Bill Haley & His Comets until 1960. Ralph Jones, from 1955 onward, was the bands drummer.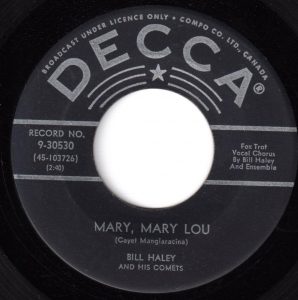 Songwriter of "Mary, Mary Lou" was Cayet Mangiaracina. He would later team up with Gene Pitney to co-write "Hello Mary Lou" for Ricky Nelson and "He's A Rebel" for The Crystals. "Mary, Mary Lou" concerns the surprise a guy who is going steady with her expresses when he finds out she has been double-dating. Or, at least discerning there is someone else who loves her more than the startled boyfriend in Haley's song. The song was perhaps a warning, to check the nuances on how each successive date goes with someone you're going steady with, to avoid being blindsided with the kind of news the boyfriend gets from Mary Lou. (Unless, of course, he just wasn't paying any attention).
Bill Haley & His Comets would have one more song in the Top 30 in the USA called "Skinnie Minnie" in the beginning of 1958. After that Bill Haley's band fell off the radar except for rock 'n roll revival shows that kept them touring until Haley died in 1981. Though they were pioneers in bringing rock 'n roll to mainstream pop music starting in 1953, their Top 30 presence was a relatively brief five year span ending in early 1958. By 1958 Bill Haley was 33 years old. As teenagers tastes shifted to their peer group they were buying songs like "He's Got The Whole World In His Hands" by 14 year old Laurie London, "Just A Dream" by 19 year old Jimmy Clanton, "Do You Wanna Dance" by 17 year old Bobby Freeman and 16 year old Robin Luke's hit "Susie Darlin'". By 1958 "Rock Around The Clock" and the juvenile delinquent movie, Blackboard Jungle, were four years old. A whole cohort of teens could hardly remember way back then or care much about Bill Haley, a hit maker of an "oldie but a goodie."
A changing line up of Bill Haley and His Comets over the decades has included over one hundred musicians. Other original members of The Comets continued to perform with other musicians into the 21st Century. The current line-up includes Bill Haley Jr. The website for Bill Haley Jr. and the Comets includes future shows as far in advance as the Clarke Center for the Performing Arts in Arroyo Grande, California, on October 13, 2018, and a Malt Shop Memories Cruise sponsored by Time Warner from November 7 to 11, 2018.
April 13, 2017
Ray McGinnis
References:
Bill Haley bio, Bill Haley.com
Bill Haley Biography ~ Radio Swiss Jazz.ch
Liner notes, Rock Around The Clock, Bill Haley and His Comets, Decca Records, 1955
Blackboard Jungle ~ opening sequence in film with "Rock Around The Clock," MGM, 1955
Don't Knock The Rock, Columbia Pictures, 1956.
Rock Around The Clock, Columbia Pictures, 1956.
Bob Stanley, "Bill Haley: Rock Around the Clock – the World's First Rock Anthem," Guardian, London, UK, May 22, 2014
"Fans Watch Bill Haley and the Comets in Concert at Vancouver's Kerrisdale Arena on June 27, 1956," Calgary Herald, June 26, 2017
"The Vancouver Sun's Review of Bill Halely and His Comets Concert at Vancouver's Kerrisdale Arena, June 27, 1956," Montreal Gazette (reprint), June 26, 2013 (Stanley Bligh, He's Nauseated, Sun Critic On Rock 'n Roll: Ultimate In Musical Depravity, Vancouver Sun, June 28, 1956)
Bill Haley Jr. and the Comets.com.
"Red Robinson's Teen Canteen Survey," CKWX 1130 AM, Vancouver, BC, January 11, 1958.
For more song reviews visit the Countdown.