#649: Memories Of Maria by Jerry Byrd
Peak Month: January 1962
7 weeks on CKWX's Vancouver Charts
Peak Position ~ #3
Peak Position on Billboard Hot 100 ~ #74
YouTube.com: "Memories Of Maria"
Gerald Lester "Jerry" Byrd was born in Lima, Ohio, in 1920. As he retells it in his autobiography, Byrd was taken to a "tent" show at the age of 13. It was the during the Great Depression. But for his friend, Richard Bennett, who came from a wealthier family, Byrd would never have seen the show. His friend suggested they go and the friend told Byrd he would pay for the "one dollar ticket" after Byrd told him "I can't. I don't have any money." Byrd says at the age of eleven he had never seen a one dollar bill. In inflation adjusted dollars $1.00 in 1933 is equivalent to $19.40 in 2019. Byrd recalls "nobody has any money in those days. There would be maybe two shows a year that came to town, and the show would come for one day and be gone the next. So if you had the money to go, you went." At the "tent" show he saw a band from Hawaii. Byrd recalls "There were six or eight of them, and the stage drop was a scene with palm trees along an ocean shoreline, and a volcano erupting. All that exotic stuff, like in the movies. And the music – you couldn't have captured my attention any more if you hit me on the head with a hammer. But it was the sound of the steel guitar that captivated me the most."
Young "Jerry" Byrd was transfixed. He recalls he didn't even know exactly what the name of the instrument was that they were playing on stage. He asked Santa Claus for a guitar for Christmas. Though he was thirteen years old, in 1933 it wasn't unusual for a teenager in his community to still believe in Santa. Byrd was disappointed on Christmas morning to find not a guitar, but a banjo-ukulele under the Christmas tree for him. He could already play every chord in the accompanying chord book that Santa had also given him. But a fire was lit and Jerry Byrd knew what he wanted to do for the rest of his life. Subsequently, he was given an acoustic guitar the following year which cost his dad $7.50.
Byrd played steel guitar on The Happy Valley Boys 1941 recording "You Don't Love Me"/"Weeping Willow Valley". Byrd became a regular session player in Nashville by the mid-1940's. He was influential in the development of the "Nashville Sound." He played guitar on Hank Williams "Lovesick Blues" and "I'm So Lonesome I Could Cry". He played in the recording studio for Jerry Murad's Harmonicats, Homer & Jethro, Pasty Cline, Ernest Tubb, Red Foley, Marty Robbins, Chet Atkins, Guy Mitchell, Burl Ives, Skeeter Davis, Roy Acuff, Jerry Lee Lewis, Don Ho, Roy Orbison and many others.
In the summer of 1960 Jerry Byrd appeared on the C-FUN Hi-Fi Forty Plus Ten with the instrumental "Theme From Adventures In Paradise". Opening with bird calls and layered with ethereal backing female singers singing "ah-ah-ah-ah," the tune peaked at #40 on the CFUN chart. It climbed to #5 in San Francisco. A followup single was a commercial flop. Next, in 1961 Jerry Byrd recorded a steel guitar instrumental tune titled "Memories Of Maria".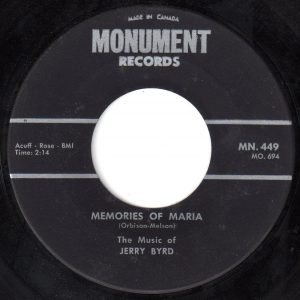 "Memories Of Maria" is an instrumental co-written by Roy Orbison and Joe Melson. Both were born in Texas, Melson in 1935 and Orbison in 1936. Orbison was nicknamed the "Big O" for his four octave range from baritone to 1st tenor. Between 1960 and 1965 Roy Orbison had twenty Top Ten hits in Vancouver.
Joe Melson was raised on a farm in northeast Texas. In his late teens he was lead guitarist and lead vocalist for a rockabilly band called The Cavaliers. Melson and Orbison met in Midland, Texas, in 1959. Orbison and Joe Melson, co-wrote Orbison's hits "Only The Lonely", "Blue Angel", "I'm Hurting'", "Running Scared", "Crying", "The Crowd", "The Actress" and "Lana". They also co-wrote "Blue Bayou". Joe Melson also recorded seven singles with Hickory Records between 1960 and 1963. He switched labels to EMP there he released two more singles in 1965. Though some of these discs got a spin by a few DJ's across the USA, none of them were commercially successful. Over the past five decades Joe Melson has appeared in concert at rockabilly and nostalgia festivals. In 2002 Melson was inducted into the International Rock-A-Billy Hall of Fame. Melson's most recent single release was in 2014 with Australian recording artist Damien Leith.
"Memories Or Maria" is a tune written for Hawaiian steel guitar. In 1889 Joseph Keruku invented the Hawaiian steel guitar. At first the implements used to slide on the strings were metal pocket knives and metal combs. Some of the earliest steel bars used to slide across the strings were rectangular and often got caught on the strings while playing a song. To fix the problem, musicians in Hawaii made cylindrical "bullet-end" steel to slide across the fingerboard. These cylindrical steels were made of monel steel. Although they didn't get caught in the strings, this steel was a softer steel. Over time grooves would appear in the steel slide from repetitive sliding back and forth on the strings. To solve this problem steel slides were next made of tool steel and chrome plated the steel. Another challenge when pressing a steel slide along the guitar strings was the fingerboard. If the strings were pressed against the fingerboard too hard it made a discordant sound. So Joseph Kekuku decided to raise the strings up from the neck of the guitar. Over time, Kekuku decided to make their steel guitars square and hollow to increase the sound of the reverberation from the steel slide on the strings. Fingerpicks were invented to fit around the guitar players thumb.
Aside from its #3 chart peak in Vancouver, "Memories Of Maria" also climbed to #3 in Seattle, #4 in Los Angeles and Phoenix. It stalled at #11 in San Francisco. But in 33 states in the USA the song didn't even make the pop music playlists, including in Hawaii and in Tennessee where Jerry Byrd was recording mostly as a session musician. In another dozen states "Memories Of Maria" got scant attention. Jerry Byrd's final single release on Monument Records was in 1962 with another Orbison-Melson composition titled "Valley Of Roses". The tune again featured the Hawaiian steel guitar, but didn't catch on. At the time record buyers were snapping up copies of the "Loco-motion" by Little Eva, "Wah-Wahtusi" by The Orlons, "Vacation" by Connie Francis, "Roses Are Red" by Bobby Vinton and "Palisades Park" by Freddy Cannon.
In 1972, Byrd moved for Hawaii. He was surprised to learn that the Hawaiian steel guitar had fallen out of fashion in Honolulu and elsewhere on the Hawaiian islands. Byrd decided to make it his mission to reacquaint Hawaiians with the Hawaiian steel guitar and the story behind its creation. Byrd taught many youth how to play the Hawaiian steel guitar. His contributions were noted in numerous ways. In 1978 the Governor of Hawaii, George R. Ariyoshi, commended Byrd for his work with youth when designating October 1978 Country Music Month in Hawaii. Jerry Byrd succeeded and ensured the place of the Hawaiian steel guitar into the 21st century. Byrd taught Jerry Garcia of The Grateful Dead how to play Hawaiian steel guitar, as well as Jimmie Vaughan of the Fabulous Thunderbirds. Byrd was the first to sign Dolly Parton to a record deal.
Between 1953 and 2003 Jerry Byrd recorded 16 studio albums with titles like On the Shores of Waikiki, Christmas in Hawaii, Blue Hawaiian Steel Guitar and Memories Of Maria. In 2003 Jerry Byrd published his autobiography, It Was a Trip: On The Wings of Music. From 1972 until his death in 2005, Byrd had a regular weekly gig with his trio at the Royal Hawaiian Hotel. He also had a regular gig at Halekulani's House Without a Key. Jerry Byrd died at age 85 of Parkinson's disease.
January 4, 2019
Ray McGinnis
References:
Jerry Byrd, It Was a Trip: On The Wings of Music, Centerstream, 2003.
Wayne Harada, Jerry Byrd, Steel Guitar Pioneer, Honolulu Advertizer, April 12, 2005.
Hawaiian Guitar Special with Jerry Byrd interview, Hawaiian Public TV, 2009.
Steel Guitar, Wikipedia.org.
"The Fabulous Forty," CKWX 1130 AM, Vancouver, BC, January 13, 1962
For more song reviews visit the Countdown.