#852: In The Middle Of A Dark, Dark Night by Guy Mitchell
Peak Month: August 1957
16 weeks on CKWX chart
Peak Position ~ #16
Peak Position on Billboard Hot 100 ~ #83
YouTube.com: "In The Middle Of A Dark, Dark Night"
In 1927 Albert George Cernick was born in Detroit, Michigan. His parents were immigrants from Yugoslavia after World War I. in 1938 he parents moved to California. At the age of 11 he got a contract with Warner Brothers Pictures as a child actor. He also was featured on radio station KFWB in Los Angeles. He worked as a saddle maker by day and a singer at night. The prospect of roles in Hollywood failed to materialize. So the family moved to San Francisco where young Guy became part of Dude Martin's band. Mitchell entered the U.S. Navy in 1945 for two years. Returning to civilian life, Mitchell joined the Carmen Cavallaro band as the featured vocalist in late 1946. In 1949 he won an Arthur Godfrey Talent Scout's Award and got a record contract with the Columbia label.

His debut single, "My Heart Cries For You", climbed to #2 on the Billboard pop charts in the winter of 1950 into the spring of 1951. It was the #15 song of the for the year 1951 according to Billboard. The song peaked at #1 on the Cashbox singles chart in February '51. It also climbed to #1 in Australia. The B-side of the record, "The Rovin' Kind", climbed separately to #4. Later in 1951 Mitchell was back at the #2 spot with "My Truly, Truly Fair". In 1952 Mitchell was back in the Top Ten with "Pittsburgh, Pennsylvania." While in America Mitchell missed the Top Ten for the next three years, he racked up eight Top Ten hits in the United Kingdom. Of these, "Look At That Girl" climbed to #1. In the mid-50's Mitchell appeared in several Hollywood movies: Those Redheads From Seattle (1953) and Red Garters (1954).
In 1956 Mitchell had an international #1 hit titled "Singing The Blues". He knocked Elvis Presley out of the #1 spot and stayed at #1 for ten weeks to the end of January 1957. In 1957 he racked up several more Top Ten hits. In Vancouver these included "Take Me Back Baby" at #4 and "Rock-A-Billy" at #2. The later was a rock 'n roll tune, as was "Knee Deep In The Blues", which peaked at #11. His follow up to these chart successes was a #25 hit in the UK titled "In The Middle Of A Dark, Dark Night".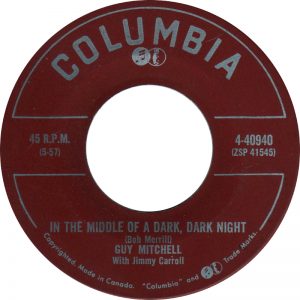 "In The Middle Of A Dark, Dark Night" is a whimsical song about a guy who is missing his sweetheart. She's left him, but the song begins with her in his bedroom, waking him up. It's all sunbeams, rainbows and birds up before the dawn reflecting the return of spring to his heart. In 2018, if someone wrote a song like this there might be some radio listeners wondering how she got into his bedroom. But, back in 1957 the scenario was quite innocent. In his imagination, she must have kept a key. Perhaps the breakup was only recent? This little known hit in Vancouver might be fun for local ukulele groups to try.
While none of the six singles that Mitchell charted on CKWX for the rest of 1957 or 1958 cracked the Top 20, he spent 34 weeks on the pop charts between September '57 and June '58. Overlapping his chart run was a brief run at his own TV show, The Guy Mitchell Show. ABC TV ran the series from October '57 to January '58. But changing tastes in pop music, with the onslaught of rock 'n roll proved too challenging and Mitchell's TV show ratings didn't merit further broadcasts. His swan song was his second #1 hit, "Heartaches By The Number", in late 1959.
In 1961 Guy Mitchell got a role as Detective George Romack in Whispering Smith, an NBC series starring Audie Murphy in 1961. After the first episode of Whispering Smith, the U.S. Senate Juvenile Delinquency subcommittee claimed that the series was excessively violent. A fistfight scene and a mother horsewhipping her son and a man laughing after shooting another man six times in the stomach was considered an outrage.
Mitchell performed at times over the next three decades, though he "retired" in the 1970's. However, problems with alcohol and deteriorating health limited his concert appearances. In 1991 he mounted a tour in Australia, but during the tour was injured while riding a horse. His last concert tour in the UK was in 1996.
March 23, 2018
Ray McGinnis
References:
"Guy Mitchell Was Second Only To Elvis In 1956," Michigan Rock and Roll Legends.com.
Lawrence Staig, "Obituaries: Guy Mitchell," Independent, London, UK, July 4, 1999.
Sue Gossett, The Films and Career of Audie Murphy: America's Real Hero, (Empire Publishing, Las Vegas, NV, 1996), 176.
"Top 50 Songs of the Week," CKWX 1130 AM, Vancouver, BC, August 25, 1957.
For more song reviews visit the Countdown.