#1356: Midnite Blues by Charlie Rich
Peak Month: May 1962
9 weeks on Vancouver's CFUN chart
Peak Position #19
Peak Position on Billboard Hot 100 ~ did not chart
YouTube.com: "Midnite Blues"
"Midnite Blues" lyrics
Charles Allan Rich was born in 1932 in eastern Arkansas, in the village of Colt (population 267 in 1930, and 378 in 2017). His father was a hard-drinking sharecropper and his mother was a Bible-thumper. From the third grade he studied piano. As he grew into his youth, Charles became an athlete and played football. He was also raised on gospel, country, jazz and blues, and learned to play the saxophone. After graduating from high school he began to study music in college. During the Korean War he was drafted into the United States Air Force and posted in Oklahoma. In Oklahoma Rich joined a group called the Velvetones who played jazz and R&B. Alan Cackett writes that Charlie Rich's group played in "hard-nosed joints." Cackett explains, "A hard-nosed joint is one in which the musicians perform behind poultry wire for their safety."
Rich finished serving in the USAF in 1956 and moved to Memphis. He became a session musician for Judd Philips, the brother of Sam Philips who owned Sun Records. When Sun Records recording artist Bill Justis heard Charlie Rich playing at the Sharecropper Club in Memphis, he got Rich to arrange his records. This eventually led to Charlie Rich becoming a session musician for Johnny Cash, Bill Justis, Jerry Lee Lewis, Carl Mann, Billy Lee Riley, Ray Smith and Warren Smith.
In 1958 Charlie Rich released his first single titled "Whirlwind" for Sun Records. The record was not a hit, though it appeared for one week in September 1961 on Vancouver's CKWX. Rich told Alan Cackett that "he never got a royalty cheque from Sam Phillips, that the record company owner pocketed the money." Rich moved on to Philips International and released "Big Man" in 1960. While the single was also not a hit, he was fortunate to release "Lonely Weekends" in the spring of the year. The song peaked at #22 on the Billboard Hot 100 and #13 on CFUN in Vancouver (BC). His next four single releases got little notice.
In January 1962 Charlie Rich returned to the Top 20 in Vancouver on CKWX with "Just A Little Bit Sweet" which peaked at #14, though it failed to crack the Billboard Hot 100. The single helped build interest in Charlie Rich among Vancouver record buyers. Although his next single release was a commercial failure, it climbed the CFUN charts to #19 in May 1962. The single was titled "Midnite Blues" and became one of his most requested tunes at live performances.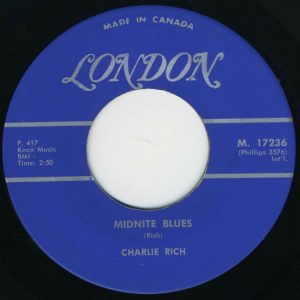 "Midnite Blues" was written by Charlie Rich and concerns a single persons' relationship to midnight. Instead of falling asleep, they are kept up all night with the blues. While they had some fun, they find themselves blaming midnight for what they did in the late hours when they were "running around." Now, they'd just like to settle down. Although freedom could be a source of liberation, their single status is a fast trip to those recurring "Midnite blues".
Several more singles were commercial failures. But his next record, "She Loved Everybody But Me", was a Top 30 hit in Vancouver (BC) in the fall of 1963. Another four singles released in 1964-65 were flops. But in the summer of 1965 Charlie Rich made it to #21 on the Billboard Hot 100 with "Mohair Sam". The tune climbed to #10 in Vancouver (BC).
Between 1965 and 1973 Charlie Rich released another 17 singles, all which failed to get more than an occasional regional breakout hit on AM-Top 40 radio. As Charlie Rich had become a bit of a lush, his close relationship with the bottle became an obstacle in advancing his career. In 1967 he released an album titled Charlie Rich Sings Country & Western. Though the album was not a big seller, it pointed the way for a new direction musically. It was a pop-country album with some blues, jazz and soul influences in the mix.
In the early 1970s Charlie Rich started to release a few singles for the Country music audience. In 1973, Charlie Rich became a household name with the release of "Behind Closed Doors" and "The Most Beautiful Girl". The latter was both a number one hit on the Billboard Hot 100 and the Billboard Country chart. And "Behind Closed Doors" won Charlie Rich a Grammy Award for Best Country Vocal Performance, Male. The song also won him a Grammy Hall of Fame Award in 1998. By the 1970s Charlie Rich became a country star with seventeen singles climbing into the Billboard Country Top Ten, nine of which peaked at number one. And in 1973-74 Charlie Rich won eight separate awards variously from the Academy of Country Music and the Country Music Association. In 1975 Rich showed up drunk when he presented an award at the Country Music Association. The incident didn't help his career. His final notable hit on the Country charts was "On My Knees" in a duet with Jane Fricke.
By the early 1980s Charlie Rich continued to drink even more heavily, becoming best of friends with Jack Daniels and Jim Beam, his favorite brands off whiskey. His records failed to chart and he went into semi-retirement. However, he released a critically acclaimed album in 1992 titled Pictures and Paintings, even as the album failed to catch on.
In 1995 Charlie Rich died while on vacation driving with his wife, Margaret, in a motel in Hammond, in eastern Louisiana. He had a blood clot on his lung. He was 62.
September 29, 2019
Ray McGinnis
References:
"Charlie Rich," Alan Cackett.com.
Terry Gross 1992 Interview with Charlie Rich, "Charlie Rich: The Silver Fox With A Big Country Sound," NPR, September 6, 2010.
Karl Dallas, "Charlie Rich Obituary," The Independent, UK, July 27, 1995.
"C-FUNTASTIC FIFTY," CFUN 1410 AM, Vancouver, BC, May 26, 1962.
For more song reviews visit the Countdown.