#9: Mister Fire Eyes by Bonnie Guitar
Peak Month: October-November 1957
Peak Position #2
20 weeks on Vancouver's CKWX chart
Peak Position on Billboard Hot 100 ~ #71
YouTube.com: "Mister Fire Eyes"
Lyrics: "Mister Fire Eyes"
Bonnie Buckingham was born in 1923 in Seattle. She was raised on a farm outside of Auburn, south of Seattle. She learned to play guitar at the age of 12 from her older brothers. At the age of 16, she began performing at the end of the Great Depression. Having taken up playing the guitar as a teenager, this led to her stage name: Bonnie Guitar. She later started songwriting. At the age of 21, in 1944 Bonnie Guitar married her former guitar teacher Paul Tutmarc. The couple performed together around the Pacific Northwest as bandmates with Paul Tutmarc and the Wranglers. She got several offers to audition for roles in Hollywood movies. However, as Guitar told the Seattle Times in 1986, "It never culminated. My first husband didn't want me to have anything to do with the Hollywood scene. And I wasn't ready to make the move at the time." The couple had one daughter in 1950 named Paula. But the marriage collapsed in 1955, and Bonnie moved to Los Angeles.
Through much of the 1950s, she worked as a session guitarist at quite a few small labels, beginning with Faber Records. She later was a session musician with Abbot, and Radio Recorders. Bonnie played a Gretsch White Falcon guitar. Working at these places got Guitar noticed as a professional guitarist as she ended up playing on sessions for many well-known singers, like Jim Reeves, Dorsey Burnette, Ned Miller, and the DeCastro Sisters. After working with so many singers, she acquired her own singing aspirations herself and a desire to make her very own recording career in the process.
In 1956, her first two singles on Faber Records were "Hello, Hello, Please Answer The Phone" and "Dream Dreamers". The first release made the Top Ten on the country station WHKK in Akron, Ohio. But, when Bonnie Guitar first heard "Dark Moon" in 1956, she knew she wanted to record it. In 2018 she told a reporter, "My body just physically shook when I heard that song. I just knew that song was something that I wanted to do." Bonnie Guitar's recording of "Dark Moon" was record number 15550. Her instincts were right, and she had her first Top 20 hit on the country charts. But, the song crossed over onto the Billboard Pop chart and climbed to #6. Another recording artist with Dot Records, Gail Storm, wanted to record the song. Her version with the backing of Billy Vaughan's Orchestra, was Dot's record number 15558. Gail Storm's cover peaked on the Billboard pop charts at #4. Both songs spent ten weeks in the Top Ten of the Cashbox Best Selling Singles chart from May to July 1957. In Vancouver, Bonnie Guitar's version peaked at #2 and Gail Storm's at #4.
Bonnie Guitar's next single release was "Half Your Heart" which failed to chart on either the country or pop charts nationally in the USA. Still, the single peaked at #29 and spent nine weeks on CKWX in Vancouver from July 1 to September 1, 1957. Her second release after "Dark Moon" was "Mister Fire Eyes".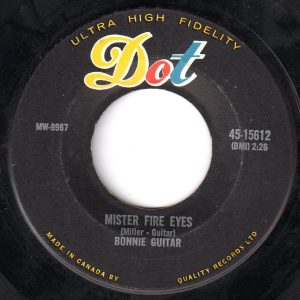 "Mister Fire Eyes" was co-written by Ned Miller and Bonnie Guitar. Miller was born in Rains, Utah, in 1925. He began songwriting when he was sixteen. But, he joined the United States Marines during World War II. He wrote songs that were recorded by other pop and country stars. His 1957 single, "From A Jack To A King", was not a hit that year. But it was re-released in 1962 and sold several million records. The single peaked at #1 on the Irish pop charts, #2 on the UK pop chart, and #6 on the Billboard Hot 100. It climbed to #2 on the Billboard Hot Country Songs chart. Miller had one other Top Ten country single titled "Do What You Do Do Well" in 1964. But he seldom toured to support his records due to stage fright. Between 1957 and 1970, Miller released twenty-five singles and five studio albums. He gave up recording in 1970 and enjoyed a private life for his remaining decades. He died in 2016 at the age of 90.
"Mister Fire Eyes" is a song with lots of physical cues letting a woman know that she is physically attracted to a guy from the moment she first met him. Once she sees him she says of herself, "I'm up and down like a clown, running round and around over you." She also starts churning inside, her cheeks burn, and her lips long to kiss him. Adding to the list, her heart is on fire, and she's doing flips just being near him. With all these physical cues of attraction, she wants him to agree that they make "a natural pair." So, she wants him to put on her hand a wedding band, to declare that his love for her is "true."
"Mister Fire Eyes" peaked at #2 in Vancouver (BC) and Victoria (BC), #3 in Burlington (VT), #4 in New Westminster (BC) and Winnipeg (MB), #6 in Memphis (TN), and #9 in La Crosse (WI).
On November 12, 1957, Bonnie Guitar appeared in concert at the Georgia Auditorium, opening for Gene Vincent. Vancouver DJ Red Robinson, writing in his Vancouver Sun column "Red's Record Rack," cued Vancouver music lovers who were into the new beat about the upcoming concert.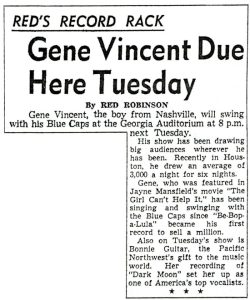 The ticket prices ranged from a high of $2.50 to the base price of $1.75.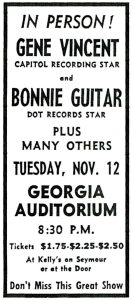 On November 13, 1957, there was an article taken after a Vancouver Sun reporter interviewed Bonnie Guitar. Titled ""Making like Presley would be last resort," the article explained:
"Pops" singer Bonnie Guitar strummed her $650 pearly-white namesake and mused about appearing in Georgia Auditorium opposite rock 'n roll performer Gene Vincent. "It depends a lot on the audience," she said in her soft speaking voice. "If they're teen-agers who react to rock and roll, then I'll switch styles immediately. IF I find they're not with me, I'll change to the Presley style…sound sexy and sing Houn' Dog."
But, she said, that would be the last resort. Though she wanted to be a clarinetist, she took up the guitar at 15 and started performing professionally at 21. She's been in the "pop music" circuit 14 years.
Her Big Record "Dark Moon" has sold more than 500,000 copies. She helped write the song, and others – "Mr. Fire Eyes" and "Big Mike".
The latter was named for a Seattle deputy-sheriff. Why the surname Guitar? "Most of the other short names have been taken. It's proved a good gimmick name, and got publicity."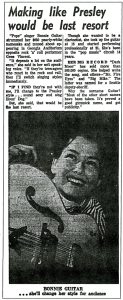 Red Robinson also interviewed Bonnie Guitar on his Platter Party radio show on November 11, 1957. At the end of the interview a station identification jingle told listeners: "This is CKWX, eleven-thirty on the dial. With your pal Red Robinson, swinging on in style. Red has cool sounds that you'll like. CKW excitement on mic! Now on with the show: Red Robinson!"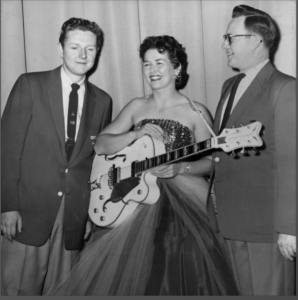 Red Robinson and Bonnie Guitar photo November 1957
Before her appearance at the Georgia Auditorium, "Mister Fire Eyes" had spent five weeks at the number-three position on the CKWX Top Fifty. But after her concert, "Mister Fire Eyes" and was ranked number-two for the weeks of November 17 and 24, 1957. Previously, the song had rocketed up to the number-two spot for one week on October 6/57, before falling to number-three from October 13th to November 10th. In total, "Mister Fire Eyes" spent twelve weeks in the Top Ten on the CKWX Top Fifty. During a November 11/57 interview on his Platter Party radio show, Red Robinson recalled "Mister Fire Eyes" went to number-one in Vancouver. But based on available chart information, it seems "Mister Fire Eyes" peaked at number-two. (The wild card is that Red Robinson's Teen Canteen Survey did not appear in the Vancouver Sun on October 18, 1957. It is plausible the song jumped from #5 on the Teen Canteen Survey on October 11 up to number-one on October 18, and dropped below the Top Ten on this survey on October 25th).
The B-side to "Mister Fire Eyes", "Making Believe", cracked the Top 40 on CKWX in Vancouver during a six-week chart run in early 1958. Subsequent single releases from Bonnie Guitar's Dark Moon album were "I Saw Your Face In The Moon", "Johnny Vagabond", and "I Found You Out". But none of these cracked the American country or pop charts in 1957 or 1958. But on Vancouver radio station CKWX, "Johnny Vagabond" spent nine weeks on the CKWX Top Fifty. It peaked at #26 in March 1958. It was another tune penned by Ned Miller. In early 1959, "Whispering Hope" spent one week on the CKWX chart in Vancouver.
In 1959, Bonnie Guitar was working as a talent scout with Dalton Records. She signed the high school trio The Fleetwoods to Dolton Records. The group had two number-one hits in 1959 with "Come Softly to Me" and "Mr. Blue". Subsequently, the Fleetwoods had one last Top Ten record in 1961 with their cover of the 1959 Thomas Wayne hit "Tragedy". Next, Bonnie Guitar signed the The Ventures, who had a Top Ten instrumental hit in 1960 titled "Walk Don't Run", and later in 1969 with "Hawaii-Five-O".
Bonnie Guitar recorded a duet with Don Robertson titled "Born To Be With You". In April 1960 the jazz-drum infused single charted on the CKWX chart in Vancouver. Bonnie Guitar had a final hit in Vancouver with "Tell Her Bye". It spent eight weeks on the 'WX record survey peaking at #24 in November 1961.
After splitting with Dolton Records, and at a time when women rarely held powerful label positions, Bonnie Guitar went on to serve as the A&R head of RCA Records' country division during the 1960s. In that capacity she scouted for and developed new artists.
From 1965 to 1969, she charted five Top 20 hits on the Billboard Hot Country charts. including 1965's "I'm Living In Two Worlds," and her biggest country hit, "A Woman In Love" written by Charles Anderson, which peaked at #4 in the charts.
She continued to record for Columbia and RCA Records throughout the 70's even though the hit songs began to slow. Over the years, Bonnie also worked as a cattle rancher, and with quarter horses. In a Seattle Times obituary, it was noted that "Guitar loved being at home, canning or mending fences on the 80-acre ranch in Orting she built with her second husband, Mario DePiano. There, at the foot of Mount Rainier, they kept horses and cattle, and often welcomed young musicians Ms. Guitar mentored in their home."
After her second husband, Mario DePiano, died in the early 80s, Bonnie Guitar moved to Soap Lake, in central Washington. Soap Lake's mineral-rich waters have long been thought to have medicinal value. Rival native tribes would call a truce when they came to Soap Lake to relax and heal themselves and their animals. Archeologists have found a number of Native American artifacts found around Soap Lake over the years. Washington State tourist guides in the 1920s referred to Soap Lake as the "world's greatest mineral sea."
Bonnie Guitar had a friend who ran the Businessmen's Club in the Notaras Lodge, and performed often. She became known for her marathon performances that could last up to five hours. She died in January 2019, just two months shy of her 96th birthday.
July 3, 2023
Ray McGinnis
References:
Michael Reitmulder, "Bonnie Guitar, pioneering Renaissance woman in music, dies at 95," Seattle Times, January 16, 2019.
Bill Friskics-Warren, "Bonnie Guitar, Music Industry Trailblazer, Is Dead at 95," New York Times, January 17, 2019.
"Pioneering Musician, Performer, & Label Owner Bonnie Guitar Has Died," savingcountrymusic.com, January 13, 2019.
Stephen L. Betts, "'From a Jack to a King' Songwriter Ned Miller Dead at 90," Rolling Stone, May 4, 2016.
Daniel E. Slotnik, "Ned Miller, a Country Songwriter Who Gave Up Singing, Dies at 90," New York Times, May 4, 2016.
"Making like Presley would be last resort," Vancouver Sun, November 13, 1957.
Red Robinson, "Gene Vincent Here Tuesday," November 8, 1957.
Red Robinson, "Bonnie Guitar Interview," Platter Party, CKWX, 1130 AM, Vancouver, BC, November 11, 1957.
Bonnie Guitar, "Johnny Vagabond", Dot Records, 1957.
"Top Fifty Songs for the Week," CKWX 1130 AM, Vancouver, BC, October 6, 1957.
"Top Fifty Songs for the Week," CKWX 1130 AM, Vancouver, BC November 17, 1957.
For more song reviews visit the Countdown.