#62: Mona Lisa by Carl Mann
Peak Month: August 1959
15 weeks on Vancouver's CKWX Chart
Peak Position #2
Peak Position on Billboard Hot 100 ~ #25
YouTube.com: "Mona Lisa"
Lyrics: "Mona Lisa"
Carl Richard Mann was born in 1942 in Huntingdon, Tennessee. He was referred to as "The Last Son of Sun", as he was one of the final artists introduced by Sam Phillips of Sun Records. A child musical prodigy, he learned to play the guitar by age eight, sang in church, and by the age of eleven also began to perform country songs for local talent shows in nearby Jackson, Tennessee. In 1957 at the age of 15, Mann released his first single on Jaxon Records, "Gonna Rock and Roll Tonight" b/w "Rockin' Love". After he released several more singles on Jaxon, Carl Perkins drummer – W.S. Holland – became the manager for Carl Mann.
Sun released Carl Mann's cover of Nat "King" Cole's "Mona Lisa" in 1959. This was his first single release.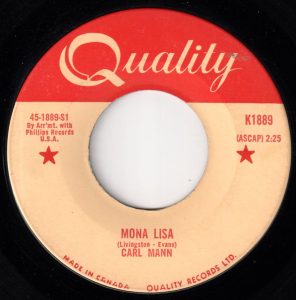 Carl Mann's "Mona Lisa" began to chart on the Billboard and Cashbox singles charts in early June 1959. Among the other records also racing up the charts in hope of cracking the Top 40 were: "Small World" by Johnny Mathis, "Forty Miles Of Bad Road" by Duane Eddy, "M.T.A." by the Kingston Trio, "High Hopes" by Frank Sinatra, "Dedicated To The One I Love" by the Shirelles, "Robbin' The Cradle" by Tony Bellus, "Tiger" by Fabian, "There Goes My Baby" by the Drifters, "Hushabye" by the Mytsics and "I Only Have Eyes For You" by the Flamingos. DJs had lots of choices for new discs to spin, and Carl Mann's "Mona Lisa" didn't make airplay in many radio markets. In addition, Conway Twitty made a cover of "Mona Lisa" which began to chart in July '59. With two versions of "Mona Lisa" to choose from, some radio stations played the Carl Mann version, while others put Conway Twitty on their chart. On the Billboard Hot 100, Carl Mann peaked at #25 on August 17th and Conway Twitty's "Mona Lisa" peaked at #29 on August 31st. On September 14, Carl Mann spent his sixteenth and final week on the Billboard Hot 100. Carl Mann fared well on local record charts in about 15 states across the USA. But that was it. In Canada, he got attention from radio stations in British Columbia, Ontario and Quebec. Conway Twitty only got strong chart action in a half a dozen states. But, it was enough to cut into Carl Mann's chart run, and likely deprived him of a Top 20 record.
"Mona Lisa" was cowritten by Ray Evans and Jay Livingston. Evans was born in Salamanca in Upstate New York in 1915. While studying at the University of Pennsylvania in Philadelphia, he met Jay Livingston. Also born in 1915, Jay Livingston grew up in McDonald, Pennsylvania. Together, they played in the University's college dance orchestra, The Continentals. The pair wrote songs for over 110 films between 1941 and 1986. Their more notable hits from the big screen include "To Each His Own", a number-one hit for Eddie Howard (1946), "Golden Earrings" for Peggy Lee (1948), the Academy Award winner for Best Original Song "Buttons And Bows", a number-one hit for Dinah Shore from The Paleface (1948-49), "Silver Bells" for Bing Crosby from The Lemon Drop Kid (1951), "Que Sera, Sera (Whatever Will Be Will Be)" for Doris Day and Best Original Song Academy Award winner from The Man Who Knew Too Much (1956), "Tammy" for Debbie Reynolds and Best Original Song nominee at the 1957 Academy Awards in Tammy and the Bachelor, losing out to "All The Way" from The Joker Is Wild, "Dear Heart" for Andy Williams and a Best Original Song Academy Award nominee in 1964, and "In The Arms Of Love", another Andy Williams hit in 1966. Starting in 1940, Evans and Livingston produced eight musicals for the stage and six more which were never produced. For TV, Evans and Livingston are best known for there theme songs for Bonanza, Mr. Lucky and Mr. Ed. Jay Livingston died at the age of 86 in 2001, and Ray Evans died in 2007 at the age of
"Mona Lisa" was a song in the 1950 film Captain Carey U.S.A. It was a film noir crime drama that involved an American WWII war veteran returning to Italy to bring a traitor to justice. Captain Carey returns to Orta, near Milan, to find out who betrayed his World War II Office of Strategic Services (forerunner of the CIA) team and caused the deaths of several villagers. Much to his surprise, his old love Giulia, whom he thought dead at the hands of the Nazis, is alive and married to a powerful Italian nobleman, Barone Rocco de Greffi. The villagers are unfriendly, but Carey persists in his clandestine efforts to flush out the traitor, Barone Rocco de Greffi. Nat "King" Cole had a number-one hit with "Mona Lisa" in 1950. The song won Best Original Song at the Academy Awards in March 1951.
The song is about a woman who reminds her suitor of Leonardo da Vinci's painting Mona Lisa. It has been described as "the best known, the most visited, the most written about, the most sung about, the most parodied work of art in the world." The painting's novel qualities include the subject's enigmatic expression, the monumentality of the composition, the subtle modelling of forms, and the atmospheric illusionism. Da Vinci's Mona Lisa is considered an iconic classic of the Italian Renaissance. The painting has been definitively identified to depict Italian noblewoman, Lisa Gherardini, the wife of Francesco del Giocondo. It is painted in oil on a white Lombardy poplar panel. The painting dates back to 1506. It did not become popular outside the art world until news of its theft from the Louvre in 1911. Employee Vincenzo Peruggia was an Italian patriot who believed that Leonardo's painting should have been returned to an Italian museum, and not displayed in Paris, France. The Mona Lisa was found in mid-December, 1913, and Perrugia spent six months in jail for his theft. On several occasions over the decades, visitors to see the Mona Lisa have attempted to damage the painting. Most recently, on May 29, 2022, a male activist, disguised as a woman in a wheelchair, threw cake at the protective glass covering the painting in what he claimed was his attempt to raise awareness for climate change.
The mystic smile captured in Leonardo da Vinci's Mona Lisa is referenced in the Evans and Livingston's lyrics:
Do you smile to tempt a lover, mona lisa?
Or is this your way to hide a broken heart?
Many dreams have been brought to your doorstep
They just lie there and they die there…
Is she walled off from any possibility of falling in love? Has she been scorned by love and resolved to never fall in love again from a broken heart? Or is she flirting with her smile to woo someone new into her life? Party-goers in the background of one scene sing "Mona Lisa" in the 1954 Alfred Hitchcock film Rear Window. The directors choice to feature the song in the '54 film was a nod to Nat "King" Cole's recording and its enduring popularity into the mid-50s.
"Mona Lisa" peaked at #1 in Montreal, #2 in Vancouver (BC), #3 in Boston, and Worcester (MA), #4 in Buffalo, and Ottawa (ON), #5 in Nashville, #6 in Seattle, Milwaukee (WI), #7 in Phoenix, and New Orleans, #9 in Toronto, and Burlington (VT), and #10 in Manchester (NH).
Internationally, it was Conway Twitty whose cover of "Mona Lisa" peaked at #1 in Australia, #2 in Norway, #3 in Belgium and #5 in the UK.
Mann's follow-up singles were less successful. His only charting hit was 1959's "Pretend", which peaked at #57 on the Billboard Hot 100 , #4 in Denver, #10 in Memphis, and #18 in Ottawa. His rockabilly treatment of another Nat "King" Cole tune kept him on the radio. Billboard had a promising write-up when the single was released: "Many of the magic ingredients that Carl Mann whipped up in his chart riding revival of Mona Lisa are blended into his new release. Pretend is another few-years-back Nat Cole click that Mann contagiously rocks over. Flip Rockin' Love is an enticing steady middle beat thumper that breaks into a sturdy rock stanza at mid point. Can be a big two sider."
Mann tried his luck covering "Some Enchanted Evening" from the musical South Pacific which peaked at #10 in Augusta, Georgia. He recorded the 1956 Gogi Grant chart-topper, "Wayward Wind", but it didn't catch on. He released a cover of "South Of The Border", which was a hit originally in 1939 variously for Gene Autry, Guy Lombardo, Tony Martin and Shep Fields. But, Mann's cover was given a pass by AM disc jockeys. In 1960, Mann's album Like Mann was released. The liner notes exclaimed "One of the younger and brighter stars of the popular recording field is Carl Mann, who is known for his modern, up-tempo interpretations of the old standards. His first big hit was "Mona Lisa" and the success of his style was so great that other established recording artists picked up some of his innovations in rhythm and arrangement and thereby paid Carl Mann the sincerest compliment a singer can receive…. the Mann piano and vocal style is well known to record fans of all ages, but especially among the teen-agers who have so much in common with this youngster…. many fans know Mann for his best-selling records, and his personal appearance tours coast to coast and in Canada."
Billboard gave Like Mann a 4 star-rating. The industry magazine wrote at the time, "One of the more promising of the present crop of rock styled chanters- — pounding out rock treatments of a number of tunes with softer histories- – – Mann has a fine touch for these tunes — his style has the sound the kids want but there's class enough to appeal to the older folks too — worth programming."
In 1961, Mann released a cover of the 1956 R&B tune "I Ain't Got No Home", a hit for Clarence "Frogman" Henry. But once again he was passed over. In 1962, his last Phillips International single, "When I Grow Too Old To Dream" sold only 580 copies during its first year of release. Mann began to drift from the music business. Mann recalled the time years later in an interview: "After Mona Lisa, one minute I was on TV and everything, then suddenly I wasn't. I worked with Perkins, we were both on a downswing, 62/63 – both drinking hard".
Mann served in the United States Army in 1964 and was stationed in West Germany. After he was discharged, in 1966 Carl Mann released a single produced by Ray Stevens titled "The Serenade Of The Bells", on Monument Records. But his cover of the 1947 Sammy Kaye #3 hit was a commercial flop for Carl Mann in 1966. He stated in his memoir in 2012, "By the time I got back out of the service, the music had changed. The Beatles were hot, and the Monkees and bands like that." In 1967, Mann returned to family life and the lumber business, where he battled with problems of alcoholism.
In 1974 Mann worked to revive his career as a country artist, releasing singles on ABC and Dot Records. His 1976 cover of the Platters "Twilight Time" peaked at #100 on the Billboard Hot Country Singles chart. In 1978, Mann few to the Netherlands to perform at a rock 'n roll revival show. He landed a deal with Dutch record label Rockhouse Records. They released a live/studio split Gonna Rock'n'Roll Tonight in 1978 and In Rockabilly Country in 1981. Mann toured occasionally in Europe between 1978 and the late '80s. Mann recalls, "It was almost like going back in time to go there and do shows, because they would come dressed in 50s attire. It really felt good. Felt like I was 16 again. Of course, every time I play, I feel like I'm 16 again." But eventually, Mann returned to Tennessee and focused on running the family logging business. In the following years, Carl Mann found religion.
In 2005 Mann came out of music retirement, performing on the local Huntingdon Hayride radio show in his hometown. The catalyst was that his first single, "Mona Lisa", was awarded a Gold Disc for finally achieving a million sales 46 years after its release. Mann continued to perform overseas and in the states, and record. He was inducted into the Rockabilly Hall of Fame in Jackson, Tennessee in 2006. A CD called Rockabilly Highway, featured Mann with several other Sun Records label mates was released in 2008. Mann put out an album Carl Mann in 2012. Two other albums were released including his music. He died in December 2020 at the age of 78.
February 10, 2023
Ray McGinnis
References:
Bob Mehr, "Rockabilly great, 'Mona Lisa' hitmaker Carl Mann dead at 78," Memphis Commercial Appeal, Tennessee, December 16, 2020.
Paul Sexton, "'Last Son Of Sun Records,' Rockabilly Star Carl Mann, Dies At 78," udiscovermusic.com, December 22, 2020.
Dix de Heer, "Carl Mann," Black Cat, August 2011.
Phil Davies, "Carl Mann: Gonna Rock 'n' Roll Tonite," 1998.
"Man in wig throws cake at glass protecting Mona Lisa," CNN, May 31, 2022.
"The Mona Lisa's Twin Painting Discovered," NPR, February 2, 2012.
Michael Freedland, "Jay Livingston: Songwriter behind Doris Day, Bob Hope and Nat 'King' Cole chart-toppers," Guardian, October 19, 2001.
"Que Sera composer Ray Evans dies," BBC, February 17, 2007.
"Cashbox Top 100 Singles," Cashbox, June 13, 1959.
"Captain Carey U.S.A.," Paramount Pictures, 1950.
"Sensational Sixty," CKWX 1130 AM, Vancouver, BC, August 24, 1959.
For more song reviews visit the Countdown.