#669: Moon River by Jean Thomas
Peak Month: May 1962
10 weeks on CFUN's Vancouver Charts
Peak Position ~ #6
Peak Position on Billboard Hot 100 ~ did not chart
YouTube.com: "Moon River"
Lyrics: "Moon River"
Jean Thomas was born in Weymouth, Massachusetts, in the early 40's. She grew up in Sarasota, Florida. Since her parents own a summer business in Nantasket Beach, one of the busiest beaches in the Greater Boston area, she returned with her family to Massachusetts each summer. At Sarasota High School, Jean was part of a singing group called Preacher John and the Five Saints. In the fall of 1959, she attended Florida State University in Tallahassee. In 1961, Jean and her brother Don went to New York City to pursue their dreams. They headed over to Paul Anka's Spanka Publishing Company. They were promptly and signed to a songwriting contract. Jean Thomas did an audition in the Brill Building at 1650 Broadway.
Archie Bleyer of Cadence Records heard Thomas audition and promised to record her. He decided she had the right voice to record a version of "Moon River". Bleyer felt Thomas' voice reflected the tone of Audrey Hepburn's version in the movie, Breakfast at Tiffany's, that had just been released. Thomas' recording featured only guitar and harmonica and showed off her alto voice.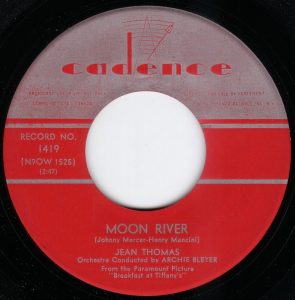 In Breakfast at Tiffany's, Audrey Hepburn plays Holly Golightly, a teenage bride runaway who has moved to the big apple. At 14, under her given name, Lula Mae Barnes, married Doc Golightly in Tulip, Texas. decided to stop smoking marijuana, and she's had a miscarriage out of wedlock. In New York City, Holly befriends Paul Varjak, who she later learns is a writer who hasn't published anything for five years. In the film was released in movie theaters on October 5, 1961. In the film, "Moon River" starts to play while Paul Varjak types on his typewriter, "There once was a very lovely, very frightened girl. She lived alone except for a nameless cat." As he types, Paul hears Holly singing "Moon River." He gets up from his desk, walks over to a window, opens it, and leans out. Below, he sees Holly playing a guitar. She sings and plays as she sits on her windowsill beside a landing on an outside fire escape staircase. As she finishes singing, she looks up and notices Paul, and says "hi." Audrey Hepburn appeared in jeans and a sweatshirt while singing "Moon River". It was a stark contrast to the party dresses and jewels she typically wore throughout the film. The scene inspired the voyager in audiences everywhere.
The film, Breakfast at Tiffany's, was based on the 1958 novel by Truman Capote. After Breakfast at Tiffany's was released, Jerry Butler recorded "Moon River." His version climbed to #11 on CKWX in Vancouver on December 2, 1961. Butler's vocal, along with the instrumental version by Henri Mancini, shared the #11 spot on CKWX's Fabulous Forty.
"Moon River" won Best Original Song at the Academy Awards in Santa Monica, California, on April 9, 1962. The following week, April 14, "Moon River" by Jean Thomas debuted at #50 on the C-FUNTASTIC FIFTY in Vancouver. Thomas' version of "Moon River" climbed to #6 in Vancouver and Seattle, and #8 in Pensacola, Florida. It made the Top 20 in Springfield and Boston, Massachusetts.
"Moon River" is a song about wanderlust and also a metaphor for a romantic relationship. The song's melody was written by Henri Mancini with lyrics by Johnny Mercer. Mercer grew up in Savannah, Georgia, and as a child his family took summer trips to Burnside Island, overlooking the Black River. Initially, Mercer's working title for the song was "Blue River". But he changed it to "Moon River", when he found "Blue River" was already taken. Often, huckleberries grew by riversides and Mercer remembers picking them in his childhood. And so the phrase, "my huckleberry friend" was born.
Johnny Mercer wrote many hits that became standards. His first success was "Lazy Bones", a #1 hit for Ted Lewis in 1933. Other notable hits include "I'm An Old Cowhand From the Rio Grande" by Bing Crosby (a #2 hit in 1936); A #1 hit for Al Donahue in 1938 titled "Jeepers Creepers", Woody Herman's #1 hit in 1942, "Blues In the Night", Frank Ifield's #1 hit in 1962 in the UK titled "I Remember You", The Jimmy Dorsey #1 hit in 1942 titled "Tangerine" with vocals by Helen O'Connell and Bob Eberly, Glenn Miller's #1 hit in 1943 titled "That Old Black Magic" and a #1 hit in 1946 for The Pied Pipers called "On the Atchison, Topeka and the Santa Fe". Mercer sang lead vocals with the Pied Pipers backing him on a #2 hit in 1945 titled "Ac-Cent-Tchu-Ate the Positive". He wrote "Goody Goody", which was revived in the late 50's by Frankie Lymon and Ella Fitzgerald. Mercer also wrote the English lyrics to the French composition "Autumn Leaves," which was an instrumental hit for Roger Williams in 1955. Mercer won Academy Awards for "Moon River", "Days of Wine and Roses", "On the Atchison, Topeka and the Santa Fe" from the 1946 film The Harvey Girls, and "In the Cool, Cool, Cool of the Evening" from the 1951 film Here Comes The Groom.
Henri Mancini was a giant in pop, big band, classical and jazz music in the 20th Century. He recorded ninety albums. Mancini was nominated for an Academy Award on 72 occasions. He won twenty Academy Awards. These include music for the films Victor/Victoria, Charade, The Glass Menagerie and The Pink Panther. He also won awards for TV show themes including Peter Gunn and Mr. Lucky. Enrico Nicola "Henri" Mancini was born in 1924 in Cleveland, Ohio. He learned to play flute at age of eight. After graduation, he studied at New York's Juliard School of Music. In 1946, Mancini was hired as a pianist/arranger for the Glenn Miller-Tex Beneke Big Band. In the 1950's, while with Universal Studios, Henri Mancini scored music for over 100 films.
"Moon River" was also covered by South African-born Danny Williams. His version peaked at #1 in the UK in December 1961. He later recorded "White On White", a song that reached the Top Ten in the USA and Canada in 1964. Andy Williams made "Moon River" his theme song. Although he never released it as a single, Andy Williams' album, Moon River and other Great Movie Themes, stayed on the Billboard 200 album charts between 1962 and 1965.
In her self-depreciating style, comedian Joan Rivers offered up revised lyrics for "Moon River" that included "Joan Rivers, older than the sky, and yet she's still alive, some think. Oh, fame squatter with lame daughter, whenever you show up, I throw up my drink…"
On the strength of initial interest in a few local radio markets, Jean Thomas went on tour with Jay & The Americans, Del Shannon and Brian Hyland, who each had Top Ten hits in the spring of '62. "Moon River" was the first 45 RPM single for Jean Thomas on Cadence records. She would go on to record other singles and group records as a member of the Rag Dolls, The Beach Girls and many more. She backed hundreds of artist both well known and obscure. With Ellie Greenwich and Mikie Harris and Jean, the trio became the backing team know as 'Les Girls.' She worked as a songwriter for Shapiro-Bernstein Music from 1964 to 1965. She also had contract work with April-Blackwood Music, Screen-Gems, Northern Music, Al Galico Music, Mercury Records, MGM Records, Roulette, Colpix, Decca, ABC-Paramount, RCA and many others.
The world of demo records produced a few well known recording artists like Carole King. But for most, like Jean Thomas, fame was not her path. Instead, Jean and her brother, Don, had to write or learn a new tune. They had to arrange it musically, find musicians for the demo, create the backing vocal melodies and harmonies and record the lead vocal. They had to do all of this in one morning or afternoon, and have the demo ready to sell it to record companies and recording artists.
Jean did the demo for the soundtrack for the 1964 movie, Viva Las Vegas, starring Elvis Presley. She also did the demo for Bernie Wayne helping him go on to sing "There She is Miss America". Joey Powers recorded a song called "Midnight Mary" on August 29 1963. Jean Thomas did three vocal tracks to create harmony. The tracks were layered to create the impression of a three-girl back-up group. However, all three voices were Jean Thomas recording three separate vocal tracks that were mixed into the recording. Jean also sand back-up for recordings and demos for Ella Fitzgerald, Connie Francis, Lesley Gore, Freddie Cannon and Dusty Springfield. Her demo of "Make Me Your Baby" provided the perfect template for Barbara Lewis to have a hit that climbed to #11 in 1965.
Among Jean Thomas' other demos that provided a template for recording artists to make a recording in less then three takes were "Monday Monday" for The Mama's and the Papas, "I'm a Believer" for The Monkees and "You Got to Me" for Neil Diamond.
During her music career she recorded eleven singles under her name and was part of the Beach Girls, The Powder Puffs, The Beech Nuts, The Calendar Girls and Angie and the Chicklettes. Including her membership in girl groups Jean was featured in 29 singles. Her final single, "Oh What a Night for Love," was featured in the soundtrack for the 1974 movie, The Lords of Flatbush.
Jean currently is co-owner, with her two daughters, of a tea house in Manhattan called Alice's Tea Cup. The original location is at 102 W 73rdStreet and Columbus Avenue, one block west of Central Park. Since the opening of their first Alice's Tea Cup, two more locations have been in business. Another Alice's Tea Cup is located on East 64th Street, one block east of Park Avenue. The third tea house on East 81st Street between 2nd and 3rdAvenues.
December 11, 2018
Ray McGinnis
References:
Ken Charmer, Jean Thomas bio, Jean Thomas.info.
"The Fabulous Forty," 1130, CKWX, Vancouver, BC, December 2, 1961.
Andy Williams, Moon River and Other Great Movie Themes, Columbia Records, 1962.
Casey Chameleon, New York's Priceless Possession, February 16, 2009.
Alice's Tea Cup, alicesteacup.com.
Henri Mancini bio, Henri Mancini.com.
Taysha Murtaugh, "Moon River" From "Breakfast at Tiffany's" Was Actually Inspired By the South: It turns out the river exists—but it's not in New York," Country Living.com, June 28, 2017.
"The story behind the song: Moon River," Telegraph, October 7, 2008.
Johnny Mercer bio, Wikipedia.org.
"C-FUNTASTIC FIFTY," 1410 CFUN, Vancouver, May 5, 1962.
For more song reviews visit the Countdown.