#820: Move Over by Bobby Curtola
Peak Month: December 1963
8 weeks on Vancouver's CFUN chart
Peak Position #6
Peak Position on Billboard Hot 100 ~ did not chart
CFUN Twin Pick November 2, 1963
YouTube.com link: "Move Over"
Bobby Curtola was born in Port Arthur, Ontario, in 1943. (The town would become amalgamated into the city of Thunder Bay in 1970). His cousin Susan Andrusco remembers ""Bobby would always be singing at our family gatherings. The family loved him. And he loved being the centre of attention. He would sing Oh My Papa, and my grandpa would cry." Oh My Papa was a number-one hit for Eddie Fisher in January 1954, when Bobby Curtola was still ten-years-old. In the fall of 1959, sixteen-year-old high school student Bobby Curtola went from pumping gas at his father's garage in Thunder Bay, Ontario, to the life of a teen idol. Within a year he went from playing in his basement band, Bobby and the Bobcats, to recording his first hit single in 1960, "Hand In Hand With You", which charted in Ontario, but not in Vancouver. After performing on the Bob Hope Show in 1960, the charismatic teenager, with his handsome boy-next-door looks was quickly finding himself within a whirlwind called "Curtolamania."
Bobby set out on his first Western Canadian Tour in the fall of 1960. From there Curtola went on to become a trailblazer. He toured the first coast to coast tour circuit in Canada. In 1961 he went to Nashville to record with Bill Porter for RCA Studios. That relationship continued for decades. "Don't You Sweetheart Me" was his first Top Ten hit in Canada. The song climbed to #1 in Winnipeg, #4 in Vancouver and #5 in Toronto. He had another hit on his hands five months later with "Hitchhiker".
Between 1960 and 1968 Curtola had continual single and album releases on the Tartan label in Canada. The managers and main songwriters were brothers Dyer and Basil Hurdon. The Del-Fi label released some of those singles in the US. His biggest hit, "Fortune Teller", was released in 1962 and went Gold in Canada. The now Rock n' Roll Hall of Fame DJ, Red Robinson, was key in the success of "Fortune Teller." Seeing its potential internationally, Robinson sent it to Disc Jockey's in Seattle at KJR and Hawaii's KPOI in Honolulu. A major US record deal was signed and "Fortune Teller" went on to sell two and a half million copies. Bobby Curtola was invited to tour with Dick Clark and his Cavalcade of Stars. Curtola also enjoyed other Top 20 hit in '62 in Vancouver with "You Must Belong To Me" and "I Cry And Cry".
In early 1963 Bobby Curtola had his second number-one hit in Vancouver titled "Destination Love". After the single began to chart on CFUN in mid-January '63, Curtola was in Vancouver and had a live interview with Red Robinson. Curtola performed in concert in Vancouver in 1963 when he was at the height of his popularity. Red Robinson said in an interview after Curtola died "Bobby broke out in the early Sixties and when he appeared in Vancouver at Park Royal mall over 3,000 kids showed up. I met him when I was program director at C-FUN/Vancouver and he (later) performed for C-FUN Day at Kits Showboat. Almost 10,000 showed up for this annual event, big numbers for the Sixties!"
While on tour in England in 1963, Bobby met The Beatles and appeared on the famous British TV variety show Thank Your Lucky Stars. The episode on June 15, 1963, also featured performances by John Leyton, Jackie Trent, Kenny Ball, and the Bachelors.
In 1963, Bobby Curtola had five songs climb into the Top Ten on CFUN in Vancouver. These were "Destination Love," "Gypsy Heart", "Indian Giver," "Three Rows Over" and "Move Over". "Move Over" was his ninth and last Top Ten hit in Vancouver.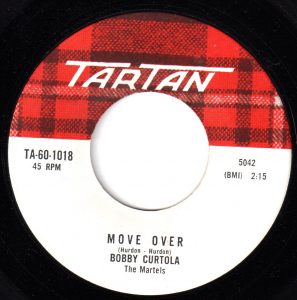 Move over and let me into that dream,
move over, I've gotta get into that dream.
I saw you walking down the street,
I knew right there that we had to meet.
To be alone and have the right,
to kiss you and squeeze you and hold you tight.
Move over and let me into your heart,
move over and give our heaven a start.
I promise all of my love to you,
I'll make your every wish come true.
Come on, move over and let me into your dream.
I saw you walking down the street,
I knew right there that we had to meet.
To be alone and have the right,
to kiss you and squeeze you and hold you tight.
Move over and let me into your heart,
move over and give our heaven a start.
I promise all of my love to you,
I'll make your every wish come true.
Come on, move over and let me into your dream.
"Move Over" had its best chart run in Hamilton at #5 and Vancouver at #6. It missed the Top Ten elsewhere in Canada as it stalled at #11 in Ottawa, #12 in Simcoe (ON) and #21 in Toronto.
"Move Over" was the fourth single release credited to Bobby Curtola & The Martells. The first being "Gypsy Heart". The Martells were a group originally formed in 1957 in Midland, Ontario. They started out as The Corvettes. The group consisted of drummer and guitarist Tom Ambeau, bass guitarist Milt Budarick, pianist Bert DesRochers, lead guitarist and backing vocalist Larry French, and lead vocalist and second drummer Gary French. They originally formed while attending Midland-Penetang District High School. They were the backing band for Canada's first teen idol Bobby Curtola as he toured the university circuit and changed their name to The Martells (after Curtola's booking agent, Maria Martel). After leaving Curtola, the Martells toured across Canada and recorded with stars as Del Shannon, The Stampeders and Chuck Berry, disbanding in the late 1960s. In 1979, the Martells reunited and continued playing together until disbanding in 2015.
In "Move Over" the guy in the song sees someone walking down the street and has an immediate physical reaction filling him with desire. He wants to meet them, go somewhere they can be alone and make out. In that instant of seeing this approaching pedestrian, the guy is ready to promise them all his love and make their "every wish come true."
In an article in Psychology Today by Grant Hillary Brenner titled "Love At First Sight Feels Magical: but What is it Really?," Brenner inquires into the incidences of love at first sight. According to researchers he sourced, ninety percent of love at first sight experiences reported by couples has to do with physical attraction. More men than women reported experiencing love at first sight. In many cases the feelings of love at first sight were one-directional. One person felt love at first sight for someone else. But those feelings of instantaneous love weren't returned. Some couples are able to build on mutual feelings of physical attraction and expand their attraction for one another as they like more about how their partner thinks, acts and shares common values. While other couples find what they have in common is physical attraction, but little else. In the case of the latter, the subsequent message to "Move Over" might be "move out" or as Janet Jackson once sang, "What Have You Done For Me Lately?"
With the British Invasion in early 1964, Bobby Curtola struggled to get into the Top 20. Of his five single releases that year, only "Little Girl Blue", made the Top 20, peaking at #15.
In June of 1964, Bobby Curtola got to sing what would become an ear-worm for radio listeners across all radio and TV stations in the mid-sixties. He became the first pop singer to record a jingle that sounded like a Top 40 Hit Single. The jingle was "Things Go Better with Coke." He signed an exclusive contract with Coca-Cola to be their #1 Spokesman. Bobby, also co-wrote "The Real Thing" which was used for the commercial "Coke's The Real Thing." After turning twenty-one, Bobby was interviewed by John Pozer on his TV show in Ottawa, Saturday Date, which ended with the pair toasting to his success with coke bottles. In the interview Curtola reveals that the jingle was made in Nashville and that Elvis' former backup group, The Jordanaires, backed Curtola in recording the commercial. Bobby Curtola went on in 1965 to host The After Four Show in Toronto.
In 1966 he won a RPM Gold Leaf Award for becoming the first Canadian to have an album go gold. In 1973 Curtola became the CTV host of Shake, Rock and Roll. For many years he also hosted the Miss Canada and Teen Canada beauty pageants. And from 1972 into the mid-90's Bobby Curtola had a career performing in Las Vegas, often as the opening act of Bob Hope. Over the years Bobby Curtola has toured Asia, Europe, South America and across North America. On August 10, 1986, Bobby Curtola appeared in concert at the Expo Theatre during Vancouver's Expo '86 celebrations.
Besides his musical work, Curtola is also a business entrepreneur, marketing a successful brand of Caesar Cocktail. In 1996, Toronto City Council made April 26 Bobby Curtola Day. Curtola also has been given the keys to the city of Edmonton, Brandon, Calgary, and Hamilton. In 1997 Bobby Curtola flew to Las Vegas to become an inductee of the Coca Cola Hall of Fame.
In 1998 Bobby received the Order of Canada for his humanitarian work. In 2011 he received a star on Toronto's Italian Walk of Fame. Curtola died in 2016 at the age of 73.
April 30, 2018
Ray McGinnis
References:
John Einarson, "Sharing the Stage with a Music Sensation: Multiple Manitoba Bands Backed up Crooner Curtola, Canada's First Teen Idol, in his Heyday," Winnipeg Free Press, June 18, 2016.
Bobby Curtola biography, Bobby Curtola.com
Janet French, "Canadian Singer Bobby Curtola Dies During Edmonton Visit," Edmonton Journal, Edmonton, AB, June 6, 2016.
Bobby Curtola, Canadian Bands.com.
Red Robinson, "Remembering Bobby Curtola," redrobinson.com, June 6, 2016.
John Pozer, "Bobby Curtola Coca Cola Interview," Saturday Date, Ottawa 1964.
Grant Hillary Brenner, "Love At First Sight Feels Magical: but What is it Really?," Psychology Today, November 17, 2013.
"The Martells," discogs.com.
"C-FUNTASTIC FIFTY," CFUN 1410 AM, Vancouver, BC, December 7, 1963.
For more song reviews visit the Countdown.