#1340: Mr. Piano Man by Annette
Peak Month: October 1962
7 weeks on Vancouver's CFUN chart
Peak Position #15
Peak Position on Billboard Hot 100 ~ did not chart
YouTube.com: "Mr. Piano Man"
Annette's solo music career began in 1958 while her serial Annette, was airing on The Mickey Mouse Club. During a hayride scene in one of the episodes, Annette sang what was meant to be a hokey ballad called "How Will I Know My Love", complete with juice harp and miniature accordion. As a result of Annette's rendition her friend Laura apologizes for being previously critical of the song.
After the episode aired, thousands of fans called the studio asking where they could buy the record. It was then Walt Disney met with Annette and announced he was signing her to a recording contract. With panic in her voice Annette responded, "But Mr. Disney, I don't sing. You know I don't sing". Disney arranged for Annette to work with Tutti Camarata, a famous musician, arranger, and record producer who had previously worked with other recording artists including Frank Sinatra, Bing Crosby and Ella Fitzgerald. Camarata also brought in The Sherman Brothers as composers, who would come to call Annette "their lucky star" due to the success they found in working with her.
Following the successful release of "How Will I Know My Love", it was decided that Annette's next record would be aimed toward the Rock and Roll market, which at the time was practically uncharted territory for a female artist. "Tall Paul", her second single was recorded and released by March of 1959. It reached#7 on the Billboard chart. With rock and roll instrumentation overpowering her soft voice during the recording sessions, the Shermans and Tutti developed the "Annette Sound". This was a method of double tracking Annette's voice and adding echos. In 1959 Annette began what would become a long time professional relationship with Dick Clark when she made her first appearance on American Bandstand singing "Tall Paul". She also joined Dick Clarks Caravan of Stars that year, a bus concert tour across the country with other teen idols.
In 1960, Annette had her second Top Ten hit on the Billboard Hot 100 with "O Dio Mio". And she just missed the Top Ten with another hit that year titled "Pineapple Princess". Subsequent hits, including "Dream Boy" and "Indian Giver" didn't do well in the USA, but they charted well in Vancouver.
Funicello's best friend was actress and singer Shelley Fabares. She and Fabares had been friends since they were young teenagers in a catechism class, and Fabares was a bridesmaid at Funicello's first wedding (to Jack Gilardi in 1965). Fabares played the role of Mary stone, the daughter of Donna Stone and Dr. Alex Stone on The Donna Reed Show (1958-63). Rounding out the household on this TV situation comedy was child actor Paul Petersen playing Mary Stone's teenage brother, Jeff. (Petersen remained with The Donna Reed Show 'til it its final episode in 1966).
In 1962 Annette's friend Shelley Fabares had a #1 with "Johnny Angel". The song appeared on an episode of The Donna Reed Show. Concurrently, Annette was appearing in a number of Disney productions. On September 23, 1962, Annette appeared on Walt Disney's Wonderful World of Color on NBC. The show had previously been titled Walt Disney's Disneyland (1954-59), Walt Disney Presents (1959-61) and would later be retitled The Wonderful World of Disney (1968-79) and other variations to the present. The September 23/62 episode of the Disney show was devoted entirely to an ongoing feature called The Golden Horseshoe Saloon, that was in its ninth year since it began when Disney premiered his show in 1954.
At Disneyland itself, The Golden Horseshoe Stage unofficially opened on July 13, 1955, as the Golden Horseshoe Saloon, when Walt and his wife Lillian Disney, along with dozens of guests, celebrated their 30th anniversary with a private party and the premiere showing of the original Golden Horseshoe Revue. On July 16, 1955, the Golden Horseshoe opened a day early for a private party of corporate sponsors. This show marked Wally Boag's first official performance as Pecos Bill/Traveling Salesman at the Golden Horseshoe Saloon.
The first show to open on the stage was Slue Foot Sue's Golden Horseshoe Revue (mistakenly spelled "Review") on the park's opening on July 17, 1955. The revue's music was written by Charles LaVere, who served as the show's pianist, and used lyrics by Tom Adair. The script for the production was co-authored by two of its stars, Donald Novis and Wally Boag. The variety show ran a record of 39,000 times and is listed in the Guinness Book of World Records as the longest running musical of all time. One of the features of the show was to have children from the audience and sing and dance on stage. "Davy Crockett" was a favorite song performed by the guests.
In 1962, Ron Miller, son-in-law of Walt Disney, directed a made-for-television movie by the same title. The film starred Annette Funicello, Ed Wynn, Betty Taylor, Gene Sheldon, Wally Boag and even Walt Disney himself. On Sunday, September 23, 1962, families around America, Canada and elsewhere were watching Walt Disney's Wonderful World of Color. On that special episode marking the 10,000th performance at the Golden Horseshoe Revue Annette was one of the special guests. She sang a number of songs from her first appearance in the feature at minute 13:40 singing "The Buffalo Round-Up", and at minute 28:20 Annette is introduced to a bunch of cowboys eager to be entertained at the Golden Horseshoe Saloon. She starts to sing them a song called "Hang a Lantern In Your Window" that the cowboys find boring. She quickly switches up her routine on stage and performs "Mr. Piano Man" to the cowboys delight.
Mr. Piano Man please tickle those ivory keys,
No one can noodle the way that you doodle those ricky-ticky melodies
Mr. Piano Man you do what nobody can do
Your trembling tremeloes are gonna drive me to ruin
Your left don't exactly know what your right hand is doin'
Mr. Piano Man please tickle those ivory keys.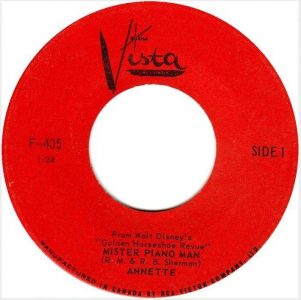 A tremolo is a musical term describing a rapid reiteration, or trembling, of a note or chord in alternation, an imitation (not to be confused with a trill) of the preceding note or chord. A tremolo on a piano can also be a variation in volume, or amplification, of a note or chord (for example, playing a chord softly and then more loudly).
After her initial performance of "Hang a Lantern in Your Window" Annette changes from her modest costume to that of a can-can girl. The lyrics to "Mr Piano Man", along with the dance routine, are full of innuendo. Apparently more than ivory keys can be tickled, and the cowboys whoop and holler at the end of the song.
The song was written by the brothers Robert and Richard Sherman who had written Annette's other hit songs, including "Pineapple Princess". The Sherman brothers would go on to win oscars in 1964 for composing the score for the film Mary Poppins. This included the songs "A Spoonful of Sugar", "Let's Go Fly a Kite" and the Oscar Award winning "Chim-Chim-Cher-ee".
Today, the Golden Horseshoe Stage at Disneyland is still popular inside and out. For years, Disneyland served chili at the bar as well as drinks and dessert. Outside on the front balcony, there is a periodic, comedic wild west shoot-em'-up show performed by Laughing Stock and Company that always draws a crowd.
"Mr. Piano Man" peaked at #15 in Vancouver, and #27 in Boston.
Annette released 13 more singles in the 1960s, ending in 1967. None of these cracked the Billboard Hot 100. In 1979, Funicello was featured in a series of Skippy Peanut Butter TV commercials. In 1987 Annette appeared in the film Back to the Beach, and co-starred with Frankie Avalon. She began to experience dizziness, headaches and balance issues. She was diagnosed with multiple sclerosis and divulged it to the press in 1992. In 1994 her autobiography, A Dream Is a Wish Your Heart Makes: My Story, was published. In 1995, Funicello appeared on the Disney TV documentary on the 40th anniversary of The Mickey Mouse Club.
November 11, 2017
Ray McGinnis
References:
Annette Funicello, A Dream Is a Wish Your Heart Makes: My Story, (Hyperion, 1994).
Eudie Pak, "Annette Funicello, Original Mouseketeer, Dies at 70," Biography.com, April 8, 2013.
Bikini Beach, American International Pictures, 1964.
Muscle Beach Party, American International Pictures, 1964.
Fireball 500, American International Pictures, 1966.
Thunder Alley, American International Pictures, 1967.
How to Stuff a Wild Bikini, American International Pictures, 1965.
Beach Blanket Bingo, American International Pictures, 1965.
Mickey Mouse Club, ABC, 1955-1959.
Bruce Weber, "Robert B. Sherman, a Songwriter for Disney and Others, Dies at 86," New York Times, March 6, 2012.
John Burlingame, "Songwriter Robert B. Sherman Dead at 86: Teamed with Brother Richard to Become a Disney Institution," Film Music Society.org, Los Angeles, CA, March 6, 2012.
The Golden Horseshoe Review, Disney Studios, Los Angeles, CA, September 23, 1962.
"C-FUNTASTIC FIFTY," CFUN 1410 AM, Vancouver, BC, October 27, 1962.
For more song reviews visit the Countdown.