#1277: Muskrat by the Everly Brothers
Peak Month: October 1961
7 weeks on Vancouver's CKWX chart
Peak Position #14
Peak Position on Billboard Hot 100 ~ #82
YouTube.com: "Muskrat"
Lyrics: "Muskrat"
Isaac Donald "Don" Everly was born in 1937 and Phillip Jason "Phil" Everly was born in 1939. Don was born in Muhlenberg County in Kentucky, and Phil was born in Chicago. Their dad, Ike, had been a coal miner who decided to pursue music as a guitar player. From the mid-40s Ike and his wife, Margaret, sang as a duo in Shanendoah, Iowa. Later they included their sons "Little Donnie and Baby Boy Phil," on local radio stations KMA and KFNF. In time they were billed as The Everly Family. In 1953, the family moved to Knoxville, Tennessee. Family friend and musician Chet Atkins got a record deal for the Everly Brothers with RCA Victor in 1956. However, their first single release was a commercial failure and they were dropped from the label. Next, Atkins got them connected with Archie Bleyer, and the boys were signed to Cadence Records. In 1957, their first single on the label, "Bye Bye Love", became a million-seller and launched their career.

Felice and Boudleaux Bryant wrote "Bye Bye Love". They wrote other hits for the Everly's including "Wake Up Little Susie", "Bird Dog", "Problems", "Take A Message To Mary" and "All I Have To Do Is Dream". The Everly Brothers began to pen many of their own songs. In 1959 Don Everly wrote "(Till) I Kissed You", and later "So Sad (To Watch Good Love Go Bad)". The brothers biggest hit, "Cathy's Clown", was one they co-wrote in 1960. "Cathy's Clown" became their third number one hit, and The Beatles based the harmonies from the song to write "Please Please Me". Additionally, Phil Everly wrote "When Will I Be Loved".
After recording "Wake up Little Susie," Don and Phil embarked on a 78-city tour that began on September 6th and ran through the 24th of November, 1957. They shared the stage with Chuck Berry, Buddy Knox, The Drifters, Paul Anka, Fats Domino, The Crickets, and Eddie Cochran. Their tour included a concert date at the Georgia Auditorium in Vancouver on October 23rd. In 1957 and 1958 the Everly Brothers toured extensively with Buddy Holly and The Crickets.
When Buddy Holly died in a plane crash in rural Iowa on February 3, 1959, Phil Everly attended the funeral and sat with Holly's family. Don did not attend, saying, "I couldn't go to the funeral. I couldn't go anywhere. I just took to my bed."
By 1961 Don and Phil Everly had racked up eleven Top Ten hits on the Billboard Hot 100. In October 1961 they enlisted in the United States Marine Corps. That same month they had a minor hit with "Muskrat", their final recording of a song by Felice and Boudleaux Bryant.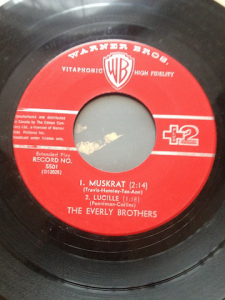 "Muskrat" is a song full of questions posed to different species. A muskrat is asked what makes its back so slick? A ground-hog is asked what makes its back so brown? A jaybird is asked why it flies so high? A rooster is asked what makes its claws so hard? And a tomcat is asked what makes its tail so long. The responses they give the questioner, who is presumably human, are snapshots of the fragility of life. The muskrat wonders why it isn't sick. The ground-hog wonders why its still around. The jaybird wonders why it isn't dead. The rooster wonders why it isn't tired, and the tomcat wonders why it still exists. The song projects the challenges of human endurance and survival onto these other sentient beings. Listeners to the song may have identified with the muskrat, ground-hog, jaybird, rooster or tomcat, and its plight. "Muskrat" climbed to #8 in San Francisco and #15 in Vancouver (BC).
In 1961, the brothers had a falling out with Wesley Rose during the recording of "Temptation". Rose was perturbed that Don and Phil were recording a song Rose hadn't published. Since Rose wouldn't be paid publishing royalties, he tried to prevent the single from being released. When the Everly Brothers went ahead and released "Temptation", in late 1961 they were prevented from collaborating with any Acuff-Rose songwriters. These included Felice and Boudleaux Bryant, as well as Don and Phil Everly themselves, who were still contracted to Acuff-Rose as songwriters and had written several of their own hits. Subsequently, Don and Phil recorded some songs credited to Jimmy Howard a pseudonym they used to avoid a dispute with Acuff-Rose publishing.
Seeking new songwriters, they recorded "Walk Right Back" by Sonny Curtis (of the Crickets), "Crying In The Rain" by Carole King and Howard Greenfield, "Ebony Eyes" by John D. Loudermilk, and "That's Old Fashioned" by the Elvis Presley songwriters Bill Giant, Bernie Baum and Florence Kaye ("You're The Devil In Disguise" and numerous songs for films including Roustabout, Viva Las Vegas, Fun in Acapulco, It Happened at The World's Fair, Girl Happy, Spinout, Kissing' Cousins and others.
On February 18, 1962, the Everly Brothers appeared on The Ed Sullivan Show and performed "Jezebel" and "Crying in the Rain" while dressed in their blue Marine Corps uniforms. It was their only appearance between October 1961 and the end of 1962 when they were stationed at Camp Pendleton in San Diego County. Their absence from touring and television appearances coincided with a decline in sales and interest in the Everly Brothers. The dance craze – "The Twist", "The Loco-Motion", The Mashed Potato" and others, the surfing sound, the bossa nova and the British Invasion were on the ascendant. The Everly Brothers and many other recording artists from the late 50s struggled to adapt. Between 1963 and 1973 the pair released 30 singles. Of these, none made the Top 30 and only three made the Billboard Hot 100.
Though the Everly Brothers were no longer on the top of the charts, they continued to perform live. In 1968 the pair came to Vancouver. They did shows at Isy's Supper Club at 1136 West Georgia Street for ten nights in a row. Isy's poster ran with this pitch:
Isy's Supper Club
Presents
10 BIG DAYS
OCT.16 to 26
The BIG EVENT
OF 1968
EVERLY
BROTHERS
Warner Bros. Recording Stars
SINGING
ALL
THEIR
(MILLION)
RECORD
HITS
RESERVE NOW, MU.4-5022
In 1970 the Everly Brothers had a summer variety show on ABC-TV titled Johnny Cash Presents the Everly Brothers. Among their featured guests were Linda Ronstadt and Stevie Wonder. Don Everly released an unsuccessful solo album the following year. On June 4, 1972, the Everly Brothers appeared in concert at the Queen Elizabeth Theatre in Vancouver.
Lacking any direction, they scheduled a farewell performance on July 14, 1973, at Knott's Berry Farm in Southern California. While they were performing, Phil smashed his guitar and left the stage, leaving Don to play the final songs in their set to a stunned audience. Beneath the surface the two had sharply different political views. Aside from their music, they had little in common regarding their outlook on life.
In 1983 the brothers buried the hatchet after their father's funeral to perform a reunion concert at the Royal Albert Hall in London, The next year they released a single written by Paul McCartney titled "On The Wings Of A Nightingale" which peaked at #50 on the Billboard Hot 100. UK. In 1986 the Everly Brothers provided backing vocals for the title song on Paul Simon's Graceland album. And on July 13, 1986, the Everly Brothers performed at the Expo Theatre in Vancouver.
In 1994 "All I Have To Do Is Dream" made it into the Top 20 of the UK singles chart, with vocals by Phil Everly and Cliff Richard. In 1997 they received a Grammy Lifetime Achievement Award. They were also given a star on the Hollywood Walk of Fame.
Don and Phil Everly toured with Simon & Garfunkel as part of their Old Friends Tour. During the concerts they performed in the middle of the show. The tour involved 72 dates in the United States, Canada and Europe, between October 2003 and July 2004.
In 2014 Phil Everly, a longtime smoker, died of lung disease at the age of 74. The Everly Brothers close harmony style has been credited as a musical influence by the Beach Boys, The Beatles, Simon & Garfunkel, The Bee Gees, Neil Young and The Hollies.
September 14, 2019
Ray McGinnis
References:
Kurt Loder, "The Everly Brothers: The Rolling Stone Interview: Thirty Years of Heart-melting Music and Heart-wrenching Sadness," Rolling Stone, May 8, 1986.
Tony Russell, "Felice Bryant: Gifted Songwriter with Many 1960s Chart Hits," Guardian, May 20, 2003.
"Felice and Boudleaux Bryant bio," Rockabilly Hall of Fame.
Philip Norman. Buddy Holly: The Definitive Biography of Buddy Holly. (Macmillan, 1996).
Roger White, The Everly Brothers: Walk Right Back, (Plexus, 1998).
Lee Wilson, All I Have To Do Is Dream: The Boudleaux and Felice Bryant Story, (Two Creeks Press, 2017).
"Everly Brothers – Concerts, Canada," setlist.fm.
"Fabulous Forty," CKWX 1130 AM, Vancouver, BC, October 21, 1961.
For more song reviews visit the Countdown.