#17: My Little Red Book by Gainsborough Gallery
City: Calgary, Alberta
Radio Station: CKXL
Peak Month: April 1968
Peak Position in Calgary ~ #3
Peak position in Vancouver ~ did not chart
Peak Position on Billboard Hot 100 ~ did not chart
YouTube: "My Little Red Book" – Standells version
YouTube: "My Little Red Book" – Manfred Mann version
Lyrics: "My Little Red Book"
At first there was a guitarist and lead singer named Mel Degan (B. 1943) and bass guitarist Dennis Paul who were based in Edmonton. They formed a band called The Skeptics. In 1964 they relocated in Calgary and were joined with vocalist Jae Mack, guitarist Peter Marley and drummer Ray McAndrew. They got a reputation on the local scene playing at coffee shops and halls. By 1966 they were billing themselves as The Gainsborough Gallery. This was in honour of the Calgary art museum of the same name (and where they also received fan mail). Tim McHugh (b. 1945 in Calgary) joined the band on keyboards.
In 1968 they went to Las Vegas to record some sessions. But the recording sessions were a bust and they headed back to Calgary. In the fall and winter of '68 they released the singles "My Little Red Book" and "If You Knew" on Apex Records.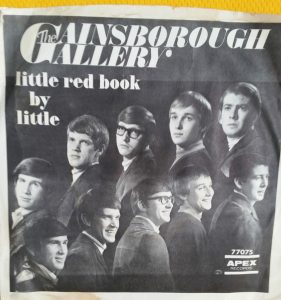 "My Little Red Book" was written by Burt Bacharach and Hal David. Burt Bacharach was born in Kansas City, Missouri, in 1928. His father was a syndicated newspaper columnist and his family were non-practicing Jews. Harold Lane was born in 1921 and took the name Hal David. Starting in the late '50's, he teamed up with composer, Hal David, working in the Brill Building. They co-wrote "The Story Of My Life" which became a #1 hit for Michael Holliday in 1958 in the UK, and "Magic Moments" for Perry Como another #1 hit in the UK and #4 on the Billboard Hot 100 later that year. In 1961 Bacharach wrote "Tower Of Strength" for Gene McDaniels and "Baby It's You" for The Shirelles. Bacharach and David had a banner year in 1962 with hits that included "The Man Who Shot (Liberty Valance)" (Gene Pitney), "Make It Easy On Yourself" (Jerry Butler), "Don't Make Me Over" (Dionne Warwick) and "Only Love Can Break A Heart" (Gene Pitney).
In 1963 the Bacharach and David enjoyed more accolades with "Wishing And Hoping" (Dusty Springfield), "Blue On Blue" (Bobby Vinton), "Close To You" (The Carpenters, #1 in 1970) and "Anyone Who Had A Heart" (Dionne Warwick). 1964 continued their winning ways with "Walk On By" (Dionne Warwick) as well as their hit with Sandie Shaw. The next year they had a modest hit with "Trains And Boats And Planes" by Billy J. Kramer and the Dakotas (and also Dionne Warwick). In 1965 they had a #3 hit with Tom Jones singing "What's New Pussycat?" Other notable songwriting classics include "I Say A Little Prayer" (Aretha Franklin), "This Guys In Love With You" (Herb Alpert) and "Raindrops Keep Falling On My Head" (BJ Thomas). In the 1980's Burt Bacharach co-wrote with Carol Bayer Sager "On My Own" for Patti Labelle and Michael McDonald and "Arthur's Theme" for Christopher Cross. Both were #1 hits. Hal David died in 2012 at the age of 91. Burt Bacharach died in 2016 at the age of 88.
As a YouTube post of the Gainsborough Gallery cover of "My Little Red Book" is not presently available, I have posted above versions by Manfred Mann and also the Standells. The song was originally recorded by Manfred Mann and included in the 1965 film, What's New Pussycat? Despite receiving good critical reception, the Manfred Mann version stalled at #124 on the Billboard Bubbling Under Hot 100 chart."My Little Red Book" was also recorded by Love, who charted the song to #52 on the Hot 100 in 1966. An instrumental version of "My Little Red Book" was recorded in 1965 by Sounds Incorporated. In 1967 Gals and Pals recorded a country version of the song in Norway. Also in 1967, the Alphabetical Order recorded a garage rock version of "My Little Red Book". And in 1965, Burt Bacharach recorded a version of this song he co-wrote.
"My Little Red Book" is a song about a guy who has broken up with someone. Now, he has a little red book and writes down the names of every girl he dates. He tries to get over his ex, but all he can do when he's on a date is talk about his ex-girlfriend to his date. And all he can do is cry. In the film, What's New Pussycat?, during the sequence where "My Little Red Book" is played in the background, Woody Allen's character Victor Shakapopulis looks on at a girl he is infatuated with who dances with a guy who takes off his shirt on the dance floor.
"My Little Red Book" by the Gainsborough Gallery peaked at #3 in Calgary. The next single, "If You Knew" made the Top 20 in Calgary. But outside of Calgary, "My Little Red Book" and "If You Knew" were not commercially successful. So Apex dropped the band. Subsequently, they signed with the REO label. Dennis Paul had previously been with a band called The Rebels who did some sessions with Buddy Holly's producer, Norm Petty. So The Gainsborourh Gallery headed to Clovis, New Mexico, and spent a month putting together an album. Petty was persuaded to release Life Is A Song, which appeared in record stores in December 1969. Because Jae Mack was Black, Gainsborough Gallery was passed up as an opening act on a tour of the eastern USA.
None of the songs on the album were written by any of the bandmates. The debut single from the album was "Life Is A Song" which climbed to #54 on the Canadian RPM singles chart. Its ten-week stay on the charts fuelled a western Canadian tour. Although Mack appeared on the album, he wasn't credited. Instead, Henry Small who didn't sing or play a note on the album, was credited. Small was a new member in the band and provided vocals and violin at the Gainsborough Gallery's live performances.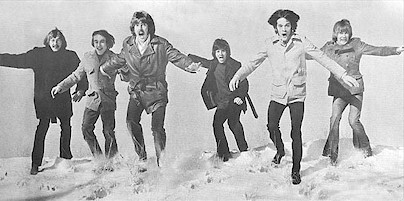 Dennis Paul | Ray McAndrew | Tim McHugh | Henry Small | Mel Degan | Peter Marley
The followup single in April 1970 was "Ev'ry Man Hear Different Music" which peaked at #16 in Calgary and peaked #78 on the Canadian RPM singles chart. Another track from the debut album recorded in New Mexico, "House On Soul Hill", was released in the summer of 1970. It climbed t0 #7 in Antigonish (NS), and the Top 20 in Medicine Hat. But it failed to crack the RPM top 100. Neither of these follow-up singles appeared on the record surveys in Vancouver.
As the recording career of the band was going sideways, Gainsborough Gallery split up in early 1971 when their contract with REO ended. Pete Roach and Wayne Stevenson, writing on the canadianbands.com website report that Henry "Small joined Scrubbaloe Caine, then moved to Vancouver where he formed Small Wonder and then joined the Vancouver rock n' roll band, Prism, after a couple of years on the road as part of Burton Cummings' band. Henry Small went solo and currently does production and management work. McHugh also moved to Vancouver and became a producer. McAndrew, Marley and Degan all stayed in Calgary and became session players. Dennis Paul is a financial consultant in Arizona. Jae Mack now lives in Tennessee." Mel Degan became a member of Privilege. He died in 2014 at the age of 71. Timothy McHugh died in Seattle in 2021 at the age of
September 15, 2023
Ray McGinnis
References:
Pete Roach and Wayne Stevenson, "Gainsborough Gallery," Canadian Bands.com.
"George Tomsco," Discogs.com.
Richard Barber, Burt Bacharach at 88: 'Why Would I Ever Want To Stop?', Telegraph, London, UK, June 10, 2016
Richard Williams, Hal David Obituary: Lyricist Behind Some of the Greatest Pop Hits of the 20th Century, Guardian, September 2, 2012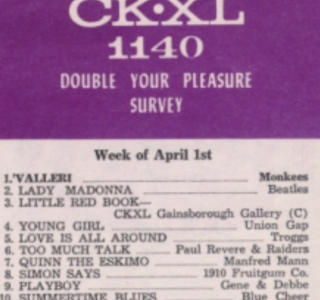 CKXL 1140 AM, Calgary, Alberta, April 1, 1968 (Top Ten)