#37: My Name Is Mud by Eddie Rambeau
City: Calgary, Alberta
Radio Station: CFAC
Peak Month: August 1965
Peak Position in Calgary ~ #8
Peak position in Vancouver ~ did not chart
Peak Position on Billboard Hot 100 ~ #112
YouTube.com: "My Name Is Mud"
Lyrics: N/A
Eddie Rambeau was born Edward Cletus Fluri, in 1943. His birthplace was Hazelton, Pennsylvania. He is an singer, songwriter, actor and author. Rambeau sang at record hops in Hazelton where he impressed deejays with his talent. One of the deejays, Jim Ward, set up an audition for Rambeau at Swan Records. He was signed to the label and released his first single, "Skin Divin'", under his new name, Eddie Rambeau, on graduation day in June 1961. The song made the Top 20 in several radio markets in Idaho and Massachusetts.
In 1962, Rambeau recorded two more singles, "My Four Leaf Clover Love" and "Summertime Guy". In 1963, Eddie Rambeau recorded several duets with Pittsburgh native, Marcy Jo. She'd previously had a hit in Pennsylvania and in Vancouver, in 1961, titled "Ronnie". Although he missed having a national hit in America with "Summertime Guy", Eddie Rambeau wrote "Navy Blue". The song is about a gal who is all broke up because her "steady boy said 'ship ahoy,' and joined the nay-ay-vy." "Navy Blue" was recorded by Diane Renay and became a #6 hit on the Billboard Hot 100 and #5 in Vancouver in March 1964. He wrote several followup releases for Diane Renay that year.
In 1965, Eddie Rambeau covered a tune by the UK band, Unit Four plus Two, titled "Concrete And Clay". It made the Top 40 on the national charts in the USA and #5 in Vancouver. His followup in '65 was "My Name Is Mud", a track from Concrete And Clay.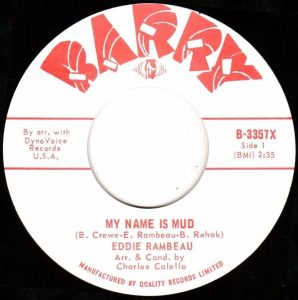 "My Name Is Mud" was cowritten by Bob Crewe, Eddie Rambeau and Bud Rehak. The song tells the story of a guy whose girlfriend's nickname for him is "sweet baby." But, when she catches him cheating on her just one time, his name is "mud." Once she ran to catch a kiss he would blow her way. But now she runs away from him, as he admits "I'm scratched off her list." He objects "it isn't fair, for one mistake our love should break up."
Robert Stanley Crewe was born in 1930 in Newark, New Jersey. He had a musical aptitude from a young age and in 1953 met pianist Frank Slay Jr. They started writing songs recorded by R&B singer Faye Adams and others. In 1957 Bob Crewe and Slay cowrote the Rays number one hit "Silhouettes". The B-side "Daddy Cool", which the songwriting duo also wrote, was covered by the Diamonds and peaked at #10 on the Billboard pop chart. In 1958 the pair wrote "La Dee Dah", a Top Ten hit for Billy and Lillie, and others including Sal Mineo.
Andrew "Bud" Rehak collaborated with Eddie Rambeau on "Navy Blue" for Diane Renay in 1964. Rehak also co-wrote with Bob Crewe "Big Town Girl" for Shirley Matthews. As well, in 1963 Rambeau, Crewe and Rehak cowrote "Here Comes The Boy" for Tracey Dey. The single charted to #10 in Vancouver in January 1964. Rambeau and Rehak cowrote the followup single for Diane Renay after "Navy Blue", titled "Kiss Me Sailor". That release peaked at #29 on the Billboard Hot 100.
Then in 1959, Crewe and Slay wrote "Talahassee Lassie" for Freddy Cannon. In the early 60s Crewe wrote songs for rockabilly singer Dale Hawkins, Ben E. King, Dee Dee Sharp, Tracey Dey, Barbara Lewis' "Puppy Love", Eddie Rambeau, the Orlons and others. The pair also produced "Way Down Yonder In New Orleans" for Freddie Cannon. The duo also wrote for Danny & The Juniors, Chubby Checker and Marcy Jo.
In 1962 it was Bob Crewe who suggested to Vee-Jay Records that the Four Seasons record "Sherry". In the mid-60s Bob Crewe co-wrote "Navy Blue" for Diane Renay, "Big Girls Don't Cry", "Silence Is Golden", "Rag Doll", "Ronnie", "Save It For Me", "Let's Hang On" and "Bye Bye Baby (Baby Goodbye)" all for the Four Seasons. Bob Crewe also co-wrote "The Sun Ain't Gonna Shine Anymore" – a hit for the Walker Brothers, and "Jenny Take A Ride" by Mitch Ryder & The Detroit Wheels – the latter with Little Richard.
Crewe produced "Dawn (Go Away)", and "Opus 17 (Don't You Worry 'Bout Me)" both for the Four Seasons; "Devil With A Blue Dress" for Mitch Ryder & The Detroit Wheels, "Music To Watch Girls By" for The Bob Crewe Generation, and "Jean" for Oliver. Crewe also co-wrote several songs for Frankie Valli in solo efforts: "Can't Take My Eyes Off You", "Swearin' To God" and "My Eyes Adored You". Other songs Bob Crewe wrote that were hits in the 1970s include "Lady Marmalade" for Labelle and "Get Dancing'" for Disco Tex and the Sex-O-Lettes. Crewe died at the age of 83 in Maine.
"My Name Is Mud" peaked at #8 in Calgary, #12 in Sarnia (ON), #13 in Jackson (MI), #14 in Battle Creek (MI), #15 in Hamilton (ON), and #17 in Edmonton (AB).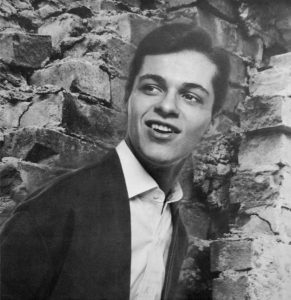 Album cover of Eddie Rambeau's 1965 release Concrete and Clay
In the winter of 1965-66, Rambeau's single "The Train" bubbled beneath the Billboard Hot 100, stalled at #129. A subsequent release in 1966, "Clock", stalled at #122. In 1968, under the pseudonym of Eddie Hazelton, he released "Good Morning Starshine". The song from the musical Hair was later a hit for Oliver.
Rambeau went on to become an actor as part of the caste of the continuing (but not original) Broadway musical, Hair. Later, he also was caste in the musical, Jesus Christ Superstar. In his book, Sal Mineo: A Biography, Michael Gregg Michaud details how Mineo's six-year relationship with Courtney Burr III included Mineo putting up with a side affair between Burr and Eddie Rambeau. Burr and Rambeau had met while costarring in the off-Broadway play, Norman, Is That You? prior to its brief run at the Lyceum theatre in February 1970. In 1972, Eddie Rambeau got a role in an off-Broadway play titled Tubstrip, a gay comedy.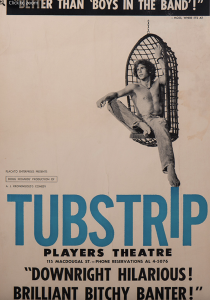 In the 1970's, Rambeau established a management company and had a disco group from the New York City area, called the Front Runners, record a disco version of Miss Toni Fisher's 1960 hit, "The Big Hurt".
In 2011, Rambeau published his first novel, a murder-mystery called Forbidden Steps: A Story of Intrigue and Murder. The plot concerns a 22-year old top male model named Chad who is going back home to be at his dad's funeral.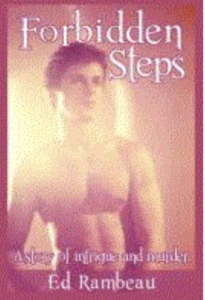 Eddie Rambeau also has appeared on the TV soap opera, Guiding Light, according to the author notes on the back cover of his murder-mystery novel. In addition, Eddie Rambeau has developed a talent for painting and photography.
August 2023
Ray McGinnis
References:
John J. Grecco, Eddie Rambeau from Rockwell to Rock n' Roll, Craft-weg.org
Eddie Rambeau, Shindig!, ABC-TV, 1965.
Michaud, Michael Gregg. Sal Mineo: A Biography. Three Rivers Press, New York, 2010. pp. 326-327 ff.
Rambeau, Ed. Forbidden Steps. 2011.
Norman, Is That You? Wikipedia.org.
"Eddie Rambeau – Discography," Eddie Rambeau Fan Club.
"Bob Crewe Biography," Bob Crewe.com.
For more song reviews visit the Countdown.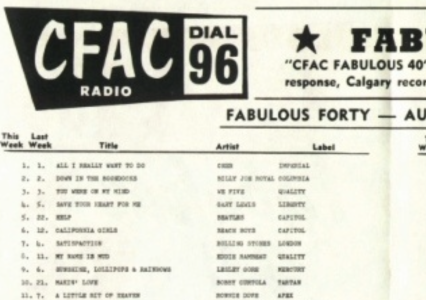 CFAC 960 AM, Calgary, Alberta, August 9, 1965.