#264: Next Plane To London by Rose Garden
Peak Month: November 1967
8 weeks on Vancouver's CKLG chart
Peak Position #2
1 week Hit Bound
Peak Position on Billboard Hot 100 ~ #17
YouTube: "Next Plane To London"
Lyrics: "Next Plane To London"
In 1964, a couple of students at a local Los Angeles high school discovered their mutual interest in making music. All born around 1949-1950, John Noreen and Jim Groshong both played guitar. Bill Fleming played bass guitar and Bruce Bowdin was a drummer. They decided to form a band and named themselves the Blokes. A 'bloke' is British slang for 'an ordinary guy, man.' Noreen, Groshong and the others chose their name after a British slang word, hoping to get in on the musical craze surrounding the British Invasion in '64.
However, the Blokes decided to shift their sound in 1965 in response to the growing folk-rock sounds of the Byrds, the Lovin' Spoonful, The Mamas & the Papas, Simon & Garfunkel, The Turtles, Bob Dylan, Sonny & Cher, Barry McGuire, the We Five and others. With the output of The Byrds, with their album releases Mr. Tambourine Man and Turn! Turn! Turn!, the much of the set in live performances by the Blokes were covers of Byrds tunes. John Noreen, who played the 12-string guitar, commented "The 12-string really is as much a part of that [folk rock] sound as the songs themselves are. We used to learn Byrd songs right down to the very kick drum patterns. I learned [Roger] McGuinn's parts verbatim. We even learned '8 Miles High,' which no other band I ever heard of would even dare take on. We played it everywhere we had a gig."
In the winter of 1966-67, Diana De Rose joined the Blokes. Also trying to capitalize on the British Invasion, she tried to pass herself off as coming from Blackpool, England. However, she was a native of a railroad town on the banks of the Ohio River called Parkersburg, West Virginia. De Rose was a high school graduate in 1964, and for a couple of years performed in clubs around the town. In his article about the Rose Garden, Jim Dawson described Diana De Rose with these words: "With dark eyes, flaming red lips and wide-hips draped in short black dresses, she had been Parkersburg's answer to Joan Baez until she left town in 1966 and headed west."
Once Diana De Rose arrived in Los Angeles, John Noreen remembered, "She met Jim somewhere in Hollywood and wanted him to join her band or start a [new] band. But Jim wanted to stay where he was, and we did need another vocalist, so we all thought it would be best if she came to our band."
De Rose had some connections, and with other members of the Blokes, they got some demos recorded and brought to the attention of Charlie Greene and Brian Stone. Greene and Stone were managing Sonny & Cher, and were promoters with the Atco label.
In the spring of 1967 there were a number of 'sunshine pop' songs on the radio. One of these was "Sunshine Girl" by the Parade. Another 'sunshine pop' studio band called Giant Sunflower had recorded "February Sunshine". They were made up of studio musicians. In April '67, the single made the Top Ten in Omaha (NE), and the Top 20 in Las Vegas. As the single was starting to get some airplay across California, Ode Records found they needed to respond. John Noreen recalls the Blokes first assignment was not to go on tour as the Blokes. "With all the airplay it [February Sunshine] was getting, they needed a band to go with the record. So we became the Giant Sunflower for a few weeks."
As well, Charlies Greene and Brian Stone invited the Blokes to do their own cover version of "February Sunshine." The Blokes – now as 'The Giant Sunflower' made an equivalent rendition with guitar and vocal arrangements that sounded like the original. However, the Blokes version was even more accessible for AM Top 40 radio. In addition, Greene and Stone were in the habit of changing the names of recording artists. They'd changed Herd to Buffalo Springfield. The record promotors took inspiration from the appearance and surname of Diana De Rose. "We were looking for a good name. Everything was 'flower power' at that time, so the Rose Garden made sense," recalled John Noreen.
As the Rose Garden, the group was given help by Pat Vegas, the writer of "February Sunshine" and the 1964 hit instrumental "Out of Limits" for the Marketts. Former Byrds bandmate, Gene Clark, also gave the Rose Garden some songs to record.
John Noreen remembers that Gene Clark dropped in to hand "Till Today" to the group. "He came over to my house, where we usually rehearsed. We all sat around while he taught it to us. He also came in the studio while we were recording the album to help us out any way he could. He was a great guy." Clark had been planning to record the song himself for a solo album with Columbia Records. But when the project faltered, Clark gave "Til Tuesday" and another song he wrote to the Rose Garden.
Atco wanted the Rose Garden to release an album, and like the Byrds, the Rose Garden worked on some covers of songs by Bob Dylan. They chose to do a cover of "She Belongs to Me" from Dylan's album Bringing It All Back Home. As well, they did a cover of the Pozo Seco Singers' "Look What You've Done".
As the album was coming together, the group was still looking for a song that could be a candidate for a hit single. One of the promotion men at Atco, Pat Pipolo, put the Rose Garden in touch with his cousin, a songwriter named Kenny Gist, Jr., who was writing a new song. "That's how we got [Gist's] "Next Plane to London," says Noreen.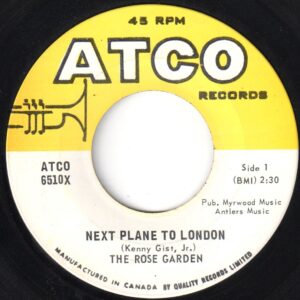 The Rose Garden went into Nashville West Studios on Melrose Avenue in Hollywood to record "Next Plane To London". The notice that they had studio time to record the song was so last minute that John Noreen didn't have time to create a suitable guitar solo. So the producers in the recording studio from Atco decided on-the-spot to fill in what would have been a brief guitar solo with what became the song's most distinctive element: an "airport voice" announcing the plane's departure at gate 5. "Don Elliot was the program director for KBLA, which was near the studio. So someone called him to do [the voice]. We were not real thrilled with this, but G&S [Greene and Stone] wanted it to stay, so it stayed. By the time I had a guitar part ready it was too late." And so Don Elliot read these lines in the middle of the song: "Your attention please. The next flight to London is now in the final boarding stage. All passengers holding tickets please proceed to boarding area number five." Once Atco had pressed some copies of "Next Plane to London," Greene and Stone took it to KBLA, and Don Elliot immediately put the song on rotation.
"Next Plane to London," featuring De Rose backed by Jim Groshong and John Noreen's tight harmonies, is a lament about a frustrated singer ready to leave Los Angeles in search of greener pastures in England. She sings "down in Hollywood I couldn't find a friend who would help me get in, or listen to me." Since she's only met with obstacles and closed doors, she boards a plane to London, even though it means leaving her boyfriend behind. "Maybe over there I'll get a start," a break, she hopes.
Even before she boards her plane in Los Angeles for London, she's already "missin' him, that baby of mine." As she boards she hopes she doesn't break her boyfriend's heart. She recognizes that their relationship is ultimately "the more important part, than any record on chart." So, given that she's already missing her boyfriend before her departure to London, chances are she'll make it a priority to see make the relationship work – even if it is long distance for awhile.
"Next Plane To London" entered Billboard's Hot 100 at #91 on October 21, 1967 and topped out at #17 two months later, on December 30. The day the single peaked on the Billboard Hot 100 coincided with their appearance on American Bandstand, where they lip-synched both "Next Plane to London" and "Flower Town". During her interview with Dick Clark, Diana De Rose sounded like someone from West Virginia and Dick Clark comment that she'd lost her British accent. Clark asked De Rose "How does a gal from England get together with four guys from California, San Fernando Valley?" Maintaining her pose as a Brit, Diana De Rose tells the ABC audience "I just came out her to sing folk music, and I decided to be a rock 'n roller."
Songwriter Kenny Gist subsequently recorded under the name Kenny O'Dell. His song "Beautiful People" climbed to #38 on the Billboard Hot 100, and #8 in Vancouver in the winter of 1967. Both "Next Plane To London" and "Beautiful People" were in the Top Ten on the CKLG Boss 30 in Vancouver (BC) for the week of December 9, 1967.
In an interview with KRLA's Beat magazine on January 13, 1968, Kenny O'Dell (Gist) said of Rose Garden's treatment of his song "I like their recording of it, and I'm glad that it's so successful. But, interestingly, it's quite different from the way I recorded it, the sound I had in mind." What O'Dell had in mind originally was a less edgy sound.
"Next Plane To London" climbed to #1 in Lansing (MI), Troy (NY), Tupelo (MS), Springfield (MA), Pointe Claire (PQ), and Flint (MI), #2 in Vancouver (BC), Topeka (KS), Guelph (ON), Dayton (OH), Regina (SK), Knoxville (TN), La Crosse (WI), and Los Angeles, #3 in Bakersfield (CA), Miami, Houston, Erie (PA), Denver, Birmingham (AL), Phoenix, Newport News (VA), Fort Worth (TX), Fort Wayne (IN), and Grand Rapids (MI), #4 in Detroit, Sault Ste. Marie (ON), Buffalo, Winnipeg (MB), Dallas, Orlando, Sarasota (FL), Wilkes-Barre (PA), Battle Creek (MI), Quincy (IL), Seattle, San Bernardino (CA), Toronto, San Diego, San Francisco, San Jose (CA), Oxnard (CA), and Vancouver (WA), #5 in Windsor (ON), Davenport (IA), Memphis, St. Louis, and Cincinnati, #6 in Hartford (CT), Missoula (MT), Calgary (AB), Kansas City (MO), Peterborough (ON), Escondido (CA), and Sacramento (CA), #7 in Santa Barbara (CA), Charleston (WV), and El Paso (TX), #8 in Canton (OH), Green Bay (WI), Minneapolis/St. Paul, Lincoln (NE), Reno (NV), and Salt Lake City, #9 in Spokane (WA), Harrisburg (PA), Bismarck (ND), Honolulu, Madison (WI), York (PA), Lancaster (PA), Roanoke (VA), Bangor (ME), Albuquerque (NM), and St. Joseph (MI), and #10 in Pocatello (ID).
As the single made the Top 20 nationally across the USA, and the Top Ten in selected radio markets in the USA and Canada, The Rose Garden went on tour. They appeared on stage variously with Neil Diamond, Glen Campbell, Canned Heat, the Stone Poneys (with lead singer Linda Ronstadt), Chuck Berry and Little Richard. Meanwhile, Atco released their 10-song LP, The Rose Garden. because However, fans of the group's hit single were disappointed to discover that Diana De Rose was singing on only five of the ten tracks on the album.
When the Rose Garden went back to the recording studio, they recorded a single in early 1968 titled "If My World Falls Through". It was written by Kenny O'Dell. It featured Diana De Rose on lead vocals. Though the B-side "Here's Today" also advertised "Featuring Diana De Rose", she was not featured on either lead or backing vocals. "If My World Falls Through" climbed to #17 in Vernon (BC) and made the Top Ten in Coffeyville, Kansas.
An EP featuring "Rider", a cover of another Byrds song, was subsequently released, but got little notice. John Noreen felt the Rose Garden became "a lot tighter" in their harmonies and musically on stage from constant touring. Noreen recalls "I think at that time we were just starting to find our groove." However, he complained "I felt that the band was watching out for the band and Diana was watching out for Diana. We got great reviews in all the record mags, all of them predicting great success for the second single. But I think the girl-versus-the-guys thing was wearing thin on [Atco]. Also about that time, Jim and Bruce were starting to get hassled by the draft board. So maybe the powers-that-be saw the writing on the wall. We were still functioning, but between the fighting and Jim and Bruce about to be drafted, I lost it and my health suffered. Somewhere around May or April I left the band. They got a sub for me but I never came back, and soon Jim and Bruce were off to the service anyway. So that was the end of that." As well Charlie Greene and Brian Stone were giving all their attention to a new group called the Iron Butterfly.
In an article in Goldmine magazine in 2005 it was reported that the members of the Rose Garden were still in contact and thinking about a reunion. The article reported:
Noreen, who toured extensively as a steel guitarist with Highway 101 in the 1980s, works as a computer tech for his wife's Nashville real estate business, and as a session guitarist on the side. Groshong owns a construction company in the San Fernando Valley, Fleming is a retired Los Angeles police officer living in Orange County, and Bowdin is a buyer with the Dallas, Texas, transit system. De Rose briefly replaced lead vocalist Gayle McCormick in A Group Called Smith (known for their 1969 hit, "Baby, It's You"), but eventually left music altogether because life on the road had become too "stressful and draining." She earned a degree in computer programing and worked as a graphic artist for Hughes Aircraft in the 1970s. She later married a doctor from San Antonio, Texas, where she lives today.
The writer of "Next Plane To London" Kenny Gist/Kenny O'Dell (born in Oklahoma in 1944) moved to Nashville in 1969. Among the songs he wrote is Charlie Rich's number-one hit in 1973 "Behind Closed Doors", Loretta Lynn's chart-topping country hit in 1974 titled "Trouble in Paradise", and Tanya Tucker's number-one 1975 Hot Country Songs hit "Lizzie and the Rainman". While in 1984 O'Dell wrote another number-one Country hit, this time for The Judds titled "Mama He's Crazy". O'Dell also wrote "Never Did Like Whiskey" for Billie Jo Spears, and a #5 Country hit for her in 1976 titled "What I've Got in Mind". O'Dell died at the age of 73 in 2018.
August 27, 2021
Ray McGinnis
References:
Dick Clark, "Rose Garden Interview," American Bandstand, December 30, 1967.
Jim Dawson, "The Rose Garden (1967-1968)," Goldmine, November 25, 2005.
Robert K Oermann, "Nashville Songwriters Hall of Fame Member Kenny O'Dell Dies," music row.com, March 29, 2018.
Ritchie Unterberger, "Liner Notes for The Rose Garden's The Rose Garden," AllMusic.com.
"Boss 30," CKLG 730 AM, Vancouver, BC, November 25, 1967.
"Boss 30," CKLG 730 AM, Vancouver, BC, December 9, 1967.
For more song reviews visit the Countdown.