#605: Niki Hoeky by P.J. Proby
Peak Month: February 1967
9 weeks on CFUN's Vancouver Chart
Peak Position ~ #4
Peak Position on Billboard Hot 100 ~ #23
YouTube.com: "Niki Hoeky"
Lyrics: "Niki Hokey"
James Marcus Smith was born in 1938 in Houston, Texas. His mother left his father when he was ten. His dad threatened to shoot her with a gun, but was overcome by other relatives. James' mother took custody of the boy and he was sent to military schools from the age of ten until he graduated. After high school graduation, Smith moved to Hollywood and was billed as Jet Powers. He also recorded a few songs under his given name. But, in 1961 Sharon Sheeley, the composer of Ricky Nelson's "Poor Little Fool" and girlfriend of Eddie Cochran, suggested Smith bill himself as P.J. Proby. The name came from one of her former boyfriends. Proby had a minor hit in the fall of 1961 with Liberty Records titled "Try To Forget Her". The single cracked the Top 50 on CFUN in Vancouver in October. He continued to record with little success while he recorded demos for Elvis Presley, Bobby Vee and Johnny Burnette. For awhile he worked as a driver for Paul Newman. Proby flew to London, UK, and through Sharon Sheeley's connections, met Jackie DeShannon and British TV producer Jack Good. Good got P.J. Proby to appear on a Beatles TV special on May 6, 1964, called Around The Beatles.

P.J. Proby's first single in the UK, "Hold Me", was a song from the 1930's. Proby's cover climbed to #3. It also climbed to #4 in Toronto and #46 in Vancouver. He had another Top Ten hit that summer in the UK titled "Together", which climbed to #13 on CFUN in Vancouver. His third Top Ten hit in the UK in 1964 became a Top 20 hit in Vancouver. It was titled "Somewhere", a song composed by Stephen Sondheim from the 1957 Broadway musical, West Side Story. It peaked at #6 in the UK singles chart in '64. P.J. Proby had a fourth Top Ten hit in the UK in early 1965, "Maria", also from West Side Story.
However, his career in the UK got derailed from two live appearances on television in January '65, where he split his black velvet hipster trousers on stage. The British press was scandalized. P.J. Proby protested: "My trousers split. I had nothing to do with it. They did it on their own and it was just one of those things." In the spring of 1965 P.J. Proby cracked the Top 40 in Vancouver with a cover of the Donnie Brooks hit from 1960, "Mission Bell". That summer Proby cracked the Top 20 in Vancouver with "Let The Water Run Down". He also did a cover of the 1957 hit for Huey "Piano" Smith titled "Rockin' Pneumonia".
In 1962 Proby married 16-year-old Marianne Adams while he was 23. But things went from bad to worse. He caught her having sex at their home with two LAPD officers. She later attacked him with a butcher knife. In 1966 P.J. Proby married his second wife, 17 year-old Judy Howard. At the time Proby was 27 years old.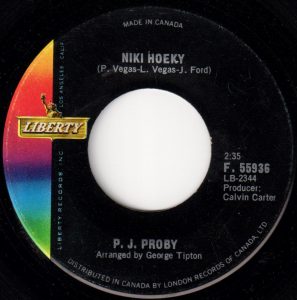 "Niki Hoeky" is a song co-written by Jim Ford, Lolly and Pat Vegas. In 1941 James Henry Ford was born in Paintsville, Kentucky. The county was rural, remote and had a history of having its citizens taken advantage of by carpetbaggers and coal companies. In an article in Kentucky for Kentucky in 2017, it was mentioned, "one of nine children, Ford was raised by his grandmother near Van Lear, Kentucky. In order to hear the radio, Ford said, he would often travel to a cabin on a hill in nearby Butcher Holler, where Loretta Lynn lived." At age eleven, Ford moved first to Michigan with his dad who was in the military. Finding the weather too cold, Jim Ford moved down to New Orleans. He served in the armed forces in Germany for awhile. Then he moved to Los Angeles and then took up residence in Fort Bragg, California.
Ford developed a fusion of soul, country and folk music. His songs often referenced people dealing with adversity. His songs have been recorded by a host of performers including Aretha Franklin, Dave Edmunds, Patti LaBelle, Tanya Tucker, Billy Preston, Burton Cummings, The Black Crowes, Bobby Gentry and The Temptations. Nick "Cruel to Be Kind" Lowe, from the UK, considers Jim Ford as his most formative musical influence. In addition to "Niki Hoeky", Jim Ford wrote "Harry Hippie" which became a modest hit for Bobby Womack in 1972. Ford had a Top Ten hit on CKLG in Vancouver in the fall of 1969 titled "Harlan County". Although he appeared in milk and cigarette commercials in the 1970's, Ford was lost to cocaine in the 80's. He finally kicked the habit by 2004 when he found Jesus. Ford died in 2007 before he could appear at a scheduled concert the following year with Nick Lowe.
Candido Lolly Vasquez was born in 1939 in Coalinga, California, near Fresno. Brother Pat was born in 1941 and won Coca-Cola's first singing competition in 1958 at age 17. In 1959 both brothers began a ten-year run performing in Hollywood at various clubs. They also played as studio musicians for Ike & Tina Turner, Sonny & Cher, The Turtles and Elvis Presley. They wrote songs recorded by Bobbie Gentry, The Marketts, Gene McDaniels, The Rose Garden and others. In the 60's they became part of the house band on the pop variety show Shindig! In 1969 they formed the first Native American rock band to score an international #1 hit, "The Witch Queen Of New Orleans", which climbed to #1 in Belgium in 1971. They also had a Top Five hit in 1974 titled "Come And Get Your Love".
Their band name, Redbone, is a Cajun term for a mixed-race person, which the band adopted to signify their mixed ancestry. Redbone wrote about politics and Native American identity in "Were All Wounded At Wounded Knee", "Message From A Drum", and "Without Reservation". The Vegas brothers ancestry is a mix of Yaqui, Shoshone and mixed Mexican ethnicity. Pat Vegas recalls it was Jimi Hendrix, who was part Cherokee, who encouraged the Vegas brothers to form an all-Native American rock group. Redbone has recorded eight studio albums. Lolly Vegas died from lung cancer in 2010. In 2018, Pat Vegas was awarded with the "Lifetime Achievement Award" from the Indigenous Music Awards.
"Niki Hoeky" climbed to #3 in Birmingham (AL), #4 in Hartford (CT) and Vancouver (BC), #6 in Miami, Oklahoma City, Raleigh (NC) and Detroit, #7 in San Bernardino, Pittsburgh, Atlanta and Abilene (TX), and #9 in New Orleans.
"Niki Hoeky" has one of the wildest song lyrics. It throws in a bunch of nonsense words: "scooby-doo," "scooby-die," "booga-boo," "boulawee," "boola," "wee" and "niki, niki, niki hoeky." However, on further inspection Niki Hoeky is the name of a girl who is "lookin' okay." Her papa is in the "pokey," or prison, her sister is on a drug trip, and her mother "got hip," (left behind her straight-laced ways). All these family dynamics are taking place in Cajun land in Louisiana. Scooby-doo is British slang for "I don't have a clue what you're talking about." Scooby-Doo was also the name for a cartoon character dog that debuted on an animated TV show in 1969. And "booga-boo" is slang for someone who means a lot to you.
P.J. Proby got his first royalty cheque from sales of "Niki Hoeky". But his assessment of what to do on stage with an audience in Kentucky doomed his career. He told them to shout out "that the cigarette he was holding was a spliff." Proby explains, "I have never smoked because I am an asthmatic, he says, embarking on another illustration of how the world has always been against him. "I said to the promoters, 'It was the audience that used the word marijuana, not me." However, the promoters were not amused and P. J. Proby's tour was cancelled.
P.J. Proby had a #1 hit in Huntsville, Alabama, in the summer of 1967. In September 1968, P.J. Proby recorded an album titled Three Week Hero. His backing band for the album was The New Yardbirds. The band soon renamed themselves as Led Zeppelin. Meanwhile, P.J. Proby and his second wife were having problems. He recalls a party in Hawaii: "The phone rang. Judy answered. I said: 'It's one of your lovers, right?' She said: 'How did you guess?' I picked up this glass table and smashed it. I ran upstairs, shouting: 'You cheating sonofabitch [sic]. I knew it." In 1970 Judy Howard commuted suicide. In 1975, then-36-year-old P.J. Proby got married to 21-year-old Dulcie Taylor from Blackpool, UK.
In 1977 P.J. Proby appeared as Elvis in a UK musical titled Elvis – The Musical. It won an award for Best Musical of the Year. And in 1978 P.J. Proby recorded an album with the Dutch rock band Focus, of "Hocus Pocus" fame. The album was titled Focus con Proby.
In 1992 Proby was cast in the role of Roy Orbison in the London musical Only The Lonely. When he was 53, P.J. Proby almost died from alcohol poisoning. He went sober. In 1996 he had a charting single in a duet with Marc Almond titled "Yesterday Has Gone". The following year he was the opening act for a tour headlining The Who across the USA and Europe. Later in 1997 P.J. Proby went on tour to Sweden, Denmark, Germany and the UK. In 2002 Van Morrison recorded a song titled "Whatever Happened To P.J. Proby?". Morrison recorded a duet of the song with P.J. Proby in 2015.
In 2011 P.J. Proby was acquitted of fraud charges. In 2013 he was 75 and went on tour with Gerry And The Pacemakers and The Searchers.
In 2019 P.J. Proby was asked by a reporter about his relationships with underaged women. Proby said he never dated 'young girls' and had always married them instead, but none of them lasted longer than three years. He married Marianne Adams when she was 16, Judy Howard when she was 17 and Dulcie Taylor, from Blackpool, when she was 21. Proby made the comments ahead of his 20-date farewell tour around the UK. As a result shows around the UK including Solihull, Rotherham, Carmarthen and Teesside were cancelled, upon which the whole tour was cancelled. On his Facebook page, P.J. Proby wrote a statement in response to the damning headlines in the UK. Proby wrote, "I simply fell in love with all the girls I wed, all with parents permission and I always asked the father for his daughter's hand in marriage before entering into a relationship." The dailies alleged Proby had bragged he wanted to have a relationship with a girl as young as twelve. Proby denied the allegations.
His first wife, Marianne Adams, came to his defense on March 30, 2019. In a statement on Facebook she said " I'm Marianne Adams, PJ's first wife. Yes, I was 16 when me met and 17 when we got married. People need to keep in mind he was only 22 when we met. So how does that make someone a pedophile! And it was me who decided that he was the man I was going to marry. I met him in a club that I wasn't even supposed to be in because you had to be 18. So, how was he to know I was 16? And even if he did, so what? Same with Judy Howard. It wasn't like he was an old man who wanted a young girl. He was only a few years older than her as well…." P.J. Proby, now 80 years-old, lives in Worcestershire, UK.
May 22, 2019
Ray McGinnis
References:
Cheryl Stonehouse, "I Should Still Be as Famous as Tom Jones," July 20, 2013.
Nick Lavigueur, "Colne Valley 60s icon PJ Proby reveals hunt for Yorkshire Ripper and truth behind Opportunity Knocks Scandal," Examiner Live, Huddersfield, UK, August 7, 2013.
Laura Keay, "Sixties Pop Star PJ Proby's Entire Farewell Tour is Cancelled after the 80-year-old Boasted of his Sick Lust for Under-age Girls as Young as Twelve," Daily Mail, London, March 29, 2019.
"P.J. Proby bio," pjproby.net.
Robert Chalmers, "PJ Proby: Could the Now-penniless Singer be Ready for a Comeback?," Independent, UK, September 30, 2007.
C-FUNTASTIC FIFTY, C-FUN 1410 AM, Vancouver, BC, February 25, 1967.
For more song reviews visit the Countdown.