#408: No by Dodie Stevens
Peak Month: August 1960
13 weeks on CKWX's Vancouver Chart
Peak Position ~ #3
1 week Hit bound
Peak Position on Billboard Hot 100 ~ #73
YouTube: "No"
Lyrics: "No"
Geraldine Ann Pasquale was born in Chicago in 1946. She and her family moved to the San Gabriel Valley in California when she was three. She soon started taking singing and dancing lessons and was a singing prodigy by the age of four. In 1954, at the age of eight, she recorded her first song, "Merry-Go Merry-Go Round". The song was performed on the Art Linkletter's House Party TV show, and issued on Gold Star Records under the name Geri Pace. From 1951 to 1959 Geri Pace performed at United Service Organizations (USO) shows. The USO is a nonprofit organization that provides live entertainment, such as comedians and musicians, and other programs to members of the United States Armed Forces and their families.
The president of Crystalette Records, Carl Burns, happened to see her in a local show called Strickly Informal. Geraldine was just eleven years old. Carl Burns gave her the name Dodie Stevens and the song "Pink Shoe Laces". The song began to chart on local radio stations in January, 1959, while she was still twelve years old. Geraldine wasn't keen about her new name, Dodie Stevens. In her book, Dig That Beat! Interviews with Musicians at the Root of Rock 'n Roll, Sheree Homer cites more of the back story to the naming of Dodie Stevens. Carl Burns was at a bar one night with local DJ, Johnny Grant. (Grant who went on to induct over 500 celebrities into the Hollywood Walk of Fame was named honorary Mayor of Hollywood by the local Chamber of Commerce in 1980). As Dodie Stevens tells it, "they were sitting at a bar one night, and Carl was telling him (Johnny Grant) about this new artiste had on the label and how he needed to come up with a new name. The two of them started kicking around a few names, and these were the three that came up: Carmen Stevens, Carol Stevens and Dodie Stevens. I liked Carol Stevens, but one already existed. I didn't like Carmen as that sounded too ethnic. I also didn't like Dodie, but that was their decision." However, she was grateful for her sudden celebrity.
"Pink Shoe Laces" climbed to #3 on the Billboard Hot 100 and it sold over one million copies. At age thirteen Dodie Stevens was awarded a gold disc for her recording. Following the song's success, Dot Records signed her to a recording contract. In the July 1959, Dodie released a song called "Poor Butterfly" which made the Top 40 several radio markets in California, Wisconsin and Ohio. The B-side, "Miss Lonely Hearts", made it to #11 in Sarasota, Florida. Dot Records wanted to show off Dodie Stevens impressive voice that could sound one minute like Judy Garland and the next like Connie Francis. Stevens next Dot recording was "Mairzy Doats", which made several radio Top 40 charts in the winter of 1959. The novelty song was a cover of the #1 hit for the Merry Macs in 1944. The B-side of this single was "Steady Eddy", which made the Top 40 in Denver. The song included phrases of spoken word in between sung lyrics and resembled the musical formula that made "Pink Shoe Laces" a Top Ten hit. On her debut self-titled album, local author, Brian Tarling, reveals that the liner notes referred to Dodie Stevens as the next Judy Garland.
In 1959 Dodie Stevens starred with Fabian in her first film, Hound Dog Man. In the early 1960s, she had several minor hit singles on Dot including "Yes I'm Lonesome Tonight" and "No".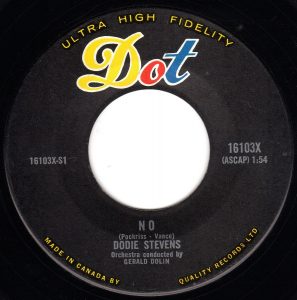 "No" was cowritten by Lee Pockriss and Paul Vance (born Joseph Paul Florio). Paul Vance was born in Brooklyn in 1929. At the age of 18 he wrote the R&B classic "King Size Papa" for Julia Lee and Her Boyfriends in 1948. Lee Julian Pockriss was born in 1924, in Brooklyn. He attended Erasmus Hall High School and Brooklyn College, and studied musicology at New York University. He served in the Army Air Forces during World War II as a cryptographer in the South Pacific.
Paul Vance and Lee Pockriss wrote a number of hit songs including "Catch A Falling Star" (Perry Como – 1957), "Little Miss Stuck-Up" and "Wait For Me" (Playmates, 1961 and 1960), "Tracy" (the Cuff Links – 1969) and "Playground in My Mind" (Clint Holmes – 1972). Pockriss also wrote "No" for Dodie Stevens in 1960, a top ten hit in Vancouver (BC), and Shelley Fabares number-one hit in 1962 "Johnny Angel". "Itsy Bitsy Teenie Weekie Yellow Polka Dot Bikini", a number-one hit for Brian Hyland in 1960, was actually inspired by Paul Vance's shy 9-year old daughter, Paula, and an actual incident at a beach locker. The duo also wrote a song titled "3 Vanilla, 2 Chocolate, 1 Pistachio Ice" for Kris Jensen. Lee Pockriss went on to write the theme songs for the 1961 film One, Two, Three, the 1964 film The Subject Was Roses, and the 1966 film, Stagecoach. In later years Pockriss wrote a number of compositions for the TV series, Sesame Street. Vance and Pockriss also wrote a parody of the Shangri-Las' 1964 #1 hit, "Leader Of The Pack". Their Top 30 rejoinder was titled "Leader Of The Laundromat", recorded by The Detergents. Vance and Pockriss also wrote another of Brian Hyland's novelty songs in 1960: "Four Heels (The Clickety Clack Song)". Though it made the Top 30 nationally in Australia and the UK, it stalled at #73 on the Billboard Hot 1oo. And in 1961 Faron Young had a revival of his 1957 country hit, "Love Has Finally Come My Way", in Vancouver (BC). The song was co-written by Pockriss and Vance.
Vance and Pockriss penned songs recorded variously by Petula Clark, the Kingston Trio, Julius La Rosa, Johnny Tillotson, Jimmy Dean, Tony Bennett, Doris Day, the Brother Four, the Four Preps, Frank Sinatra, Brook Benton, the Fleetwoods, Tommy Leonetti, Patti Page, Nancy Sinatra, Tommy James & The Shondells, Sandie Shaw, Bert Kaempfert and others. Paul Vance also wrote "Gina" and "What Will Mary Say" for Johnny Mathis, and "Hurry Up And Tell Me" for Paul Anka. In 2011 Lee Pockriss died at the age of 87. In 2014 Paul Vance published his biography Catch A Falling Star.
The lyrics to "No" suggest that young women really want whatever a guy wants when they go on a date. She just has observe a pretense of not wanting what he wants by saying "no," at first. This is meant to indicate that she is a "nice" girl, who doesn't want to "pet" or go any further in the back seat of a car, or in a bedroom when the parents are away. But, according to the scenario in "No," she wants to let the guy know she really wants to encourage all his advances. Her initial rebuttal of his advances is just a game. When he thinks she means what she says when she says "no," she reverses herself. He stops trying to give her a kiss, a hug or holding her hand. As he starts to walk away she tells him "don't you know that a girl means yes when she says no."
The songs lyrics were not helpful guidance for teenage males on a date. Taken seriously, any young woman they dated wouldn't be believed in a real-life date. A guy might expect his Friday night date was just being coy like the young woman in Dodie Stevens song. In the song, the words the young woman is saying – "no" – are not congruent with her nonverbal communication. She sings "Every time you kiss me my heart goes on a roller coaster ride. Every time I let you kiss me, kiss me, I get the little butterflies inside." A guy on this fictional date in the song, "No," might notice that despite the verbal rejection, he is picking up her nonverbal excitement. He is noticing she is going on a roller coaster ride with each kiss he gives. Clearly, a confusing situation for him. Especially, when she sings "don't you know a girl means 'yes' when she says 'no'."
Fast forward to the 1990s, the Canadian Students Federation created the "No Means No" campaign in the 1990s to increase awareness by university students about "sexual assault, acquaintance rape, and dating violence" and decrease the incidence of these issues. During the campaign there was a debate about the usefulness of the slogan since some women cannot say no, either because they are not conscious, intoxicated or facing threats or coercion. And coercion is especially important in cases where there is a power imbalance between two people in a sexual encounter.
"No" peaked at #3 in Vancouver (BC) and Seattle, #4 in San Bernardino (CA), and #11 in Los Angeles. In almost 40 states across the USA "No" was given a pass by DJ's, and didn't make the local Top 40 AM record charts. Consequently, the single stalled at #73 on the Billboard Hot 100.
In Mexico Maria Eugenia Rubio made a cover of "No". In Europe Petula Clark made a French language version of the song titled "Non et Non". And Doris Day recorded "No" for an album in 1960.
Dodie Stevens also toured with other teen idols from 1959 to 1963 including Fabian, Frankie Avalon, Annette Funicello, Paul Anka and Bobby Rydell. Her ninth single release with Dot Records was a song titled "Let Me Tell You About Johnny" in the fall of 1961. The single rose to #7 on the CFUN chart in November 1961. As for her acting roles, Dodie Stevens next appeared in the 1962 film Convicts Four, starring Ben Gazzara.
In 1962, Dodie Stevens recorded her eleventh single with Dot Records. It was a cover of the Rodgers and Hart 1930 tune from the musical, Ever Green, "Dancing On The Ceiling." Though the song had become a pop standard, in 1962 deejays wanted to play other dance tunes that were brand new. Stevens married at the age of sixteen and moved to Missouri and lived on a farm. She released a single with Imperial Records in 1963 and two singles on Dolton Records in 1964. But all of these were commercial failures. Of these, "Sailor Boy," made the Top Ten in Lansing, Michigan, in early 1964. But why rush to the record store to get a 45 by Dodie Stevens when you could get a new single by The Beatles? In 1964 Dodie Stevens had a daughter she named Stephanie. By 1966, at the age of twenty, her marriage came to an end and pursued her singing career. In 1969, she had a minor country hit, "Billy, I've Got to Go to Town" (an answer record to "Ruby, Don't Take Your Love to Town") that she recorded under the name Geraldine Stevens. The song stalled at #117 below the Billboard Hot 100.
She took additional vocal lessons and in 1972 began appearing and recording with Sergio Mendes and Brasil '77. In the ensuing years she toured as a backup singer with Loretta Lynn, Frankie Avalon, and Boz Scaggs. From 1977 to 1989 Stevens was in a concert troupe with country singer, Mac Davis, performing across America. In the 1990's, she toured with Fabian and her own company "Dodie Stevens and The Pink Shoe Laces Review."
Today, Dodie continues to sing. She shares the stage with her daughter, Stephanie, making personal appearances in DooWop concerts across the country. She recently appeared on the PBS television special "At The Drive-In," hosted by her earlier co-star, Fabian, and the TNN special, "Rock 'n Roll Graffiti." In February 2009, she was among the rock 'n roll stars who gathered in Clear Lake, Iowa at the Surf Ballroom to perform in a 5-day memorial concert titled "Fifty Winters Later." The concert was in honor of Buddy Holly, Ritchie Valens and the Big Bopper, who died when their small plane crashed in Clear lake on February 3, 1959. In the July, 2015, Stevens performed onstage in Upland, PA, in a bill she shared with The Coasters, The Reflections, and Barbara Lewis.
Over the course of her singing career, Dodie Stevens has performed across the United States. She has been on tour in Canada, Mexico, Australia, Japan, China, Philippines, France, Monaco, Saudi Arabia and numbers of Caribbean nations. In the United Kingdom Stevens gave a command performance for Queen Elizabeth II and in America she gave a special performance at The Kennedy Center for former President George H. W. Bush. She also teaches singing and stage performance out of her studio in San Diego County, which gives her the opportunity to share all she has learned in her five decades in the music industry. In February, 2016, Stevens released a new song titled "When," as a tribute to the victims of the terrorist attack in Paris on November 13, 2015.
August 31, 2020
Ray McGinnis
References:
Don Siegel, Hound Dog Man, 20th Century Fox, 1959.
Millard Kaufman, Convicts 4, Allied Artists Pictures, 1962.
Gary James, Interview with Dodie Stevens, Classic Bands.com.
Craig Cronbaugh, ""When?"- A Song of Peace by Dodie Stevens," Iowa Peace Network, Des Moines, IA, March 8, 2016.
Michael McGuire, "Dodie Stevens to Appear with Other Classic Rock Acts," AXS.com, Los Angeles, CA, July 10, 2015.
Dodie Stevens: Pink Shoe Laces, Wayback Attack.com
Sheree Homer, Dig That Beat! Interviews with Musicians at the Root of Rock 'n' Roll, (McFarland & Company Inc., Jefferson, NC), 116.
Brian Tarling email.
Anita Gates, "Lee Pockriss, Songwriter Behind 'Itsy Bitsy' Bikini, Dies at 87," New York Times, November 16, 2011.
Its Bitsy Bikini Songwriter Lee Pockriss Dies, BBC, November 18, 2011.
Leslie Gray Streeter, "'Itsy Bitsy' songwriter Paul Vance looking for another hit at 85," Palm Beach Post, January 25, 2015.
"A Campus Dilemma: Sure, 'No' Means 'No,' But Exactly What Means 'Yes'?," NPR, June 13, 2014
"Sensational Sixty," CKWX 1130 AM, Vancouver, BC, August 15, 1960.
For more song reviews visit the Countdown.