#24: Nothing Can Touch Me by the Original Caste
City: Calgary, Alberta
Radio Station: CKXL
Peak Month: August 1970
Peak Position in Calgary ~ #4
Peak position in Vancouver ~ Hit Bound
Peak Position on Billboard Hot 100 ~ #114
YouTube.com: "Nothing Can Touch Me"
Lyrics: "Nothing Can Touch Me"
The Original Caste were a band from Calgary, Alberta, that formed in 1966. The band's leader was Bruce Innes. He was born in Calgary (AB) in 1943. He was playing professionally at the age of eleven, supported by his musical father who had lots of connections in the city. At the University of Montana, in Missoula (MT), Innes sang with the Big Sky Singers. After college, he accompanied civil rights activist, blues and folk singer Josh White on a tour that ended in New York City. Josh White had a promising career and had toured with Eleanor Roosevelt to Europe in 1950. But he returned home from the tour to be interrogated as a suspected communist, having made it on a "Red" list of subversives during the McCarthy hysteria. White was blacklisted and his career suffered. But by 1963-64, a new wind was blowing across America, and Bruce Innes was grateful to be able to accompany Josh White on guitar. They toured all the way to New York City.
Innes returned to Missoula and got acquainted with journalist Hunter S. Thompson, who suggested the Big Sky Singers record an album. Subsequently, the Big Sky Singers recorded an album with Dot Records in 1964. Hunter S. Thompson wrote the liner notes.
Things momentarily looked promising for the Big Sky Singers. However, lead vocalist David Stiles died suddenly and the group disbanded. In 1964 Innes remained in Los Angeles for awhile, working as a session musician. He later returned to Calgary and while performing as a folk musician at a coffeehouse called The Pig's Eye, met a young singer named Joni Anderson from Saskatchewan. She later married Chuck Mitchell in 1965 and became Joni Mitchell.
In 1966 Bruce Innes met a singing trio in Calgary called the North Country Singers: Dixie Lee Stone, Bliss Mackie and Graham Bruce. Stone was born in Moose Jaw (SK) in 1946 and had been working as a secretary with Pacific Petroleum in Calgary. She also sang on the weekly TV variety show Calgary Safety Roundup. Graham Bruce was working at a day job with Royal Trust as an accounts executive. And Bliss Mackie worked as a Coca-Cola truck driver and also worked at a department store.
By 1967 Innes had joined them to become the North Country Singers. They consisted of Innes on lead guitar, Dixie Lee Innes on lead vocals, Bliss Mackie on rhythm guitar and backing vocals, and Graham Bruce on bass guitar. In 1968 the group added Peter Brown as a drummer, moved to Los Angeles, and changed their name to the Original Caste.
While in Los Angeles in 1968, the Original Caste recorded their debut single titled "I Can't Make It Anymore". The single peaked in the Top 30 in Pittsburgh (PA) and made the Top 40 in Calgary (AB) and Little Rock (AR).
Sometime in 1969, Peter Brown left the band and was replaced by Joe Cavender on drums. That year the Original Caste recorded their debut self-titled album. From the album came a single titled "One Tin Soldier".
A cover of "One Tin Soldier" by Coven was featured in the 1971 film Billy Jack. In the film, mixed-race Navajo Billy Jack, defends the hippie-themed Freedom School and students from townspeople who do not understand or like the counterculture students. On the strength of their hit single getting a revival through the 1971 film, the Original Caste began to tour extensively. From their album came a followup single titled "Mr. Monday".
Subsequently, the Original Caste released another single titled "Nothing Can Touch Me".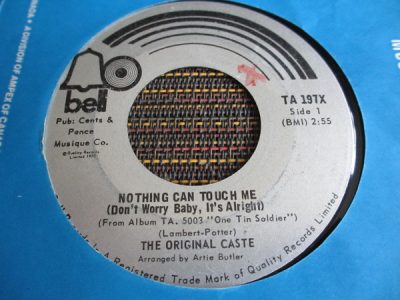 "Nothing Can Touch Me" was written by Dennis Lambert and Brian Potter. In 1971 the songwriting duo wrote "Don't Pull Your Love" for Hamilton, Joe Frank & Reynolds, and "It's A Cryin' Shame" for Gayle McCormick. In 1972 Lambert and Potter penned "Ain't No Woman (Like The One I've Got)" and "Keeper Of The Castle" for the Four Tops, and "Two Divided By Love" for the Grassroots. In 1974 they produced "Rock and Roll Heaven" for the Righteous Brothers. But their biggest success was producing "Rhinestone Cowboy" for Glen Campbell, a number one song in 1975. In 1977 they produced "Baby Come Back" for Player. The songwriting duo also had their songs recorded by Leslie Gore, Wild Cherry, Dusty Springfield, Sergio Mendes, Eden Kane, Wayne Newton, Tavares, Skylark and Maureen McGovern. In collaboration with others, Brooklyn born Dennis Lambert wrote "We Built This City" for Jefferson Starship, and "Nightshift" for The Commodores. He also produced "Pink Cadillac" for Natalie Cole in 1988.
"Nothing Can Touch Me" is a song about finding a way to shift attention from the stressors of life, and letting imagination reorient and reimagine one's reality and horizon. The group sings:
Let imagination take hold of me.
Paint myself a pony and ride where it's groovy…
Paint myself a pony and ride on a rainbow…
The power of imagination was the key to setting things right in that long-ago world before voicemail, answering machines, text messages, email and social media.
"Nothing Can Touch Me" peaked at #4 in Calgary, #12 in Kingston (ON), #15 in Lethbridge (AB), and #19 in New Orleans.
That winter the Original Caste had a #4 single with "Ain't That Tellin' You People" in both Montreal and Swift Current (SK). The following May, 1971, the band had a Top Ten hit in Medicine Hat with "When Love Is Near".
In 1972 the Original Caste released their second album, Live In Japan. It was a live recording from a concert in Japan on February 6, 1971. By that time the band consisted of Bruce Innes, Dixie Lee Innes, Graham Bruce, Joe Cavender and Bliss Mackie. The album consisted mostly of covers of other pop songs including "Hey Jude" and "Come Together" by the Beatles, "Son Of A Preacher Man" by Dusty Springfield, "Simple Song Of Freedom" by Tim Hardin (written by Bobby Darin), "Me And Bobby McGee" (covered by Gordon Lightfoot, Janis Joplin and others), and "Mr. Monday". Later that year both Graham Bruce and Bliss Mackie left the band.
In 1972 Dixie Lee Innes released two singles on Bell Records. Neither got much airplay, though in October '72, a song promoting Canadian unity, "Nous Vivons Ensemble (We've Got To Stay Together)", charted in Sault Ste. Marie (ON) and in Storrs (CT). Meanwhile, Bruce Innes provided backing vocals for some of the tracks on John Denver's album Rocky Mountain High.
In the summer of 1973 "One Tin Soldier" returned to the Top 30 in Hamilton (ON), peaking at #12, and in Vancouver (BC) at #18. And in January 1974, "One Tin Soldier" made it to #8 in Windsor (ON). Other singles the band released include "Don't Stop Now", "Give Me The Good News" and "Goin' Home". But these failed commercially.
While they were in the spotlight, the Original Caste performed on the same stage with The Carpenters, Glen Campbell, Judy Collins, Seals & Crofts, B.B. King, and Crosby, Stills and Nash. They had records that were certified gold in Canada, Australia and Japan. They toured across Canada and the United States, and also performed in concert in Germany, France, Scotland, England, Mexico, Japan and Vietnam.
In 1978 country singer Mickey Gilley recorded a song Bruce Innes co-wrote titled "I Hate It, But I Drink Anyway". In 1981 Innes released a country-folk album titled Best Of The Music. In 1987 several of his songs were included in a Ray Stevens comedy album. In 2000 Bruce Innes co-produced an album titled Trail Through Yesterday with Ian Tyson, for country recording artist Brenn Hill. In 2007 Innes released a blues guitar album titled Nothin' But The Blues. Then in 2012, Bruce Innes teamed up with poet Doris Daley. They released an album of his songs and her poems titled 100 Years Of Thunder: A Salute to Rodeo and the Calgary Stampede.
Among the original members of the band, Bliss Mackie, who was born in 1943, died in 2004. Joe Cavender moved to Las Vegas (NV). After a divorce with Bruce Innes, Dixie Lee Stone moved to Victoria (BC) and became a social worker. Bruce Innes believes Graham Bruce is living in Calgary. Only Bruce Innes stayed in the music business.
The Original Caste has been active into the 21st Century. Some websites state they disbanded in 2011. They had consisted of Bruce Innes, Julian Kerr, Shelley Jones, Bruce Mohacsy and Lori Mohacsy. In 2015 Innes was hit by a vehicle while he was filled his gas tank. After the accident, he went through some period of rehabilitation. In 2003 Toronto's CHUM-AM decided to ban playing "One Tin Soldier" and other 1960s anti-war songs, considering them out of step during the War on Terror.
References:
"Bruce Innes and the Original Caste," theoriginalcaste.com.
Gary James, "Interview with Bruce Innes of the Original Caste," Classic Bands.com.
Betty Nygard King, "The Original Caste," Canadian Encyclopedia, February 20, 2007.
"Josh White," Wikipedia.org.
"Dennis Lambert bio" Wikipedia.org.
"Brian Potter (musician)," Wikipedia.org.
For more song reviews visit the Countdown.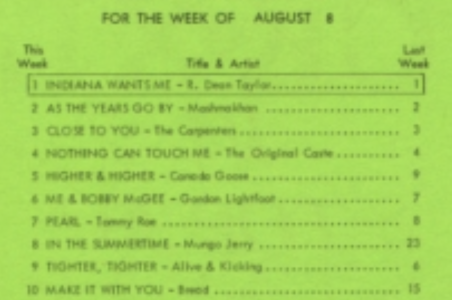 CKXL 1140 AM, Calgary, Alberta, Top Ten, August 8, 1970