#914: Only Sixteen by Terry Black
Peak Month: September 1965
8 weeks on Vancouver's CFUN chart
Peak Position #2
Peak Position on Billboard Hot 100 ~ did not chart
YouTube.com: "Only Sixteen"
Lyrics: "Only Sixteen"
Terrance Black was born in Vancouver in 1949. Local DJ, Red Robinson, has said about Terry Black: "Back in the British Invasion days, a young Vancouver singer took the city by storm. He was discovered by Buddy Clyde on Dance Party, a teen show on CHAN TV (now Global). Buddy was able to get the attention of the owner of Dunhill records, the same label that the Mamas and Papas recorded for as well as P.F. Sloan (Eve of Destruction) and others of the day." Terry Black's first single, "Sinner Man," was a minor hit in Canada in 1964. His vocal style mimicked the sound of many male vocalists who were part of the British Invasion. While he was fifteen years old, Black had a #2 hit in Vancouver with "Unless You Care". His single was kept out of the #1 spot in September '64 by Roy Orbison's "Oh, Pretty Woman". "Unless You Care" was written and produced by P.F. Sloan and Steve Barri. Two of the studio musicians on the single were Glen Campbell and Leon Russell, who both went on to have recording careers. The song was a major hit in Canada and also cracked the Billboard Hot 100 at #99. In Canada, Black was awarded the Male Vocalist of the Year award at the Maple Music Awards in 1964.
On the strength of his big his single, Terry Black became an opening act for a number of American and British recording artists on tour in the fall and winter of 1964-65. These included Lonnie Mack, Billy J. Kramer & The Dakotas and Gerry & The Pacemakers on the Canadian leg of their respective tours. Black also got noticed by Dick Clark and ended up appearing on American Bandstand. Black recorded "Little Liar" which peaked at #4 in Vancouver. His next single, "Poor Little Fool", was a remake of Ricky Nelson's #1 hit in 1958.
Black's next single "Only Sixteen" was also a remake, this time one of the hits by R&B singer Sam Cooke. Cooke had charted "Only Sixteen" to #28 on the Billboard Hot 100 in 1959. The song stalled at #31 in Vancouver on CKWX. Black told Dick Clark on a repeat American Bandstand appearance that he chose to record "Only Sixteen", since it hadn't been taken. Sam Cooke had died tragically in December 1964 from a gunshot. A posthumous double-sided single release, "A Change Is Gonna Come"/"Shake", was climbing the Vancouver pop charts in January 1965 and would peak at #5 in February. As a tribute to Sam Cooke, Black thought of recording "Wonderful World". But Herman's Hermits had recorded it before Black made it to the recording studio. And so Terry Black opted for "Only Sixteen".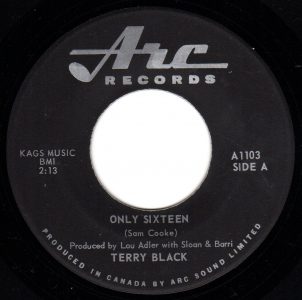 "Only Sixteen" peaked at #2 in Vancouver and Toronto. It climbed to #3 in Thunder Bay, Ontario, and made the Top 20 in Toledo, Ohio. By the end of the year Terry Black released a Sloan-Barri produced album, Only Sixteen in 1965. Lou Adler also helped produce the single "Only Sixteen". The album included single releases "Unless You Care," "Can't We Go Somewhere", "Little Liar", "Poor Little Fool," "Say It Again", "Everyone Can Tell" and "Only Sixteen". "Only Sixteen" was the fifth of ten singles he would release between 1964 and early 1967.
"Only Sixteen" is about a lad and a gal who are both sixteen years old. He is singing the song looking back on the dating relationship now that he is seventeen years old. He realizes that she was "too young to fall in love." In his case, he was too innocent to recognize her lack of readiness. In the song we learn that she does little things that make his heart glow. Looking back, he wonders why he gave away his heart so fast. Now that he's seventeen he's determined to never let that happen again. In the future he intends to be more cautious and take time to discern the readiness of a potential partner to be ready for love.
Falling in love is a powerful thing. It often involves strong emotions and sexual attraction. There can be intellectual stimulation and a sense that the two of you make each other complete. But when you are 16 or 13 or 18 or 20, there are challenges in life that include graduation, starting a career, financial stability and personal development. Of course, people around the world get into a serious relationship at a whole range of ages. And in Vancouver in 2018, with its high-priced housing, a person could wait until they are in their 50's or 60's before they have the "financial stability" that people that some marriage planners encourage people to establish before they get hitched. "Only Sixteen" isn't a song about getting married, but it is a reminder that falling in love can happen at anytime, even if only for one of the dating partners.
"Only Sixteen" was written by Sam Cooke, but credited to his girlfriend at the time, Barbara Campbell. Cooke also credited his song, "Wonderful World", as well to Campbell.
"Only Sixteen" was a number one hit for Craig Douglas in the United Kingdom in 1959. Dr. Hook and the Medicine Show covered the song in 1975 and had a #5 hit in the USA that year.
In 1966 Black then moved to the U.S., and his remaining unreleased tracks were released in another Sloan-Barri produced album titled The Black Plague, in 1966. Under the name "Terence" he released the album An Eye for An Ear on Decca Records in the in America in 1969. The album was not released in Canada. Terry Black explored the possibility of being a film star, but becoming a Hollywood star never worked out and Black went back to Canada.
At the height of his popularity, Terry Black had a fan club. On some of his record sleeves it read:
For Fan Club Information Write:
ARC Sound Limited. 20 Cranfield Rd.,
Toronto 16, Ont.
Attn: Terry Black Fan Club
In 1969, Black was hired to join the cast for a Toronto production of Hair. In 1970, Black married Laurel Ward, who was part of the cast. From 1972 to 1982 Black and Ward released several singles. Their best result was the country-pop tune"Goin' Down (On the Road to L.A.)" which peaked at #57 on the Billboard Hot 100. In 1971 Black and Ward joined the Canadian band, Dr. Music, and provided vocals on the band's hits "One More Mountain To Climb" and "Sun Goes By". In 1979, Black performed the song "Moondust" on the soundtrack for the movie Meatballs. Throughout the 1980's Terry Black sang jingles for commercials and sang country music duets with his wife.
In the 2000's, Black hosted an oldies radio show in British Columbia. He died in 2009, in Kamloops, British Columbia. An obituary included these words about Terry Black in his final decades of life. "…wherever he lived he translated the beauty around him into sculpture, paintings and song. In recent years he struggled with the effects of Multiple Sclerosis but he never lost his sense of humour, his fascination with nature, his creativity and his compassion for those whom he loved."
January 11, 2018
Ray McGinnis
References:
Gord Lansell, Peter LoPresti and Jaimie Vernon, Terry Black, canadianbands.com
Terry Black, inmemoriam.ca, June 30, 2009.
"Vancouver Rock Idol Terry Black Dies at 60," Vancouver Sun, June 29, 2009
"Only Sixteen" ~ Sam Cooke ~ YouTube.com
"Only Sixteen" ~ Craig Douglas ~ YouTube.com
"Only Sixteen" ~ Dr. Hook and the Medicine Show ~ YouTube.com
American Bandstand ~ Dick Clark interview with Terry Black
"C-FUNTASTIC FIFTY," CFUN 1410 AM, Vancouver, BC, September 11, 1965
For more song reviews visit the Countdown.