#1387: Out Of Touch by Innocent 3
Peak Month: September-October 1988
7 weeks on Vancouver's CKLG chart
Peak Position #20
Peak Position on Billboard Hot 100 ~ did not chart
YouTube.com "Out Of Touch"
Innocent 3 was comprised of Kelly Brock on lead vocals and Karen Campbell on backing vocals. Kelly Susan Brock was born in 1967. Brock was the lead vocalist for the Vancouver cowboy-punk band Lost Durangos with Greg Potter (guitar, vocals) Paul de Boursier (drums), Matt Rickson (bass, vocals) and Buck Cherry (guitar, vocals). They released an album in 1986 titled Evil Town. Karen Campbell born in Owen Sound in 1970. She was a child actor on TV commercials. At the age of ten she was featured in a commercial for Swiss Chalet. For ten years she was known as the 'milk girl' on Canadian dairy ads promoting milk consumption. She appeared in her first film, The Newcomers, when she was eleven. When she was seventeen she was photographed for Vogue Magazine in Monte Carlo. Subsequently, she was featured in Harper's Bazaar and Elle.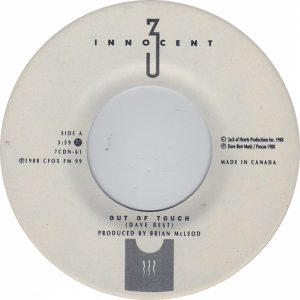 "Out Of Touch" is a song about someone who feels out of their mind and out of touch due to being overwhelmed with desire. The singer sings that they're coming undone. The object of their desire is someone they desire all day long. However, they're unsure if this sexy obsession is "the one" for them since he's too hot to touch. Vancouver seems to have been the only radio market where "Out Of Touch" climbed into the Top 20. The song appeared on MTV in Canada.
"Out Of Touch" was produced by Brian MacLeod. He was born in Halifax in 1952. In the early 70's he was a guitarist for the Halifax band Pepper Tree. In 1973 MacLeod became a sideman playing with Edward Bear after their hit, "Close Your Eyes" was released. Into the mid-'70's MacLeod played in bands based in St. John's, Newfoundland, and Toronto. In 1978 he was playing with a band named Surrender in Toronto when he was invited to join Vancouver band Chilliwack. MacLeod debuted with Chilliwack on their 1978 album Lights From The Valley. In 1979 Brian MacLeod formed a new band in Vancouver named the Headpins, as a side project to Chilliwack. MacLeod was with Chilliwack during their pinnacle of success with the release of their 1981 single "My Girl (Gone, Gone, Gone)". In 1982 MacLeod won a Juno Award for Best Producer with the Chilliwack album Opus X. Bill Henderson of Chilliwack also won a Best Producer award for the album. After Opus X Brian "Too Loud" MacLeod left Chilliwack to focus his attention on the Headpins, featuring Vancouver recording artist Denise McCann. MacLeod also collaborated on songs for Bryan Adams, Chicago, Jermaine Jackson and others. MacLeod collapsed on stage in 1990 and died in 1992 from complications due to brain cancer and bone cancer.
Since Innocent 3 made "Out Of Touch", Kelly Brock been active in the music scene in Vancouver. In 1993 she recorded a single titled "Cherry Street". In 1997 she recorded a song titled "Long Gone" which appeared in a Canadian film titled Better Than Chocolate in 1999. In the late '90's she joined Dr. Strangelove, a house band at The Roxy on Granville Street. Dr. Strangelove is known for high energy party music. In addition to public venues, Dr. Strangelove also performs for private parties, corporate functions and weddings. Writing in the Vancouver Province, entertainment columnist Fred Lee commented, "Here's our party guy's annual list of the past year's scene-stealers and best and brightest: BEST DANCE PARTY: A night at the Roxy! Vancouver house band Dr. Strangelove – Rich Sera, Peter Barone, Kelly Brock, Kevin Coles, Sarah Johns and Andre Kunkel – marked their 20th anniversary at the venerable Granville Street cabaret, where it all began."
Back in 2002, Kelly Brock released a solo album titled Dirty Dishes. A side project to Dr. Strangelove Band for Kelly Brock is teaming up with fellow Dr. Strangelove bandmate Andre Kunkel in a duo named Just Good Friends. In her duo Brock blends 50's swing and jazz with more uptempo sounds of the sixties, seventies and eighties. She also fronts a band named Kelly & The Gang. She has also provided backing vocals on studio recordings for the European band Agent, Bitter Suite, The Odds, Nickelback, Loverboy, Barney Bentall, Hedley, Bill Henderson, 54.40 and many others. Her website credits Brock's "compositions" being "featured in numerous film and TV shows including CSI Miami, Smallville, Dawson's Creek and From Spain With Love." Kelly Brock has a star on the Walk of Stars in Merritt, BC.
In 1989 Karen Campbell appeared on the CBC TV series Pilot One, a late night variety show aimed at teenagers. Campbell won a Gemini Award as a result of her co-hosting the show. She appeared on an comedy improv series on Global TV for five years named Fibi's Funny Bones. She has sung in Vancouver with Michael Buble. And she's appeared in films with John Travolta, Sharon Stone and Ethan Hawke.
March 30, 2019
Ray McGinnis
References:
Roberta Brokenshire, Danny Marks, and The Murf, "Edward Bear," Canadian Bands.com.
Andrew McIntosh, "Chilliwack," The Canadian Encyclopedia.ca.
Kelly Brock bio, Kelly Brock.com.
Dr. Strangelove Band.com.
"Just Good Friends," Total Entertainment Network BC.com.
John Mackie, "Greg Potter Obituary: Musician, Writer and a Big Guy in Both Attitude and Talent," Vancouver Sun, September 16, 2016.
Alex Waterhouse-Heyward, "Kelly Brock, The Lost Durangos & My Lost Youth," March 3, 2008.
Pilot One, Wikipedia.org.
"Vancouver's Top 40 Hot Hits," CKLG 730 AM, Vancouver, BC, October 5, 1988.
For more song reviews visit the Countdown.