#1393: Pick Me Up On Your Way Down by Pat Zill
Peak Month: June 1961
7 weeks on Vancouver's CKWX chart
Peak Position #16
Peak Position on Billboard Hot 100 ~ #91
YouTube.com: "Pick Me Up On Your Way Down"
Lyrics: "Pick Me Up On Your Way Down"
Patrick Michael Hill Sr. was born in Youngstown, Ohio, in 1925. In his childhood Patrick sang on a children's radio-show broadcast in Youngstown. In his youth he trained to become a professional boxer. When America joined the Allies after the bombing of Pearl Harbor on December 7, 1941, Pat Zill joined the United States Marines. While he was a Marine he was part of the Marines Boxing Team. Honorably discharged in 1944, Zill joined the Knights of Columbus Golden Gloves tour. Though he fought several boxing matches as a professional in Youngstown, his father talked him into leaving the profession. Next he opened a nightspot called The Boathouse in a suburb of Columbus, Ohio, called Whitehall. At The Boathouse Pat Zill tended bar and word-of-mouth spread. It drew a country music promoter named Pat Nelson to The Boathouse to hear "the singing bartender."

The outcome of that night at The Boathouse was an invitation for Pat Zill to go to Nashville to record a record. The single he recorded was "Pick Me Up On Your Way Down."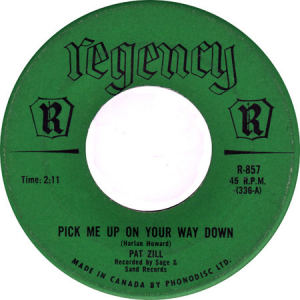 "Pick Me Up On Your Way Down" is a song about climbing up the social ladder away from working class folk, and leaving the guy she went steady with for a "home across the track." The old boyfriend observes "now you're putting on the style." Now she's become "the gossip of the town." However, he is skeptical that she'll be able to hang in with the glamorous crowd she's gotten cozy with. He tells her "they have changed your attitude made you haughty and so rude, your new friends can take the blame, underneath you're still the same… as you tumble to the ground, pick me up on your way down." He predicts she's headed for a fall: "you may be their pride and joy, but they'll find another toy."
In her article "The Truth About Mixed-Collar Dating From People Who Make These Relationships Work," Kate Hakala writes that although we don't live in Victorian England, economic class background is still a factor in considering who is a suitable match. Hakala states, "we do gravitate to partners who have the most in common with us, which means we tend to date within our social classes and education levels. According to Pew Research Center date, as of 2007, among college-educated adults, 71% of married men have a college-educated wife — a huge increase in the last 40 years." Another detail she reveals is that despite the numbers of songs, novels and films about people who date across the economic divide, it is actually quite rare. She points to research that "shows that most of us just feel more comfortable dating people at similar educational and economic levels. In fact, researchers at the University of Pennsylvania have found that the tendency to marry within our education level has drastically increased since 1960."
The biggest stressor on people who date from different socio-economic backgrounds is money. There is often an obvious power imbalance when comparing each others bank balances and assets. And the way each person in the couple looks at finances can create other roadblocks. Arguments can ensue about who's going to pay the bill for a night out on the town. However, a person named Nadia was asked about what made her mixed-collar relationship work. She said, "After a while, you start to let go of your checklist. You stop saying, 'I need someone with this salary, in this position, who can do such and such.' And, instead, you just ask yourself: Is this a sweet, kind person who will really make me happy? That's what I found with my boyfriend."
"Pick Me Up On Your Way Down" had been a #1 country hit in 1958-59 for Charlie Walker, spending 35 weeks on the Cashbox Country Singles chart, including 21 weeks in the Top Ten. It was written by Harlan Howard, a farm boy born outside Detroit, Michigan, in 1927. By the age of twelve he was writing songs. He served as a paratrooper in World War II. After the success of Charlie Walker's chart run with "Pick Me Up On Your Way Down", Harlan Howard had a giant hit with "Heartaches By The Number" with Ray Price on the Country charts and Guy Mitchell on the Billboard Hot 100. Among his other big songs were "I Fall To Pieces" by Patsy Cline in 1961, "The Blizzard" for Jim Reeves, "Busted" for Ray Charles and also Johnny Cash in 1964, a #1 R&B hit for Joe Simon in 1969 titled "The Chokin' Kind", and "She Called Me Baby" by Charlie Rich in 1974. Harlan Howard also had hit records recorded by Kitty Wells, Patty Loveless, Buck Owens, Conway Twitty, John Conlee, Little Jimmy Dickens, Melba Montgomery, George Hamilton IV, Reba McEntire, Brenda Lee and The Judds.
In 1961 Pat Zill's cover of "Pick Me Up On Your Way Down" was a country-pop crossover hit. On Top 40 radio it climbed to #9 in Fort Dodge (IA), #10 in Youngstown (OH), #11 in Boston, #13 in York (PA) and Syracuse (NY), #16 in Vancouver (BC), #20 on CHUM in Toronto. In May 1961, "Pick Me Up On Your Way Down" stalled at #91 on the Billboard Hot 100 and spent four weeks on the Cashbox Pop Singles chart, peaking at #95.
Pat Zill had six more regional hits between 1961 and 1968, mostly in Ohio radio markets. His most successful was a #7 hit in Columbus (OH) in 1963 titled "The Key Is In The Mailbox".
In Pat Zill's obituary in the Columbus Dispatch published on July 29, 2015, it was stated that in the 1980's Pat "returned as a trainer and manager for Pro Fighter Jeff Jordan and many others, he hosted numerous Boxing matches in Columbus, OH, and his fighter fought all over the world, he was also the first to promote a Female Toughwoman contest. Patrick was an Avid Youngstown State Football fan and of course loved his Ohio State Buckeyes." Pat Zill lived his final years in Snellgrove, Georgia.
November 9, 2019
Ray McGinnis
References:
"Pat Zill: About," Patzill.com.
"Pat Zill Obituary," Columbus Dispatch, July 29, 2015.
Kate Hakala, "The Truth About 'Mixed-Collar' Dating From People Who Made These Relationships Work," Mic.com, October 2, 2015.
"Fabulous Forty," CKWX 1130 AM, Vancouver, BC, June 10, 1961.
For more song reviews visit the Countdown.