#480: Play With Fire by the Rolling Stones
Peak Month: May 1965
10 weeks on Vancouver's CFUN chart
Peak Position #2
Peak Position on Billboard Hot 100 ~ #96
YouTube.com: "Play With Fire"
Lyrics: "Play With Fire"
Michael Philip Jagger was born in Dartford, Kent, England, in 1943, some 18 miles east of London. Though his father and grandfather were both teachers by profession, and he was encouraged to be a teacher, the boy had different aspirations. "I always sang as a child. I was one of those kids who just liked to sing. Some kids sing in choirs; others like to show off in front of the mirror. I was in the church choir and I also loved listening to singers on the radio–the BBC or Radio Luxembourg –or watching them on TV and in the movies." In 1950 Mick Jagger met Keith Richards while attending primary school. They became good friends until the summer of 1954 when the Jagger family moved to the village of Wilmington, a mile south of Dartford. The pair bumped into each other at a train station in 1961 and resumed their friendship.
Keith Richards was also born in Dartford, Kent, England, in 1943. From the age of two Keith sang along with his mother to songs on the radio in perfect pitch. Richards maternal grandfather, Augustus Theodore "Gus" Dupree, led a jazz band named Gus Dupree and His Boys. Dupree played saxophone, fiddle and guitar. It was his maternal grandfather who gave young Keith his first guitar. He also introduced Keith to the British Music Hall genre, a cousin of American Vaudeville. Keith took an interest in music while attending Dartford Technical High School for Boys from 1955 to 1959. He was recruited to be part of a trio of boy sopranos who performed at Westminster Abbey as part of a special concert for Queen Elizabeth II. Keith became interested in rock 'n roll, skiffle and rhythm and blues. Richards remembers playing tunes by Johnny Cash and "Blue Moon Of Kentucky".
When Richards and Jagger met each other one spring morning in 1961 at the Dartford Train Station, Jagger was at the London School of Economics. Mick was studying to become a journalist or a diplomat. But Richards noticed what Jagger was carrying with him on his way to school, two record albums. One was The Best of Muddy Waters, and the other Rockin' At The Hops by Chuck Berry. Keith was impressed and invited Mick to his home for tea that afternoon. Richards and Jagger were part of a cohort of young men who were not being drafted into the British Army. In 1957 the British Government decided that men born after October 1, 1939, would not be drafted into the National Service. And by November 1960 the last men were called up for service. Dave Clark of the Dave Clark Five would comment "We were the first generation that wasn't drafted. The thing about getting drafted when you were eighteen was that's the most important time of your life for freedom of expression. For so many, that period was cut short, and you were told what to do, where to go, what to be. Then you got out of the service, got married, and worked a job in a factory. That was it. Had the government not stopped the draft there would have been no Dave Clark Five, no Beatles, no Stones."
In addition to studying at the London School of Economics, Mick Jagger was part of a band called Little Boy Blue and the Blue Boys. Richards was soon invited to join them. Another member of the band was Brian Jones. Lewis Brian Hopkins Jones was born in Cheltenham, Gloucestershire, England, in 1942. From the age of four he suffered from asthma. When he was fifteen his parents bought him a saxophone. And for his seventeenth birthday they gave him an acoustic guitar. Author Bill Wyman recounts how in the summer of '59, Jones' 14-year-old girlfriend, Valerie Corbett, got pregnant. Jones is said to have encouraged her to have an abortion. But she rejected his suggestion and wanted nothing more to do with him. Valerie carried the child to term and placed the baby up for adoption. Jones left school as a result of the scandal of getting a teenage girl pregnant. He left home, and travelled the rest of the summer across northern Europe. During this period, he lived a bohemian lifestyle, busked with his guitar on the streets to earn some cash, and lived off others charity.
In November 1959, Brian Jones met a young married woman named Angeline. The pair had a one-night stand and Angeline got pregnant. Angeline and her husband chose to raise the baby, Belinda, born on August 4, 1960. Jones never learned about her birth. In 1961 Brian Jones began going steady with Pat Andrews, who gave birth on October 22 1961, she gave birth to his third child, Julian Mark Andrews. Jones fathered several more children in the following years given birth by Linda Lawrence (July 23, 1964) and Dawn Molloy (March 1965).
Brian Jones placed an advertisement in Jazz News, a Soho publication, on May 2, 1962, for musicians to audition for a new R&B band. Ian Stewart was the first musician to reply to the ad. Ian Andrew Robert Stewart was born in 1938 in Pittenweem, a fishing village in Fife, Scotland. He learned piano from the age of six, and added banjo soon after. "Stu" was demoted by the Rolling Stones' band manager to road manager and session musician on their recordings. Jagger and Richards auditioned and were added to the band. Bass guitarist Bill Wyman was added to the band, replacing a temporary musician. Wyman was born William George Perks Jr. in 1936 in suburban London. He took piano from age 10 to 13, and later learned to play guitar. He went by the stage name Lee Wyman for awhile, until he switched to Bill Wyman while with a band in 1961 named the Cliftons. In 1964 he legally changed his surname from Perks too Wyman.
Jagger, Richards and Jones moved into a flat in September 1962. A final member of the band, drummer Charlie Watts, joined in January 1963. Born in London in 1941, he learned to play drums when he was thirteen after his parents gave him a drum kit. He was part of a jazz band called the Jo Jones All Stars from 1958 to 1959.
The Rolling Stones first gig was at the Marquee Club in London on July 12, 1962. At that first show, the group was billed as the Rollin' Stones, a tribute to a song "Rollin' Stone" by Muddy Waters. The band's original lineup consisted of Mick Jagger, Keith Richards, Brian Jones and keyboardist Ian Stewart. Bill Wyman and Charlie Watts would formally join in January of 1963, and Stewart officially left the band in May '63. Stewart continued on as the Stones' road manager and occasionally played with them both on tour and in the recording studio until his death in 1985. When the Rolling Stones began playing gigs around London in 1962, the notion that a rock & roll band would last five years, let alone fifty, was an absurdity. After all, what could possibly be more elusive than rock & roll, the latest teenage fad? Besides, other factors made it unlikely that such a momentous occasion would ever come to pass. "I didn't expect to last until fifty myself, let alone with the Stones," Keith Richards says with a laugh. "It's incredible, really. In that sense we're still living on borrowed time."
"You have to put yourself back into that time," Mick Jagger says about those early days when he and Keith and guitarist Brian Jones roomed together and were hustling gigs wherever they could find one. "Popular music wasn't talked about on any kind of intellectual level. There was no such term as 'popular culture.' None of those things existed. But suddenly popular music became bigger than it had ever been before. It became an important, perhaps the most important, art form of the period, after not at all being regarded as an art form before."
The Rolling Stones' first US tour in June 1964 was, in Bill Wyman's words, "a disaster." "When we arrived, we didn't have a hit record [in the USA] or anything going for us." Their #3 single in February '64 in the UK, "Not Fade Away", only climbed to #48 on the Billboard Hot 100 and stalled for two weeks at #13 in Vancouver in May of that year. But in November 1964 "Time Is On My Side" climbed to #6 in the USA and #1 in Vancouver for two weeks. In April 1965 "The Last Time" climbed to #2 in Vancouver and #9 on the Billboard charts. The B-side to "The Last Time" was "Play With Fire", which was also a hit in Vancouver.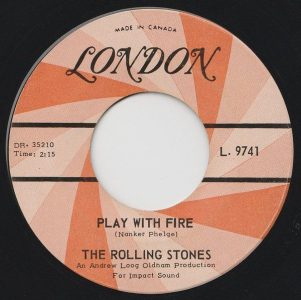 "Play With Fire" is a song credited to Nanker Phelge. The name is a songwriter pseudonym used by The Rolling Stones at times between 1963 and 1965. It was used for collaborations by the whole band, i.e. Mick Jagger, Brian Jones, Keith Richards, Charlie Watts and Bill Wyman. As Colin Sanders notes in his comment below, the song was recorded with Phil Spector on bass and Jack Nitzsche on harpsichord. Keith Richards provided acoustic guitar and Mick Jagger sang the vocals and played tambourine. Jones, Watts and Wyman were not in the Los Angeles studio for the recording. The next day the Rolling Stones flew to Australia to begin a tour.
"Play With Fire" is a song about an affluent woman who has diamonds, "pretty clothes", and a chauffeur who drives her car (and attends to her getting in and out of the vehicle). Moreover, her mother is an heiress who owns a whole block in Saint John's Wood. According to Forbes Magazine, in 2007, Saint John's Wood was the fifth most expensive neighborhood in London. And in 2014, Saint John's Wood was listed as the most expensive neighborhood to live in London, with rents for tenants at £1,889 per week ($3,211 Canadian), or an equivalent of $12,844 Canadian a month. So, the woman in "Play With Fire" has a mother who is very wealthy, and "owns a block in Saint John's Wood." From email I've received about this detail, it's helpful to know that "a block" in British English refers to a specific apartment building, not a whole block of a street.
The heiress (mother) and father are no longer together. He ran off with "her diamonds and tiaras by the score." Consequently, her mother can't even afford to hob-nob with her friends in affluent Knightsbridge. There has been a dramatic slide from privilege to poverty. Her mother now lives in Stepney, an East London area that was bombed by the German Luftwaffe in World War II. When the Rolling Stones wrote "Play With Fire", Stepney was synonymous with bomb sites, condemned buildings, overcrowding, violence, immigrant workers, filth, political dissent and rampant prostitution.
The singer in "Play With Fire" warns that the daughter better watch her step "or you'll "start living with your mother." He tells her that getting involved with him is playing with fire. Perhaps, he is just like her father, and will take her diamonds and run off with his loot. The ominous lyrics are joined with a foreboding melody. If she is smart, she'll stay away from him, as he has so candidly warned her.
"Play With Fire" peaked at #1 in Sacramento, San Jose and San Bernardino (CA), #2 in Vancouver (BC) and San Francisco, #3 in Los Angeles and Phoenix, #7 in San Diego, #9 in Providence (RI) and Lexington (KY), and #10 in Dallas, Philadelphia and Syracuse (NY).
Bernard Alfred Nitzsche was born in Chicago in 1937. He met Phil Spector in the late '50s. In 1963 he co-wrote "Needles And Pins" with Sonny Bono. The song became a hit for Jackie De Shannon and also the Searchers. Nitzsche went on to work with the Rolling Stones as a studio musician on the bands' albums The Rolling Stones No. 2 which featured "Time Is On My Side"; Out Of Our Heads which included "Play With Fire", "(I Can't Get No) Satisfaction", and "The Last Time"; Aftermath which included "Paint It Black", "Lady Jane" and "Under My Thumb"; Between The Buttons which included "Let's Spend The Night Together" and "Ruby Tuesday" and Sticky Fingers which included "Brown Sugar" and "Wild Horses". Nitzsche also was an arranger for the Rolling Stones albums Let It Bleed ("Gimme Shelter" and "You Can't Always Get What You Want") and Emotional Rescue ("Emotional Rescue" and "She's So Cold").
Jack Nitzsche also was a session musician on nine of Neil Young's' albums. These include After The Goldrush ("Only Love Can Break Your Heart" and "When You Dance I Can Really Love") and Harvest ("Heart Of Gold" and "Old Man"). Nitzsche also arranged for Ringo Starr's 1973 number one hit "Photograph", and Buffy Saint-Marie's album She Used To Wanna Be A Ballerina.
Significantly, Jack Nitzsche was an arranger with Phil Spector and apart of The Wrecking Crew. He arranged "He's A Rebel", "Da Doo Ron Ron" and "Then He Kissed Me" by The Crystals; "Be My Baby", "Baby I Love You", "Walking In The Rain" and "(The Best Part of) Breakin' Up" by The Ronettes; "18 Yellow Roses" and "She Knows" by Bobby Darin, "This Diamond Ring" by Gary Lewis and the Playboys, "Unchained Melody" by the Righteous Brothers, "Elusive Butterfly" by Bob Lind, "Bang Bang" by Cher, "River Deep – Mountain High" by Ike and Tina Turner, "Stop And Smell The Roses" by Mac Davis, "I Could Be So Good To You" by Don & The Goodtimes, "Sunshine And Lollipops" by Leslie Gore, "The Rainmaker" by Tom Northcott, "She'd Rather Be With Me" and "You Know What I Mean" by the Turtles, "Up Where We Belong" by Joe Cocker and Jennifer Warnes, and many more.
Phillip Harvey Spector was born in 1939 in the Bronx, into a first generation immigrant Jewish family, who changed their surname Spekter to Spector after they got permanent residency. Phil Spector's father died by suicide in 1953 and on his gravestone was the phrase "to know him is to love him." Phil wrote a song in 1958 titled "To Know Him Is To Love Him", as a tribute to his dad. The song became a number one hit for the Teddy Bears, which included young Phil. While the Teddy Bears split up in '59 after failing to have any followup hit, Phil Spector went on to co-write "Spanish Harlem" with Jerry Lieber, a hit for Ben E. King. And he played guitar on the Drifter's "On Broadway". But it was as a record producer that Phil Spector became most successful.
In 1960 he produced "Corrina, Corrina" for Ray Peterson, "Pretty Little Angel Eyes" for Curtis Lee and "I Love How You Love Me" for the Paris Sisters. Spector went on to produce many hit records in the 1960s and 1970s. These include "Da Doo Ron Ron", "Then He Kissed Me" and "He's A Rebel" for the Crystals; "Be My Baby", Baby I Love You", "(The Best Part Of) Breakin' Up" and "Walking In The Rain" for the Ronettes; "You've Lost That Lovin' Feeling", "Ebb Tide" and "Unchained Melody" for the Righteous Brothers; ""Black Pearl" for Sonny Charles; "River Deep – Mountain High" for Ike and Tina Turner; "Instant Karma", "Power To The People" and "Imagine" for John Lennon; "My Sweet Lord", "Bangla-Desh" and "What Is Life" for George Harrison; and several minor hits for the punk band the Ramones.
The Rolling Stones next two singles, "(I Can't Get No) Satisfaction" and "Get Off My Cloud", were both #1 hits here in Vancouver and in the 'States. On December 1, 1965, the Rolling Stones gave their first concert in Vancouver at the PNE Agrodome. They returned seven months later on July 19, 1966, the Rolling Stones appeared in concert at the PNE Forum in Vancouver.
The hits kept coming through 1966-69 with #1 songs in Vancouver including "Paint It Black", "Ruby Tuesday", "Jumping Jack Flash" and "Honky Tonk Women". During this streak of Top Ten hits in Vancouver (BC) and elsewhere, they released "She's A Rainbow".
While on their 1969 tour, documentary film makers Albert and David Maysles and Charlotte Zwerin shot footage of The Rolling Stones at Madison Square Garden, the Hell's Angels violence at the Altamont Free Concert and photo shoots for the cover of the album Get Yer Ya-Ya's Out The Rolling Stones in Concert.
In the period between "Honky Tonk Women" in the summer of 1969 and "Brown Sugar" in April 1971, The Rolling Stones had just one song played on AM pop radio in Vancouver. "Gimmie Shelter" was not released as a 45 RPM, but still got airplay in Vancouver and a few other radio markets. On June 3, 1972, the Rolling Stones performed in concert in Vancouver at the Pacific Coliseum. A mob of over 2,000 rioted outside.
They kept charting Top Ten hits through to 1989. These have included "Brown Sugar", "Angie", "Miss You", "Start Me Up" and "Emotional Rescue".
On November 1 & 2, 1989, December 18, 1994, January 28, 1998, and again on November 25, 2006, the Rolling Stones gave concerts in Vancouver at the BC Place Stadium. In 2019 the Rolling Stones scheduled their No Filter Tour, with 17 concerts on their itinerary. Mick Jagger had to have heart surgery, and so the tour was postponed.
February 28, 2020
Ray McGinnis
References:
Prudence Ivey, "St John's Wood is the Prime London Location with the Most Expensive Weekly Rents in the Capital, Pipping Runner up Knightsbridge and Belgravia to the Title," Ham & High Property, November 20, 2014.
Marc Meyers, "The Rolling Stones at the Altamont Speedway," Wall Street Journal, November 16, 2010
Daniel Kreps, "The Rolling Stones Bio," Rolling Stone.
"Mick Jagger On The Apocalyptic 'Gimme Shelter'," NPR, November 16, 2012
Simon Wells, Butterfly On A Wheel: The Great Rolling Stones Drug Bust, (Omnibus Press, 2011).
Tony Sanchez, Up and Down with The Rolling Stones: My Rollercoaster Ride With Keith Richards. (John Blake, 2011).
Rich Cohen, The Sun, The Moon & The Rolling Stones, (Spiegel & Grau, 2017).
Victor Bockris, Keith Richards: The Biography, (Da Capo Press, 2003).
David Fricke, "100 Greatest Guitarists: Keith Richards #10," Rolling Stone, December 3, 2010.
Bill Wyman, Rolling With The Stones, (Dorling Kindersley, 2002) 19.
Scott Jones, "Being Brian Jones's Son is the Greatest Thing that Never Happened to Me," Daily Mail, UK, July 24, 2013.
Andy Greene, "Rolling Stones Announce Rescheduled Dates For 2019 'No Filter' Tour," Rolling Stone, May 16, 2019.
Martin Roberts, "Jack Nitzsche Discography," Spectropop.com.
Mick Brown, Tearing Down the Wall of Sound: The Rise and Fall of Phil Spector, (Vintage, 2008).
"Two hundred and eighty-five Vancouver police officers faced a barrage of rocks, bottles and even Molotov cocktails as a mob of 2,000 rioted outside a Rolling Stones concert," Vancouver Sun, June 4, 1972.
"Rolling Stones Concert Dates – Canada," setlist.fm.
"C-FUNTASTIC FIFTY," CFUN 1410 AM, Vancouver, BC, May 8, 1965.
For more song reviews visit the Countdown.