#473: Pledge Of Love by Mitchell Torok
Peak Month: May 1957
6 weeks on Vancouver's CKWX chart
Peak Position #3
Peak Position on Billboard Hot 100 ~ #25
YouTube.com: "Pledge Of Love"
Lyrics: "Pledge Of Love"
In 1929 Mitchell Torok was born in Houston, Texas. His parents were immigrants from Hungary. Torok learned the guitar at the end of elementary school. A natural athlete, Mitch went to university in Nacogdoches, Texas, on a football and baseball scholarship. While at university he was hired to write a song to mark the one hundredth anniversary of the founding of the Cononco Oil Company. He also cut his first record in the late 40s while hosting a radio show in Lufkin, two hours northeast of Houston, and another radio show in the Houston suburb of Rosenberg.
When Hank Williams died on New Years' Day in 1953, Torok was one of many in the country music who put pen to paper. But instead of writing sad country songs, Mitch wrote a carefree tune called "Mexican Joe." He intended the song for Hank Snow. However, Torok met up with a record producer with Abbott Records who wanted to record the song with a novice musician called Jim Reeves. As a radio announcer on the Hayride Show in Shreveport, Louisiana, Reeves was not in the line-up to sing. However, radio KWKH gave Reeves a chance to perform a song and he chose "Mexican Joe". The song went to #1 on the Billboard Country Music Charts for seven weeks in the spring of '53. Abbott Records promptly gave Mitchell Torok a contract. Soon after Mitchell Torok wrote and sang a song that climbed to #1 on the Billboard country and jukebox charts called "Caribbean".
In 1954 the Louisiana Hayride in Shreveport added Torok to it's roster. That same year he had another Top Ten country hit in the USA called "Hootchy Kootchy Henry (From Hawaii)." The song was about a guy named Henry who played the ukulele on the beach, drank coconuts underneath a coconut tree and danced in the sand. In 1956 Torok got a record deal with Decca Records. He and his co-writer and spouse, Gail Redd, wrote numbers of songs. But that year it was a song she wrote called "When Mexico Gave Up The Rhumba" that peaked at #6 in the United Kingdom. With this fame Mitchell Torok went on a four-month tour of the UK with Johnnie Ray. In the April of '57 Torok had his first Top Ten hit in Vancouver called "Pledge of Love".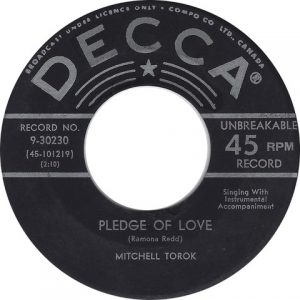 "Pledge Of Love" was written by Ramona Redd. This is an alias of Gail Ramona Redd, born in near Lufkin, in Angelina County, Texas, in 1932. She became a beauty queen and married Mitchell Torok in 1951, becoming Gail Ramona Redd Torok. She also penned other songs under the names Gale Jones and Gayle Jones. "Pledge Of Love" is about someone who is so in love that they love the object of their desire more than each beat of their heart. They are afraid that the person they love won't care for them as well. The song was one of many where the singer professed they couldn't live without the love of their sweetheart.
Musically, "Pledge Of Love" was punctuated by bongo drums and Hawaiian guitar, infusing it with what was an exotic flavor at the time. "Pledge Of Love" climbed to #2 in Toronto, #3 in Vancouver (BC), #4 in Milwaukee, #5 in Albany (NY) and #26 on the Billboard pop chart.
Then in 1959 Mitchell Torok's first #1 country hit in the USA, "Caribbean," went to #1 in Vancouver and #27 in on the Billboard Hot 100. To support his single, Torok appeared on Dick Clark Saturday Night Beechnut Show on August 22, 1959. His followup single, "Mexican Joe" barely made the CKWX Sensational Sixty. He also released a single in April 1959 titled "Teenie Weenie Bikini". But it would be for Brian Hyland to record a different song about an "Itsy Bitsy Teenie Weenie Yellow Polka Dot Bikini" for a disc to catch on with the public. In March 1960 Torok reappeared on the CFUN pop chart in Vancouver with "Guardian Angel". The tune managed to climb to #41, though it didn't crack the Billboard Hot 100 in Mitchell Torok's home country. In 1960 Mitchell Torok had his last hit on the pop charts with "Pink Chiffon", climbing to #9 in Vancouver (BC). In 2006 "Pink Chiffon" resurfaced in popular culture with the Hollywood release of the movie Laura Smiles.
Torok made a few more pop-oriented singles through to 1963 with no commercial impact. In 1966 he switched to the Reprise label and released "Instant Love". The Country & Western tune related how a guy has a "baby" in his life who gives him instant love, while other folks get Instant Coffee and Instant Tea in their lives. In 1971 Mitchell Torok and Ramona Redd recorded a duet that was a minor hit on the country charts titled "California Morning".
Mitchell Torok continued writing songs including "The Redneck National Anthem" for Vernon Oxford who had a Top 20 hit with the song on the Billboard Country chart in 1976. In 1977 Mitchell was commissioned to paint a 110-foot, five-panel mural titled The History of the Grand Ol' Opry. The mural was a fund raiser for the adjacent Hank Snow Abused Children's Foundation. After the death of Elvis Presley, Torok notably created the ELVIS-A-RAMA. This was a mural 12 feet high and 125 feet long. It was featured with a 22 minute light and music show of Elvis' life. As of this writing in January 2017, Mitchell Torok is 87 years old and living in Texas.
March 11, 2020
Ray McGinnis
References:
Re-Up 'Caribbean,' October 30, 2013
Mitchell Torok, Dick Clark Saturday Night Beech Nut Show, August 22, 1959.
Mitchell Torok, Hillbilly Music.com
Folk Talent And Tunes, Billboard, September 12, 1953.
"Ramona Redd," Discogs.com.
"Top Fifty Songs for the Week," CKWX 1130 AM, Vancouver, BC, May 19, 1957.
For more song reviews visit the Countdown.