#954: Preacher Boy by Les Vote And The Emperors
Peak Month: August 1961
7 weeks on Vancouver's CKWX chart
Peak Position #8
Peak Position on Billboard Hot 100 ~ did not chart
YouTube.com: "Preacher Boy"
Les Vogt was the lead singer for the premier local rock n' roll band in Vancouver called The Prowlers. As described in his bio, he writes "I was a tall, shy kid that became interested in music at the age of 13 when my older brother (Ed) took me to a few "live" concerts… Louis Armstrong and Wilf Carter were the most memorable. After seeing a Wilf Carter concert in 1951, I took my older brother's hand-me-down guitar and learned to play and yodel in the confines of my bedroom." At the time, Vogt was a Grade Eight student at John Oliver High School. By 1953, Vogt became part of the Fraserview Drifters, along with his friend Larry Tillyer (guitar), Laurie Bader (drums), Eric Olsen (accordion) and for awhile Wayne Dinwoodie (fiddle). As country music was the only alternate to the big band sound, the Fraserview Drifters played covers of Eddy Arnold, Hank Thompson, Marty Robbins, Guy Mitchell, Frankie Laine, Homer & Jethro, Hank Snow and others. By 1954, the set shifted to covers of "Sh-Boom" by the Crew Cuts, "Three Coins In The Fountain" by the Four Lads, and other pop tunes. By 1956, a guitar player from Nova Scotia, Fred Bennett, had moved to Vancouver. And he joined the band.
Now influenced by Elvis Presley, they changed their name to suit their new style. They became The Prowlers, and one of Canada's first rock 'n roll bands in 1956, named after a popular radio program in Vancouver called the Owl Prowl. The Owl Prowl was the name of the radio program hosted by local DJ Jack Cullen.
Jack Cullen had moved from Port Alberni to host a radio show on the forerunner of CFUN, then called CKMO, in 1947. CKMO was 1320 on the AM dial before the station moved over to 1410 AM. Cullen, in addition to the Owl Prowl show also hosted the 1320 Club in the late afternoons. Cullen aired live big band shows during his program with Glenn Miller and other visiting recording stars, as well as Mart Kenny and His Western Gentlemen and Dal Richards big band. Cullen could croon a tune and often sang a few while being an emcee at a concert or for a dance. In 1956 Cullen was the emcee for a sock hop at John Oliver High School. Attending the sock hop was John Oliver student Les Vogt. The young man got the courage to introduce himself to the popular DJ and told Cullen about his band, The Fraserview Drifters, and that he intended to play sock hops at high schools in the future. Cullen didn't take much notice, simply saying "sure kid… good luck and stay in touch."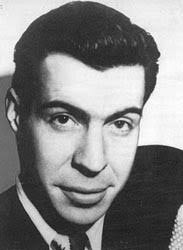 Jack Cullen in the early 50's
Les Vogt recalls what happened awhile later. "The band's big break came from a fluke telephone call to DJ Jack Cullen's radio program. Cullen's "Owl Prowl" was Vancouver's most popular radio program at the time and pretty much all the teenagers in the city listened to it. One of the girls attending a basement rehearsal for the band took it upon herself to phone Jack Cullen (on the air) and asked him to listen to the band over the phone. He not only listened to the band… he patched the call over the airwaves and all of Vancouver was talking about the band the next day. Cullen received so many phone calls that he brought the band into his small radio studio and recorded several songs which he proceeded to play regularly on the air. This connection resulted in the band calling themselves "The Prowlers" since their popularity came from Jack Cullen's Owl Prowl radio show."
Having given The Prowlers exposure, Jack Cullen helped get the band a buzz around town. He had them open for the first rock 'n roll concert in Vancouver on June 27, 1956, at the Kerrisdale Arena headlined by Bill Haley & the Comets. The Prowlers later were the opening act for Ivory Joe Hunter at the PNE Gardens and Gene Vincent at the Silver Moon Ballroom in the Vancouver suburb of White Rock. Both shows were emceed by Jack Cullen. The Prowlers played with Gene Vincent, Bill Haley, Earl Bostic and Ivory Joe Hunter.
The Prowlers were a sought after band. Their repertoire included covers of Presley records such as "Don't Be Cruel", "Mystery Train", and "When My Blue Moon Turns To Gold Again", Frankie Lymon's "Goody Goody", Carl Perkins' "Blue Suede Shoes", Fats Domino's "My Blue Heaven", Buddy Knox's "Hula Love", and Clyde McPhatter and the Drifter hit "Money Honey".
In May, 1958 The Prowlers released a song Les Vogt composed called "Get A Move On" on a small local independent label named Aragon Records. The Prowlers were backed by the vocals of a local girl group called The Valentines. However, the record was passed over. ON CKWX Red Robinson was the number one DJ teens listened to in Vancouver. Management at CKWX Radio considered The Prowlers, with their association with Jack Cullen, as competition who would give attention to a sister radio station they didn't want to give publicity to. Consequently, the song was a commercial failure in Vancouver having no exposure on the Red Robinson show. Over on CJOR teen DJ, Frosty Forst, gave the disc a spin. But it wasn't enough to save it from obscurity.
Meanwhile, during 1958, Vancouver songwriter Allen Parker (aka Sipson P. Kloop) was a milkman at Dairyland where Les Vogt also worked as a milkman. Parker would hire local bands to record demos of his original songs. One day at Dairyland, Al Parker and Les Vogt agreed that The Prowlers would record "The Blamers". The decision paid off a year and a half later. Meanwhile, there had been changes in the lineup, as Laurie Bader was replaced on drums by Carl Ashley, and Carl Reis was added on saxophone.
On August 6, 1960, Les Vogt had the #1 song on CFUN with the record. "The Blamers" knocked "It's Now Or Never" by Elvis Presley out of the number one spot for a week. Then Elvis returned to #1 for the week of August 13th. "The Blamers" was in the Top Ten on CFUN for six weeks and was on the stations chart for an eleven week run. The Prowlers performed in concert across British Columbia, Alberta, Saskatchewan and Washington State.
Encouraged by the success of his local hit record, Les Vogt released another song under the billing of Les Vote and The Emperors. The song was titled "Preacher Boy" and drew from folk and gospel roots.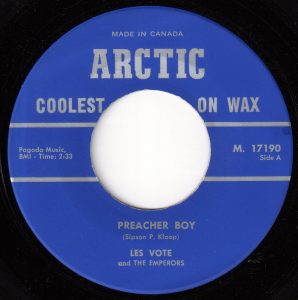 My brother played the banjo and I played the guitar,
we rattled 'round the country in a beat up car.
Many were the poor people battling sin,
until my father took 'em in. (Oh Lordy).
My father took 'em in though he didn't have a penny,
didn't have a penny, didn't have a penny.
My father took 'em in though he didn't have a penny,
didn't have a penny to his name.
My mother was a preacher woman kind and true,
but she could never tell what preacher father would do.
He'd bring in hungry people when the cupboards were bare,
my mother she would raise her heart in prayer. (Lordy, Lordy)
She put water in the soup 'cause she didn't have a penny,
didn't have a penny, didn't have a penny.
She put water in the soup 'cause she didn't have a penny,
didn't have a penny to her name.
My preacher father died with a Bible in his hand,
I reckon lots of people didn't understand.
Well, standing in the church I heard him many a time,
the poor fellow never had a dime.
But Jesus took him in though he didn't have a penny,
didn't have a penny, didn't have a penny.
But Jesus took him in though he didn't have a penny,
didn't have a penny to his name.
Me and preacher brother we are doing alright,
a singing and a praying, we continue the fight.
We leave the people happy in the places we've been,
because our father took 'em in.
Our father took 'em in though he didn't have a penny,
didn't have a penny, didn't have a penny.
Our father took 'em in though he didn't have a penny,
didn't have a penny to his name.
"Preacher Boy" is a song written by Sipson P. Kloop, milkman Al Parker's pseudonym. It was recorded in a private residence with the Winmen, a local folk group, as back-up to Les Vote (aka Les Vogt). The song climbed to #8 on CFUN. The song prominently featured the banjo. It was about a guy and his brother who drive around in a beat up car picking up poor hungry people and dropping them off at their poverty-stricken parents home to feed them. Their father took people in for comfort and a sermon. The preacher boy's mother also is a preacher. Since the cupboards are bare and she doesn't have much to feed the unexpected guests, she puts lots of water in the soup to make it go further. She is also poor and "didn't have a penny to her name." When the preacher boy's father dies, Jesus takes him in (to heaven) "though he didn't have a penny to his name."
"Preacher Boy" is a song in the tradition of Southern Gospel Music. The roots of the genre go back at least to 1890 and the work of Charles Davis Tillman who popularized "(Gimmie that) Old Time Religion" and published 22 songbooks. Some of the roots of Southern Gospel Music can be found in the publishing work and "normal schools" of Aldine S. Kieffer and Ephraim Ruebush. The musical style was promoted by traveling singing school teachers, quartets, and shape note music publishing companies such as the A. J. Showalter Company and the Stamps-Baxter Music and Printing Company. Over time, southern gospel came to be an eclectic musical form with groups singing traditional hymns, a capella (jazz-style singing with no instruments) songs, country, bluegrass, spirituals, and "convention songs." Some hymns were referred to as "convention songs" because various conventions were organized by the publishing companies across the United States for the purpose of popularizing the songs for church members wanting to sing songs in this style. Because it grew out of the musical traditions of white musicians from the American South, the name Southern Gospel music was used to differentiate it from songs like "Swing Low, Sweet Chariot" which were considered Black Gospel music.
Often these songs depicted life on earth in bleak terms and edified the joys of the afterlife. An example is found in the opening verse of the early 20th Century hymn "This World Is Not My Home" by Albert Brumley. The song was recorded by Jim Reeves and other country singers.
This world is not my home I'm just a passing through
My treasures are laid up somewhere beyond the blue
The angels beckon me from heaven's open door
And I can't feel at home in this world anymore
Oh lord you know I have no friend like you
If heaven's not my home then lord what will I do
The angels beckon me from heaven's open door
And I can't feel at home in this world anymore
"Preacher Boy" was in this mold. Consider, the song is about a preacher whose focus was to feed anyone they came upon who was hungry, despite having no savings or even sufficient provisions to make a soup (requiring the preacher mother to add lots of water to the broth). The Lord Jesus Christ himself didn't have a penny to his name, we learn. One takeaway from the song's message is that having any life savings, such as a healthy bank balance or RRSP's, is not esteemed. What's important, in the song, is to be charitable and to give to others even if you don't have much to give.
Another local hit Les Vogt had was "Teenager's Dream", a 1962 hit that peaked at #12 on CFUN.
Despite CKWX deciding back in 1958 to not play The Prowlers first single, "Get A Move On," Les Vogt ended up collaborating with Vancouver DJ, Red Robinson in 1962. Together, they promoted dances and concerts for Top 40 radio listeners in Greater Vancouver. Among the acts they brought to the West Coast were Jerry Lee Lewis, Dick and Dee Dee, Dorsey and Johnny Burnette, Donnie Brooks, Buddy Knox, Roy Orbison, Bobby Curtola, Glen Campbell, Wilson Pickett, Little Richard, Dusty Springfield and Billy J. Kramer.
In New Westminster there was an alley called the Hollywood Bowl. In 1965 Vogt changed it into a concert venue called The Grooveyard. The club hosted live bands each Friday and Saturday night. Many Vancouver bands were booked to perform at The Grooveyard, including the Night Train Revue, The Nocturnals, The Epics, The Soul Unlimited, The Stags, The Shockers and The Shantelles. There were also performers from the USA who were booked to do concerts there including Ike & Tina Turner, Bo Diddley, Paul Revere & the Raiders, The Sonics, The Frantics and the Kingsmen.
Rockabilly singer, Buddy Knox, moved to Canada in the late 60's and joined Les Vogt in launching a night club called the Purple Steer. It catered mostly to the country and western music crowd. The club opened in October, 1969. From 1969 until 1972 Knox and Vogt had headliners at their club like Charlie Rich, Bob Luman, The Coasters, Bobby Freeman, Dorsey Burnette and Jerry Wallace.
In 1976 Les vogt relocated to Nashville, Tennessee, to take on the role of Tour Manager for Roy Orbison, which continued through 1979. Vogt and Red Robinson also continued their partnership from 1962 until 1986. The year the City of Vancouver hosted Expo '86, Robinson and Vogt put on the Legends of Rock And Roll at each Sunday at the Expo Theatre. During the exposition Robinson and Vogt hosted 43 concerts. Another achievement of Les Vogt was key involvement in the creation and lineup of the country music Merritt Mountain Music Festival from 1993 to 2004.
November 16, 2017
Ray McGinnis
References:
Les Vogt – The Story, Les Vogt.info
James R. Goff, Close Harmony: A History of Southern Gospel, (Chapel Hill, NC, University of North Carolina Press, 2002).
Walter B. Edgar, The South Carolina Encyclopedia, (Columbia, S.C.: University of South Carolina Press, 2006).
The Prowlers – Vancouver, BC (1956-1960s), Pacific Northwest Bands.com
Jack Cullen, BC Radio History.com
Red Robinson – Conversation With the Legends, Rockabilly Legends.com
Tom Harrison, "The Last Deejay explores Red Robinson's love of rock 'n' roll," Vancouver Sun, September 23, 2016.
Robin Brunet, Red Robinson: The Last Deejay, (Madeira Park, BC, Harbour Publishing, 2016).
"Fabulous Forty," CKWX 1130 AM, Vancouver, BC, August 5, 1961.
For more song reviews visit the Countdown.