#539: Private Eye by Bob Luman
Peak Month: August 1961
8 weeks on CKWX's Vancouver Charts
Peak Position ~ #3
Peak Position on Billboard Hot 100 ~ #115
YouTube.com: "Private Eye"
Bob Luman was born in Blackjack, Texas, in 1937. Before 1955 the only hits Bob Luman had were on the baseball field. He was an outstanding baseball player for his school team in Kilgore, Texas. He also fronted a band that performed the country hits. But after seeing Elvis Presley perform in Kilgore in May 1955, Luman was resolved that his hits going forward would be "Rockabilly hits."

In 1956 Luman won a talent contest in Tyler, Texas, after performing "Blue Suede Shoes" at the suggestion of Johnny Horton. Winning the contest led to a contract to replace Johnny Cash on the Louisiana Hayride. With that invitation, Luman turned down an offer from the Pittsburgh Pirates to join spring training. Bob Luman signed with Imperial Records in 1957, and his first session was at Sellars Studio in Dallas, where he recorded the Rockabilly classic, "Red Cadillac And A Black Mustache". That year Bob Luman appeared on the country TV show in LA called Town Hall Party. He also appeared in a rock 'n roll movie called Carnival Rock. He released a number of singles in the late 50s, including "Dreamy Doll" that climbed to #8 in Ottawa, Canada, in 1959.
In 1959 Ricky Nelson met Bob Luman and his band who were rehearsing down the hall in a studio at Imperial Records in Hollywood. So impressed was Nelson with the band that he gave them an offer they couldn't refuse and Nelson hired them away from Luman. So frustrated was Bob Luman with this turn of events that he announced at a concert that he was going to pursue a baseball career. Don and Phil Everly were in the audience and afterward convinced Luman to record "Let's Think About Living". The tune became a Top Ten hit for Luman in 1960.
Bob Luman was anticipating a break-through with a Top Ten hit. But then he was drafted into the United States Army just prior to the single's released. While he was in the army, Warner Brothers kept releasing singles. A number of these were hits in Vancouver, though not in the USA. These include "The Great Snowman" in April 1961. His next single release was "Private Eye".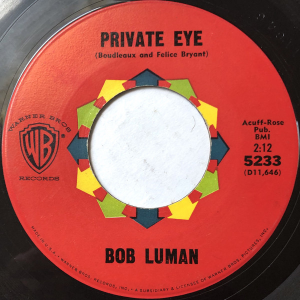 "Private Eye" was co-written by Bouldeaux and Felice Bryant. They had a string of hits including "Wake Up Little Susie", "Bird Dog", "Problems" and "All I Have To Do Is Dream" among others, for the Everly Brothers. They wrote "Raining In My Heart" for Buddy Holly, and "Last Date" for Floyd Cramer. They also co-wrote "Love Hurts" which was introduced in December 1960 as an album track on A Date with The Everly Brothers, but was never released as a single (A-side or B-side) by the Everlys'. The first hit version of the song was by Roy Orbison who climbed the Australian pop charts to #5. They also wrote "She Wears My Ring", a Top Ten hit in Vancouver for Jimmy Bell in 1961. Matilda Genevieve Scaduto was born in 1925. Boudleaux Bryant was born in 1920 in Shellman, Georgia. The two met in 1945 and eloped two days later. He nicknamed her Felice and the name stuck. She was 19 when they married. Boudleaux Bryant also wrote a number of songs on his own including "Devoted To You" for the Everly Brothers in 1958.
"Private Eye" is a song about a guy watching TV dramas who is especially jealous of the lives of private eyes they depict. In shows like Peter Gunn and 77 Sunset Strip, private eyes drive around in sports cars, search for clues to catch criminals, have lots of adventures and make millions of dollars. But most of all these TV show private eyes are in constant company with sexy young women. In the song the guy who wishes he was a private eye has a dream at night. In the dream he is solving a crime and "Kookie Burns" is helping him with the case. In the TV series 77 Sunset Strip the 'breakout' character who helped with the TV shows' ratings was Gerald Lloyd "Kookie" Kookson III (Edd Byrnes), a rock 'n rolling, wisecracking, hair-combing hipster and aspiring private eye, who initially worked as the valet parking attendant at Dino's, the club next door to the office of some detectives. "Kookie" often found a way to get himself involved in the firm's cases, and in the TV show was eventually made a full partner in the firm with his own office.
In the dream, after solving the case, Kookie and Bob Luman go around in a convertible and fingerprint everybody they meet and kiss all the women they meet, who are all just dying to be kissed. The dream is so thrilling, the singer is disappointed when they hear the alarm clock ringing and the dream ends. In Peter Gunn the detective drives a 1958 two-tone DeSoto two-door hardtop in the first few episodes of the first season, then a 1959 Plymouth Fury convertible with a white top and a car phone.
In the late 50s and early 60s there were many of what are now part of the classic detective and crime TV show genre. These include The Adventures of Ellery Queen, Bourbon Street Beat, The Brothers Brannagan, Dragnet, The Fugitive, Hawaiian Eye, Lock-Up, Miami Undercover, Perry Mason, Peter Gunn, 77 Sunset Strip and Surfside 6. While Perry Mason involved a criminal lawyer, he was aided by police detectives to solve the crime. While The Fugitive begins in Indiana, most of the crime detective series were in big cities. Ellery Queen helps detectives in New York City, Lock-Up was set in Philadelphia, Bourbon Street Beat was set in New Orleans, Hawaiian Eye and later Hawaii-Five-O were set in Honolulu. Perry Mason, Dragnet and 77 Sunset Strip are each set in Los Angeles. Miami Undercover and Surfside 6 were both set in Miami. The Brothers Brannagan was set in Phoenix. Peter Gunn operates in a gloomy waterfront city, the name and location of which is never revealed in the series. But his city is full of smokey jazz clubs.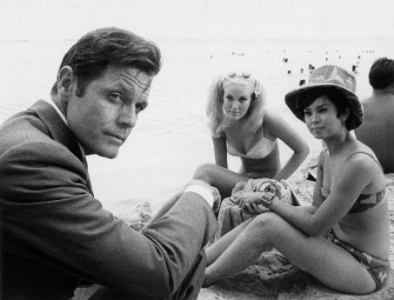 "Private Eye" climbed to #1 in Edmonton (AB), #2 on CKWX in Vancouver (BC), #3 in Calgary (AB) and #11 in San Francisco.
Bob Luman charted a few more songs on the Vancouver pop charts the following years. "You're Everything", which peaked at #20 in December 1962, was his most successful. But as Luman was in the army he was not able to support his single releases with any concert tours. So in the USA "Let's Think About Living" was his only hit. "You're Everything" was Luman's eighth single release after "Let's Think About Living", all which failed to crack the Billboard Hot 100. In October 1963 Bob Luman and Sue Thompson had a Top 20 hit on CFUN in Vancouver titled "I Like Your Kind Of Love". The song was a cover of a 1957 hit by Andy Williams.
Bob Luman was invited to become a member of the legendary Grand Ole Opry in 1964. It was an uneasy relationship at times because Luman's turbo-charged rockabilly performances didn't always meet with the approval of the more traditional, mainstay Opry artists. Bob Luman's successful career included thirty-eight recordings on the national charts. One of his last was "Lonely Women Make Good Lovers" which climbed to #4 on the Canadian and US country charts in 1971. Bob Luman released over sixty singles from the late 50s until 1978. He died that year at the age of 41 of pneumonia.
Update: After I posted this article today Judy Hill from Chilliwack posted a comment below. Subsequently, we were in touch by email. She let me know that Barb Tisman of Chilliwack, according to her "friend Clint" says "Barbara worked for Red Robinson at CFUN radio and when Bob Luman came to Vancouver, touring with Roy Orbison, CFUN was involved in promoting the show. They met at that time. They (Roy Orbison and Bob Luman) actually played Chilliwack on that tour."
Judy provided a link to a Facebook page titled Chilliwack History Perspectives and a post from February 19, 2015. In that post there is a photo of an advertisement in the Chilliwack Progress about a November 9, 1963, concert at the Chilliwack Agricultural Hall. The opening act was The Newbeats who had a hit in 1964 with "Bread And Butter". Bob Luman followed the Newbeats on stage. Next up was the headliner, Roy Orbison. The show ran from 7 p.m. to 9 p.m. and was followed by a dance from 9 p.m. to 12 a.m. (However, the advertisement had a typo with the dance lasting for fifteen hours, until 12 p.m. the next day).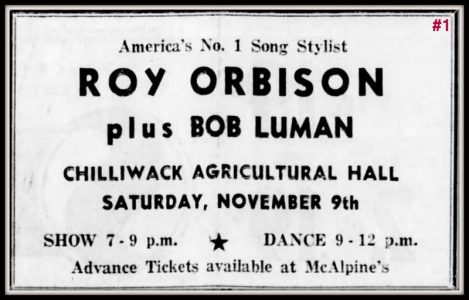 November 4, 2019
Ray McGinnis
References:
Shaun Mather and Phil Davies, "Let's Think About Luman," Rockabilly Hall of Fame, February 1999.
Randy McDaniel, "What Ever Happened to Bob Luman?," KXRB, Sioux Falls, South Dakota, October 22, 2015.
Dik, "Bob Luman," Black Cat Rockabilly, September 2012.
Tony Russell, "Felice Bryant: Gifted Songwriter with Many 1960s Chart Hits," Guardian, May 20, 2003.
"Felice and Boudleaux Bryant bio," Rockabilly Hall of Fame.
Kevin Burton Smith, "Peter Gunn," Thrilling Detective.com.
Kevin Burton Smith, "77 Sunset Strip: Stuart Bailey, Jeff Spencer, Rex Randolph and "Kookie"," Thrilling Detective.com.
"The Big O Plays Chilliwack," Chilliwack History Perspectives Facebook page, February 19, 2015.
"Gene Watson Peer's Quote from Melissa Luman Phillips: February 2014," Gene-Watson.com, February 23, 2014.
"The Fabulous Forty," CKWX 11300 AM, Vancouver, BC, August 1961
For more song reviews visit the Countdown.