#544: Raise A Little Hell by Trooper
Peak Month: September 1978
12 weeks on CFUN's Vancouver Charts
Peak Position ~ #11
Peak Position on Billboard Hot 100 ~ #59
YouTube.com: "Raise A Little Hell"
Lyrics: "Raise A Little Hell"
In 1967 Ra McGuire and Brian Smith played in a Vancouver band named Winter's Green. The band recorded two songs, "Are You a Monkey" and "Jump in the River Blues" on the Rumble Records Label. "Are You A Monkey" later appeared on a rock collection: 1983's "The History of Vancouver Rock and Roll, Vol. 3." In the early seventies Winter's Green changed their name to Applejack and added drummer Tommy Stewart and bassist Harry Kalensky to their lineup. Applejack became a very popular band in the Vancouver area, and began touring extensively in British Columbia. The band played a few original tunes such as "Raise A Little Hell", and "Oh, Pretty Lady", as well as Top 40 songs by artists such as Neil Young, and Chicago.
After hearing Applejack perform, Randy Bachman of Bachman–Turner Overdrive and The Guess Who signed the band to his Legend label. The band changed their name from Applejack to Trooper. Bachman produced the band's self-titled debut album, Trooper, which contained the Canadian hits "Baby Won't You Please Come Home" and "General Hand Grenade".
Managed by Sam Feldman, Trooper began touring extensively in both Canada and the United States. After moving from Legend Records to MCA Records, Trooper added Frank Ludwig on keyboards. A second album, Two For The Show, featured their 1976 hit singles "Two For The Show" and "Santa Maria." In Vancouver, the band had a third hit single from the album titled "Ready". In 1976, Trooper first appeared in concert on March 21 at the PNE Garden Auditorium, and later on September 4 at the Pacific Coliseum – opening for Bachman-Turner Overdrive.
In 1977 Trooper released their third album, Knock 'Em Dead Kid. By this time Harry Kalensky had been replaced by bass guitarist Doni Underhill. Doni Underhill spent his early days in Toronto. He playing with Robbie Lane, and was in the bands Fludd and Brutus.
The first single from the album, "We're Here For A Good Time (Not A Long Time)", was the bands highest charting single at the time, peaking on the RPM charts at #12. The 70's ended well for Trooper with "Raise A Little Hell", "Round Round We Go" and "3 Dressed Up As A Nine" among their Canadian hits.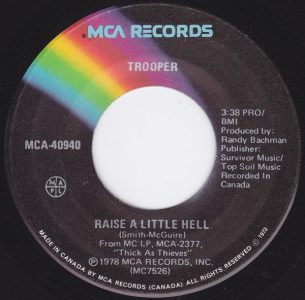 Ra McGuire and Brian Smith co-wrote "Raise A Little Hell". The song is about self-determination and not waiting for other people to rescue you from life circumstances that are dragging you down. It takes presence of mind to observe what is going on in the present moment. When you are aware that you don't like the present outcomes in your life, you need to take action to change it. Of course, there are factors in one's life. It may be easier to 'raise a little hell' when you are in Canada than when you are living in North Korea. But, the song is written by musicians who understood in 1979 in Canada, people had an opportunity to raise their voice and ask for what they need. The band sings "if you know there's something wrong, why don't you right it?"
In a free society each person can take the opportunity to move things in the direction of justice, fairness, equality for themselves, and on behalf of those who don't have a voice. Buffy Sainte-Marie has faced obstacles as an indigenous musician. Yet, she is one person who has stood up for herself. She sang about war and peace and wrote songs like "Universal Soldier". It put her under surveillance by the FBI and the CIA. But it also opened many doors for her. Buffy has been able to raise awareness of indigenous rights through her songs, as well as speaking truth to power, and challenging the military-industrial-complex. For many people who feel like they are getting screwed over just trying to live their lives, complaining and whining only gets them so far. Raising a little hell needs to be done with some goal in mind. You have to ask for something you're not getting from people who have the ability to help you out, or make things right.In 2019 a lot of Canadians are raising a little hell during the nations' federal election scheduled for October 21. They are variously trying to raise hell about climate change, pipelines – the need to build more, or the need to stop building them, lowering taxes, the need for a national PharmaCare plan, creating more jobs, balancing the budget and other concerns. Perhaps our nations federal elections are an occasion of societal hell raising, of a mostly civil sort.
"Raise A Little Hell" was produced by Randy Bachman formerly of The Guess Who and Bachman-Turner Overdrive. By 1978 Bachman had gone solo and was also producing records for other recording artists."Raise A Little Hell" climbed to #5 on Schenectady (NY), #11 in Vancouver (BC) and #16 in Akron (OH). It was the only single released by the band to chart on the Billboard Hot 100, peaking at #59.
Trooper appeared in concert in Vancouver on October 5 at the PNE Garden Auditorium, and on November 25, 1978, at The Cave. Earlier that year, the band gave a four-night-stand at The Cave from May 3rd to 6th.
Trooper's album, Thick As Thieves, was nominated for Best Selling Album Juno Award. And in 1979 the band won the Juno Award for Group of the Year. A single from the album was titled "The Moment It Takes".
In the early 1980s, Trooper gave numbers of concerts at the Commodore Ballroom in Vancouver. They appeared on November 13-14-15, 1980, and again on July 16-17, 1982. As well, the band gave several concerts at the Pacific Coliseum in Vancouver on November 3, 1979, and the following year on October 25, 1980. On February 15, 1985, Trooper came to the Vancouver suburb of Burnaby to perform at the North Burnaby Inn.
Trooper won a SOCAN Classic Award in 2005 for "Oh, Pretty Lady". SOCAN is an acronym for the Society of Composers, Authors and Music Publishers of Canada. Trooper has 401 photographs housed in the Library and Archives Canada's Gatineau Preservation Centre. Between 1975 and 1991 Trooper charted a dozen singles into the Canadian RPM Top 40, and released nine studio albums.
On December 4, 1999, and again on July 2, 2001, Trooper appeared in concert at the Commodore Ballroom in Vancouver. On May 23, 2007, Trooper gave another concert in Vancouver, this time at PNE Rollerland. On September 6, 2010, and again on August 31, 2012, Trooper gave concerts at the PNE Exhibition Bowl. Two years later, on August 22, 2014, Trooper appeared at the PNE Amphitheatre in Vancouver. On November 29, 2014, Trooper was the stage act at the post-Grey Cup celebrations at the Vancouver Convention Centre. On December 31, 2015, Trooper was in concert at the Hard Rock Casino in the Vancouver suburb of Coquitlam. On July 30, 2016, Trooper gave a concert at Shorefest in Vancouver. On August 18, 2018, Trooper performed in concert at Ambleside Park in West Vancouver.
October 18, 2019
Ray McGinnis
References:
Trooper bio, Canadian Bands.com.
Trooper concert schedule, Trooper.com
Tim Lewis, "Buffy Sainte-Marie: 'My Music is Much More Diverse than Almost any Singer You Can Think of'," Guardian, August 2, 2015.
"CFUN Top 30," CFUN 1410 AM, Vancouver, BC, September 9, 1978.
For more song reviews visit the Countdown.