#1076: Ready by Trooper
Peak Month: December 1976
8 weeks on Vancouver's CKLG chart
Peak Position #18
Peak Position on Billboard Hot 100 ~ did not chart
In 1967 Ra McGuire and Brian Smith played in a Vancouver band named Winter's Green. The band recorded two songs, "Are You a Monkey" and "Jump in the River Blues" on the Rumble Records Label. "Are You A Monkey" later appeared on a rock collection: 1983's "The History of Vancouver Rock and Roll, Vol. 3." In the early seventies Winter's Green changed their name to Applejack and added drummer Tommy Stewart and bassist Harry Kalensky to their lineup. Applejack became a very popular band in the Vancouver area, and began touring extensively in British Columbia. The band played a few original tunes such as "Raise A Little Hell," and "Oh, Pretty Lady," as well as Top 40 songs by artists such as Neil Young, and Chicago.
After hearing Applejack perform, Randy Bachman of Bachman–Turner Overdrive and The Guess Who signed the band to his Legend label. The band changed their name from Applejack to Trooper. Bachman produced the band's self-titled debut album, Trooper, which contained the Canadian hits "Baby Won't You Please Come Home" and "General Hand Grenade." Managed by Sam Feldman, Trooper began touring extensively in both Canada and the United States. After moving from Legend Records to MCA Records, Trooper added Frank Ludwig on keyboards. A second album, Two For The Show, featured their 1976 hit singles "Two For The Show" and "Santa Maria." In Vancouver, the band had a third hit single from the album titled "Ready."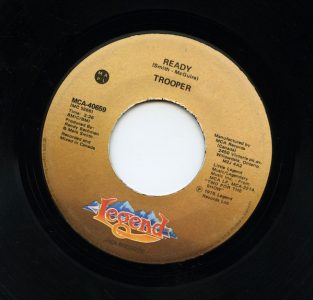 I was down so long,
everything was goin' wrong,
and the people all around me got the news.
Lord, and everything I tried,
fell to pieces and slowly died.
My soul was going broke from paying dues.
I was very nearly beat,
when I crawled back to my feet,
believing that a change was overdue.
Now I'm pickin' up the pieces,
and takin' out new leases,
gettin' ready for the things I wanna do.
And you know I'm ready.
How tough is it gonna be?
Are you ready?
Don't keep asking me.
If I'm ready, yea, yea,
leave it up to me.
I'm ready as I'm gonna be
I'm ready finally.
Lord, I'm ready to make my way,
take it slowly from day to day,
take it easy on myself,
as I roll along.
Lord knows, it's down to me,
to write the melody,
to sing my own words to the song.
And you know I'm ready.
"Ready" is a song about gathering strength to try to take one step at a time to make a better life. The narrator of the song has tried everything to make things work. But they've had set-backs, failure and deterioration ~ they "slowly died." Having been beaten down and slowly crawled back up to stand and face the future, they are "getting ready for what I want to do." There are people in their network who are impatient and asking if they're ready to move forward. The narrator of the song intends to take it easy on themselves (instead of being hard on themselves). They are going to sing their own song, a metaphor for embracing their own unique life, note by note.
In 1977 Trooper released their third album, Knock 'Em Dead Kid. The first single from the album, "We're Here For A Good Time (Not A Long Time)," was the bands highest charting single at the time, peaking on the RPM charts at #12.
The 70s ended well for Trooper with "Raise A Little Hell," "Round Round We Go" and "3 Dressed Up As A Nine" among their Canadian hits. Their album, Thick As Thieves, was nominated for Best Selling Album Juno Award. And in 1979 the band won the Juno Award for Group of the Year. Trooper won a SOCAN Classic Award in 2005 for "Oh, Pretty Lady." SOCAN is an acronym for the Society of Composers, Authors and Music Publishers of Canada. Trooper has 401 photographs housed in the Library and Archives Canada's Gatineau Preservation Centre.
Between 1975 and 1991 Trooper charted a dozen singles into the Canadian RPM Top 40, and released nine studio albums. As of 2017 Trooper continues to go on concert tours with concerts from August to December, 2017, in British Columbia, Alberta, Saskatchewan and Ontario.
For more song reviews visit the Countdown.