#598: Rave On by Buddy Holly
Peak Month: June 1958
8 weeks on CKWX's Vancouver Chart (peak #7)
Peak Position ~ #4 Red Robinson Chart
Peak Position on Billboard Hot 100 ~ #37
YouTube.com: "Rave On"
Lyrics: "Rave On"
In 1936, Charles Hardin Holley was born in Lubbock, Texas. When he was five years old he won $5 when he entered a local talent show and sang "Down The River of Memories." He listened to the Grand Ole Opry growing up and after trying to learn the piano settled on taking up the guitar. During his Junior and Senior years in school, Holley entered some talent shows with friends in duos and doing gigs with a band playing a blend of country & western and rhythm & blues. He had a band that performed live on the Lubbock radio station KDAV. After high school graduation Holly focused on making a career as a musician. He heard Elvis Presley in concert in Lubbock in 1955. Shortly after Hollry would appear as the opening act for Presley in concert three times in 1955. Owen Bradley, who would also produce records for Conway Twitty, Brenda Lee, Patsy Cline and Gene Vincent, became Holley's record producer after he signed a record deal with Decca Records in February 1956. After signing the record deal, Buddy Holley dropped the "e" from his surname to become Buddy Holly.

Initially, Holly was not satisfied with the progress he was making with Decca Records. In May of 1957 he and his band sent a demo of "That'll Be the Day" to Brunswick Records in New York City, under the name The Crickets. The label decided to release the record and it went on to be a big hit. The Crickets became a rock 'n roll/rockabilly group in 1957. They are credited with influencing a whole range of recording artists including Bruce Springsteen, Bob Dylan, the Rolling Stones and the Beatles. In fact, the Beatles got the idea for their name as a riff off of another insect, cricket, just going up one letter of the alphabet from C to B for Beatles. Paul McCartney once told the press, "If it wasn't for the Crickets, there wouldn't be any Beatles."The Crickets were initially the backing band for Buddy Holly and among their hits are "That'll Be The Day", Peggy Sue", "Oh Boy", "Not Fade Away", "Maybe Baby", "It's So Easy" and "Rave On".
It was in Lubbock, Texas, that guitar player Buddy Holly and drummer J.I. Allison first met to discuss forming a rock 'n roll band. They got bass player, Joe Mauldin to be a third member of the band. The three were capable of writing, playing, producing and recording their own records. They were also skilled at over-dubbing in the studio years before it became a standard feature of studio recording. "That'll Be The Day" climbed to #1 for two weeks in Vancouver (BC) in July 1957. The Crickets were part of the vanguard of rock 'n roll, at a time that many music critics predicted its demise and regarded it as a "music fad." Buddy Holly and The Crickets appeared in concert at the Georgia Auditorium in Vancouver on October 23, 1957.
While The Crickets were not acknowledged on the record label credits for "Peggy Sue", many DJ's knew that Buddy Holly's band was playing on the record. "Peggy Sue" climbed to #3 on the Billboard pop chart, and #2 on the Cashbox Best Selling Singles chart in January 1958.
While "Peggy Sue" enjoyed eight weeks in the Top Ten on the Billboard and Cashbox singles charts, the Crickets "Oh Boy" climbed to #10, and in Vancouver peaked at #4 on CKWX. The B-side, "Not Fade Away" didn't make the pop charts, but was covered successfully by the Rolling Stones in 1964.
In the beginning of February 1958, Red Robinson began to spin "Maybe Baby" by the Crickets. The song peaked at #6 in Vancouver, #18 on the Billboard pop singles chart and #11 on the Cashbox singles chart. Buddy Holly's next release, "I'm Gonna Love You Too", didn't make the Billboard pop chart. However, it did climb to #12 in Vancouver on CKWX. Normally a song climbing that high locally, with no chart run in the USA, would be featured on this website. However, "Im Gonna Love You Too" only had two weeks on the CKWX chart, and not earning enough chart run points to place on this website's countdown. However, Terry Jacks covered the song and had a hit in 1973.
Buddy Holly kept releasing more singles. His sixth single release in eleven months was "Rave On".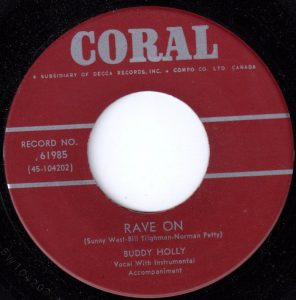 "Rave On" is a song that makes of list of superlative qualities the romantic partner does that thrill the lover. These include "the little things you say and do," "the way you dance and hold me tight," "the way you kiss and say goodnight." This and more make the guy rave about the girl he's in love with. They are counted upon as evidence she loves him. And it helps that she also tells him "I love you." The song is about that time in a dating relationship when the couple is secure in the love they feel for each other. There is no need to fear being lonely again.
"Rave On" peaked at #4 in Vancouver (BC), #8 in Baltimore (MD), #9 in Albany (NY), and #12 in Duluth (MN).
Buddy Holly wrote "True Love Ways" as a wedding gift for his bride, Maria Elena Holly. They got engaged at P.J. Clarke's restaurant, Table 53, while on their first date, on June 20, 1958. In late 1958, Buddy Holly decided to move to New York and become more involved in the business side of music. Allison and Mauldin continued on with The Crickets, adding their old friend Sonny Curtis as lead guitarist and vocalist.
From April 1957 to January 1958, Holly returned on a number of occasions to record tracks for his second album, self-titled Buddy Holly. Among the tracks he recorded was a song written by the songwriting team Jerry Leiber and Mike Stoller called "You're So Square (Baby I don't Care)". The song was recorded by Elvis Presley in 1956. In Holly's case, "You're So Square (Baby I Don't Care)" remained a non-single track following the 1958 release of the Buddy Holly album. Then Holly died in a plane crash on February 3, 1959, along with Ritchie Valens and the Big Bopper (J. P. Richardson). Numbers of Holly's songs became hits after his death including "It Doesn't Matter Anymore" and "Raining in My Heart." Holly had ongoing appeal in England where his recordings of "True Love Ways" and "Brown Eyed Handsome Man" charted into the Top 5 of the UK charts in 1963.
Posthumously, "You're So Square (Baby I Don't Care)" climbed to #5 in Vancouver on CKWX in the fall of 1961.
In 1978, a film, The Buddy Holly Story, was released. In 1986, Buddy Holly was inducted into the Rock and Roll Hall of Fame. In 1989, in the theatre district of London, there was a premiere of the musical Buddy: The Buddy Holly Story. The show had a subsequent run on Broadway the following year. In 2004, a film titled The Real Buddy Holly Story was released. It was created in response to what several members of The Crickets felt were misleading details in the 1978 film, The Buddy Holly Story.
Buddy Holly's exposure to the general public was squeezed into just 18 months. "That'll Be The Day" began to climb the pop charts in August, 1957. Buddy Holly died in a plane crash in Iowa, with Ritchie Valens and the Big Bopper (J.P. Richardson), on February 3, 1959. Dion DiMucci would have been a fourth fatality, but he decided not to take the flight since it cost $36.
June 5, 2019
Ray McGinnis
References:
Buddy Holly bio, Rolling Stone, New York, NY.
Buddy Holly: Rock & Roll as we Know it Wouldn't Exist Without Buddy Holly, Rock and Roll Hall of Fame, 1986.
Norman, Philip. Rave On: The Biography of Buddy Holly. Simon & Schuster, New York, 2014.
Philip Norman, "Why Buddy Holly Will Never Fade Away," Telegraph, London, February 3, 2015.
Spence, Richard (Director). The Real Buddy Holly Story. Universal Music Canada, 2004.
Sonny Curtis bio, Sonny Curtis.com.
The Crickets bios, The Crickets.com
Gary James, Interview with Jerry Allison, Classic Bands.com.
Sarah Rafique, Classic Bassist Joe B. Mauldin Remembered as 'Gentle Soul,' Lubbock Avalanche-Journal, Lubbock, TX, February 7, 2015.
Red Robinson, "Teen Canteen Survey: The Top Songs," CKWX 1130 AM, Vancouver, BC, May 25, 1958.
For more song reviews visit the Countdown.