#1096: Red Hot by Billy Riley
Peak Month: November 1957
4 weeks on Teen Canteen chart
Peak Position #4
Peak Position on Billboard Hot 100 ~ did not chart
YouTube.com: "Red Hot"
Lyrics: "Red Hot"
Billy Lee Riley was born in in Pocahontas, Arkansas in 1933. His father was a sharecropper, which means he rented land from a landowner and used the land in return for giving a portion of the profits of the crops produced to the landowner on their portion of land. Though Riley's father was a house painter by trade he would work in the cotton fields to feed the family during lean times. Young Billy Lee began playing harmonica at age six, and learned blues guitar in his early teens. "Blues is the music I grew up hearing on the plantation. There were black families and white families all living together, far from town. We were poor, and playing music was our main form of entertainment," he recalled. In 1957 Riley recorded "Red Hot," included in the Rock n' Roll Hall of Fame's 500 Song's that Shaped Rock n' Roll.
Out of school Riley served in the U.S. Army for four years. In 1955 he recorded his first demo in Memphis, Tennessee. In early 1956 Riley recorded "Trouble Bound" on Fernwood Records. Sam Phillips wooed Riley to join Sun Records and obtained the rights to release "Trouble Bound" for Sun Records on September 1, 1956. In March 1957, Billy Riley and The Little Green Men had a Top 30 hit in Memphis called "Flyin' Saucers Rock and Roll". The backing piano was provided by Jerry Lee Lewis.
On his own, Riley earned notoriety throughout the South with his wild live performances, and in the late'50s his shows were banned by various town councils and college administrators who worried that Riley's raucous "devil's music" would corrupt the souls of innocent teenagers. Riley's backing band, The Little Green Men, were the main Sun studio band. They were Riley, Roland Janes, J.M. Van Eaton, Marvin Pepper, and Jimmy Wilson, later joined by Martin Willis.
The next single Riley recorded was the song "Red Hot," released on September 30, 1957.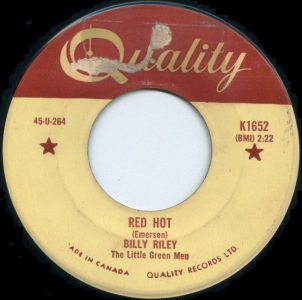 "Red Hot" featured Jerry Lee Lewis on piano. The song was written by Billy "The Kid" Emerson. Emerson had already had a minor hit when Elvis Presley recorded "When It Rains It Really Pours". "Red Hot" was showing a lot of promise as a big hit record, but Sam Phillips pulled Sun Records promotion for the single and switched it to "Great Balls Of Fire" by Jerry Lee Lewis. Riley felt that his chances of success were compromised when Phillips diverted resources to advance Lewis' single. Why couldn't Sun wait a few more months to release "Great Balls of Fire"? "Red Hot" did make the Top 30 in Memphis, #17 in Baltimore, Maryland, and #4 in Vancouver. For several weeks during its chart run "Red Hot" was incorrectly entered on the Red Robinson Teen Canteen Survey as "Hot Rod". "Red Hot" is included in Rock n' Roll Hall of Fame's 500 Song's that Shaped Rock n' Roll.
The song, "Red Hot" is about a guy bragging that his gal is better than another man's gal. "My gal is red hot, you're gal ain't doodly-squat." In other words, one man is going out with a woman who is very sexy, "red hot," while the other man is going out with a woman who doesn't know doodly-squat, is clueless. It doesn't matter that the gal who is red hot sleeps in the kitchen with her feet out the door or doesn't have much money. The term doodly-squat originated in 1934 in the USA. It came to be replaced with the word diddly-squat in the 1970s. Being red hot is a synonym for being a blonde bombshell and other ascriptions for women by men indicating a certain female is a knockout.
In 1957 rock 'n roll is was a gathering momentum. A call came to Billy Riley to play at the Old Field House at the Arkansas State University. Riley accepted the offer and appeared with his band and began the concert. The gig was infectious and the crowd were loving the show. Riley jumped on top of the piano and began to dance on the piano, making little leg jerks and hip shakes. The band was playing frantically, dancing around the stage. The piano, which was on wheels, started to roll. Riley, while dancing on the piano became aware it was moving. Perceiving that the piano was rolling off the stage, he stretches out his hand and latches onto one of the steel girders running the width of the field house. The audience goes wild seeing Billy Riley hanging onto the steel girder with one hand and holding the microphone with the other. They think this is part of the act. Meanwhile, Riley is trying to get someone to get him out of his quandary. By now, one side of the piano was tipping off the stage and Riley was suspended from the ceiling with his arm getting tired. Once the song was finished the piano was moved back where it belonged, and Billy Lee Riley & The Little Green Men wrapped up their set to thunderous applause. However, the dean of ASU, waiting for Riley as he packed up his instruments up to leave and told him, "Boy, that was a vulgar show you just put on and you are banned from this school."
With his band the Little Green Men, a name inspired by the "Flying Saucer" single, Riley backed Johnny Cash, Charlie Rich, Roy Orbison, Jerry Lee Lewis, and other Sun artists. Riley played a decisive role in shaping most of the Sun Records hits of that era. They predated the legendary "house bands" of the 1960s such as Stax/Volt, Motown, Muscle Shoals and the Wrecking Crew. In 1958, Billy Riley and the Little Green Men played for 72 hours in a row on stage at the Starlite Club in Frazier, Tennessee. They held the world record for awhile, Riley told Rocktober Magazine in 1999.
In 1959 Riley left Sun. He started the Rita Record label with Roland Janes. They produced the national hit record "Mountain Of Love" by Harold Dorman, in 1960. He later started two other labels Nita and Mojo. Riley also continued to perform and produce music throughout the 1960s working with Albert Collins, Willie Cobb, Johnny Rivers, Herb Alpert, Pearl Bailey, Sammy Davis Jr. and The Beach Boys. Riley considered working with Sammy Davis Jr. was one of the high points of his long career.
Riley released "That's What I Want To Do" and in February 1961 it was a Top 40 hit in Memphis. In June of '61 "Teenage Letter" on the Home of the Blues label was also a Top 40 hit in Memphis. In the spring of 1967 on the Mojo label, Riley released "Midnight Hour" that climbed to #3 in Columbus, Ohio, and went Top 20 in Atlanta. Later in October '67 Riley charted "Mississippi Delta" into the Top 40 of Coffeyville, Kansas. He had one more regional hit in 1972 with "I Got A Thing About You Baby" on Entrance Records. The song climbed to #3 in Montgomery, Alabama, #4 in Louisville, Kentucky, #7 in Fort Knox, Kentucky, Top 30 in Nashville, Tennessee, and Top 20 in Seattle in the fall of that year.
Riley left session work in LA in 1973 and returned to raise his children in Arkansas. Nonetheless, later in the 70's Billy Lee Riley was discovered by a new audience. Europe had discovered Rock and Roll and the original rock and rollers were hot comodities. The Europeans loved the real stuff and they wanted it in the flesh. The music that had been just rock and roll was now called Rockabilly and the Rock and Rollers from the 50's could play all they wanted if they were willing to go abroad. England, France, Sweeden, Germany, were all part of the tours. Just about everywhere on the European continent there was some kind of Rockabilly Festival. There were Sweedish Rockabilly Bands, and English Rockabilly Bands, German, Austrian and others, all on stage playing the music and getting into the style of the early rockers.
The 80's brought more touring in Europe for Riley, with long sabbaticals in Newport. Billy Riley began playing the music he grew up on. The music of the plantations, called variously Gut Bucket Blues, Deep Blues and Delta Blues. It was the foundation for rock 'n roll, and it was the foundation for Riley's new career in the Blues. His choice to turn to the Blues genre was not a big step for Riley. The Blues were always part of his performances, but now they were the major part. Journalist Robert Palmer, writing for Rolling Stone, described Riley as "the unsung hero of Sun rock & roll." Billy Riley died of cancer in 2009.
In 2015, at a tribute for Bob Dylan for MusicCares in Los Angeles, Dylan chose in his part of his acceptance speech to pay tribute to Billy Riley. Said Bob Dylan of Riley: "He was a true original. He did it all: He played, he sang, he wrote. He would have been a bigger star but Jerry Lee came along. And you know what happens when someone like that comes along. You just don't stand a chance. So Billy became what is known in the industry – a condescending term, by the way – as a one-hit wonder. But sometimes, just sometimes, once in a while, a one-hit wonder can make a more powerful impact than a recording star who's got 20 or 30 hits behind him. And Billy's hit song was called "Red Hot," and it was red hot. It could blast you out of your skull and make you feel happy about it. Change your life."
May 10, 2017
Ray McGinnis
References:
Karen Bliss, Bob Dylan Calls MusiCares a Blessing for 'Red Hot' Billy Lee Riley, Samaritanmag.com, Toronto, Ontario, February 9, 2015
Billy Lee Riley bio, Sun Records.com
Billy Lee Riley, The Music Muse Interview.blogspot.com, August 22, 2009
Billy Lee Riley Interview, Rocktober Magazine, September 1999 (reprinted in Rockabilly.net)
"Red Robinson Teen Canteen Survey," CKWX 1130 AM, Vancouver, BC, October 27, 1957.
For more song reviews visit the Countdown.