#1033: Right By My Side by Ricky Nelson
Peak Month: May 1960
9 weeks on Vancouver's CKWX chart
Peak Position #11
Peak Position on Billboard Hot 100 ~ #59
YouTube.com: "Right By My Side"
Lyrics: "Right By My Side"
In 1940 Eric Hilliard Nelson was born. On February 20, 1949, while still eight years old, he took the stage name of Ricky Nelson when appearing on the radio program, The Adventures of Ozzie and Harriet. A child actor, Ricky was also a musician and singer-songwriter. who starred alongside his family in the long-running television series, The Adventures of Ozzie and Harriet (1952–66), as well as co-starring alongside John Wayne and Dean Martin in the western Rio Bravo (1959). He placed 53 songs on the Billboard singles charts between 1957 and 1973. In 1958 he had his first #1 song on the Billboard Hot 100, "Poor Little Fool", which peaked at #2 in Vancouver. When he turned 21 years old on May 8, 1961, he changed his stage name from Ricky Nelson to Rick Nelson.
Nelson racked up a number of #1 hits in Vancouver, including "My Bucket's Got A Hole In It" in 1958, the double-sided disc with "It's Late" and "Never Be Anyone Else But You" in 1959, and the double-sided hit "Travelin' Man" and "Hello Mary Lou" in 1961. Other hits at the pinnacle of his singing career included "Lonesome Town", "Be-Bop Baby" and "It's Up To You". With his weekly appearance on The Adventures of Ozzie and Harriet, Nelson was the first pop singer in the rock 'n roll era to use a TV show as a platform to promote his single releases. Between 1957 and 1959 Ricky Nelson had charted 15 songs into the Top Ten in Vancouver. His sixteenth Top Ten hit was "Young Emotions." The B-side of that single was "Right By My Side." While the tune didn't do very well in the USA, stalling at #59, in Vancouver the B-side peaked at #11. While the pretty "Young Emotions" written by Mack David, climbed to #7 here in town. (Mack David, a composer of over a thousand songs, would have more success in the 60's with songs like "Baby It's You" for the Shirelles and the Beatles and "It Must Be Him" for Vicki Carr).
During 1960, Ricky Nelson was shooting a film titled The Wackiest Ship In The Army. Filmed in Pearl Harbor and the island of Kauai. The film's plot set during World War II, begins with Lt. Rip Crandall (Jack Lemmon), an expert yachtsman in civilian life, now based at Townsville, Queensland, Australia. He is surprised to be assigned command of a sailing ship, the USS Echo. The only crew member who knows how to work a ship with sails is eager young Ensign Tommy Hanson (Ricky Nelson), who cost Crandall a yacht race with a error in that race before the war.
Crandall tries to refuse this dubious command, but Hanson and Crandall's former sailing buddy Lt. Commander Vandewater (John Lund) wear down his resistance. Vandewater points out Crandall's poor fitness report and advises that, if he doesn't take this command, he'll never get another. Hanson takes Crandall out drinking with some of the men so he'll feel guilty about abandoning them.
The Echo barely makes it out of the harbor, sailing straight into a storm. When it arrives in Port Moresby, New Guinea, Crandall is supposed to train a replacement to deliver a coastwatcher named Patterson to a location only a shallow-draft vessel can reach. However, the replacement strikes Crandall as stiff-necked and unqualified to handle this kind of mission, so he takes the ship out under his own command to deliver Patterson.
Making the crossing in a not-very-convincing disguise as a native trading vessel, Crandall and his crew are spotted and photographed by a Japanese enemy plane. While they are delivering their passenger, a Japanese force from a passing war fleet boards the scow and captures the landing party when they return. Crandall manages to rally his men to take the ship back. He is then faced with the decision of whether to radio a warning about the fleet, even though that will give away their position to guns on shore. He sends the warning and abandons ship as the guns open fire on the Echo and destroy her. The crew survives to be rescued, and Crandall is given command of a modern destroyer whilst Hanson gains command of a sub chaser for their role in helping to win the Battle of the Bismarck Sea adjacent to New Guinea.
For his role in The Wackiest Ship In The Army, Ricky Nelson got to sign a lot of autographs of his photos from the film wearing an Ensign's US naval cap. (A naval Ensign in the US Navy is equivalent to a Second Lieutenant in the Canadian Armed Forces).
While Nelson was drawing teens to see him in the movies, he kept on releasing singles. One of these was "Right By My Side".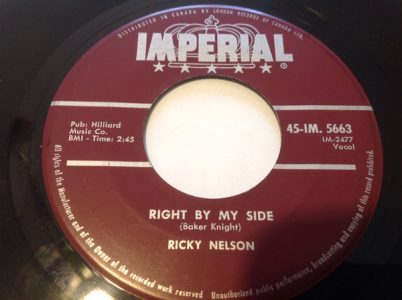 "Right By My Side" is a song about a guy who, after a break-up realizes that his ex-girlfriend is who he feels most at home with romantically. He wants to be in her arms, all day long. When they were together he was satisfied. But she took his heart and tore it apart. Then she left him. The causes of the break-up are not clear, though it seems she wasn't satisfied with him and that's why she left him. As there's no indication there's another man in her life, she dumped him sensing she'd be better off on her own. Seems he'd better figure out what her dissatisfaction with him was or it's a slim hope she'll ever have him back. Just the same, he's cried over her and that's a sign he's aware how much someone can mean to him.
In 1961 Ricky Nelson dropped the "y" from his name on his 21st birthday. He enjoyed further successes on the pop charts in the early 60's. But by early 1964, Nelson had his last Top Ten hit in the USA that decade titled "For You". His final Top Ten hit in Vancouver, "Your Kind Of Lovin'", was a hit in 1966.
In 1967 Vancouver's premiere supper club was The Cave. Opened in 1938 at 626 Hornby Street, patrons could enjoy a delicious dinner between 5:30 p.m. and 7:30 p.m. A menu at the time offered a choice of appetizers: crab meat cocktail or fruit cocktail, followed by "daily soup" or tomato juice. Entree options included fried filet of sole, roast sirloin of beef, grilled pork chops, filet mignon, fried half spring chicken and roast duckling. With each of these dishes came carrots and peas, and mashed potatoes. And for dessert: jello with whipped cream and milk. At the start of 1967, The Cave printed a poster featuring an upcoming booking with "Mister Entertainment," Wayne Newton. On the bottom of the poster was the following notice: "Opening Wed. Feb. 15th for 10 days only Ricky Nelson." Though Nelson had changed credits on his records in 1961 from Ricky to Rick, in 1967 The Cave (and likely other venues) were still billing him as "Ricky."
In 1972 Nelson one more song reach the Top Ten in Vancouver and in the USA titled "Garden Party". That song was about being booed off stage at Madison Square Gardens in New York City on October 15, 1971, for playing a number of songs that weren't among his oldies hits, aside from "Hello, Mary Lou".
On September 5, 1976, Rick Nelson and the Stone Canyon Band performed in concert at the Pacific Coliseum in Vancouver.
In 1985 Rick Nelson put the "y" back in his first name and billed himself again as Ricky Nelson. He went on a tour with Fats Domino on a "comeback tour." The tour was short-circuited when Nelson's plane crashed on December 31, 1985, He and six other occupants in the plane were killed, though the two co-pilots survived the crash.
August 15, 2017
Ray McGinnis
References:
Richard Murphy, The Wackiest Ship In The Army, Columbia Pictures, 1960.
The Adventures of Ozzie and Harriet, ABC (1952-1966).
Penny Pagano, "Probe Discounts Drugs as Cause of Air Crash That Killed Rick Nelson," Los Angeles Times, May 29, 1987.
Editors – Rolling Stone. Rick Nelson – biography, The Rolling Stone Encyclopedia of Rock & Roll. Simon & Schuster, New York, NY, 2001.
"Sensational Sixty," CKWX 1130 AM, Vancouver, BC, May 9, 1960.
For more song reviews visit the Countdown.