#1386: Ronnie by Marcy Joe
Peak Month: June 1961
7 weeks on CFUN chart
Peak Position #14
Peak Position on Billboard Hot 100 ~ #81
YouTube.com link: "Ronnie"
In 1944, Marcy Rae Sockel was born in Pittsburgh. She grew up in the Oakland neighborhood of Pittsburgh. In her teens, each Saturday, for four consecutive years she took transit to the city center. At the Carlton House Hotel she'd take singing lessons from songwriter and co-owner of Robbee Records, Lennie Martin. The year before Martin had produced the Top 30 hit "Pennies From Heaven" by The Skyliners. When she turned seventeen, Marcy Joe wrote a song about her boyfriend Howard. She called it "Ronnie". Martin was impressed with the song and quickly composed an arrangement for the tune. He produced a recording session of "Ronnie" at Pittsburgh's United Recording Service studio and got local Robbee Record artists Lugee & the Lions to sing back up. Lugee & the Lions were comprised of Lou "Lugee" Sacco (later known as Lou Christie), Amy Sacco (Lou's older sister), Kay Chick and Bill Fabec. In March 1961 the song was released.
The song quickly became a Top Ten hit in Pittsburgh hit, reaching #7 on the National Record Mart sales rankings. National Record Mart was a record store chain that operated twenty Pittsburgh-area record stores in the 1960s. Though the chain expanded elsewhere in the 70's, reaching #7 on the National Record Mart sales in Pittsburgh gave local deejays a good indication of just how well the record was doing. Next Robbee Records approached Liberty records who gave "Ronnie" national distribution.
Grateful for the backing vocals on her single, Marcy Joe signed a photograph for Lou "Lugee" Alfredo Giovanni Sacco with these words: "I can only say that I wish you all the luck in the world with your career. I'm sure that someday soon I'll be hearing records by Lugee on the radio." By the end of May 1961 "Ronnie" spent three weeks on the Billboard Hot 100, peaking at #81 and on Cash Box magazine's singles chart at #64. In addition to the initial push local Pittsburgh teens gave to their local teen queen Marcy Joe, "Ronnie" owed its American chart success to it's climb up the charts into the Top Ten in Franklin, Pennsylvania (#1), Springfield, Massachusetts (#4), Worcester, Massachusetts (#3), San Francisco (#3), San Diego (#2), Cleveland (#6), Seattle (#6), Minneapolis/St. Paul (#7), Tampa (#3), Tucson (#4) and Los Angeles (#9). In Vancouver the song climbed up the CFUN chart to #14.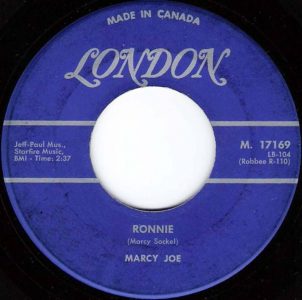 Ooo Ooo Ronnie come back.
Ooo ooo Ronnie come back.
Oh, Ronnie, I love you so.
I just can't see why you had to go.
I want you, I need you, I love you.
Oh Ronnie come back to me.
We were so happy,
I thought our love would last.
Or this seemed real,
not like things from the past.
You vowed you'd never leave me,
you vowed we'd never part,
then somebody else stole your heart.
Ronnie (Ronnie) Ronnie (Ronnie)
Why did you have to go? Oh
Ronnie (Ronnie) Ronnie (Ronnie)
I miss you so.
I'll never be happy
until you belong to me
(to me) to me (to me)
Oh, you might have found
someone to take my place.
But I won't forget your sweet embrace.
I just can't seem to find
another boy who will do.
Oh Ronnie (Ronnie) Ronnie (Ronnie)
I will always love you.
Ooo Ronnie come back
Oo, oooo Ronnie come back
Oo, oooo, Ronnie come back, oooo
Marcy Rae Sockel (Marcy Joe) had a good instinct for writing a popular song. In her opening verse she uses a phrase "I Want You, I Need You, I Love You". This was the title of one of Elvis Presley's #1 hits in 1956. As an ear worm, the phrase would have been immediately familiar to most listeners five years later in 1961 when Elvis was still the King of Rock 'n Roll. In "Ronnie" the girlfriend has lost him to another girl who stole his heart.
In an article titled I'll Take Your Man! 10 Ways to Tell She's Trying to Steal Your Boo, there are some things to look for if this is a problem.
1) Notice how she flirts. Just because she flirts with your boyfriend does not mean she's trying to steal him. She might flirt with him to build up her own self-esteem or because she wants to be friends with him. Does she flirt with everyone, or just with your boyfriend specifically? If she generally comes off as flirty, it's doubtful that your boyfriend is a special case. If she makes special effort to flirt with your boyfriend, she might have a crush on him. Here are some flirty behaviors to watch for:
* She puts her hand on his arm or touches him frequently.
* She makes eye contact with him.
* She laughs at all of his jokes.
* She moves her body so that she faces him.
* She initiates conversation with him.
2) See if she wants to be alone with him. If the girl wants to be alone with your boyfriend, it demonstrates that her flirting is not just for social power and self-esteem. Make note of when they spend time alone together. Look out for the following things:
* She invites him for outings where it will be just the two of them, such as the movies or lunch at a coffee shop.
* She asks him to do her favors (such as change a lightbulb) where he would end up being somewhere alone with her.
* She asks him to go on walks with her.
* When he says he's going to do something, such as get a glass of water in the next room, she invites herself and goes with him.
3) See if she texts or calls him frequently. Is your boyfriend secretive about his texts with her? Does she call or text him more than you would with a platonic friend? Although this communication does not mean that she wants to be more than friends, it can be a red flag.
If you see your boyfriend texting someone frequently, ask him who it is. If he is dodgy or defensive about it, it might be her.
Going through your boyfriend's texts might be an invasion of privacy. If he seems as though he is lying, have a conversation with him about trust.
4) Set boundaries for the relationship. Each couple has their own "rule book" — some couples would seeing going to the movies with another girl as highly inappropriate, whereas other couples would consider this and other "intimate" contact okay. Having an open conversation about what each partner expects is key to guiding acceptable behaviors. Be clear about your needs — your boyfriend may have no idea his friendship or flirtation with this other girl upsets you. Work on defining these expectations with your boyfriend. You might say something like, "I don't want you to give up your friendships with other girls, but I would appreciate it if your focus is on me when we spend time together, and not on texting her."
* Don't set boundaries that are vague or manipulative. Something like, "I want to spend more time with you" isn't specific enough. Try saying, "I want to spend more time together just the two of us. Could we designate a date night?"
* Let your boyfriend know what is and is not acceptable to you. If you are not comfortable with him giving another girl a back massage, let him know that feels disrespectful to your relationship.
* Be open to listening to your boyfriend's perspective and his boundaries as well.
* Let him know what you appreciate about him and what you enjoy about your relationship. Find out what he appreciates about you and what he enjoys about your relationship.
After graduating from high school in the Sping of 1961 Marcy Joe toured the East with Del Shannon and Johnny and The Hurricanes. Robbee released her second single "Since Gary Went In The Navy" in June 1961. The "Gary" in the song was based on a real person, like in her first single. "Since Gary Went In The Navy" referred to Gary Troxel of the late 50's-early 60's chart-topping group The Fleetwoods, of "Mr. Blue" fame. Troxel had been drafted into the U.S. Navy. "Since Gary Went In The Navy" received airplay in Pittsburgh but did not break nationally. However, it found it's way into the Top 30 in Manchester, New Hampshire (#10), Tucson (#11), Sioux City, Iowa (#13) and #21 in Vancouver, where is spent seven weeks on the play list.
After Robbee Records went out of business at the end of 1961, Marcy Joe signed with Swan Records in 1962. Swan decided to drop the "e" off of her first stage name, billing her now as Marcy Jo. Swan released the singles "I'm A Dreamer, Aren't We All" and "How Softly A Heart Breaks". The former was a remake of a Top Ten Bing Crosby & Paul Whitman Orchestra hit from 1929 in the film Sunny Side Up. However, neither Swan singles got much airplay.
Next Marcy Jo teamed up with singer Eddie Rambeau, who was from Hazelton, Pennsylvania, four hours east of Pittsburgh. They released the duet "Those Golden Oldies". "Six Great Oldies In One New Hit," ran the trade ads in Billboard Magazine. The song featured clips from "Sincerely" by The Moonglows from 1954, "Silhouettes" by The Rays from 1957, "Sweet Little Sixteen" by Chuck Berry from 1958, "Happy, Happy Birthday Baby" from 1957 by The Tuneweavers, "La De Dah" by Billie and Lillie from 1958 and "Over The Mountain, Across The Sea" by Johnnie & Joe from 1957. The song went Top Ten in Redding, Pennsylvania.
A second duet by Eddie Rambeau and Marcy Jo, "Lover's Medley", fell just shy of the Billboard Hot 100 in 1963. The song was a medley of "The More I See You" and "When I Fall In Love". It had regional success in Baltimore where it climbed to #5. Lennie Martin remained Marcy Jo's business manager until he died in 1963. Marcy released "The Next Time" on Swan in 1963, which was a cover of the Cliff Richard hit in the UK. But her cover version got next to no airplay. She was soon dropped from Swan. After her brief fling with fame, she got married to her sweetheart Howard aka Ronnie. She never recorded again. Although she did record more than one single, in most radio markets she is remembered as a one-hit-wonder for "Ronnie". The exception being numbers of radio markets in Pennsylvania, in Tucson, Arizona, and in Vancouver, BC, where she had more than one hit on the local pop charts.
Although Marcy Joe (Marcy Jo) had a brief involvement with the recording industry, her backup singer, Lou Sacco went on to fame under his stage name, Lou Christie. Marcy Jo indeed did get to hear his records on the radio, but as Lou Christie. He went on to score a Top 30 hit in the USA in 1962 called "The Gypsy Cried". Then he had a #6 hit on the Billboard Hot 100 called "Two Faces Have I" in August '63. His biggest hit was in 1966 called "Lightning Strikes." Christie was one of a new breed of teen idols as he was not only singing but also writing the songs he recorded. Lou Christie shared the stage with numerous hit makers of his era including The Rolling Stones, The Who, Neil Diamond, Roy Orbison, Jerry Lee Lewis, and Little Richard. He also toured extensively on Dick Clark's Caravan of Stars.
In 2015 Christie wrote the forward to the book, Pittsburgh's Golden Age of Rock 'n' Roll by Ed Salamon. Recently, Christie lent his voice to a CD fundraiser for American veterans called "The Soldier," along with other pioneers of rock 'n roll from the Pittsburgh area. In 2017 Lou Christie still tours and has a number of upcoming concerts including one in Westbury, New York, on September 17th, with The Tymes ("So In Love"), Eddie Holman ("Hey There Lonely Girl") and Jimmy Beaumont of The Skyliners ("Since I Don't Have You").
June 10, 2017
Ray McGinnis
References:
Marcy Jo, Old Mon Music, November 13, 2009.
"Marcy Jo Hit the National Charts with her Ode to her Boyfriend "Ronnie"," Pittsburgh Music History.
Ed Salamon, Pittsburgh's Golden Age of Rock 'n' Roll, (Archer Books, 2015).
Sunny Side Up, Wikipedia.org.
Brooke Dean, "I'll Take Your Man! 10 Ways to Tell She's Trying to Steal Your Boo," Madame Norte, April 28, 2013.
"C-FUN-Tastic 50," CFUN 1410 AM, Vancouver, BC, June 3, 1961.
For more song reviews visit the Countdown.