#2: Rose Garden by k.d. Lang and the Reclines
City: Burnaby, BC
Radio Station: CFML
Peak Month: April 1987
Peak Position in Burnaby ~ #10
Peak Position in Vancouver ~ did not chart
Peak Position on Billboard Hot 100 ~ did not chart
YouTube: "Rose Garden"
Lyrics: "Rose Garden"
Kathryn Dawn Lang was born in Edmonton, Alberta, in 1961. When she was nine her family moved to the town of Consort, Alberta, where her father ran a drug store. After secondary school, lang attended Red Deer College, where she became fascinated with the life and music of Patsy Cline and decided to pursue a career as a professional singer. She moved to Edmonton after her graduation in 1982 and formed a Patsy Cline tribute band called the Reclines in 1983. She and the Reclines recorded their debut single, "Friday Dance Promenade", at Sundown Recorders.
The Reclines regularly played Edmonton's popular Sidetrack Cafe, a local venue that featured live bands six nights a week. In 1983, lang presented a performance-art piece, a seven-hour re-enactment of the transplantation of an artificial heart for Barney Clark, a retired American dentist. A Truly Western Experience was released in 1984 and received strong reviews and led to national attention in Canada. She explained that her use of lower case spelling for her name – k.d. lang – was inspired by the Massachusetts poet e.e. cummings. In August 1984, lang was one of three Canadian artists to be selected to perform at the World Science Fair in Tsukuba, Japan.
Singing at country and western venues in Canada, lang began to establish an appearance and style referred to as "cowboy punk". She was called a "Canadian Cowpunk" in the June 20, 1985, issue of Rolling Stone. She would later recall the inspiration for her defining look in an interview with The Canadian Press: "I used to sew plastic cowboys and Indians on my clothes – just having fun with it on a budget. I was broke at the time, so I'd find things at Value Village or get my mom to make me a skirt from the curtains she was about to throw out. I loved playing with the clothes as much as the music."
In 1985, lang won the Most Promising Female Vocalist at the Juno Awards. She accepted the award wearing a wedding dress borrowed from her male roommate at the time. She also made numerous tongue-in-cheek promises about what she would and would not do in the future, thus fulfilling the title of 'Most Promising'. In 1987, she released the album Angel with a Lariat. From the album came "Turn Me Around". This was followed by her cover of the 1970 Lynn Anderson single "Rose Garden".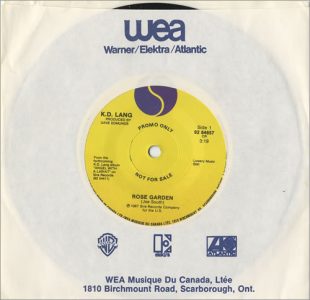 "Rose Garden" was written by Joe South. Joseph Alfred Souter was born in 1940 in Atlanta, Georgia. At the age of eleven his father gave him a guitar. In his mid-teens he built a small radio station where he played his own songs to his listeners. In his teens he changed his surname from Souter to South. Joe South began his career penning a novelty answer song in 1958. "The Purple People Eater Meets the Witch Doctor" was in response to two number one hits that year. The "Witch Doctor" had been a hit for David Seville and The Chipmunks, while "The Purple People Eater" was a hit for Sheb Wooley. South wrote the song for The Big Bopper, who had a hit earlier that year called "Chantilly Lace". In the case of "Purple People Eater Meets The Witch Doctor" the Witch Doctor and the Purple People Eater find themselves forming a two piece rock n'roll band. The Witch Doctor plays guitar and the Purple People Eater plays horn. The lyrics build on the longing of the Purple People Eater who in Sheb Wooley's song confides the reason he has come to earth is "I want to get a job in a rock n' roll band."
When South was just nineteen he wrote a song that Gene Vincent recorded in 1959. That year Joe South also played guitar on all the tracks for Tony Bellus' Robbin' The Cradle album, including the title track hit record. Then, in 1962, an R&B group named The Tams had a #12 hit on the Billboard R&B charts titled "Untie Me". That same year Joe South was a featured guitar player for Tommy Roe's number one hit, "Sheila". In 1965 Billy Joe Royal had a Top Ten hit with South's composition titled "Down In The Boondocks." That year South was a session musician playing guitar on all the tracks for Bob Dylan's 1966 album, Blonde on Blonde. The same year Joe South also was a session guitar player, along with Glen Campbell, on Simon & Garfunkel's Sounds Of Silence album. Later that year, Joe South was a session guitarist for Simon & Garfunkel on their follow up album, Parsley, Sage, Rosemary And Thyme.
Joe South produced a Top Ten hit for Friend And Lover titled "Reach Out Of The Darkness" that was on the pop charts in the winter of 1967-68. In 1968, Joe South played guitar alongside Bobby Womack for Aretha Franklin's album, Lady Soul. The album featured the classic hits "Chain Of Fools", "Since You've Been Gone (Sweet Sweet Baby)" and "You Make Me Feel (Like A Natural Woman)". He also wrote the song, "Hush", that became a Top Ten hit for the British band Deep Purple in 1968. Souths' songs were recorded by many artists including Vince Everett, Sandy Nelson, Cilla Black, Ray Whitley, The Tremeloes, Wanda Jackson, King Curtis & The Kingpins, Floyd Cramer, Petula Clark, Santo & Johnny, Don Gibson, Tom Northcott, Sandie Shaw, Bill Haley & The Comets, Jody Miller and others.
In 1969 Joe South had a #1 hit in Vancouver in March called "Games People Play" that spent two weeks at the top of the charts. In March 1969 South won a Grammy Award for "Games People Play". He had other hits that include "Don't It Make You Wanna Go Home" and "Walk A Mile In My Shoes". He also penned "Birds Of A Feather" for Paul Revere and the Raiders. In the years that followed writing "Rose Garden", Joe South developed a drug habit and his subsequent album releases were not commercially successful. South was inducted into the Nashville Songwriters Hall of Fame in 1979. He died in 2012.
"Rose Garden" is a song about someone who has a romantic partner who is often "melancholy". She complains to them, "life shouldn't be so melancholy. Come along and share the good times while we can." Another side of their partner is that they're a sweet talker, who has big dreams and expectations. She advises "I could promise you the moon. But if that's what it takes to hold you, I'd just as soon let you go." It seems as if the partner wants just a rose garden, the sweet smelling roses, the fragrant beautiful roses. But they don't want to go to the effort of doing any gardening (to extend the metaphor). If the partner is considering abandoning ship, she sings "You better look before you leap, still waters run deep. And there won't always be someone there to pull you out" (presumably of their melancholy, their depression.
At the time that Angel With a Lariat was released, the backing band – the Reclines – consisted of Teddy Borowiecki on accordion, keyboards, and backing vocals; Dennis Marcenko on bass guitar and backing vocals; Gordie Matthews on guitar and backing vocals; Ben Mink on guitar, electric mandolin, violin and backing vocals; and Michel Pouliot on drums and backing vocals.
"Rose Garden" peaked at #10 in Burnaby. It climbed to #7 on the RPM Canadian Adult Contemporary chart and #45 on the Canada Country Songs chart.
"Rose Garden" was first recorded in 1967 by Billy Joe Royal, and then Joe South. Dobie Gray had a minor hit with the song in 1969. But it was country singer Lynn Anderson's treatment of the song that made it a huge hit in 1970-71. Anderson's cover crossed over from the country charts to become a number-one hit on the pop charts in Australia, Belgium, Canada, Finland, Ireland, New Zealand, Norway, Switzerland and West Germany. It was also a Top 5 hit for Anderson in Austria, the Netherlands, South Africa, the UK, and #3 on the Billboard Hot 100. It was also a number-one hit in Vancouver, Calgary (AB), Edmonton (AB), Hamilton (ON), Kingston (ON), Toronto, Montreal, and Pointe Claire (PQ).
She earned international recognition in 1988 when she performed as "The Alberta Rose" at the closing ceremonies of the Winter Olympiics in Calgary, Alberta. Canadian women's magazine Chatelaine selected lang as its "Woman of the Year" in 1988. Later in 1988, k.d. lang released Shadowland, which climbed to #9 on the Canadian RPM Album chart. In 1989, lang shared a Grammy Award with Roy Orbison for their duet performance of "Crying" in the Best Country Vocal Collaboration category.
In 1990, lang released her third studio album, Absolute Torch and Twang. It led to a second Grammy Award, this time in the Best Female Country Performance category. The album also charted to #8 on the Canadian Country album chart. In 1991 she appeared in the film Salmonberries. In 1992, lang came out as a lesbian and has championed LGBT rights. In 2011, she was inducted into the Q Hall of Fame Canada for furthering equality of all peoples.
In 1992 she released the album Ingénue. It received a Grammy nomination for Album of the Year, but lost to Unplugged by Eric Clapton. At the Juno Awards, k.d. lang took home the Best Album award for Ingénue. The album peaked at #1 in New Zealand, #3 in Australia and the UK, and #18 on the Billboard 200 Album chart. At the same Grammy Award gala in 1993, lang received three Grammy nominations for Song of the Year, Record of the Year, and Best Female Country Vocal Performance for "Constant Craving". In the latter category, she won the Grammy. k.d. lang was again nominated in the Best Female Country Vocal Performance category at the 1994 Grammy Awards for her recording of the single "Miss Chatelaine". In 1993 at the Juno Awards, k.d. lang won awards for Songwriter of the Year and Best Producer. This was on top of her "Most Promising…" award in 1985 and twice winning Country Female Vocalist of the Year awards at the Junos in 1989 and 1990.
In 1994, she appeared in an action-comedy film titled Teresa's Tattoo. In 1999, k.d. lang appeared in the mystery thriller Eye of the Beholder.
In 1995, k.d. lang released All You Can Eat. The album climbed to #1 in New Zealand, #3 in Australia, #7 in the UK and #10 in on the pop album chart in Canada. Her 1997 release of Drag was less commercially successful, though it made the Top Ten on the album charts in Australia, peaking at #4. Her 2000 release of Invincible Summer saw her return to the Top Ten on the Canadian RPM album chart at #12 in Australia.
Over the years, k.d. lang has received 16 Juno Award nominations, and won six times. Her last Juno nomination was in 2005 for Artist of the Year for her 2004 album Hymns of the 49th Parallel. The album climbed to #2 on the Canadian RPM Album chart and #3 in Australia. Her 2008 album release, Watershed, peaked at #1 in New Zealand, #3 in Canada and #8 on the Billboard 200 Album chart. In 2012 her album with The Siss Boom Bang, Sing It Loud, peaked at #7 on the Canadian RPM Album chart, and #2 in Australia.
In 1995, k.d. lang received a Grammy Award nomination for "Moonglow" in a duet with Tony Bennett in the Best Pop Collaboration with Vocals category. In 2003, she received two more Grammy Award nominations for more duets with Tony Bennett in the same category for "What A Wonderful World" and "La Vie En Rose". Finally, in 2005 Bennett and lang received a Grammy Award for A Wonderful World in the Best Traditional Pop Vocal Album category.
In 2006, lang appeared as a lounge singer in the film The Black Dahlia. In 2010, k.d. lang performed the Leonard Cohen song "Hallelujah" at the Winter Olympics in Vancouver. In 2013, she was inducted into the Canadian Music Hall of Fame at the Juno Awards. In 2016, she released the album case/lang/veirs with fellow musicians Neko Case and Laura Veirs.
September 30, 2023
Ray McGinnis
References:
"About k.d. lang," kdlang.com.
David Friend, "'Hard to unravel:' k.d. lang reflects on her career and coming out," CBC, July 1, 2016.
Katie Underwood, "Women of the year throwback: 8 Canadians who rocked the '80s and '90s," Chatelaine, November 24, 2016.
"k.d. lang's fellow musicians on her Canadian Music Hall of Fame induction: 'She deserved to be there a long time ago'," National Post, April 21, 2013.
Richard Harrington, "Cattle Country's Beef with k.d. lang," Washington Post, July 2, 1990.
Andy Lee White and John M. Williams, "Joe South bio," Joe South.com, September 16, 2012.
Joe South (writer), "Untie Me," The Tams, 1962 (#12 R&B charts USA)
Joe South (guitar), "Tony Bellus, Robbin' The Cradle – Credits," Discogs.com
Simon & Garfunkel, "Sounds Of Silence personnel," Sounds Of Silence, Wikipedia.org
Simon & Garfunkel, "Parsley, Sage, Rosemary And Thyme personnel," Parsley, Sage, Rosemary And Thyme, Wikipedia.org
Bob Dylan, "Blonde On Blonde personnel," Blonde On Blonde, Wikipedia.org
Richard Williams, "Joe South Obituary: American Singer and Songwriter Best Known for Games People Play," Guardian, September 12, 2012.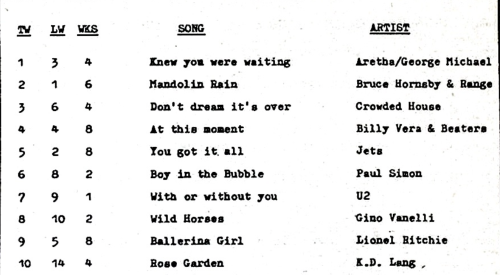 CFML Burnaby (BC), April 3, 1987.
After four weeks on the chart, "Rose Garden"
climbed to #10, but dropped off the CFML
chart the following week.