#1168: Sandra by Idle Eyes
Peak Month: October 1986
8 weeks on Vancouver's CKLG chart
Peak Position #16
Peak Position on Billboard Hot 100 ~ did not chart
YouTube: "Sandra"
Lyrics: "Sandra"
Tad Campbell was born in Vancouver (BC). After high school he found himself in Australia moonlighting for a band called the Daydream Islanders between shifts while working for a luxury liner that cruised around parts of the continent. In 1980 he replied to an ad looking for a guitarist, and ended up with the band playing for months at a resort in the Whitsunday Islands. A chambermaid at a hotel Campbell knew, Donna McConville, became the bands' lead singer. Though they had other Australian musicians in the line-up, when Campbell and McConville decided to move to Vancouver, the other bandmates chose not to follow. Back in Vancouver the pair got a new lineup and called themselves Idle Eyes. But the lineup kept changing. Tad Campbell recalls that "their first tour was cancelled when the drummer backed out the day they were supposed to leave." Part of the problem was that Idle Eyes was made up almost entirely of bandmates from New Zealand and Australia who had visa issues. Eventually, Donna McConville returned to Australia and became a backing singer for John Farnham.
By late 1982 the band lineup began to gel with British Columbia natives Phil Robertson on drums, Miles Fox Hill on bass guitar and Glenn R. Smith on guitar. John Webster, from Red Rider, joined the band on keyboards. Their first single release was in 1985 titled "Tokyo Rose".
As "Tokyo Rose" was climbing the charts, in 1985 Idle Eyes opened for Toto and later Tears For Fears. Later they opened for Bryan Adams on tour, and also Red Rider. Before the year was through Idle Eyes won a Juno Award for Most Promising Band. After 1985 John Webster left the band and was replaced by Bruce MacKenzie.
At the 1986 West Coast Music Awards Idle Eyes won in the following categories: Group of the Year, Album of the Year, Song of the Year (for "Tokyo Rose"), and Tad Campbell won for Songwriter of the Year. Campbell remembers that on May 2, 1986, Idle Eyes performed "for British royalty at the opening ceremonies of Expo '86 in Vancouver."
In late 1986 the band released their second album, Love's Imperfection. It included the debut single "Sandra", which had been released in the fall.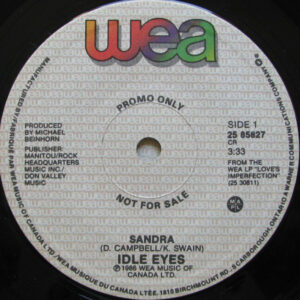 "Sandra" is a song written by Tad Campbell, together with an obscure songwriter K. Swain, credited with only writing "Sandra". The subject of the song, "Sandra", is someone who went crazy, after being driven "around the bend," by her romantic partner. His crazy-making behavior caused her to leave him, and pack "her bags and in a yellow cab." After Sandra left the relationship, things deteriorated and she was admitted to some mental health facility. In the song, we learn "I'm sure they will release you today." This could be either a fact or wishful thinking on the ex-lovers' part. The "they" in this case would be the psychiatric professionals. The singer adds "You're out there. Well, I've been there too, and I'm okay." Given the context, "there" seems to refer to the facility that she's about to be released from. And the partner she left reveals he's also spent time "there" too. And he's now "okay."
In the opening line we are told "Sandra doesn't live here anymore." Of course, the ex-partner should have remembered, since she left him. Perhaps, he's still living with the ghosts of the break-up, and processing his crazy-making part in driving her around the bend.
What could drive a partner "around the bend" and make them leave the relationship? A website about mental health as potential deal-breakers in a marriage lists:
Dissociative Identity Disorder – where the partner maintains two or more distinct and relatively enduring personality states.
Borderline personality disorder – where the partner has a distorted sense of self, unusually strong emotional reactions to situations and social interactions with others in their daily routines and activities, detachment from reality and fears of abandonment and bouts of emptiness.
Schizophrenia – including delusions, hallucinations (including hearing voices), disorganized thinking, episodes of psychosis, and social withdrawal and apathy.
High anxiety – including Panic Disorder (panic attacks, palpitations, shortness of breath, numbness), Generalized Anxiety Disorder (excessive worry, restlessness, trouble sleeping, irritability, sweating, trembling – in relation to thoughts about work, health, death, family or relationship issues…), Specific phobias related to dogs, spiders, water, heights, confined spaces, the dark…
Post-traumatic Stress Disorder – relating to trauma from rape, child abuse, living in an area of armed conflict or combat neurosis from battle fatigue, and other factors
Obsessive-Compulsive Disorder – including a high need for orderliness or symmetry, fears that you may set your house on fire, fears of infection or contamination, perfectionism…
Bipolar Disorder – often characterized as emotionally swinging between depression and mania. 40% of people with Bipolar Disorder attempt suicide.
Depression – persistently low mood and aversion to activity, feelings of sadness, dejection, suicidal thoughts, being prone to alcoholism…
An article in Psychology Today discusses some "crazy-making" dynamics in a relationship. In her article Jill P. Weber Ph.D. lists these dynamics as things that could drive someone around the bend.
1. Chronically second-guessing yourself and doubting when you are upset with your partner. "Am I overreacting? Maybe I am being too sensitive."
2. Making excuses to friends and family members about your partner's poor behavior. "He had a tough week at work. He thought he had told me that he wasn't coming, but I misunderstood."
3. Taking yourself away from your own feelings. "Just let it go … it's really not a big deal … don't be overly dramatic."
4. Anger that never seems to quite get quenched or resolved when you communicate with your partner.
5. Continually trying to "fix" things in the relationship. Working overtime to please or make things right. Feeling overly guilty and working to make amends about things that really may not be your responsibility.
The danger for the person who is trying to stay in relationship with someone else who had mental health issues is how it impacts their own mental-emotional balance. In the case of Sandra, in the song by Idle Eyes, she stayed in the relationship too long and ended up needing treatment. Hopefully, when "they" finally decided to "release" her, Sandra was able to integrate back into 'normal' society and maintain a healthy state of wellbeing.
"Sandra" peaked at #16 in Vancouver (BC), #22 in Hamilton (ON), and #23 in Grand Island (NE).
However, the record label didn't support "Sandra" with a music video. Despite the lack of support, Idle Eyes won two West Coast Music Awards for Song of the Year for "Sandra," and Group of the Year.
In 1987 Idle Eyes toured the USA, opening for Human League. But the band was subsequently dropped by WEA Records, and Tad Campbell recalls "the band [was] indebted to the tune of $400,000, they were frustrated, and took it out on Cliff Jones, firing him as their manager." Campbell helped finance Idle Eyes third album, Standing At The Edge, which was released in 1988. The album yielded two minor hits.
Idle Eyes went through a period of hiatus and reformation. In 1994 Tad Campbell returned, along with Smith, Hill and some new bandmates to release one final album.
In the years after Idle Eyes disbanded, Phil Robertson founded the Phil Robertson Trio. Robertson has also been a backing musician on TV specials for Ray Charles, Bryan Adams, Nelly Furtado, Sarah McLachlan and K.D. Lang. He has also played for Burton Cummings, The Canadian Tenors, Michael Bublé. Robertson has also been a session musician for Shari Ulrich.
Miles Fox Hill was a music recording engineer for the 1999 short film Samurai Swing. And in the 2003 film The Magical Life of Long Tack Sam, Hill played bass guitar for the soundtrack. Miles Hill has also been a session musician for Paul Janz.
In the mid-90s Campbell formed a band called Leghold Trap, and later a latin band named Millions of Brazilians. By the end of the decade he was in a band called Big Daddio, and in the early 2000s he was in the Karma Corps. In 2020 Tad Campbell was found guilty of sexually assaulting an underage girl who was around ten years old circa 1997. He was sentenced in December 2020.
July 17, 2021
Ray McGinnis
References:
Tad Campbell, "Idle Eyes Discography," Canadian Bands.com.
Kevin Wuench, "How a Misunderstood 'Villain' from WWII Inspired a Hit Song for Idle Eyes," Tampabay.com, January 13, 2017.
Justin McCurry, "'Tokyo Rose' Dies at 90," Guardian, September 27 2006.
"Phil Robertson: Drummer, Producer, Engineer," The Original Online Studio Drummer.
"Miles Fox Hill," IMDb.com.
Keith Fraser, "Idle Eyes Singer Tad Campbell Found Guilty of Sexually Assaulting Underage Girl," Vancouver Sun, August 27, 2020.
Rachel Pace, "What Mental Health Issues Are a Deal Breaker in Marriage?," marriage.com, September 11, 2018.
Jill P. Weber, "Are You In A "Crazy Making" Relationship?," Psychology Today, March 11, 2014.
"Top Thirty Hot Hits," CKLG 730 AM, Vancouver, BC, October 22, 1986.
For more song reviews visit the Countdown.