#238: Shapes Of Things by the Yardbirds
Peak Month: April 1966
10 weeks on Vancouver's CFUN chart
Peak Position #1
Peak Position on Billboard Hot 100 ~ #11
Billboard Year-End 1966 ~ #93
YouTube: "Shapes Of Things"
Lyrics: "Shapes Of Things"
The Yardbirds are an English rock band that had a string of hits in the mid-1960s, including "For Your Love" and "Heart Full Of Soul." The group is notable for having started the careers of three of rock's most famous guitarists: Eric Clapton, Jeff Beck, and Jimmy Page. During their brief five years, from 1963 to 1968, they set the pace for a lot of the innovations to come in rock 'n roll into the 1970's. The Yardbirds experimental explorations also provided the crucial link between British R&B, Psychedelic Rock, and Heavy Metal, while pioneering the use of innovations like fuzz tone, feedback and distortion. With this fusion, and harmonica riffs, they inspired the musical styles of contemporary American bands like The Count Five who had a #1 hit in Vancouver in 1966 called "Psychotic Reaction." When Jimmy Page left The Yardbirds to form the New Yardbirds, that band was quickly renamed Led Zeppelin.
The Yardbirds were formed by drummer and backing vocalist, Jim McCarty (1963–1968, 1982–1983, 1992–present), lead vocalist, harmonica an rhythm guitar player Keith Relf (1963–1968), rhythm guitar and bass player Chris Dreja (1963–1966, 1982–1983, 1992–2013), bass player and backing vocalist Paul Samwell-Smith (1963–1966, 1983) and lead guitarist and backing vocalist Eric Clapton (1963–1965). Clapton had replaced the short-lived involvement of Anthony "Top" Topham back in 1963. In 1965 Jeff Beck was an addition playing lead guitar, rhythm guitar and backing vocals (1965–1966) after Eric Clapton left the band. While on an American tour in 1966, Beck was fired as he kept failing to appear in concert. Consequently, Jimmy Page, who had recommended Beck to replace Eric Clapton, ended up replacing Jeff Beck. Page contributed lead guitar and bass (1966–1968).
Jim McCarty was born in Liverpool in 1943 and moved to London with his family at the age of two. He met Paul Samwell-Smith at school. Samwell-Smith, born in Greater London in 1943, was part of a band called the Metropolitan Blues Quartet with Keith Relf. Also born in London in 1943, Keith Relf wrote numbers of the Yardbirds most successful hits including "Shapes Of Things" and "Over, Under, Sideways, Down." He also wrote "Dazed And Confused," a song that was later recorded by Led Zeppelin. Chris Dreja was born in Greater London in 1945. By the age of 17, he joined the Yardbirds playing rhythm guitar and bass guitar.
Eric Clapton was born in the village of Ripley in the county of Surrey in 1945. Clapton began to learn the guitar at the age of 13. Four years later he joined the Roosters, a British R&B group. While Clapton joined the Yardbirds, hoping they would be a serious blues band, when they released "For Your Love" as a pop single in 1965, he left the band.
Jeff Beck was born in Greater London in 1944. He sang in a church choir at the age of ten and began to play guitar when he was 13 years old. From the age of six he was influenced by Les Paul, the lead guitarist in Gene Vincent's band, Cliff Gallup, and the blues sensation B.B. King. Beck was part of two R&B British bands in '63-64 named Nightshift and The Tridents.
Jimmy Page was born in 1944 in the village of Huston, on the edge of Greater London. He was influenced by B.B. King, Elmore James and Otis Rush. At the age of 13 Page appeared in 1957 on a children's talent show called All Your Own. Page's first session work was as a rhythm guitarist on an instrumental single titled "Diamonds" by Jet Harris and Tony Meehan. The single climbed to #1 on the UK pop chart in January 1963 and spent three weeks in the top spot. Page continued to do session work as a guitarist on "I Can't Explain" for The Who, "Tobacco Road" for the Nashville Teens, "Here Comes The Night" for Van Morrison and Them, "Downtown" for Petula Clark, "Heart Of Stone" for the Rolling Stones and others.
In 1965 The Yardbirds had two Top Ten hits on the Billboard Hot 100, "For Your Love" and "Heart Full Of Soul". The former peaked at #3 in Vancouver, but the latter stalled at #17. Their next single release, "I'm A Man", reversed the chart success with the tune climbing to #2 in Vancouver, but stalling at #17 on the Hot 100.
Their followup hit in early 1966 was "Paff…Bum", a #5 hit in Italy. Their subsequent release was "Shapes Of Things".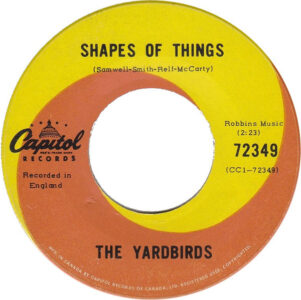 "Shapes Of Things" was cowritten by Jim McCarty, Paul Samwell-Smith and Keith Relf. McCarty recalls, "We were really coming from not trying to create a sort of a 3-minute piece of music, it was just something that seemed natural to us. We started with the rhythm, we used a bass riff that came from a jazz record, got a groove going with that and then added a few other bits from elsewhere, other ideas that we'd had. And I think it was a great success for us, it was a good hit record that wasn't really selling out. And it was original."
The lyrics were both pro-environmental: "now the trees are almost green, but will they still be seen;" And anti-war: "please don't destroy these lands, don't make them desert sands." David French, a biographer for Keith Relf, wrote this about "Shapes Of Things": The abstract-sounding lyrics that Keith and Samwell-Smith came up with about the "shapes of things before my eyes" provided a timely screen onto project all the meaning of the emerging Sixties drug culture and the political turmoil of the Vietnam era. They also reflect the authors' own introverted natures and the earnest desire to improve both the world and themselves.
Samwell-Smith got an idea for a bass line from a song titled "Pick Up Sticks" by jazz pianist and composer Dave Brubeck, from the 1959 album Time Out. Samwell-Smith added a marching-style drum beat to the Brubeck tune. The marching-style drum beat also evoked soldiers marching as they trained and went to war in Vietnam.
The lyrics contemplate a future, especially from a young man's perspective (as the songwriters were all young men). "Come tomorrow, will I be older? Come tomorrow, may be a soldier? Come tomorrow, may I be bolder than today?" In a time of war, many young men were dying on the battlefield. So, getting to be older was clearly not in the cards – at least for 58,220 American soldiers who died in the Vietnam War. (And getting older was also not what the fates allowed for up to 3,800,000 Vietnamese, including military and civilian casualties in North Vietnam and South Vietnam. (And nearly 375,000 more died during the Secret War in Laos and Cambodian Civil War, which also involved additional American military losses.) During the draft, it was not an option to become a soldier. And for many in the new generation, being "bolder" meant burning draft cards, becoming a draft dodger and heading to Canada, or protesting the Vietnam War.
The lyrics in the song detail the struggle of a generation to make the world a better place, given the old solutions of warfare being handed down to them by their elders: "Soon I hope that I will find, thoughts deep within my mind, that won't disgrace my kind."
The feedback in the guitar solo by Jeff Beck in "Shapes Of Things" contributes to the song being regarded by music critics as the first psychedelic rock tune. The song has been described as "fuzz-drenched," "explosively warped" and hailed for its "gigantic burst of feedback."
"Shapes Of Things" climbed to #1 in Vancouver (BC), #2 in Oxnard (CA) and San Jose (CA), #3 in San Bernardino (CA), Chicago, Battle Creek (MI), and Columbus (OH), #4 in Burbank (CA), Buffalo, Nanaimo (BC), Toronto, Billings (MT), and Tampa, #5 in San Francisco, Tucson (AZ), Dallas, Austin (TX), and Dayton (OH), #6 in Akron (OH), London (ON), Minneapolis/St. Paul, La Crosse (WI), Orlando, Denver, and Cleveland, #7 in Los Angeles, Birmingham (AL), Edmonton (AB), and Phoenix, #8 in San Diego, Omaha (NE), and Jackson (MI), #9 in Bakersfield (CA), Milwaukee, Kalamazoo (MI), and Sacramento (CA), and #10 in New Haven (CT), Hamilton (ON), and Jamestown (ND). Internationally, "Shapes Of Things" peaked at #3 in the UK, #7 in Canada, #11 in the USA and #22 in West Germany.
When the Rock and Roll Hall of Fame released its' "500 Songs That Shaped Rock and Roll," "Shapes Of Things" was on the list. And in 2005, Q Magazine ranked "Shapes Of Things" as song #61 on its list of "100 Greatest Guitar Tracks Ever!"
The Yardbirds had another Top Ten hit in Vancouver with "Over Under Sideways Down" in July '66, while it missed the Top Ten on the Hot 100 in the USA. Jeff Beck was fired from the band after this single release and replaced by Jimmy Page.
"Happenings Ten Years Time Ago" was the first single by the British rock band The Yardbirds to feature Jimmy Page on guitar. "Happenings Ten Years Time Ago" was also the first of three recordings pairing Page with incumbent lead guitarist Jeff Beck, before the latter was fired for no-shows while on tour in the USA. In addition to Jeff Beck and Jimmy Page in the recording studio for the song, future Led Zeppelin bassist John Paul Jones played on bass for the recording instead of regular Yardbirds bandmate Chris Dreja. The song was recorded in July and completed in September 1966. It was a #6 hit in Vancouver in December 1966.
Beck and Page also were in the recording studio for "Stroll On." That tune was included in the film Blow Up and received a lot of air play on AM radio in Vancouver over the winter of 1966-67, though the non-single track from the film which wasn't released as a single didn't chart. The Yardbirds also appeared in the film Blow Up, which they shot between dates on their 1966 UK tour with the Rolling Stones, Ike & Tina Turner and Long John Baldry. In the fall of 1966 The Yardbirds flew to America to appear at the Filmore West in San Francisco, an episode of American Bandstand and go on tour with the Dick Clark's Caravan of Stars.
On July 31, 1967, the Yardbirds appeared in concert in Vancouver (BC) at the Kerrisdale Arena.
Harry Nilsson's "Ten Little Indians" was recorded by The Yardbirds. It only reached #96 on the Billboard Hot 100. It did not chart in the UK. But in November 1967 it peaked at #7 in Vancouver. Yardbirds band members Chris Dreja and Jim McCarty do not appear on this track. Yardbirds guitarist and producer Jimmy Page invented the audio effect known as reverse echo while recording "Ten Little Indians". The Yardbirds appeared in concert in Vancouver on November 10th and 11th, 1967, at the PNE Garden Auditorium.
The band released one more single, "Goodnight Sweet Josephine" which stalled at #127 below the Billboard Hot 100 in the spring of 1968.
The Yardbirds had one final tour to the USA in the spring of 1968 ending on June 5th. Then they split up. Jimmy Page went on to form Led Zeppelin. Jim McCarty and Keith Relf formed an acoustic group that lasted through 'til 1976 when Relf died from an electrical accident in his home recording studio.
Chris Dreja mostly pursued a career as a photographer over the next decade. After he left The Yardbirds, Eric Clapton formed the rock band Cream. From there he formed Blind Faith, and then joined Delaney, Bonnie and Friends. Clapton next formed Derek & The Dominos. From these successes, Clapton went on have a successful solo career including the release of 22 studio albums. Jeff Beck went solo after The Yardbirds and to date has released 17 studio albums.
Paul Samwell-Smith was the musical producer for the 1971 film Harold and Maude. And in 1990 he produced Postcards from the Edge.
In the 1980s McCarty, Dreja and Samwell-Smith formed a short-lived but fun Yardbirds semi-reunion that included guest appearances of both Beck and Page. In 1992 McCarty and Dreja reformed The Yardbirds with some new musicians. At times Jeff Beck and Anthony "Top" Topham have played with the reformed band.
On February 22, 2009, the Yardbirds featuring Chris Dreja performed in Vancouver at Richards' On Richards.
In 2017, the Yardbirds played three concerts with Vanilla Fudge around Florida. In January 2019, the Yardbirds performed during the Concerts At The Sea eight-day cruise from Fort Lauderdale (FL) to the Bahamas, Virgin Islands and St. Maarten. And from April 2-5, 2019, the Yardbirds performed on the Flower Power Cruise. Other performers included the Beach Boys, Tommy James and the Shondells, Jefferson Starship, the Lovin' Spoonful, Gary Puckett & The Union Gap, Melanie, the Box Tops, the Ides of March, Chuck Negron (of Three Dog Night).
November 10, 2021
Ray McGinnis
References:
Annette Carson, Jeff Beck: Crazy Fingers, (Backbeat, 2001).
Michelangelo Antonioni, Blow Up, MGM, 1966 ~ Trailer
David French, Heart Full of Soul: Keith Relf of the Yardbirds, (McFarland & Company, 2020).
Greg Russo, Yardbirds: The Ultimate Rave-Up, (Crossfire Publications, 2016).
The Yardbirds biography ~ rolling stone.com.
The Yardbirds biography ~ theyardbirds.com.
"Flower Power Cruise," March 30 to April 6, 2019.
"C-FUNTASTIC FIFTY," CFUN 1410 AM, Vancouver, BC, April 9, 1966.
For more song reviews visit the Countdown.