#1150: She La by 54-40
Peak Month: September 1992
10 weeks on Vancouver's CKLG chart
Peak Position #18
Peak Position on Billboard Hot 100 ~ did not chart
YouTube: "She La"
Lyrics: "She La"
54-40 is a band from Tsawwassen, British Columbia. Bass player Brad Merritt teamed up with guitarist and vocalist Neil Osbourne had met at South Delta High School in Tsawwassen in 1978. In 1981 they decided to form a band and asked drummer, Ian Franey, to join them. Neil Osbourne's father had a position with Canada Mortgage and Housing Corporation. Consequently, the family moved as Osbourne's dad got new postings variously from Regina, rural Nova Scotia, Ottawa, Edmonton and finally Tsawwassen. Ian Franey's father was the director of the Vancouver International Film Festival.
Brad Merritt's dad worked for Alcan Aluminum and had numerous postings across America. While he was in the USA, Brad was taught American History. This included instruction on the 11th President of the United States, James K. Polk. Polk had a dispute with Britain over what was called Oregon Country. British maps showed the boundary between the United States and the British colonies on the Pacific Coast being the Columbia River. For numbers of Democrats in the USA a slogan emerged, "54-40 or Fight." The 54th parallel was at Fort Simpson (later renamed Port Simpson) at the mouth of the Nass River, across from the southern tip of the Alaska panhandle. Merritt, Osbourne and Franey liked the history of the slogan and took 54-40 their name.
In 1981, 54-40 had its first performance before a crowd of twenty to thirty people, opening for local punk band D.O.A. at the Smilin' Buddha Cabaret in historic Gastown, Vancouver. In 1983 Franey left the band and was replaced with Darryl Neudorf. A fourth bandmate was added, Phil Comparelli on guitar, vocals and trumpet. 54-40 released their debut album, Set The Fire, in 1984. By 1986, Neudorf bowed out over a disagreement about the amount of time the band was devoting to being in the recording studio, and was replaced by Matt Johnson.
The band's second album was self-titled, and with its release in 1986 54-40 began to get significant airplay on college radio. The band's second album contained the single release "I Go Blind". The song was covered in 1996 by Hootie & The Blowfish.
A third album, Show Me, featured the single "One Day In Your Life", which charted in both Vancouver and Montreal. Warner Reprise stayed with the alternative rock band through to their fourth studio album release, Fight For Love. But the lack of a breakthrough into the American market led to the record company dropping 54-40 after a compilation album came out in 1991.
However, 54-40 moved over to Columbia Records and had their best commercial success with Dear Dear. The first single from the album was "Nice To Luv You". Their next single from the album was "She La".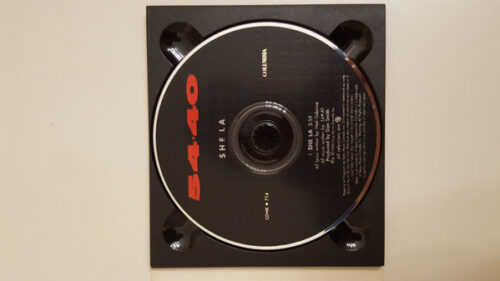 "She La" is a song about an abusive relationship: "Fire in the blue sky when he hits you in the mouth. This the war and not the warning." The guy in the relationship keeps trying to come back to her, saying "baby, don't you want me in your life." The lyrics suggest she is dealing with "fantasy" or "maybe just a dream." Eventually, she looks happy, as "he's gone away and died… It was a heart attack."
"She La" climbed to #18 in Vancouver (BC).
The third single release from the album was "Music Man", which climbed to #10 on Vancouver's CKLG.
54-40's next album was named after the venue where they first performed in 1981, Smilin' Buddha Cabaret. The album contained their biggest hit single to date, "Blame Your Parents". The song peaked on the Canadian RPM singles chart at #13 in 1994. Another single from the album, "Ocean Pearl", became one of the signature songs for 54-40. Two years later the band released Trusted By Millions. It featured two Top 20 hits in Canada during 1996, "Love You All" and "Lies To Me".
54-40 continued to climb up the pop chart, and did even better on the Alternative Rock (AR) charts in Canada with "Since When" in 1998 (#11 pop, #2 AR) and in 2000 with "Casual Viewin'" (#48 pop, #3 AR).
54-40 has continued to record and tour. As of May 2019, 54-40 has seven upcoming concerts between July and October 2019. They'll appear in Thunder Bay and Muskoka (ON), Regina (SK) and Kelowna and Vancouver (BC). 54-40 released their 14th studio album, Keep On Walking in 2018. They've also released one live album and seven compilations.
July 10, 2021
Ray McGinnis
References:
David P. Ball, "54-40 Counts 36 Years, 22 Albums ahead of 2 Hometown Gigs," Metro News, Toronto, Ontario, October 4, 2017.
John McLaughlin, "Featured Artist 54-40," Vancouver Province, April 3, 2011.
"An 1844 British Map Showing the Columbia River as the Boundary," Wikipedia.org.
"Oregon Treaty," Wikipedia.org.
Adrian Chamberlain, "It's Like I'm Your Plumber," Victoria Times-Colonist, October 12, 2012.
"54-40 Tour Dates," 5440.com.
"Vancouver's Official Top 40," CKLG 730 AM, Vancouver, BC, September 28, 1992.
For more song reviews visit the Countdown.