#382: She's A Star (In Her Own Right) by Nick Gilder
Peak Month: October 1976
10 weeks on Vancouver's CKLG chart
Peak Position #4
Peak Position on Billboard Hot 100 ~ did not chart
YouTube.com: N/A
In 1951 Nick Gilder was born in London, England. In his childhood he moved to Canada and grew up in Vancouver. In the summer of 1973, when he was 22 years old, vocalist Gilder and fellow former high school classmate and guitarist, Jim McCulloch, founded a band called Rasputin. John Booth on drums, Bud Marr on bass and Dan Gaudin on keyboards rounded our the band. Shortly afterward they took the name Sweeney Todd. Their name was inspired by the 1846-47 Victorian penny dreadful The String of Pearls: A Domestic Romance credited to James Malcolm Rymer and Thomas Peckett Prest. The main antagonist of the story is Sweeney Todd, "the Demon Barber of Fleet Street". Todd is a barber who murders his customers and turns their bodies over to Mrs. Lovett, his partner in crime, who bakes their flesh into meat pies and sells them at her pie shop. A Sweeney Todd stage play by Stephen Sondheim appeared on Broadway in 1979.
In 1975 Sweeney Todd got a contract with London Records. Their self-titled debut album was released that summer. It featured the release of "Rock and Roll Story" as the first single. They followed it up with "Sweeney Todd Folder" released while the band was in the middle of a cross-Canada tour. But it was the release of "Roxy Roller" that made Sweeney Todd instant household names. eventually topping the Canadian charts. The tune held the #1 spot in the Canadian RPM singles charts for three weeks in June-July 1976. "Roxy Roller" went on to win Sweeney Todd a Juno Award for "Best Selling Single" in 1977.
Meanwhile, Nick Gilder released a solo single in late summer 1976 titled "She's A Star (In Her Own Right)".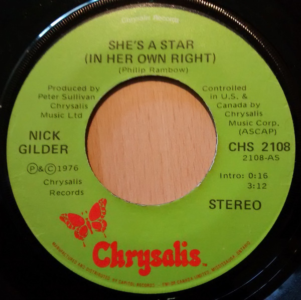 "She's A Star (In Her Own Right)" was written by Philip Rambow. Rambow was born in Montreal in 1949. He learned to play guitar in his teens, and became a vocalist and songwriter. He fronted a band called The Winkies from 1973-75. He is most recognized for his work with Brian Eno.
In the song a guy sees an "art school girl" dancing in a cabaret. She has a "flash of a smile" and "can steal the show tonight and she's got me all wasted in the aisle." He describes the dancing they did together on the dance floor as "our courtship was short and sweet." But whatever dreams they shared all vanished into air.
"She's A Star (In Her Own Right)" describes flirtatious interactions between two total strangers at a dance club. Someone notices someone else on the dance floor, enjoying their dance steps and the way they move. Eyes meet. There is a flash of a smile. Possibly anticipation that you've met someone who might be a potential mate. There is a first dance, and then you keep dancing way into the night "to that funky reggae beat." There is some energy, some chemistry. However, it leads to nothing. The girl with the "stylish ways" you met on the dance floor is unreachable, and leaves you "wasted in the aisle." She stole the show, but now she's gone. At the end of the night, in "She's A Star (In Her Own Right)", all the guy is left with are "memories."
In the online website LovePanky.com, Danielle Anne wrote an article titled "How to Look and Feel Like the Hottest Chick in the Club." Up front she warns that women, who are thinking about dressing to be a "knock out" at the club, are likely to only get a couple of free drinks from suitors seeking only a one-night-stand. Nonetheless, she advises that "club-friendly" make-up is a must. This involves wearing "sparkly – eye shadow and bold lip colors." Indoor lighting in a club is different than broad daylight, and make-up for the 9-to-5 job won't cut it. As well, a "chick" needs to show some skin. So at LovePanky they counsel "Low necklines for breasts, short skirts for legs and tight dresses, skirts or pants for your butt." Moreover, once you arrive at the club you have to act like you are the hottest chick in the club. This means: "…these three things: head high, boobs up, butt out." For shoes, the article suggests 3-inch heels, flats or boots – but wear what you are comfortable in and can walk around in easily.
And, Danielle Anne recommends having some shots, preferably of Tequila, once you arrive. Then get out on the dance floor, say "hi" to everybody, and have fun. By then, you'll be a star in your own right, and maybe have some guy "wasted in the aisle" trying to get closer to you.
"She's A Star (In Her Own Right)" peaked at #4 in Vancouver (BC). Information in Brian Tarling's Vancouver's Charted Songs '56 to '78 confirms the song didn't chart elsewhere.
Nick Gilder next recorded a solo version of "Roxy Roller" which in February 1977 became a Top Ten hit in Melbourne, Australia, spending seven weeks in the Top Ten – including three at #4.
In the summer of 1978 Gilder's single "Hot Child In The City" began to climb up the charts on local AM-Top 40 stations. on CHUM-AM in Toronto, the single spent 23 weeks on the CHUM Top 30, including eleven weeks in the Top Ten and four weeks at #2. It was kept out of the top spot by Kenny Loggin's "Whenever I Call You Friend". "Hot Child In The City" also spent eleven weeks in the Top Ten on CKLW in Windsor (ON). It climbed to number-one in Harrisburg (PA), Easton (PA), Allentown (PA), Tucson (AZ), Bozeman (MT), Springfield (MA), Chicago, Honolulu, Houston, Buffalo (NY), Utica (NY), New York City, Burbank (CA), Los Angeles, San Diego, Tacoma (WA), Seattle, Minneapolis/St. Paul, La Cross (WI), Akron (OH), Youngstown (OH), Kansas City (MO), Denver, Oklahoma City (OK), Tampa (FL), Portland (OR), and Sarasota (FL). Gilder performed "Hot Child In The City" on American Bandstand on September 2, 1978, and on The Mike Douglas Show on August 29, 1978, and again on November 16, 1978. In Canada, "Hot Child In The City" became the #7 charted song of 1978.
At the Juno Awards, based on the recording of "Hot Child In The City", Nick Gilder won awards for both Song of the Year and Most Promising Male Vocalist of the Year. "Hot Child In The City" has been featured as part of the soundtrack for a number of films and TV sitcom episodes.
In November 1978 Gilder's cover of "Here Comes The Night" by Them, began to chart on CFUN in Vancouver (BC). It became another huge hit on the West Coast, spending 20 weeks on the record survey. However, it's chart action outside of British Columbia was limited to a number of radio markets in Ontario, Colorado, California, Texas, Washington and Wisconsin.
Late spring 1979, Nick Gilder had a minor hit in several radio markets in Canada and the USA titled "Rock Me". He returned to perform on American Bandstand in '79. And in 1981 Gilder managed a Top Ten hit in Saskatoon (SK) (and Top 20 in Regina) with "Catch 22". He switched labels to RCA and released one more album in 1985, appearing later that year on American Bandstand on November 23rd.
Between 1977 and 1999 Nick Gilder released eight studio albums. In addition to his own recordings, Nick Gilder has written songs recorded by Pat Benetar, Toni Basil, Bette Midler, Scandal, Patty Smyth, Joe Cocker and others. He lives in Vancouver.
On the weekend of August 18-20, 2017, Nick Gilder along with Sweeney Todd appeared in concert at Ambleside Park in West Vancouver, BC. Others on stage at the event included Randy Bachman, the Stampeders, Prism, Platinum Blonde, Honeymoon Suite, Glass Tiger and the Headpins.
November 27, 2020
Ray McGinnis
References:
Nick Gilder, "Nick Gilder bio," Canadian Bands.com
Nick Gilder, "Sweeney Todd bio," Canadian Bands.com
Steve Newton, "30 years ago: Nick Gilder on his new LP and his "ironic" replacement in Sweeney Todd," Georgia Straight, Vancouver, BC, October 16, 2015.
Daniele Anne, "How to Look and Feel Like the Hottest Chick in the Club," LovePanky.com.
"Nick Gilder Interview," American Bandstand, August 11, 1979.
Nick Gilder, "The Warrior", Wikipedia.org.
Brian Tarling, Vancouver's Charted Songs '56 to '78, Brian Tarling, 2012.
"Vancouver's Official Music Survey," CKLG 730 AM, Vancouver, BC, October 25, 1976.
For more song reviews visit the Countdown.