#68: She's Always A Woman by Billy Joel
Peak Month: November 1978
17 weeks on Vancouver's CFUN Chart
Peak Position #2
Peak Position on Billboard Hot 100 ~ #17
YouTube.com: "She's Always A Woman"
Lyrics: "She's Always A Woman"
William Martin Joel was born in 1949 in The Bronx. His father, Helmut "Howard" Joel, was born in Nuremberg, Germany, and sold his textile business at a fraction of its value to be able to move to Switzerland. From there his father traveled to Cuba and was able to enter the United States from the Caribbean. Billy Joel's mother, Rosalind Nyman, was born in Brooklyn, also to Jewish parents. Young William was coerced by his mother to take piano lessons at the age of four. He kept taking piano lessons until he was sixteen. His parents divorced when he was eight, and in his later years in high school Billy Joel played at a piano bar to make some extra income to support his single mother, his sister and himself. Though his parents were Jewish, Billy Joel did not identify as Jewish and began to attend a Roman Catholic parish at age eleven.
In 1964, at the age of 15, Joel was the pianist on the recording of "Remember (Walking In The Sand)" for the Shangri-Las. Later, he played piano on the demo for "Leader Of The Pack", which the Shangri-Las later recorded and became a number-one hit in November 1964. He took up boxing and was in the Golden Gloves, winning 22 fights, but quit after he got his nose broken.
In late 1965, Billy Joel joined a band called the Echoes. For day jobs, Joel became a rock critic for a magazine called Changes, and got $25 an article. However, he wasn't comfortable being a critical of other performers. He also worked for awhile as a house painter, and later mowed lawns. His other daytime work included a job at a typewriter factory. He also worked on an oyster dredge. But, as he kept trying to make the rent, Billy Joel kept pursuing his dream of becoming a successful musician. In 1967, as he was playing in a piano bar Billy Joel missed an English exam and didn't graduate from high school. The occasion was a catalyst for his determination to pursue a career in music. He joined a rock band from Long Island called the Hassles, after being offer $250 per week ($1,948 in 2020 dollars). This was much better money than his other laboring jobs. The Hassles appeared on The Clay Cole Show.
And in 1969 he and another member of the Hassles formed a duo named Attila. In 1970 Joel went solo and started playing at venues in Manhattan like The Bitter End, The Gaslight and the Village Gate. The gigs paid little.
In 1971 Billy Joel released his debut album Cold Spring Harbor. One track from the album, "She's Got A Way", later became a Top 30 hit in a live recording in 1982. In 1971 Billy Joel gave four concerts at a venue called My Father's Place in the northwest Long Island town of Roslyn. And in February 1972, Billy Joel gave five performances at the Troubadour in Los Angeles. In November he released his first album with Columbia Records titled Piano Man. And on November 4, 1973, Billy Joel was the opening act for the Beach Boys in concert at the UBC War Memorial Gymnasium.
In the spring of 1974 the title track from his album, "Piano Man" was a Top 30 hit on the Billboard Hot 100. The single climbed to #5 in Vancouver. Billy Joel's next two albums, Streetlight Serenade and Turnstiles, underwhelmed music critics and Columbia Records considered dropping him from the label.
His fifth studio album The Stranger, became his commercial breakthrough. The lead single, "Just The Way You Are", climbed to #3 on the Billboard Hot 100, and was ranked by Billboard at #17 for the Top 100 songs of 1978. The single won a Grammy Award for Record of the Year in 1979, and also for Song of the Year.
The followup single from the album was "Only The Good Die Young". His chart run continued with "She's Only A Woman".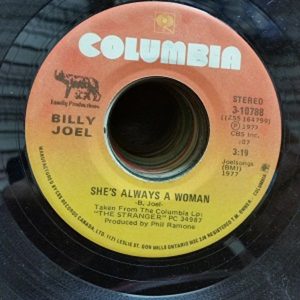 Billy Joel wrote "She's Always A Woman" about his first wife, Elizabeth, whom he was married to from 1973-1982. When they first got together, she was still married to Joel's drummer Jon Small. Billy was so tormented by his affair that he made a halfhearted attempt to kill himself by drinking furniture polish. Ironically, the rocker was saved by the very man he was betraying when Jon Small rushed him to hospital. After the pair were married in 1973, Joel's wife Elizabeth became his manager. She worked in the music industry at a time when very few women did. Billy saw her take a lot of gruff in the working world and get called a lot of names. Joel wrote "She's Always A Woman" to defend her. He explained: "If you look at the structure of the song, it says, 'she can do this to you, she can do that to you, but she's always a woman to me.' That was the point of the song: they're bitching about her, and I'm saying, you can bitch all you want, she's great at business and she comes home and she's a woman with me." "She's Always A Woman" was a staple of Billy Joel's concerts in the late '70s. But when his marriage fell apart in 1982, he dropped it from the setlist, playing it only sporadically from 1980-2005. On one of his college tour shows, Joel said the song was about his first wife. After the divorce, he didn't really want to be singing about her in the first place. As it turned out, some of the things she did and said to others in her work world, Joel was on the receiving end of in the home.
"She's Always A Woman" peaked at #1 in Las Vegas, #2 in Vancouver, Bangor (ME), Laconia (NH), and Easton (PA), #3 in Hamilton (ON), Minneapolis/St. Paul, San Diego, Denver, and Milwaukee (WI), #4 in Ottawa (ON), Tacoma (WA), and Tucson (AZ), #6 in Richmond (VA), and Portland (OR), #7 in Boston, Parkersburg (WV), and Allentown (PA), #8 in Kansas City (MO), and Sarasota (FL), #9 in Philadelphia, Oklahoma City, Mobile (AL), and Columbia (SC), #10 in Springfield (MA), and Seattle, and #11 in Chicago and Fredericton (NB).
While Billy Joel had a breakthrough with The Stranger, record buyers in Vancouver continued to send his singles much higher on the local pop charts in the 1970s than he managed on the national record surveys in America.
In 1978 Billy Joel released his sixth studio album, 52nd Street. On tour to support the album, Billy Joel performed in concert at the Pacific Coliseum in Vancouver on November 8, 1978. In January 1979, the lead single "My Life", climbed to #3 on the Billboard Hot 100, and #1 in Vancouver. Another track from the album, "Honesty", made the Top 20 in Vancouver in May '79, and was nominated for a Grammy Award in the Song of the Year category. But he was beaten out by the Doobie Brothers for "What A Fool Believes". However, he won the Grammy Award for Album Of The Year and for Best Pop Vocal Performance – both for 52nd Street.
In March 1980, Billy Joel released his album Glass Houses. It won him the Grammy Award nomination for Best Male Rock Vocal Performance. In the spring of 1980, "You May Be Right" spent ten weeks in the Top Ten on CFUN, including three weeks at number-one. "It's Still Rock and Roll To Me" spent 15 weeks in the Top Ten on CKLG in Vancouver. This included six weeks in the number-one spot. Next up, "Don't Ask Me Why" made the Top Ten in Vancouver. And on August 5, 1980, Billy Joel appeared in concert in Vancouver at the Pacific Coliseum. A fourth track from Glass Houses was "Sometimes A Fantasy".
Starting with "You May Be Right", Billy Joel had a charting song on the pop charts in Vancouver all but two weeks between March 15, 1980, and January 17, 1981.
In 1981 Joel released a live album titled Songs in the Attic. On April 15, 1982, The Piano Man was riding his motorcycle when he crashed into car that ran a red light on West Ninth Avenue in Manhattan. In the collision Joel crushed his left thumb and his right wrist was pulled out of its socket. Rushed to Columbia Presbyterian Medical Center in Manhattan, Billy Joel spent a month in hospital in recovery, but he did recover. Joel came to Vancouver on December 17, 1982, and performed in concert at the Pacific Coliseum.
The accident delayed the release of his next album into the summer – the Grammy nominated Best Album of the Year, The Nylon Curtain. It featured "Allentown", a single that spent nearly six months on the Billboard Hot 100, stalled at #17 for six weeks. It ended up at #43 for the Year-End Top 100 of 1983. He was given the keys to Allentown, Pennsylvania, by the mayor of the city after the song about working class struggles became a hit. Also from the album, "Goodnight Saigon" became a number-one hit in the Netherlands.
In 1983 Billy Joel released what would become another Grammy nominated Best Album of the Year, An Innocent Man. The album lost out to Michael Jackson's Thriller. From the album came six hit singles including "Tell Her About It", "Uptown Girl", "An Innocent Man" and "The Longest Time". "Tell Her About It" became Billy Joel's second number-one hit on the Billboard Hot 100, after "It's Still Rock and Roll To Me". Joel was nominated for Best Male Pop Vocal Performance for "Uptown Girl", but lost out to Michael Jackson.
In 1985 a greatest hits album was released which included a new single "You're Only Human (Second Wind)". The song was written to prevent teen suicide. Billy Joel himself had attempted suicide and left a suicide note in 1970, after concussing furniture polish. He had been suffering from depression. But he was rushed to a hospital by a bandmate and survived. A track from his 1971 album, Cold Spring Harbor, "Tomorrow Is Today", referred to this incident. In 1985, "You're Only Human (Second Wind)" was a Top Ten hit across Canada and in the USA.
In 1986 The Bridge, Billy Joel's tenth studio album, spawned two Top Ten hits: "Modern Woman" and "A Matter Of Trust". At the end of the decade, Storm Front was released. The album received Grammy Award nominations for Best Pop Vocal Performance, Male, which was won by Michael Bolton for "How Am I Supposed To Live Without You"; And for Producer of the Year (Non-Classical), which was won by Quincy Jones. The lead single from the album, "We Didn't Start The Fire", became Billy Joel's third and final chart topper on the Billboard Hot 100. It was nominated for both Record of the Year and Song of the Year. But, in both cases lost out to "Wind Beneath My Wings" by Bette Midler.
And on November 28, 1986, Billy Joel appeared in concert at the Pacific Coliseum in Vancouver. He returned to the same venue to perform again in Vancouver on August 5, 1990.
In 1993 Billy Joel released his twelfth studio album, River of Dreams. It received a Grammy Award nomination for Album of the Year, but lost to The Bodyguard – Original Soundtrack Album. Also, at the 1994 Grammy ceremonies, "River of Dreams" was nominated for Song of the Year. But it lost out to "A Whole New World" by Peabo Bryson and Regina Belle. And in the Record of the Year category "River of Dreams" lost the Grammy to "I Will Always Love You" by Whitney Houston. Billy Joel received a third Grammy nomination for "River of Dreams" in the category of Best Male Pop Vocal Performance, but lost out to Sting who won for "If I Ever Lose My Faith In You".
On December 3, 1993, Billy Joel performed in concert in Vancouver at the Pacific Coliseum.
On and off, between 1994 and 2009, Billy Joel and Elton John toured together in a series of "Face to Face" tours that became the most successful pairing of pop music soloists to go on tour in contemporary music history. During their "Face to Face" tour, January 22, 2001, Billy Joel appeared in concert with Elton John at the Rogers Arena in Vancouver (BC).
In 2002, the entertainer was admitted to the substance abuse and psychiatric center at the Silver Hill Hospital in New Canaan, Connecticut. And in 2005 he was admitted to the Betty Ford Center for a month to be treated for alcohol abuse.
Meanwhile, on Broadway there was a musical made about the music of Billy Joel called Movin' Out. It ran at the Richard Rodgers Theatre at 226 W. 46th Street from October 24, 2002, to December 11, 2005. The Broadway production of Movin' Out received ten Tony Award nominations, and won two of these for Best Choreography and Best Orchestration – the latter for which Billy Joel shared the Tony Award. The musical also went on tour to 82 cities in the USA and across Canada, between January 2004 and January 2007. The North American tour of Movin' Out lasted 1,111 performances.
In 2006 Billy Joel played Madison Square Gardens in concert in New York City on 17 occasions. On October 30, 2007, Billy Joel returned to Vancouver to perform at General Motors Place. Between January 2014 and February 2020, Billy Joel has performed in sold-out concerts at Madison Square Gardens on 73 occasions. His February 20, 2020, concert was his 120th concert that he's given at Madison Square Gardens. On July 18, 2018, New York State Governor Andrew Cuomo proclaimed the date Billy Joel Day in New York State to commemorate the entertainers 100th performance at Madison Square Gardens.
January 23, 2023
Ray McGinnis
References:
Larry Getlen, "How Billy Joel Became The Piano Man," New York Post, January 26, 2014.
Bryan Wawzenek, "When Billy Joel Injured Both Hands in a Motorcycle Accident," Ultimate Classic Rock, April 15, 2017.
Nick Paumgarten, "Thirty-Three Hit Wonder: Billy Joel Still Lives on Long Island, Still Rules the Garden," New Yorker, October 20, 2014.
"Billy Joel Leave US Rehab Clinic," BBC, April 13, 2005.
"Movin' Out," The Guide to Musical Theatre, London, UK, July 2006.
Terry Tallmer, "Billy Joel Grapples With the Past," The Villager, New York, July 16, 2003.
"Album #70 – Billy Joel: The Stranger," 500 Greatest Albums of All Time, Rolling Stone, July 18, 2012.
Fred Schruers, Billy Joel: The Definitive Biography, (Three Rivers Press, 2015).
"C-FUN Top Thirty," CFUN 1410 AM, Vancouver, BC, November 4, 1978.
For more song reviews visit the Countdown.