#1065: Sing Little Birdie Sing by Rosemary Clooney
Peak Month: June 1957
15 weeks on Vancouver's CKWX chart
Peak Position #19
Peak Position on Billboard Hot 100 ~ did not chart
YouTube: "Sing Little Birdie Sing"
Rosemary Clooney was born in Maysville, Kentucky, in 1928. The town of 6,000 is situated on the Ohio River, across from the village of Aberdeen, Ohio. Rosemary and her sister Betty became entertainers in their teens and in 1945 got a spot on Cincinnati radio station WLW. This led to a recording contract for Rosemary Clooney with Columbia Records in 1946. That year she began to sing with Tony Pastor's Big Band. With Pastor's band she had three Top 20 hits on the Billboard pop chart: "You Started Something" (1948), "Grieving for You" and "A You're Adorable" (both in 1949). In 1949 Clooney left the band and began recording solo. In 1950–51, she was a regular on the radio and television versions of Songs For Sale on CBS. Then, in 1951 she recorded "Come On-A My House". The song topped the pop charts in the USA for six weeks, and was the number-four song for the year of 1951.
"Come On-A My House" became a huge hit, and Clooney's first royalty check amounted to $130,000. She catapulted to stardom. In 1952 she signed a contract with Paramount Pictures.
In 1952 Clooney was back on the top of the pop charts with "Half As Much", as well as a #2 hit titled "Botch-a-Me". As well, a duet with Gene Autry titled "The Night Before Christmas Song" made the Top Ten. And "Too Old to Cut the Mustard" was a #12 hit in a duet with Marlene Dietrich. In 1953 Clooney starred in The Stars Are Singing, and performed "Come On-A My House" in the film. That same year she starred in a musical comedy with Bob Hope and Tony Martin titled Here Come The Girls.
And in 1954 Clooney had top billing in the western film Red Garters, co-starring with Guy Mitchell. She also appeared with her husband, José Ferrer, in the musical biography of Hungarian-born American composer Sigmund Romberg titled Deep in My Heart. And in 1955 she had a cameo appearance in Conquest of Space. Clooney and Ferrer married in 1953.
Rosemary Clooney returned to the top of the pop charts in 1954 with "Hey There" and "This Ole House". A duet with her sister Betty titled "Sisters" was a Top 30 hit that also appeared in the 1954 film White Christmas, which featured Rosemary Clooney, Bing Crosby and Danny Kaye. Another song from the soundtrack from the film, "Count Your Blessings (Instead Of Sheep)" was a Top 30 hit in the winter of '54. As well, she was back in the Top Ten with "Mambo Italiano". Across the Atlantic in 1954, Rosemary Clooney had a #7 hit in the UK with "Man (Uh-huh)". And in 1955 "Where Will The Dimple Be?" was a #6 hit for Clooney in the UK, though it didn't chart in the USA or Canada.
But, as Bill Haley and His Comets, Elvis Presley, Little Richard, the Platters, Carl Perkins' "Blue Suede Shoes", Jim Lowe's "Green Door", Gene Vincent's "Be-Bop-A-Lula", Frankie Lymon and the Teenager's "Why Do Fools Fall In Love" and other rock and R&B tunes filled the airwaves, Rosemary Clooney struggled to break into the Top 40. She managed to chart a #10 song in the spring of 1957 with "Mangos", and #15 in Vancouver. Earlier in 1957 Clooney spent eight weeks on the CKWX chart in Vancouver with "Love Is A Feeling", which peaked at #38.
In addition, Clooney and Ferrer had five children in the years following their marriage between 1955 and 1960. This created obstacles to furthering her career, even as she was still in the limelight. Clooney starred, in 1956, in her a half-hour television musical-variety show, The Rosemary Clooney Show, which featured The Hi-Lo's singing group and Nelson Riddle's orchestra. In 1957, her show moved to NBC in a prime time evening slot as The Lux Show Starring Rosemary Clooney, but lasted only one season.
Clooney released 23 more singles between 1957 and 1976. Only one of these barely cracked the Billboard Hot 100. Of the many that didn't, her followup to "Mangos" was "Sing, Little Birdie, Sing". This single charted on CKWX in Vancouver in the spring and summer of 1957.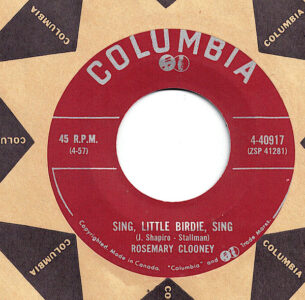 "Sing Little Birdie Sing" was cowritten by Joe Shapiro and Lou Stallman. The songwriting duo also wrote "Treasure Of Love" for Clyde McPhatter, a #1 R&B hit for the former lead vocalist of the Drifters in 1956. In 1957, Shapiro and Stallman cowrote "Round And Round" by Perry Como, was a #1 hit on the Billboard pop chart.
In 1960 Stallman cowrote "Yogi" for the Ivy Three, which peaked at #8 on the Billboard Hot 100. In 1965 Stallman cowrote "It's Gonna Take A Miracle" for the Royalettes. It was covered by Deniece Williams in 1982 and topped the Billboard R&B chart. Shapiro had less success writing songs, but cowrote with Barry Mann "Don't Destroy Me" for Billy "Crash" Craddock in 1959. The song stalled at #94 on the Billboard Hot 100. Mann and Shapiro also cowrote "Moody" for the Pony-Tails, who were hoping to not be one-hit-wonders with "Born Too Late". However, the song didn't crack the Billboard Hot 100. In 1961 Shapiro cowrote "Think Twice" for Brook Benton, which was a Top Ten hit on the R&B charts.
"Sing, Little Birdie, Sing" is a song about a lover who resonates with the sounds of the "sweetheart chorus" a love bird sings. With every note the bird sings she kisses her sweetheart. The musical interlude mimicked the harpsichord on "This Ole House".
"Sing, Little Birdie, Sing" charted on CKWX from June 2 to September 8, 1957. It peaked at #8 in Pittsburg (PA), #19 in Vancouver, and #33 in Boston. Overlapping her chart run with "Sing, Little Birdie, Sing", Clooney enjoyed a Top 30 chart run for five weeks on CKWX with "(You Can't Lose The Blues With) Colors". She charted again at the end of the year with "Love And Affection" for ten weeks. And from February 16 to May 18, 1958, Clooney's "Surprise" charted for 14 weeks, peaking at #23. From January 1957 to May 18, 1958, Rosemary Clooney was on the CKWX chart in Vancouver for a total of 53 weeks. And for eleven of these weeks she had as many as three charted songs on the 'WX Fabulous Fifty.
In 1968 Rosemary Clooney campaigned for Senator Robert F. Kennedy's presidential run for to head to ticket for the Democratic Party in the fall 1968 US election. Clooney was present with two of her children in the ballroom of the Ambassador Hotel in Los Angeles when Kennedy was shot. The assassination devastated her, and a month later she had a nervous breakdown while she was performing on stage. She ended up in a hospital ward and had four years of therapy, staying out of the public eye. (The circumstances of what happened in the pantry of the Ambassador Hotel when Senator Kennedy was shot are explored in meticulous detail by author Lisa Pease in A Lie Too Big To Fail: The Real History of the Assassination of Robert F. Kennedy).
In 1977 Clooney published her memoir This for Remembrance: the Autobiography of Rosemary Clooney, an Irish-American Singer. In the late 70s and early 80s, Rosemary Clooney was heard on a TV commercial for Coronet brand paper towels. The jungle she sang went "Extra value is what you get, when you buy Coro-net."
In 1995, she received an Emmy Award nomination for guest actress in a drama series for her role on "ER" with her nephew, George Clooney.
On February 27, 2002, Rosemary Clooney received a Grammy Lifetime Achievement Award. In 2001 Rosemary Clooney was diagnosed with lung cancer and died in June 2002. She was 74.
October 9, 2021
Ray McGinnis
References:
Richard Severo, "Rosemary Clooney, Legendary Pop Singer, Dies at 74," New York Times, July 1, 2002.
Jaime Holguin, "Singer Rosemary Clooney Dead at 74," CBS, June 30, 2002.
Tom Jackman, "CIA may have used contractor who inspired 'Mission: Impossible' to kill RFK, new book alleges," Washington Post, February 9, 2019.
Lisa Pease, A Lie Too Big To Fail: The Real History of the Assassination of Robert F. Kennedy, (Feral House, 2018.)
"Lou Stallman," discogs.com.
"Joe Shapiro," Music VF.com.
"Fabulous Fifty," CKWX 1130 AM, Vancouver, BC, June 16, 1957.
For more song reviews visit the Countdown.