#1020: The Sins of a Family by P. F. Sloan
Peak Month: October 1965
7 weeks on Vancouver's CFUN chart
Peak Position #4
Peak Position on Billboard Hot 100 ~ #87
YouTube.com: "The Sins Of The Family"
Lyrics: "The Sins Of A Family"
Philip Gary Schlein was born in New York City in 1945. His mom was born in Romania and his dad in the USA. The family moved to West Hollywood when Philip was twelve years old. His father was a pharmacist and had the family name changed legally since Philip's dad was repeatedly denied a liquor license for his store. The new surname, Sloan, gave Philip's dad no hassles and the family business thrived. In 1958 Philip was given a guitar as a present. Prior to being drafted into the US Army, Elvis Presley gave Philip Sloan a quick guitar lesson at a music store in Hollywood. By the age of 14 Philip Sloan's nickname was "Flip," a variant of Philip. So he became P (Philip) F (Flip) Sloan. At 16, "Flip" Sloan got a position as a songwriter with Screen Gems in Los Angeles. In addition to songwriting, Sloan teamed up with Steve Barri. The pair recorded several records hoping for a hit single. They failed at getting any notice when releasing singles under the names The Lifeguards, Themes Inc., The Rally-Packs and The Wildcats. And they barely registered on the charts in 1964 as Philip and Stephan with "When You're Near You're So Far Away", or as The Street Cleaners with "That's Cool, That's Trash".

In the mid-60's P.F. Sloan struck gold with his contributions as either a songwriter, backup singer or producer for Barry McGuire on "Eve Of Destruction", The Turtles on "You Baby" and "Can I Get To Know You Better", Jan and Dean on "The Little Old Lady From Pasadena" and "Dead Man's Curve", Herman's Hermits single "A Must To Avoid", Johnny Rivers Top Ten hit "Secret Agent Man", The Grass Roots debut single "Where Were You When I Needed You" and follow-up "Let's Live For Today", Terry Black's "Unless You Care" and The Mamas & The Papa's #1 hit "California Dreamin'".
In the midst of all these successes, PF Sloan decided to record one of the songs he wrote, "Sins of the Family", instead of giving it to another recording artist.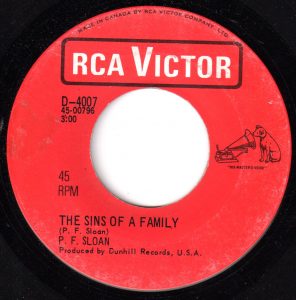 "Sins Of A Family" offers a dire warning that it's very hard to escape the family of origin that your raised in and get into another station in life. In his song a daughter is raised by a schizophrenic mother who worked in the gutter and has a father who is out (on the town) "getting sicker." Their apartment is bug infested and they can't pay the rent. The girl knows more about life than women who are thirty, suggesting sexual knowledge well beyond her years. The choices she makes, or is fated to live out, are blamed on poor heredity by people of higher IQ. The schizophrenic mother who "works in the gutter" seems to have shown her daughter the ropes and is likely why her daughter is "condemned" by people of higher social standing. The song suggests that the failures and mistakes of parents are passed on to their children. The implication is that the cycle of error and folly will only repeat with each new generation.
The concept of sins of a family comes from several places in ancient world literature, foremost from the Hebrew scriptures in the book of Exodus chapter 20, verse 5: "for I am a jealous God visiting the sins of the fathers on the children to the third and fourth generation…" In folklore, people whose family experienced a series of tragedies, or had a preponderance of disreputable family members getting into trouble with the law, were said to been cursed.
Curses in ancient times were not only found in Biblical literature. In an article from Live Science, in May 2012, titled Black Magic Revealed In Two Ancient Curses, their is a description of a Roman tablet dating back prior to the sacking of Rome in 410 A.D. The tablet depicts a deity with snakes coming out of its head, likely the goddess Hekate, the Queen of the Crossroads. The tablets were examined in 2009 by a Spanish researcher, Celia Sánchez Natalías, who came across them at the Il Museo Civico Archeologico di Bologna in Bologna, Italy. One of the curses found on three tablets is against a veterinarian named Porcello and his wife, Maurilla. The word in Latin for pig also happens to be porcello. Celia Sánchez Natalías states that "in the world of curse tablets, one of the things that you have to do is to try to identify your victim in a very, very, exact way." The curse on the tablet read in part, "Destroy, crush, kill, strangle Porcello and wife Maurilla. Their soul, heart, buttocks, liver …"
As the writer who penned "Eve of Destruction" earlier that year, P.F. Sloan was inviting his listeners that fall to contemplate the darker sides of life. While the Biblical verses refer to the "sins of the fathers," P.F. Sloan speaks of sins not of the fathers but the family more generically. When sins in a family are passed down to subsequent generations for a series of generations, it will fall on both the sons, and in the case of PF Sloan's song, also on the daughters. "Sins Of The Family" peaked at #4 in Vancouver, but only reached #87 in the USA. The only two radio markets where the song did well were Boston (#13) and Seattle (#16).
"Sins Of A Family" was also a topical song given trends in American psychiatry. From the mid-1950's Murray Bowen developed the Bowen Theory of which family therapy was still only a by-product of Bowen Theory. Bowen did his initial research on parents who lived with one adult schizophrenic child, which he thought could provide a paradigm for all children. In 1966 Murray Bowen would publish a paper titled The Use of Family Theory in Clinical Practice.
Therapist, Dorothy Law Nolte, expressed in her poem, Children Learn What They Live, the need to create a nurturing family environment for children in which to grow up.
If children live with criticism, they learn to condemn.
If children live with hostility, they learn to fight.
If children live with fear, they learn to be apprehensive.
If children live with pity, they learn to feel sorry for themselves.
If children live with ridicule, they learn to feel shy.
If children live with jealousy, they learn to feel envy.
If children live with shame, they learn to feel guilty.
If children live with encouragement, they learn confidence.
If children live with tolerance, they learn patience.
If children live with praise, they learn appreciation.
If children live with acceptance, they learn to love.
If children live with approval, they learn to like themselves.
If children live with recognition, they learn it is good to have a goal.
If children live with sharing, they learn generosity.
If children live with honesty, they learn truthfulness.
If children live with fairness, they learn justice.
If children live with kindness and consideration, they learn respect.
If children live with security, they learn to have faith in themselves and in those about them.
If children live with friendliness, they learn the world is a nice place in which to live.
P.F. Sloan tried to build on his initial marginal hit, "Sins Of A Family", with "Halloween Mary", a song that only got into the Top 50 in Vancouver and Top 20 in Los Angeles in October '65. In April 1966, Sloan's "From A Distance" made it to #6 in St. John's, NFLD, #8 in Endicott, NY, and #17 in Cleveland, Ohio. PF Sloan again had only regional success in the summer of 1966 with "City Woman" where the song charted to #8 in Little Rock and #10 in San Bernardino. Later that year "A Melody For You", was a commercial failure. "Sunflower, Sunflower", was a hit in Redding, California, where it climbed to #7, but nowhere else. During this period PF Sloan released several albums, Twelve More Times (1966) and Measure of Pleasure (1968). Neither sold very well.
In 1972 P.F. Sloan released a solo album, Raised on Records, after a bout of illness. But for most of the next two and a half decades P.F. Sloan had a long battle with various physical and mental illnesses. His only other recording was in 1992 with his second solo album, Serenade of the Seven Sisters. After 2000 he was recovered from his ailments and credited Sathya Sai Baba, an Indian guru, with healing him. His 2005 album, Sailover, was a tribute to his guru that could be rendered as Sai Lover. His final album in 2014 was titled My Beethoven, featuring classical pieces by Beethoven that Sloan learned to play and inspired him. P.F. Sloan died of pancreatic cancer in 2015.
August 29, 2017
Ray McGinnis
References:
Bruce Webber, P. F. Sloan, Enigmatic Writer of '60s Hit 'Eve of Destruction,' Dies at 70, NY Times, New York, NY, November 17, 2015.
Pierre Perrone, PF Sloan: Songwriter whose Protest Song 'Eve of Destruction' Became the Anti-Vietnam War Song Par Excellence, The Independent, London, UK, November 23, 2015.
Margalit Fox, Dorothy Nolte, 81, Author of Parenting Poem, Dies, NY Times, New York, NY, November 20, 2005
Owen Jarus, Black Magic Revealed in Two Ancient Curses, Live Science.com, New York, NY, May 22, 2012
"C-FUNTASTIC FIFTY," CFUN 1410 AM, Vancouver, BC, October 9, 1965.
For more song reviews visit the Countdown.