#1392: Skin Tight, Pin Striped, Purple Pedal Pushers by Sheb Wooley
Peak Month: July 1961
6 weeks on Vancouver's CKWX chart
Peak Position #15
Peak Position on Billboard Hot 100 ~ did not chart
YouTube.com: "Skin Tight, Pin Striped, Purple Pedal Pushers"
Shelby Fredrick "Sheb" Wooley was born in rural southwestern Oklahoma in 1921. His father was a farmer who also owned some horses. During his childhood Sheb learned to ride horses. He became a working cowboy and into his early teens a rodeo rider. When he was 15 Sheb formed a country and western band named the "Plainview Melody Boys." His band occasionally appeared live on radio station KASA in Elk City, Oklahoma. When he was 19 years-old Sheb Wooley married 17-year-old Melva Miller. She was a cousin of Roger Miller. Sheb and Roger became friends and he taught Roger how to play the guitar and bought him his first fiddle while he was still a child. Due to his rodeo injuries, Sheb Wooley was not seen fit to join the United States Army. Instead he worked on the oil patch as a welder. He and his wife moved to Fort Worth, Texas, in 1946. That year he released his first single "Oklahoma Honky-Tonk Gal". He hosted a Fort Worth-based country music radio show called Sheb Wooley and the Calumet Indians. But after three years of touring across the southern USA with a band, the marriage fell apart. Wooley remarried in 1949 and moved to Hollywood in 1950.
With his riding abilities, Wooley was ideal for westerns. In 1950 Sheb Wooley starred in his first Hollywood film opposite Err0l Flynn and Slim Pickens titled Rocky Mountain. The western was set in 1865 concerning confrontations between Confederate soldiers in California with the Shoshone tribe. This set in motion a long run of appearances in other western films in the 50s for Sheb Wooley. His other films between 1951 and 1958 include Apache Drums, Little Big Horn (starring Lloyd Bridges), Fort Worth, Distant Drums and High Noon (both starring Gary Cooper), Bugles in the Afternoon, Hellgate, Cattle Town, The Lusty Men (starring Susan Hayward and Robert Mitchum),Toughest Man in Arizona, Sky Full of Moon, Texas Bad Man, The Boy from Oklahoma, Arrow In the Dust, Man Without a Star (starring Kirk Douglas), Johnny Guitar (starring Joan Crawford, Mercedes McCambridge and Sterling Hayden and theme song by Peggy Lee), Giant (starring James Dean, Elizabeth Taylor, Rock Hudson and Sal Mineo), The Black Whip, The Oklahoman, Trooper Hook (starring Barbara Stanwyck and Joel McCrae who frees her from the Apaches after she gives birth to the child of an Apache chief), Ride a Violent Mile, and Terror in a Texas Town (written by Hollywood blacklisted screenwriter Dalton Trumbo who was named as one of the Hollywood Ten and refused to testify before the House Un-American Activities Committee in 1947). Sheb Wooley also appeared in a crime film noir motion picture titled Inside the Walls of Folsom Prison which inspired Johnny Cash to write "Folsom Prison Blues".
In addition to his numerous appearances on the big screen in the 50s, Sheb Wooley also appeared in many TV show episodes. Most of these were TV westerns and included Stories of the Century, The Range Rider, The Lone Ranger, The Adventures of Kit Carson, The Cisco Kid, My Friend Flicka, The Life and Legend of Wyatt Earp and Cheyenne.
In 1955 Sheb Wooley co-wrote a song titled "Are You Satisfied?" He released a single of the song, but it stalled at #95 on the Billboard pop chart. The song was covered by Rusty Draper as his followup release after his #3 spoken word, western-themed "The Shifting Whispering Sands". Draper's cover climbed to #11. Wooley also released 17 other singles, most of these country tunes, between 1950 and 1957. In 1956 Wooley released "The Birth Of Rock And Roll" which he wrote. It was a commercial failure. In 1957 he recorded "Recipe For Love" with a Dean Martin impression. He also wrote hit singles for Hank Snow ("When Mexican Joe Met Jole Blon", 1953) and Teresa Brewer ("Too Young to Tango", 1954).
Finally, in June 1958 Sheb Wooley became a household name with his novelty song "Purple People Eater", which climbed to #1 for six weeks. Wooley got the idea for "The Purple People Eater," he once recalled, "when a songwriter friend of mine told me his son had come home from school with a joke about a people eater from space. I wrote the song in a matter of minutes — just dashed it off as a sort of afterthought." The song underlined the public's fascination with UFOs, Sputniks and monster films.
In December '58 Sheb returned briefly to the pop charts in Vancouver (BC) with "Santa And The Purple People Eater". In the spring of 1960 Sheb had a Top 20 hit in Vancouver (BC) and the UK with "Luke The Spook". The song peaked here at #19. He also released some dubious titles at the time that include "Monkey Jive" and Pygmy Love".
In 1959 Sheb Wooley starred opposite a young Angie Dickinson, Ricky Nelson, Dean Martin, John Wayne and Walter Brennan in Rio Bravo. Also in 1959 Wooley was cast as the drover Pete Nolan in the CBS western Rawhide (1959–1966) with Eric Flemming, Clint Eastwood and Paul Brinegar. During that time Sheb also wrote and directed some of the episodes.
In 1961 Sheb released his followup to "Luke The Spook" with "Skin Tight, Pin Striped, Purple Pedal Pushers".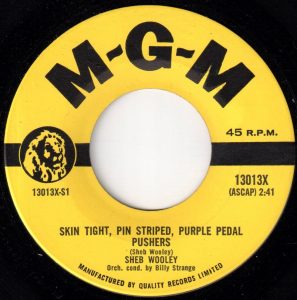 "Skin Tight, Pin Striped, Purple Pedal Pushers" was written by Sheb Wooley. The song was backed with the Billy Strange Orchestra. William "Billy" Everett Strange was born in Long Beach, California, in 1930. He learned to play guitar and became part of the famed Wrecking Crew. Strange wrote "Limbo Rock", first recorded as an instrumental by The Champs in '61, and as a vocal in '62 by Chubby Checker. Strange played guitar on "Sloop John B" for the Beach Boys in '65 as well as the Pet Sounds album. He also played guitar on "Bang Bang" for Nancy Sinatra's cover of the 1966 hit by Cher. Strange did the arrangements for the James Bond soundtrack You Only Live Twice, the duet by Frank and Nancy Sinatra titled "Something Stupid", and "These Boots Are Made For Walking" for Nancy Sinatra. Strange played guitar on themes for the TV shows Have Gun – Will Travel (1957), The Munsters (1964), and Batman (1966). In 1980 he was among the case in Coal Miner's Daughter. Later in his career Billy Strange scored music for the films Ocean's Eleven, and Bruce Almighty. He also scored music for some TV episodes including The Simpsons, Smallville and Everybody Loves Raymond.
"Skin Tight, Pin Striped, Purple Pedal Pushers" is a song about the outfit a woman wears on a date. He boyfriend takes her to a ball and she ends up dancing with another guy the whole night. Her skin tight, pin striped, pedal pushers accentuate her wiggle as she dances and sashays on the ballroom floor. He gets very upset, but on the drive home she hugs and kisses him and makes it all better. He forgets he's upset with her when they park the car and make out.
Pedal Pushers were similar to the Capri-style pants of the mid-to-late-50s, calf-length trousers. The name "pedal pushers" originated from the style originally worn by cyclists, because long pants can catch in bicycle chains, but the style quickly became identified with teenage girls. Pedal Pushers were almost always cuffed.
"Skin Tight, Pin Striped, Purple Pedal Pushers" peaked at #15 in Vancouver (BC), #18 in Oklahoma City and Worcester (MA). It didn't crack the Billboard Hot 100.
In 1962 Sheb released "That's My Pa" which climbed to #1 on the Billboard Country chart and #51 on the Billboard Hot 100. That same year Wooley released "Don't Go Near The Eskimos" credited to his pseudonym Ben Colder. It was a parody of Rex Allen's hit 1962 recording of "Don't Go Near the Indians". It made the Top 30 in Vancouver (BC) and #4 in Calgary (AB). As Ben Colder, Sheb Wooley released a series of parody answer songs to country tunes of the day. Between 1962 and 1968 these included "Hello Wall No. 2", "Still No. 2", "Detroit City No. 2", "Almost Persuaded No. 2" and "Harper Valley PTA (Later That Same Day)".
In 1963 Sheb Wooley appeared in the film Hootenanny Hoot, which cashed in on the folk music craze. The theme song which Sheb recorded became a Top Ten hit in Australia. Between 1953 and 1971 Sheb Wooley released over fifty singles with MGM Records. Wooley made a few more films, including The War Wagon (1967), The Outlaw Josey Wales (1976), Silverado and Hoosiers (both 1986). In the late 1960s and early 1970s, Wooley became a regular on the television series Hee Haw and wrote the theme song for that long-running series. On Hee Haw he often appeared as the character Ben Colder, playing him as a drunken country songwriter. In 1968 he won the Country Music Association's Comedian of the Year award.
In 1990 Sheb Wooley recorded a parody of "Achy Breaky Heart" with his "Shaky Breaky Car". Although he was diagnosed with leukemia in 1996, Wooley continued to appear on occasion until his death in 2003.
November 2, 2019
Ray McGinnis
References:
Dennis McLellan, "Sheb Wooley, 82; Appeared in Film, TV Westerns, Wrote 'Purple People Eater'," Los Angeles Times, September 18, 2003.
Judith Michener, "Wooley, Shelby (1921–2003)," The Encyclopedia of Oklahoma History and Culture.
Sean Tyler, The 1995 International Who's Who of Popular Music (Melrose Press, 1995).
William W. Savage, Jr., Singing Cowboys and All That Jazz: A Short History of Popular Music in Oklahoma (University of Oklahoma Press, 1983).
Randy Lewis, "Billy Strange dies at 81; guitarist, arranger for Presley, Nancy Sinatra," Los Angeles Times, February 24, 2012.
"Glamourous New Pedal Pushers," The West Australian, Perth, Australia, December 26, 1952.
"The Fabulous Forty," CKWX 1130 AM, Vancouver, BC, July 15, 1961.
For more song reviews visit the Countdown.