#362: So Far Away by Carole King
Peak Month: October 1971
9 weeks on Vancouver's CKVN Chart
Peak Position ~ #2
Peak Position on Billboard Hot 100 ~ #14
YouTube: "So Far Away"
Lyrics: "So Far Away"
Carole King was born Carol Joan Klein in 1942 in Manhattan and raised in Brooklyn. Her parents were Jewish. From the age of three, her mother taught her how to play piano. At age four her parents discovered she had perfect pitch, and was able to sing each note on target. Of her piano lessons King later said in an interview, "My mother never forced me to practice. She didn't have to. I wanted so much to master the popular songs that poured out of the radio." In 1957 Carole Klein formed a group called the Co-sines, and changed her surname from Klein to King. At the time she dated Neil Sedaka. She and fellow student Paul Simon recorded demo records for $25 a disc.
By 1958 she began work at the Brill Building on Broadway. That year she released a single she wrote titled "The Right Girl" on ABC/Paramount. This was followed by the energetic "Baby Sittin'". Then in 1959 Carole King released a single co-written with Gerry Goffin titled "Queen Of The Beach", which charted in Louisiana and elsewhere.
Carole King met Gerry Goffin at a lounge at Queens College. He was working on a musical about beatniks, and was looking for someone to compose the music. King was looking for a partner to provide thoughtful lyrics for her infectious rock melodies. They quickly decided to form a songwriting partnership and were hired on at Aldon Music. The couple got married in August 1959 when Carole King was 17.
Neil Sedaka had a Top Ten hit in December 1959 titled "Oh Carol". She wrote an answer song titled "Oh Neil", that included the line "I had too much molasses, and your lips stuck to mine." The song made the Top 20 in Utica, New York, in February 1960.
In 1960 King and Goffin co-wrote "Will You Love Me Tomorrow" by the Shirelles. The song climbed to number-one on the Billboard Hot 100 on January 30, 1961. (And #15 on CFUN in Vancouver, BC). The success of the record allowed King and Goffin to focus their attention on songwriting as a career, no longer needing to work other part-time jobs. And in 1961 they wrote a song recorded by Bobby Vee titled "Take Good Care Of My Baby", which was a number-one hit on the Hot 100 for three weeks in September '61.
Other hits for the songwriting duo followed. Among these, in 1961 there was "Every Breath I Take" by Gene Pitney (#9 in Vancouver/#42 on the Hot 100). Their 1962 hits included "Her Royal Majesty" by James Darren in 1962 (#4 in Vancouver/#6 on the Hot 100); "The Loco-motion" by Little Eva which spent nine weeks in the Top Ten in Vancouver, peaking at #1 (#1 on the Hot 100). Meanwhile, Carole King had a #3 hit on the UK singles chart with "It Might As Well Rain Until September".
In January 1963, King and Goffin saw "Up On The Roof" by the Drifters climb to #3 in Vancouver (#5 Hot 100), while "Go Away Little Girl" by Steve Lawrence became a number-one hit on the Billboard Hot 100 on January 12, 1963, (#11 in Vancouver). Other Top Ten hits on the Billboard Hot 100 Goffin and King wrote in 1963 include "Hey Girl" by Freddie Scott, "I Can't Stay Mad At You" by Skeeter Davis, "One Fine Day" for the Chiffons, and "Don't Say Nothin' Bad (About My Baby) by the Cookies. The latter song was about a gal telling her girlfriends, "Don't you tell me my baby's just a playboy. He's true. He's true to me. So girl you better shut your mouth."
One of the members of the Cookies was Earl-Jean Reavis (nee McRae). While the Cookies were on tour in the fall of 1963, Reavis became pregnant. Gerry Goffin was named as the father. The baby, Dawn Reavis, was born in July 1964.
In 1964 Goffin and King wrote "I'm Into Something Good", recorded by Earl-Jean Reavis which began to chart in early July '64. It was later successfully covered and a number-one hit in the UK for Herman's Hermits. Another hit for Goffin and King in '64 was "He's In Town" which became a #3 hit for the Rockin' Berries in the UK.
As their marital relationship became more turbulent, Goffin and King had fewer successes with hit records. However, between 1965 and 1968, their notable songwriting efforts include "Just Once In My Life" by the Righteous Brothers, "Don't Bring Me Down" by the Animals, "Pleasant Valley Sunday" by the Monkees and "(You Make Me Feel Like) A Natural Woman" by Aretha Franklin.
The couple got divorced in 1968, and she moved to Laurel Canyon in California. She formed a band called The City, which lasted for a year. She got to know other singer-songwriters in Laurel Canyon including James Taylor and Joni Mitchell.
In 1970 King released her debut solo album Writer. It featured James Taylor on acoustic guitar and backing vocals. Ten of the twelve tracks were written by Goffin and King, including "Spaceship Races" that was covered by Vancouver singer Tom Northcott. Writer did not appear on the Billboard album chart until after the release of her second studio album Tapestry.
In 1971 Carole King released what became an iconic recording of music from the 1970s, Tapestry. The album topped the Billboard 200 album chart for 15 weeks from June 19 to September 25, 1971. Tapestry remained on the Billboard album chart for 313 weeks. The album earned Carole King Grammy Awards for Album of the Year, Best Pop Vocal Performance – Female, Record of the Year for "It's Too Late", and Song of the Year for "You've Got A Friend".
From the album, "It's Too Late" topped the Billboard Hot 100 from June 19 to July 17, 1971. The lyrics describe the blameless end of a loving relationship. The song was a refreshing example of what lyrical maturity can provide in a pop song. Another track from Tapestry, "You've Got A Friend", was recorded by James Taylor. His cover became the number-one record on the Hot 100 the week of July 31, 1971. (Carole King released "You've Got A Friend"/"Beautiful" as a single in Italy and the Scandinavian countries).
King's second single release in North America from Tapestry was "So Far Away".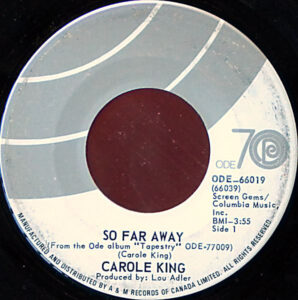 "So Far Away" was one of a dozen tracks on the Tapestry album, all which Carole King either wrote or co-wrote. In an interview with Rock's Backpages, Tapestry producer, Lou Adler, commented "'So Far Away' is my favorite song on Tapestry. I use the phrase a lot, 'Doesn't anybody stay in one place anymore?' It's the road, it's the people traveling. It just seems to me an anthem of that particular time and so well written and one of the earlier songs she wrote for this album."
In the song King asks "Doesn't anybody stay in one place any more?" But, then they confess "Traveling around sure gets me down and lonely." Ironically, the question she asked applies to herself, as she isn't staying in one place given all her traveling around. As well, she offers "I sure hope the road don't come to own me. There's so many dreams I've yet to find." This depends on what kind of dreams are in the mind of the singer. If they are dreams of settling down, the road is an obstacle to having her dreams fulfilled. However, if she has dreams of seeing the world, grand ambitions that extend far beyond the street where she lives, then the road will likely own her – as a catalyst to realizing her dreams. However, an earlier line in the song gives voice to a dream for a more rooted life: "If I could only work this life out my way, I'd rather spend it being close to you."
Back in 1971 there was no Internet, no email, no cell phones, no text messages, no Twitter, Instagram or Facebook. Phone calls were expensive. Otherwise, there were letters sent by mail, and these could take several weeks to arrive. And the singer is on an itinerary of performances that take them from town to town while traveling on the road. Though recording artists did travel by plane, it was not unusual in the early 70s for a recording artist to tour using ground transportation.
"So Far Away" peaked at #2 in Vancouver (BC), Akron (OH), Flint (MI), Minneapolis/St. Paul and Tucson (AZ), #3 in Dallas, Salt Lake City and St. Louis, #4 in Rochester (NY), Winnipeg (MB) and Spokane (WA), #5 in Philadelphia, Lexington (KY), Fort Lauderdale (FL), Dayton (OH), San Antonio (TX) and Boston, #6 in Ottawa (ON), Cedar Rapids (IA), Reading (PA), Orlando (FL) and Hartford (CT), #7 in Denver, Salem (OR) and Louisville (KY), #8 in Omaha (NE), Tampa (FL) and Pueblo (CO), #9 in Cleveland, San Diego (CA), Grand Rapids (MI) and Kansas City (MO), and #10 in Montreal and Chicago. In over 15 states in the USA "So Far Away" got little airplay on AM Top 40 radio, though it got a lot of airplay on FM album oriented radio stations.
Carole King released more albums in the 1970s which resulted in more hit singles: "Sweet Seasons" from Music in 1972; "Been To Canaan" from Rhymes and Reasons in 1972; And "Jazzman" and "Nightingale" from Wrap Around Joy in 1974.
And in 1980, with the release of Pearls: Songs of Goffin and King, Carole King enjoyed a Top 20 hit with "One Fine Day". In 2011 Carole King released her 17th studio album, A Holiday Carole.
Over the years King has had 118 of her songs chart on the Billboard Hot 100 – most of these recorded by other pop singers and groups. She has also released almost 30 of her own singles between 1958 and 2013.
King also wrote 61 hits that charted in the UK, making her the most successful female songwriter on the UK singles charts between 1952 and 2005. On July 3, 2016, Carole King was recorded live in concert and the result was a live album titled Tapestry Live in Hyde Park.
In 2010 Mickey Dolenz, a member of the Monkees, released an album titled King For A Day.
In 2013 a jukebox musical of Carole King's career from the late 50s to to release of her album Tapestry, was premiered. The musical followed King's professional and personal relationship with Gerry Goffin, and colleagues Barry Mann and Cynthia Weil. The musical was titled Beautiful: The Carole King Musical. In 2014 the musical received seven Tony Award nominations, winning in the categories Best Leading Actress in a Musical, and Best Sound Design; And a Grammy Award for Best Musical Theater Album.
Carole King published a memoir in 2010 titled A Natural Woman. In it she revealed that Gerry Goffin suffered from mental illness following ingestion of LSD, eventually undergoing treatment with lithium and electroshock therapy, and was diagnosed with manic depression. His drug use affected his health, and he was hospitalized for a time. Some of these aspects of their personal life were depicted in Beautiful: The Carole King Musical.
In 2013 the Library of Congress awarded Carole King the Gershwin Prize for Popular Song. In connection with the award, President Barak Obama and First Lady Michelle Obama hosted a concert "Carole King: The Library of Congress Gershwin Prize In Performance at the White House". President Obama presented the award.
January 13, 2021
Ray McGinnis
References:
James E. Perone, The Words and Music of Carole King, (Praeger, 2006).
Troy Brownfield, "Carole King Finally Went Solo 50 Years Ago," Saturday Evening Post, May 15, 2020.
Carole King, A Natural Woman, (Grand Central Publishing, 2010).
Robert Gluck, "Carole King: Famous, Yet 'Haimische'," Jerusalem Post, November 24, 2012.
Meridith Blake, "Gerry Goffin, Songwriting Partner of Carole King, Dies at 75," Los Angeles Times, June 19, 2014.
"Carole King Gets Star on Walk of Fame," Patch Media, Hollywood, CA, December 4, 2012.
Gary Graff, "Monkee Micky Dolenz Pays Tribute To Carole King", Billboard, June 3, 2010.
"The President and First Lady Host Concert Honoring Carole King: Recipient of the 2013 Library of Congress Gershwin Prize for Popular Song," Carole King.com.
"West Coast Music Survey," CKVN 1410 AM, Vancouver, BC, October 8, 1971.
For more song reviews visit the Countdown.