#1286: Spaceship Races by Tom Northcott
Peak Month: June 1971
7 weeks on Vancouver's CKVN chart
Peak Position #15
Peak Position on Billboard Hot 100 ~ did not chart
YouTube.com: "Spaceship Races"
Lyrics: "Spaceship Races"
Tom Northcott is a Vancouver folk-rock singer with hits on the local pop charts from the mid-60s into the early 70s. He became known to a Canadian audience by his regular appearances on CBC Television's Let's Go music program in 1964-68. He was nominated as best male vocalist for a Juno Award in 1971. Later he co-founded Mushroom Studios in Vancouver and produced records. His hits are played regularly on Canadian classic rock radio stations.
Northcott had his first charting single in 1965 called "Cry Tomorrow" which peaked at #23 on CFUN. It was the first of eleven Top 30 hits on local AM radio stations in Vancouver. His biggest hit song was the sunny psychedelic tune, "Sunny Goodge Street" from 1967 that became his signature tune. Other notable hits were in the late 60s were "1941" about family patterns passed on from a father to a son, and "Girl From The North Country" about someone who asks a friend to check up on a long lost love who lives far away. His song "Goin' Down", with the Tom Northcott Trio, has been reviewed at position # 1296 on this countdown.
In 1969, Northcott had #2 hit in Vancouver with "The Rainmaker".
By 1971 Tom Northcott had scored ten consecutive Top 30 hits in Vancouver and was on a streak of six consecutive singles reaching the Top Ten. But in 1971 he had his final Top 30 hit, "Spaceship Races", which missed the Top Ten peaking at #15. The song was written by the songwriting team of Gerry Goffin and Carole King. The week "Spaceship Races" peaked on the CKLG and CKVN charts, Carole King's double-sided single "It's Too Late/"I Feel The Earth Move Under My Feet", and her album, Tapestry, were number one single and album on those local charts.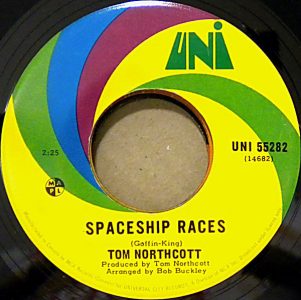 "Spaceship Races" was originally was written for a female singer. In the first verse the word "swirl" was rhymed in the final line with "girl." But Northcott leaves the lyrics as they are until, as a male singer, he adds the non-rhyming "boy" in place of "girl." The song is about a fast-paced life that produces a frazzled, busy, scattered, disappointed person whose attention span is shrinking. The singer notices the object of their desire, in the midst of shopping for things to buy, caught by the wonder of seeing a rocket soaring in the sky. But after the dazzle of seeing spaceships, he offers a change of pace and focus: "I'll take you home with me when day is done."
The song's title was in reference to the the Space Race between Cold War rivals, the Soviet Union (USSR) and the United States of America, for supremacy in spaceflight capability. It had its origins in the missile-based nuclear arms race between the two nations that occurred following World War II, aided by captured German missile technology and personnel. The technological superiority required for such supremacy was seen as necessary for national security, and symbolic of ideological superiority. The Space Race spawned pioneering efforts to launch artificial satellites, unmanned space probes of the Moon, Venus, and Mars, and human spaceflight in low Earth orbit and to the Moon.
The competition began on August 2, 1955, when the Soviet Union responded to the US announcement four days earlier of intent to launch artificial satellites for the International Geophysical Year, by declaring they would also launch a satellite "in the near future." The Soviet Union beat the US to this, with the October 4, 1957 orbiting of Sputnik 1, and later beat the US to the first human in space, Yuri Gagarin, on April 12, 1961. The race peaked with the July 20, 1969 US landing of the first humans on the Moon with Apollo 11. The USSR tried but failed manned lunar missions, and eventually cancelled them and concentrated on Earth orbital space stations. A period of détente followed with the April 1972 agreement on a co-operative Apollo–Soyuz Test Project, resulting in the July 1975 rendezvous in Earth orbit of a US astronaut crew with a Soviet cosmonaut crew.
"Spaceship Races" peaked at #3 in Chilliwack (BC), #15 in Vancouver, and cracked the Top 30 in Winnipeg (MB).
Northcott was nominated as Best Male Vocalist for a Juno Award in 1971. Later he co-founded Mushroom Studios on 6th Avenue in Vancouver and produced records for groups like Heart and their debut album, Dreamboat Annie. Northcott gave up his performing and singing career in the early 1970s and became a commercial fisherman in British Columbia. He later entered law school and practiced maritime and admiralty law in British Columbia.
Northcott gave up his performing and singing career in the early 1970s and became a commercial fisherman in British Columbia. He later tried to run for municipal office as a member of the Social Credit Party of British Columbia in East Vancouver. He later entered law school and which spawned a career in maritime and admiralty law. He is now retired and living in Kamloops, British Columbia. He was inducted into the BC Entertainment Hall of Fame in 2008.
November 14, 2016
Ray McGinnis
References:
Mark Allan, Ron Grahame, Susan Jacks, Dennis McFadden, Fred Robinson, Tom Northcott, Canadianbands.com
Dennis MacFadden, Vancouver Playboys ~ Pacific Northwest Bands, October 2008
Boss 30, CKLG, January 13, 1968
Space Race, Wikipedia.org.
"Your Average Rock and Roll Radio Survey," CKVN 1410 AM, Vancouver, BC, June 25, 1971.
For more song reviews visit the Countdown.