#166: Stay With Me by Faces
Peak Month: January-February 1972
9 weeks on Vancouver's CKLG chart
Peak Position ~ #1
Peak Position on Billboard Hot 100 ~ #17
YouTube: "Stay With Me"
Lyrics: "Stay With Me"
In the summer of 1964 musician Steve Marriott met bass player Ronnie Lane and drummer Kenney Jones at a club when they were playing with their band, the Outcasts. They added Jimmy Winston on keyboards and began releasing singles, including "Sha-la-la-la-lee", which went to #3 in the UK in 1966. The Small Faces were part of the British mod subculture, sharp-dressed and absorbed with looks and fashion. The word Faces was a nod to the new mod fashion, and Small was a reference to all of them being no taller than 5'6".
Later 1966 Ian McLagan took over keyboards for the band. Their live performances were infectious, frenzied and solid. They were compared to the Who, the Animals and the Rolling Stones. With Decca Records the Small Faces had four Top Ten singles in the UK in 1966. "All Or Nothing" was a #1 hit that knocked the Beatles' "Yellow Submarine" out of the #1 position. "My Mind's Eye" was a number 4 hit released by Decca without the band's permission. When their contract with Decca expired in 1967, the group switched to Immediate, an independent label founded by former Rolling Stones manager Andrew Loog Oldham.
At a party in 1967 the bandmates were slipped orange slices spiked with LSD. The unintended ingestion was a catalyst to a shift in their musical direction. The Small Faces started to make psychedelic rock. Keyboardist Ian McLagan recalled in a mid-90s interview, "It opened up the doors, really, we started listening to different music at that point." Soon they were releasing singles like their #3 hit in the UK "Itchycoo Park," which went to #1 on CKLG and #16 in the USA.
The Small Faces final album was at the crest of their psychedelic rock experimentation. Ogdens' Nut Gone Flake had a die-cut circular cover that resembled a tobacco tin. Side one of the album included some R&B influenced tracks and whimsical psychedelic pop-soul with "Afterglow" and the album's single "Lazy Sunday."
On New Year's Eve 1968 Steve Marriott walked offstage during a Small Faces performance. In the New Year he contacted guitarist Peter Frampton and formed Humble Pie to record blues and boogie music. The remaining bandmates formed added singer Rod Stewart and guitarist Ron Wood. Stewart and Wood had recently left the Jeff Beck Group. They dropped "small" from their name to become The Faces.
Roderick David Stewart was born in London, England, in 1945. In 1956 he got introduced to rock 'n roll when he saw Bill Haley and His Comets in concert, and heard Little Richard's "The Girl Can't Help It". He was given a guitar by his dad in 1959, and he learned to play the Kingston Trio's "A Worried Man". He quit school at age 15 and worked as a newspaper boy. He auditioned with Joe Meek in 1961, but didn't get a record deal. By 1963 he was part of an R&B band called The Dimensions. In 1965 he teamed up with Long John Baldry, Julie Driscoll and Brian Auger to form a blues band called Steampacket. This lasted another year. Eventually, Stewart became part of the Jeff Beck Group in 1967.
Ronald David Wood was born in Greater London in 1947. He was a member of the Jeff Beck Group from 1967 on bass guitar. He joined the Faces in 1969. When the Faces split in 1975, Wood joined the Rolling Stones. He is among the personnel on eleven studio albums, and seven live albums, by the Rolling Stones from between 1976 and 2016. Wood has been a session musician as well on albums for Rod Stewart, Donovan, George Harrison, Aretha Franklin, B.B. King and others.
The Faces played a rowdy, brawling brand of rock that could make a large arena seem like a corner bar. Rod Stewart's raspy, soulful vocals and the musicianship of other Faces bandmates made the group a rival live act to the Rolling Stones. Their onstage performances paved the way for punk bands like the Sex Pistols. They also were influences for roots bands decades later like the Georgia Satellites and the Black Crowes.
The Faces performed in Vancouver on May 17, 1970, at the PNE Garden Auditorium. The band returned to Vancouver later that year on November 1 at the PNE Agrodome. With a growing fan base on the West Coast, the Faces returned for a third time to Vancouver to perform on March 24, 1971, at the PNE Agrodome.
The Faces made four studio albums with A Nod Is as Good as a Wink… To a Blind Horse in 1971 their biggest seller. Their first hit single was "Stay With Me".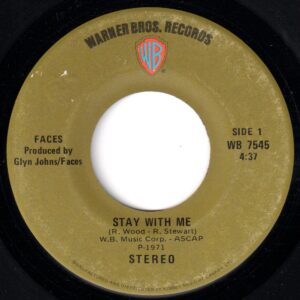 "Stay With Me" was co-written by Rod Stewart and Ron Wood. The song is about two people who have a one-night stand. After sex, but before they fall asleep, the guy tells the woman in bed with him, "In the morning, don't say you love me. 'Cause you know I'll only kick you out the door." They barely know each other, though he recalls, "I know your name is Rita…" Yet at the end of the song, he says "Hey, what's your name again?" The guy is just horny. He doesn't want his time with Rita to last much past their roll in the hay: "Yeah, I'll pay your cab fare home. You can even use my best cologne. Just don't be here in the mornin' when I wake up." "Stay With Me" evokes a hasty, 'wham-bam-thankyou-ma'am' world of sexual encounters.
As "Stay With Me" climbed the pop chart in Vancouver, the Faces gave their fourth concert in Vancouver in two years on December 3, 1971, at the Pacific Coliseum.
"Stay With Me" peaked at #1 in Vancouver (BC), Chicago, St. Louis, Fort Lauderdale, and Youngstown (OH), Campbell (OH), #2 in Big Rapids (MI), Endicott (NY), and Rochester (NY), #3 in Akron (OH), Beaumont (TX), Orlando, Montgomery (AL), and Olympia (WA), #4 in Vancouver (WA), Sioux Falls (SD), and Macon (GA), #6 in Fresno (CA), Albany (NY), and Boston, #7 in Toronto, Salt Lake City, Wilmington (DL), Springfield (MA), and Cleveland, #8 in San Diego, Syracuse (NY), Waterbury (CT), Escondido (CA), Babylon (NY), Allentown (PA), Anchorage (AK), and Detroit, #9 in Seattle, Monterey (CA), and La Crosse (WI), and #10 in Reading (PA), San Bernardino (CA), Dayton (OH), Hartford (CT), Sarasota (FL), West Palm Beach (FL), Santa Rosa (CA), and Philadelphia.
Ronnie Lane left the Faces in the 1973 and formed another band. Ron Wood joined the Rolling Stones after being drafted as an interim member after Mick Taylor left the Stones. Steve Marriott might have filled the position, however, he hammed up his rehearsal which turned Mick Jagger against him. After Keith Moon died in 1979, Kenney Jones joined the Who.
On March 13, 1975, the band returned to the Pacific Coliseum. The Faces played their last show in November 1975 and shortly afterward spit up.
Concurrent with the Faces, Rod Stewart also embarked on a parallel solo career. In 1970 he released Every Picture Tells A Story. The album was released with the double-sided hit number one hit "Maggie May" and "Reason To Believe". The followup single from the album was a cover of a Temptations hit from the mid-sixties titled "(I Know) I'm Losing You".
In the fall of 1972 Stewart's single from Never A Dull Moment, "You Wear It Well", peaked at #8 in Vancouver (BC) and #13 on the Billboard Hot 100. In 1976, Stewart had a number-one hit with "Tonight's The Night", from his A Night On The Town album. In 1977-78 Rod Stewart had Top 30 hits starting with "You're In My Heart", "Hot Legs", and "I Was Only Joking".
He continued to have chart successes in 1979, and into the 80s with "Do You Think I'm Sexy?", "Ain't Love A Bitch", "Passion", "Young Turks", "Tonight I'm Yours (Don't Hurt Me)", "Baby Jane", "Infatuation", "Love Touch", "Forever Young", "My Heart Can't Tell You No", "Crazy About Her", "This Old Heart Of Mine", "Downtown Train", "Broken Arrow", "Rhythm Of My Heart" and "The Motown Song". He also teamed up with Glass Tiger in 1991 to record "My Town". Between 1977 and 2018, Rod Stewart appeared in twenty concert performances in Vancouver.
Ronnie Lane died in 1997 after years of living with multiple sclerosis. Ian McLagan died of a stroke in 2014. Ron Wood currently has his own radio show playing pop music and telling stories about the recording artists he knows. Kenney Jones survived a cancer diagnosis in recent years and continues to make guest appearances performing on stage. In 2018, Jones published a memoir about his life as a member of the Small Faces, The Faces and The Who titled Let The Good Times Roll. Rod Stewart released his twenty-ninth studio album, Another Country, in 2015.
May 11, 2022
Ray McGinnis
References:
Faces Bio, Rolling Stone
Danny Eccleston, "The Tragic Fall Of The Small Faces," MOJO, January 24, 2014
Chris Welsh, "Obituary: Ronnie Lane," The Independent, June 6, 1997
Ben Quinn, "Faces and Small Faces Keyboard Player Ian McLagan Dies Aged 69: London-born Musician Also Brought his Hammond and Wurlitzer Sound to Acts Including Rolling Stones, Bob Dylan and Chuck Berry," Guardian, December 3, 2014.
Jones, Kenney. Let The Good Times Roll: My Life in Small Faces, Faces and The Who. Blink Publishing, London, UK, 2018.
John Walsh, "The Saturday Profile: Rod Stewart, Rock Star: Do ya Still think I'm Sexy?," Independent, UK, December 5, 1998.
"Stewart Goes Beneath the Covers," BBC, December 23, 2006.
Matthew Taylor, "Five decades of rocking and 62 hits earn Rod CBE," Guardian, December 30, 2006.
"Faces ~ Concert Dates – Canada," setlist.fm.
"CKLG 'Thirty'," CKLG 730 AM, Vancouver, BC, February 4, 1972.
For more song reviews visit the Countdown.