#1097: Stormy by Donnie Owens
Peak Month: March 1961
8 weeks on Vancouver's CFUN chart
Peak Position #7
Peak Position on Billboard Hot 100 ~ did not chart
YouTube.com: "Stormy"
Donald Lee Owens was born October 30, 1932, in Chester, Pennsylvania. Out of high school Owens went into the U.S. Air Force where he served as Airman First Class. He was a veteran of the Korean War. Taking the stage name, Donnie Owens, for five years Donnie Owens and the 4 Jacks played at a Harry's Capri Lounge in Phoenix, Arizona. Owens recorded three 45's on the Guyden Records label. Each featured Duane Eddy on guitar. Owens was a pop singer and guitarist. He played guitar for Duane Eddy's backing band, the Rebels. In that capacity, Donnie Owens was one of the guitarists heard on "Because They're Young" and other hits by Duane Eddy. Though he was American, Donnie Owens only had one hit record in the USA. On October 6, 1958 Owens made his Billboard Hot 100 debut with "Need You". The record peaked on the Hot 100 at #25 and stayed on the chart for 15 weeks. It peaked in Vancouver on CKWX at #26 and spent 9 weeks on the charts. Duane Eddy is heard playing acoustic guitar on the record. The hit resembled the plodding pace of the more popular hit by Jack Scott, "My True Love."
Donnie cut a few more records but they failed to chart in the USA. His follow up to "Need You," was "Tomorrow." It made the Top 30 in Phoenix and was play listed in Chicago and Boston. While it missed the Billboard Hot 100, it did climb to #89 on the Cashbox Top 100 Singles chart. His third and final release on Guyden Records was "Ask Me Anything", which became a Top 30 hit for him in May of 1959 in Phoenix, Arizona. These tunes were country-pop songs.
His next single was "Stormy (Came To Town)".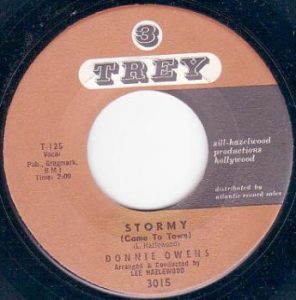 "Stormy (Came To Town)" was written by Lee Hazelwood, a composer whose first success was writing "The Fool" for Sanford Clark in 1956. Hazelwood wrote numbers of tunes for Duane Eddy including "Rebel Rouser" and "Forty Miles Of Bad Road". He wrote "Houston" for Dean Martin in 1965. Ion 1967 he wrote "Somethin' Stupid" for Frank & Nancy Sinatra. Hazelwood also wrote a string of hits for Nancy Sinatra beginning in 1966 with "These Boots Are Made For Walkin'", followed by "Summer Wine" and "Sugar Town" in '67.
"Stormy (Came To Town)" got airplay in Vancouver and peaked at #7. It seems that Vancouver was the only record market where the song was charted. Perhaps the DJ's in Vancouver were encouraged by the review of the song in the January 30, 1961, issue of Billboard Magazine. The song was given this endorsement: "The girl's name is Stormy and Donnie Owens tells of the love affair that followed. Boy sings nicely in double-track on this happy up-beat ballad."
The song is about the difference that love can make to the outlook one has. The singer shifts from feeling alone, low and heading nowhere, to having dreams come true and falling in love. In this case it is love at first sight, as Owens character in the tune can't speak from the moment he sees Stormy walking down the street. The song encourages anyone who is single to hold onto their dreams and "don't give up" on love. The Greek philosopher, Plato, held the view that, when our souls descended from heaven to earth, they were divided. So that meeting your soul mate for "the first time" in this lifetime was a sort of reunion, where magnets pull toward each other.
"Love at first sight" in practice is based on more than seeing someone from a distance. In the song, Donnie Owens tells us "I smiled and said hello." There is an experience of actually meeting in person, not just from a distance. Seeing a stranger across a crowded room can draw us to introduce ourselves to them. But then something happens in the first encounter, however brief or long. Affirming signals can be 1) cognitive (what she or he says to you, and what emotions and attitudes she or he expresses), 2) auditory (her/his tone of voice), 3) kinesthetic (the way she/he moves their body), 4) olfactory (his/her scent), 5) tactile (how he/she feels such in an embrace), and/or 6) gustatory (the "taste" of the first kiss). Donnie Owens sings "I fell in love I know the day that Stormy came to town." So, at least in this song, the impact of meeting Stormy creates a gut feeling, a heart connection and/or a mental resonance. The first encounter is such that the person quickly ticks off whatever boxes need to be ticked to feel ready to settle down, to decide this is the one for them that they can love this person forever. For most people it takes more then just one look.
"Stormy (Came To Town)" was Donnie Owens fourth and final single release. The single was released on 3 Trey Records, founded by Lester Sill and Lee Hazelwood in November 1959. The record company, based in Hollywood, released only seven singles. Most of these were recorded in Phoenix. Of these the song by The Spectors Three, "I Really Do", was of interest as it was the first song Phil Spector produced that was a forerunner of his Wall of Sound on Phillies Records that led to successful songs by The Crystals, The Ronettes and others. Another of these seven singles was "A Teenager Feels It Too", by Denny Reed, a hit in Vancouver that peaked at #6 on CFUN in August 1960. By the end of 1961 Trey 3 Records folded and with it the recording contract Donnie Owens had. Lester Sill went on to form Philles Records with Phil Spector.
Donnie Owens went on in the 60s to write songs for a number of recording artists. These included Budd the Spudd and the Sprouts, Virgil Warner, Johnny Wakely, Ray Sharpe, Sanford Clark and Mac Wiseman. None of the songs they recorded written by Owens became hits. Meanwhile, on December 24, 1966, Billboard magazine reported that LHI Records, "owned jointly by Lee Hazelwood and Decca Records" was "entering the country market." The vision to collaborate arose from a recent country music convention in Nashville. The magazine wrote that "Donnie Owens will be executive producer of country product…. Owens, with an extensive musical background, will produce most of his recordings in Phoenix, which he feels will give him access to a previously untapped source of country music songs and artists."
In 1971 Donnie Owens was the arranger for Lee Hazelwood's album, Requiem For An Almost Lady. Owens business relationship with Hazelwood went back many years. Before the Wrecking Crew was named as such, Hazelwood had rhythm guitarist, Donnie Owens, playing on numbers of the recordings of the songs Hazelwood wrote. He recorded a country tune in 1966 called "Climbing The Walls" which was co-produced with Waylon Jennings.
Donnie was accidentally shot to death in Phoenix, Arizona, on October 27, 1994 at the age of 61, just a few days prior to his 62nd birthday.
May 9, 2017
Ray McGinnis
References:
Donnie Owens, Wikipedia.org
Donnie Owens, Discogs.com.
Donnie Owens, "Reviews and Ratings of New Records," Billboard, January 30, 1961
"20 Musicians Shot, Stabbed, or Otherwise Left for Dead," Elmore Magazine, January 3, 2012
Lisa E. DiDonato, "Is Love At First Sight Real?," Psychology Today, January 27, 2018
Joe McGinty, Lee Hazelwood Interview, Joe McGinty.com, August 5, 2001.
Dave Acker, Interview with Buddy Wheeler, Tripod.com
LHI Enters C&W Field, Billboard Magazine, December 24, 1966.
West, Jim. The Phoenix Sound: A History of Twang and Rockabilly Music in Arizona. History Press, 2015
Jason P. Woodbury, "Happy Birthday Arizona: 100 Songs that Define Arizona Pt. 1," Phoenix New Times, Phoenix, AZ, February 14, 2012.
"C-FUN-Tastic 50," CFUN 1410 AM, Vancouver, BC, March 18, 1961.
For more song reviews visit the Countdown.