#368: Surfin' Doll by Kathy Brandon
Peak Month: August 1963
9 weeks on CFUN's Vancouver Chart
Peak Position ~ #2
Peak Position on Billboard Hot 100 ~ did not chart
YouTube: "Surfin' Doll"
According to a comment on a YouTube.com thread by someone claiming to be her grandchild, Kathy Brandon was born in California. Kathy Brandon wrote or cowrote her songs. She was signed to Crystalette Records in 1962 while she was still in high school. Crystalette was a label started in 1956 and a subsidiary of Dot Records. Crystalette had few notable chart successes with its stable of recording artists. The exception was a million-seller in 1959 called "Pink Shoelaces" by Dodie Stevens. That single peaked at #3 on the Billboard Hot 100 and #6 in Vancouver (BC) on CKWX. Kathy Brandon's first single release was in 1962 titled "Boy Of My Dreams". The single was a commercial flop. In 1962 CFUN in Vancouver happened to spin "Shy Guy" by the Crystalettes on Crystalette Records. The single made it to #2 in October of that year. Possibly, the folks at Crystalette Records had a good promotional pitch with the DJ's at CFUN.
Presumably, Crystalette Records sent a promotional copy of "Surfin' Doll" to CFUN and the DJ's in Vancouver decided to give it a spin.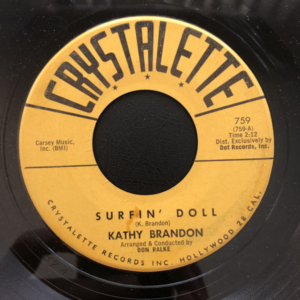 "Surfin' Doll" was written by Kathy Brandon. The song is about a young woman who knows how to "shoot the curl" while on her surf board. This is surfing slang that describes a surfer who is riding the board inside of the wave with the water over their head. The surfin' doll also asserts that she can "shoot the pier." This is a very advanced surfing move where the surfer maneuvers their surfboard in such a manner as to attempt to pass with safety, between the supporting pilings of a pier. They can do this "head on," meaning to pass directly under the entire pier from its oceanside terminus to the beach. Or the surfer can shoot the pier "side on," where they pass from one side of the pier to the other at an angle oblique to the shoreline prior to reaching the beach. When she comes out of the waves at Malibu, and she walks her surfing board, her boyfriend calls her a "surfer doll." After surfing, she can hang out with her guy on the beach when the waves are low. They sip Coke and "listen to the DJs we all know" on their transistor radio. They also "dance on the sand in time with the sea." They also go on "a real cool safari." "Surfin' Doll" is a fast-tempo teen surf-rocker with melodic vocals from Kathy Brandon. It featured solid backing on guitar, sax, driving bass and drums, including guitar and saxophone solos.
In 1907, the eclectic interests of the land baron Henry E. Huntington brought the ancient art of surfing to the California coast. While on vacation, Huntington had seen Hawaiian boys surfing the island waves. Looking for a way to entice visitors to Redondo Beach, where he had heavily invested in real estate, Huntington hired a young Hawaiian to ride surfboards. George Freeth decided to revive the art of surfing, but had little success with the huge 16 foot hardwood boards that were popular at that time. When he cut them in half to make them more manageable, he created the original "Long board", which made him the talk of the islands. To the delight of visitors, Freeth exhibited his surfing skills twice a day in front of the Hotel Redondo. Another native Hawaiian, Duke Kahanamoku, spread surfing to both the U.S. and Australia, riding the waves after displaying the swimming prowess that won him Olympic gold medals in 1912 and 1920.
Surfing was gaining in popularity in the early '60s. The sport caught the attention of the Beach Boys who had hits with "Surfin'", "Surfin' Safari" (1962), "Surfin' USA" (1963), "Surfer Girl" (1963) and "Catch A Wave" (1964). Jan And Dean had a number one hit in 1963 with "Surf City", and followup hits "Ride The Wild Surf" and "Sidewalk Surfin'" in 1964. Jan And Dean also recorded "Surfin' Hearse". The Trashmen had a Top Ten hit in 1963 with "Surfin' Bird", as did the Surfaris with "Surfer Joe", the B-side to their classic surfer instrumental chart-topper "Wipeout". The Hondells had a Top 20 his in Vancouver titled "Little Sidewalk Surfer". The Mar-Kets made the Top 30 in Vancouver (BC) with "Surfer's Stomp". The Orlons were less successful with "Surfin'", as was Duane Eddy with "Your Baby's Gone Surfin'", and the Piltdown Men with "Night Surfin'".
In addition there were teen films all featuring surfing scenes. These included Gidget in 1959 starring Sandra Dee and James Darren, Beach Party, Muscle Beach Party, and Beach Blanket Bingo, each starring Frankie Avalon and Annette Funicello; Ride The Wild Surf starring Fabian, Shelley Fabares, Tab Hunter and Barbara Eden; How To Stuff A Wild Bikini starring Annette Funicello and Mickey Rooney; And The Ghost In The Invisible Bikini.
"Surfin' Doll" features an athletic female surfer who impresses her boyfriend with her surfing skills. Prior to European arrival, surfing was a communal activity on the islands for men, women and children of all social classes. Stories about the mythical Maui Princess Kelea describe her as one of the best surfers in the Hawaiian kingdom. The demi-god Mamala is depicted as a half-woman, half-shark who rode the waves. The oldest known papa he'e nalu, or surfboard, dates to the 1600s and comes from Princess Kaneamuna's burial cave in Ho'okena on the Big Island.
Women and men began surfing in Hawaii and other Polynesian islands at least as far back as the 17th century. Christian missionaries tried to suppress surfing in the 1800s. But Hawaiian princess Ka'iulani helped bring it back in the 1880s. Duke Kahanamoku showed 15-year-old Australian Isabel Letham how to surf. Gidget was a fictional character based on real-life surfer Kathy Kohner. Kohner learned to surf as a teenager in Malibu during the 1950s. She told her father, Frederick, that she wanted to write a book about it. Frederick ended up writing a series of popular Gidget books based on his daughter's experiences. Filmmakers adapted these into several films, including Gidget Goes Hawaiian in 1961 featuring James Darren and Deborah Walley. Later on there was television series starring Sally Field that spread the image of the surfer girl all over the United States. But in the 1960s the typical image of a surfer was a dude, not a female. And unlike the 19th and early 20th century, the image of a surfer was now a "white dude." So "Surfin' Doll" was offering a rare positive image of a capable female surfer in 1963.
"Surfin' Doll" was in the mix catching the surfing fad and celebrating all things summer. It peaked at #2 in Vancouver (BC) and #5 in Regina (SK). The B-side of "Surfin' Doll" was "A Boy To Love" which Kathy Brandon cowrote with Annette Tucker. Born in Los Angeles, Tucker wrote "Your Kind Of Lovin'" for Rick Nelson, "I Had Too Much To Dream" by the Electric Prunes, and B-sides for Sonny & Cher, Freddie Cannon, the Knickerbockers, Tom Jones, the American Breed, Nancy and Frank Sinatra, the Jackson 5 and Maureen McGovern.
Kathy Brandon was part of the "girl" sound in 1963 where many recording artists climbing up the pop charts were either female solo recording acts or "girl groups." Sharing the C-FUNTASTIC FIFTY the week "Surfin' Doll" peaked at #2 on August 24, 1963, were "Easier Said Than Done" by the Essex, "Please Don't Talk To The Lifeguard" by Diane Ray, "My Boyfriend's Back" by the Angels, "Then He Kissed Me" by the Crystals, "Judy's Turn To Cry" by Leslie Gore, "Make The World Go Away" by Timi Yuro, "I Can't Stay Mad At You" by Skeeter Davis, "Wait 'Til My Bobby Gets Home" by Darlene Love, "Little Girl Bad" by Joannie Sommers and "Heat Wave" by Martha & the Vandellas. Other female recording acts appearing on CFUN in 1963 were Babs Tino, Dee Dee Sharpe, Cathy Caroll, Connie Francis, Marci Blaine, Linda Scott, Kathy Kirby, Eydie Gorme, Helen Shapiro, Little Eva, Pat Hervey, Sandy Stewart, the Chiffons, Shelley Fabares, the Shirelles, Little Peggy March, the Orlons, Brenda Lee, Carole King, the Cookies, Baby Washington, Jackie de Shannon, Etta James, Barbara Lewis, Doris Troy, the Jaynettes, the Ronettes, the Raindrops, the Mermaids, the Dixie Bells, Robin Ward, the Caravelles, Tracey Dey, the Secrets, the Singing Nun, Shirley Ellis and more.
Kathy Brandon appeared on the local Vancouver (BC) Dance Party variety show on CHAN-TV, hosted by former CKWX DJ Buddy Clyde. Dance Party was a local AM Top 40 dance show patterned after Dick Clark's American Bandstand. Kathy Brandon's followup single "Please Make Him Love Me" got little airplay anywhere. After her third recording effort, Kathy Brandon left the music industry.
Kathy's grandson, Joel Gravening, replied to a question I asked about what happened to her. He said "She told me she quit performing because kids at school would mock her for being a singer. She went on to have a large family and work as a music teacher at my private school and others."
References:
"Kathy Brandon 45 Surfin' Doll 1963 Teen Surf Rocker," WorthPoint.com.
"Annette Tucker bio," Wikipedia.org.
"Shoot the curl," Onlineslangdictionary.com.
"Shoot the pier," Urbandictionary.com.
Joel Graveling reply to Ray McGinnis on YouTube, May 7, 2020.
"Women Making Waves," Surfing Heritage and Culture Center.
"C-FUNTASTIC FIFTY," CFUN 1410 AM, Vancouver, BC, August 24, 1963.
For more song reviews visit the Countdown.