#212: Susie Q by Creedence Clearwater Revival
Peak Month: October 1968
10 weeks on Vancouver's CKLG chart
Peak Position #1
Peak Position on Billboard Hot 100 ~ #11
YouTube: "Susie Q"
Lyrics: "Susie Q"
John Fogerty was born in 1945 in Berkeley, California. He was raised in nearby El Cerrito. He learned to play guitar in his youth. In 1959 John Fogerty, Stu Cook and Doug Clifford formed a trio named the Blue Velvets. Based in El Cerrito, California, just north of Berkeley, they were joined in 1960 by John's brother, Tom, who had been in a band called The Playboys. The Blue Velvets were influenced by Little Richard and other rock 'n roll greats. They played a number of hits on the radio and their cover of Bobby Freeman's "Do You Want To Dance," was an audience favorite. In 1964 the Blue Velvets changed their name to the Golliwogs. They had a Top Ten hit called "Brown Eyed Girl" in San Jose (#7), Fresno (#3) and Miami (#8) in the winter of 1965-66. It was a blues infused tune, but not the same-titled song that Van Morrison would take up the charts the following year.
In 1966 John Fogerty was drafted into the U.S. Army reserves and was stationed in Fort Bragg, NC, and then in Fort Knox, KY, and finally Fort Lee, VA. Meanwhile, Doug Clifford went into the United States Coast Guard Reserve. Fogerty and Clifford finished their respective service in 'Reserves in 1967. And in 1967 the Golliwogs changed their name to Creedence Clearwater Revival. This was because Saul Zaentz bought Fantasy Records and offered the Golliwogs a chance to record a studio album provided that they change their name.
The band chose the name to Creedence Clearwater Revival based on several different influences. Creedence was named after a friend of Tom Fogerty's named Credence Nuball. The first name, with its connotations of faith and trust, appealed to the group. They all knew what it meant to give credence to something that you accept or trust is true. Clearwater also had several meanings. It came initially from a beer commercial. However, clearwater also connected with the emerging environmental movement and its back-to-the-land sentiment, a sentiment that was expressed in the Woodstock Festival and Joni Mitchell's urgent message: "we've got to get ourselves back to the garden." The word, revival, reflected the band's intention to switch up their performance and recordings to a new level.
Doug Clifford was born in Palo Alto, California, and learned to play drums in his teens. Thomas Richard Fogerty was born in 1941 in Berkeley, California. In his teens he had a band called Spider Web that included future Seeds guitarist Jimmy Levine. Guitarist, Stu Cook, was also raised in the Bay Area. Their self-titled debut album was released in the summer of 1968. It included a cover of the Dale Hawkins classic from 1957, "Susie Q".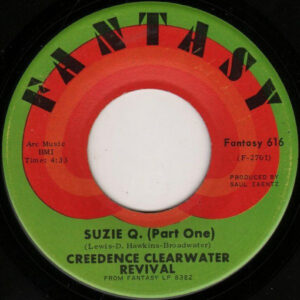 Creedence Clearwater Revival recorded an eight minute version of the song and pitched it to the progressive FM station, KMPX, in San Francisco. The station began to play it prior to the release of the album which created a buzz for CCR all over the Bay Area. They also put a "z"in Suzie, perhaps to designate the artistic uniqueness of their cover of Dale Hawkins rock 'n roll classic.
"Suzie Q" is a song about a guy who blown away by her. He likes the way she walks, and the way she talks. So much so, that he wants her to "be mine" and to be "true." Being "true" to the person you're going steady with implies you are going to be trustworthy, honest, sincere, and dependable. In other words, he wants to know that Suzie Q isn't going to fool around with any other guy. And he wants Suzie Q to be his "all the time." He doesn't want her to "ever leave me blue." No matter how briefly this guy has come to flip over Suzie Q, he's decided she's the one to build his life around.
"Suzie Q" peaked at #1 in Vancouver (BC), Wilkes-Barre (PA), Bakersfield (CA), Salt Lake City, Fresno (CA), #2 in San Bernardino (CA), Tucson, (AZ), Spokane (WA), San Diego, San Francisco, Saint Charles (MO), and Battle Creek (MI), #3 in Los Angeles, Cleveland, New Haven (CT), Indianapolis (IN), Tulsa (OK), and Seattle, #4 in Monterey (CA), Fargo, (ND), New York City, Akron (OH), Fort Lauderdale, Cincinnati, #5 in Dallas, Pittsburgh, York (PA), Grand Rapids (MI), and Hartford (CT), #6 in Houston, Reading (PA), Greenville (SC), Minneapolis/St. Paul, Boston, Worcester (MA), Louisville, Chicago, Kansas City (MO), and Honolulu, #7 in Springfield (OH), Springfield (MA), Memphis, Orlando, (FL), Windsor (ON), Huntsville (AL), Birmingham (AL), and Jackson (MI), #8 in Buffalo, Philadelphia, and Denver, #9 in Chico (CA), Erie (PA), Madison and Oshkosh (WI), and #10 in St. Louis and Allentown (PA).
It may be that CCR were thumbing through the "H" section of rock n' roll singers when they decided to cover another song by a singer with the surname of Hawkins. Another track of their debut album was "I Put A Spell On You" by Screaming Jay Hawkins.
It was the second album, Bayou Country, that put Creedence Clearwater Revival on a path of almost constant success. They hit #2 in February 1969 in Vancouver (BC) and in March on the Billboard Hot 100 with "Proud Mary". Their next single release was from their third studio album, Green River, titled "Bad Moon Rising". The B-side was a song called "Lodi". Just after "Bad Moon Rising"/"Lodi" had spent 5 weeks in the Top Ten of the CKLG Boss 30 in May-June, the band appeared in concert in Vancouver (BC) on July 11, 1969, at the Agrodome.
The next single CCR released was in July 1969 was the title track from their third studio album: "Green River". The B-side was "Commotion". CCR released one more single in 1969, "Down On The Corner", with the B-side "Fortunate Son".
CCR charted one single after another into the Top Ten. Many of their singles were double-sided hits. Of the 19 songs that charted on the Vancouver pop charts between September 1968 and May 1972, CCR charted 18 into the Top Ten and 17 of these into the top three positions. Nine of the songs made it to #1. In early 1970 CCR had a #2 hit with "Travelin' Band"/"Who'll Stop The Rain". This was followed in the spring of 1970 with "Up Around The Bend"/"Run Through The Jungle". The latter included comments about the proliferation of guns in America, "200 million guns are loading. Satan cries 'take aim.'" The double-sided hit climbed to #1. As the single was climbing the pop charts in Vancouver, CCR appeared in concert at the Pacific Coliseum on May 1, 1970. And in September 1970 CCR had another double-sided #1 hit with "Looking Out My Back Door"/"Long As I Can See The Light".
The band had a final #1 hit in Vancouver in March 1971 with "Have You Ever Seen The Rain"/"Hey Tonight". And a final appearance in the Top Ten was in August 1971 with "Sweet Hitch Hiker".
Dissension between bandmates led to the demise of Creedence Clearwater Revival. Tom was not getting along with his brother, John. Tom left the band in 1971. Stu and Doug quit in 1972 after the band released the album, Mardi Gras, that critics panned.
Tom Fogerty moved to Arizona and from a blood transfusion contracted HIV in 1986 and died in 1990. Doug Clifford played drums on 14 albums between 1972 and 2008, including for Tom Fogerty, Sir Douglas Quintet and Steve Miller Band. Stu Cook, along with Doug Clifford, joined a roots band named the Don Harrison Band. In 1995 Cook and Clifford formed Creedence Clearwater Revisited, along with three other musicians.
John Fogerty wrote many of CCR's songs, including "Proud Mary", "Bad Moon Rising" and "Green River". After Creedence Clearwater Revival split up in 1972 John Fogerty pursued a solo career. His cover of "Jambalaya (On The Bayou)" climbed into the Top 20 across the USA and in Vancouver in 1972. Fogerty had a Top Ten single in 1984 titled "The Old Man Down The Road."
January 17, 2022
Ray McGinnis
References:
"Creedence Clearwater Revival Bio," Creedence Online.net.
John Fogerty, Fortunate Son: My Life, My Music, (Little Brown and Company, 2015).
John Fogerty tour dates.
Hank Bordowitz, Bad Moon Rising: The Unauthorized History of Creedence Clearwater Revival, (Chicago Review Press, 2007).
Thomas M Kitts, Finding Fogerty: Interdisciplinary Readings of John Fogerty and Creedence Clearwater Revival, (Lexington Books, 2012).
Dorian Lynsky, " John Fogerty: 'I had rules. I wasn't embarrassed that I was ambitious'," Guardian, May 29, 2013.
Bob Baker, "Their Son was Fogerty's Baby," Los Angeles Times, October 23, 2002.
"Boss 30," CKLG 730 AM, Vancouver, BC, October 25, 1968.
For more song reviews visit the Countdown.