#1105: Take It Slow (Out In the Country) by Lighthouse
Peak Month: February 1972
10 weeks on Vancouver's CKVN chart
Peak Position #11
Peak Position on Billboard Hot 100 ~ #64
YouTube.com: "Take It Slow (Out In The Country)"
Lyrics: "Take It Slow (Out In The Country)"
The Paupers were a garage band from Toronto active from 1965 to 1968. Their drummer was Skip Prokop. They performed as opening acts for American recording artists like Wilson Pickett and the Lovin' Spoonful who were visiting Toronto. Then the Paupers played as an opening act for the Jefferson Airplane at Cafe Au Go Go in New York City from February 21 to March 5, 1967. This was three weeks after Jefferson Airplane released their album Surrealistic Pillow, and a month prior to their single release of "Somebody to Love". The Paupers were the second act performing on the opening night of the Monterey International Pop Festival in Monterey, California, on June 16, 1967, following the opening set by The Association. The Paupers also had a few singles that year. "If I Call You By Name" peaked at #6 in Toronto, #7 in Hamilton and #8 in Kitchener. "Magic People" made the Top 30 in San Francisco and Sacramento, California. In 1968 Skip Prokop left the band and by the following year co-founded Lighthouse.
After Prokop left the Paupers he became a renowned studio musician, recording with Janis Joplin, Carlos Santana, Peter, Paul & Mary, Mike Bloomfield and Ian & Sylvia among many others.
Skip Prokop had met a fellow passenger on a flight from New York City to Toronto named Paul Hoffert who, like Prokop, was 25 years old at the time. Hoffert was in New York working on his off-Broadway musical "Get Thee to Canterbury." Prokop told Hoffert of his vision to form a rock orchestra comprised of three quartets – jazz horns, classical strings, and a rock rhythm section. Hoffert told him, "If you're gonna do it, and you're gonna do it in Toronto, call me." Prokop did exactly that. They asked several people they knew, including a number of members of the Toronto Symphony Orchestra to join their new band. Ritchie Havens recommended they take a demo to MGM and by May 1969 the group was ready for their first performance. Lighthouse made its debut on May 14, 1969, at the Rock Pile in Toronto, introduced by Duke Ellington with the words, "I'm beginning to see the Light…house"
They played with the Toronto, Montreal, Edmonton and Philadelphia Symphonies as well as the Cincinnati Philharmonic. Based on this experience, Ralph Cole (who Prokop had asked to join the band before it was formed in 1969) recommended the Edmonton Symphony to Procol Harum's Gary Brooker who was interested in a similar project. The resulting recording led to the biggest selling album of that British band's career, Procol Harum Live with the Edmonton Symphony Orchestra. Another high point of this period was Lighthouse's collaboration with the Royal Winnipeg Ballet. Ballet High, the world's first rock ballet, debuted at Ottawa's National Arts Centre in July of 1970. It then made its way across Canada playing to standing-room-only audiences.
The only thing they lacked was a hit single. These were the days before album rock and there was little room on the AM radio dial for eight-minute songs featuring violin and trombone solos. Despite the growing legion of fans and sold-out concerts, their first three albums Lighthouse, Suite Feeling and Peacing It All Together had mediocre sales. They were at a crossroads and about to lose their recording contract with RCA.
Enter Bob McBride. His distinctive voice was the catalyst the band needed to enter its next phase. Jimmy Ienner, fresh from his success with Eric Carmen's hits, signed on as producer, honing the band's new commercial sound. Prokop took over the majority of the songwriting chores, simplifying the sound and making the songs more radio friendly. The result was the number one album One Fine Morning and a debut Top Ten single called "Hats Off (To A Stranger)".
The song was a hit with its infectious melody and full sound. Lighthouse had broken into Top 40 radio, at least in Canada. The song went to #9 on the Canadian RPM singles chart and #12 on CKLG in Vancouver. However, though Skip Prokop and Bob Hoffert had good connections with numbers of recording artists in the USA and had a record deal with RCA, the band couldn't crack the Billboard Hot 100. That changed with the title track, "One Fine Morning" from their album. It climbed to #24 on the Billboard Hot 100 and #2 in Vancouver.
Lighthouse released their third album later in 1971, Thoughts of Movin' On. The debut single off the album was "Take It Slow (Out In The Country)". The song was one of a crop of tunes extolling the virtues of country life as the solution to an urban life. In "Share The Land" the Guess Who sang about living together with "everybody walking by the river…walkin', singin', talkin', smilin', laughin', diggin' each other." Christie in their hit, "Yellow River", sang "Yellow River, Yellow River is in my blood, it's the place that I love." Vancouver's own Spring sang "A Country Boy Named Willie" warning about life in the city. Matthew's Southern Comfort sang a cover of the Joni Mitchell tune "Woodstock" with its iconic line "we are stardust, we are golden, and we've got to get ourselves back to the garden." Lobo, in his song "Me And You And A Dog Named Boo" celebrated living from day to day on the road and in the country: "Me and you and a dog named boo/Travelin' and livin' off the land/Me and you and a dog named boo/How I love being a free man." And John Denver had a #1 hit called "Take Me Home Country Roads" reflecting a yearning for living the simple life.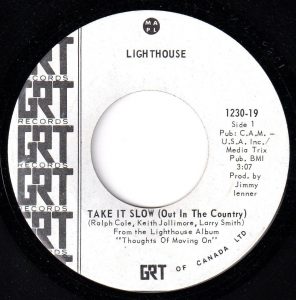 "Take It Slow…" picked up a theme of slowing down and living life more simply. Lighthouse had already sung about slowing down in their debut single, "Hats Off (To A Stranger)." The city comes off pretty badly in the song: poor air quality, stars obscured by sky scrappers, domestic quarrels next door, being pushed and bumped by other people in public spaces and sirens blaring. In the country things are better the song contends: country sunshine, time to spare, less things on ones mind (to worry about), sitting around doing nothing but lying in two foot tall grasses and enjoying the night sky.
In 1972 Lighthouse charted another song into the Top Ten called "Sunny Days". And in 1973 they had their final Top 20 hit with "Pretty Lady". In time the band broke up in 1976, leaving individual bandmates to forge their own careers. Paul Hoffert refocused his career scoring films. In 1978 he won a Genie Award for his score for the movie, Outrageous! From 1994 to 1997 Hoffert chaired the Ontario Arts Council. He has also authored five books on culture and technology.
Skip Prokop and Ralph Cole found success in making advertisements and as record producers. Howard Shore went on to be Saturday Night Live's music director. Then he scored the music for all three films in The Lord of the Rings trilogy, which won him three Academy Awards. Grant Fullerton formed his own band. Louie Yacknin bought a tire installation company. Larry Smith moved to Israel and started up a software company. Bob McBride and six other original members of Lighthouse have died since the band split up. Lighthouse continues to appear in concert, including on a cruise in 2014 with the Moody Blues. Prokop died in 2017.
April 28, 2017
Ray McGinnis
References:
The Whole Story, Lighthouse Rocks On.com
Paul Hoffert, musical score for film, Outrageous!, 1978.
Trish Crawford, "Paul Hoffert: Lighthouse Co-founder and Renaissance Man," Toronto Star, August 1, 2014
Nicholas Jennings, "Lighthouse Co-founder Skip Prokop Made Rock History," Globe and Mail, Toronto, September 8, 2017.
"West Coast Music Survey," CKVN 1410 AM, Vancouver, BC, February 4, 1972.
For more song reviews visit the Countdown.