#905: Take Time Out by Carl Dobkins Jr.
Peak Month: February 1961
7 weeks on Vancouver's CFUN chart
Peak Position #6
Peak Position on Billboard Hot 100 ~ did not chart
Carl Dobkins Jr. was born in Cincinnati, Ohio, in January 1941. He was raised in a musical family. At the age of nine Carls' mom and dad bought him a ukulele with a plastic Arthur Godfrey attachment that played chords by pushing buttons. He soon took off the attachment and learned over fifty hillbilly songs as a child. At the age of sixteen, young Carl made a demo of two songs he wrote with his backup group, The Seniors. In Cincinnati Gil Sheppard was a popular deejay. Friends in Carls' neighborhood introduced him to Gil Sheppard. The deejay was taken with young Dobkins Jr. and his musical ability and the demo he had recorded. Sheppard offered to become his his manager. Carl Dobkins Jr. was promoted as "The Teenage Rage." As a result of the buzz that happened as a result of his singing at dance parties and record hops, Carl was signed up with Fraternity Records in Cincinnati. His only release with Fraternity was his 1958 single "Take Hold of My Hand" b/w "That's Why I'm Asking".
His next songs, "Love Is Everything" and "If You Don't Want My Lovin'", were sold to Decca Records. "If You Don't Want My Lovin'" became a regional hit in Cincinnati and went all the way to #1 in Charleston, West Virginia. Dobkins Jr. then recorded sessions for Decca in Nashiville, Tennessee which included "My Heart is an Open Book", in 1959. Initially, Carl didn't like the song. It had been given earlier to country singer, Jimmy Dean, who failed to get a hit out of it. For six months "My Heart Is An Open Book" languished in record shelves of radio stations that had passed over the song. Decca sent a second round of promotional copies to radio stations who finally gave the disc a spin. That single climbed to #8 in Vancouver and #3 on the Billboard Hot 100. Carl was featured frequently at Castle Farms, and on television for the Bob Braun Show in Cincinnati. He appeared fourteen times as a guest on Dick Clark's American Bandstand. This helped his single climb into the Top Ten of the national pop charts in the USA.
On his debut album, the liner notes exclaimed "It's rare enough to know what you want to do at eighteen. But to have done it, and with the staggering success of Carl Dobkins recording of My Heart Is An Open Book, is indeed unique. The young Cincinnati-born singer and song-writer has become, in accordance with his lifelong ambition, one of the top male vocalists in the country. He was spotted by Decca while entertaining at a dance in his hometown."
While his hit single climbed the pop charts, Carl had joined the U.S Army Reserves. Scheduled to be on a six month tour of duty, he was quickly taken back to the recording studio in Nashville to keep his star appeal before the fickle pop music audience. Decca re-released his first single with their label, "If You Don't Want My Lovin'". His next single, "Lucky Devil", climbed into the Top 30 in the USA and #1 in Vancouver. The B-side, "(There's A Little Song A-Singing) In My Heart", also climbed into the Top Ten in Vancouver.
"Exclusively Yours" made the Top 30 in Vancouver as Carl returned from his time in the U.S. Army Reserves. His next release, "Lovelight" missed the Billboard Hot 100. But the B-side,"Take Time Out", made the Top Ten in Vancouver.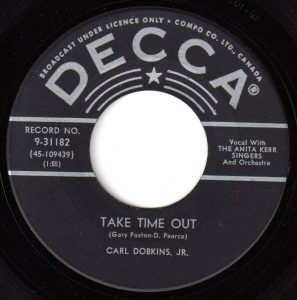 Do you want her? Do you need her? Do you love her so?
Then take time out to love her while you can.
Take time out to love her, take time out to care.
Take her by the hand and say words she wants to hear.
Take time out to show her loves' revealing glance,
Give her true love from your heart while you've got the chance.
So take time out (you better take time out)
You better take time out (you better take time out)
You better take time out to love her while you can.
Heartstrings have a funny way of playing love's sweet song,
Keep your love songs on her lips to love her heart along.
Higher than a mountain then your love will be,
I forgot to take time out and look how love missed me.
So take time out (you better take time out)
Wont you take time out (you better take time out)
You better take time out to love her while you can.
Do you want her? Do you need her? Do you love her so?
Then take time out to love her while you can.
Take time to love her while can.
"Take Time Out" reflects another happy single by Dobkins as he advises you have to take time out to love the woman in your life while you have a chance. The song raises a big issue in a lot of dating relationships as well as for people in marriages: Is my partner too busy for me? In her article, 11 Signs You Aren't A Priority In Your Relationship, Teresa Newsome writes, "There's a big difference between not having time and not making time. Even the busiest person can make a little bit of time for their partner when their partner matters to them."She cites relationship educator Lucinda Loveland at lovesavvyclub.com who advises, "Life is busy, but not too busy that we can't put things on hold when our partner is sharing something important about their new job promotion, or how their worried about Uncle Jim being in the hospital. If relatives, friends, or work can't be put off, then you're obviously not a priority." While in her article 6 Signs You Are Too Busy For Your Partner, Julia Melko offers a checklist for people to be honest with themselves if the list fits how they are relating to their partner. They are 1) you don't express love (for your partner), 2) you don't reply to their text messages, 3) you avoid or ignore their calls, 4) you don't arrange to meet them often, 5) you avoid all the plans they make for you, and 6) you prefer to eat at home and not make an effort to have dinners out/special occasions.
Is it the case we just don't have time to spend with someone and we want our career, family or origin or longtime friendships to take first priority? This is not a crime. But we need to be honest with anyone we are exploring a relationship with and candidly tell them we just don't have the time, instead of trying to keep them hanging on.
This single did not chart nationally on the Billboard charts. However, "Take Time Out" did chart locally in several radio markets including Philadelphia, PA, Syracuse, NY, Minneapolis-St. Paul, MN and Milwaukee, WI. The only US radio market it charted well in was Rochester, New York, where it peaked at #4. In Vancouver, the song peaked at #6. "Take Time Out" was the B-side of "Lovelight", a single that also did not chart nationally in the USA. "Lovelight" didn't get airplay in Vancouver.
One of the writers of "Take Time Out" was Gary Sanford Paxton. He was half of the duo, Skip and Flip, who had two Top Ten hits in Vancouver with "It Was I" at #9 in 1959, and "Cherry Pie" at #7 in 1960. In Vancouver the duo managed another hit that climbed to #12 called "Hully Gully Cha Cha Cha". Gary S. Paxton went on to be the lead singer of "Alley Oop" with the Hollywood Argyles, a #1 hit in 1960. Paxton also produced the "Monster Mash" which became a graveyard smash and #1 hit in 1962 and a #1 hit again in Vancouver in 1973. Paxton produced records for numbers of performers in the 1960's including The Association ("Cherish") and Tommy Roe ("Sweet Pea").
Meanwhile, Decca Records released nine singles for Carl Dobkins Jr. Of those nine releases, six discs were spun on local Vancouver radio stations producing seven Top 40 hits, including four songs that charted into the local Top Ten. While Carl Dobkins Jr. was almost a one-hit-wonder in most radio markets in North America, he racked up a solid 51 weeks on the local pop charts between May 1959 and February 1962.
While in the music business, Dobkins Jr. toured extensively across America, Canada and Europe. Other artists he has shared the stage with at a concert performance include Frankie Avalon, Freddie Cannon, The Casinos, The Chiffons, Jimmy Clanton, The Crests, The Crickets, Joey Dee & the Starlighters, The Del Vikings, Ronnie Dove, The Drifters, Fabian, The Fleetwoods, Frankie Ford, Bobby Freeman, Bryan Hyland, Buddy Knox, Hollywood Argyles, Jan & Dean, Johnny & the Hurricanes, Brenda Lee, Lemon Pipers, Barbara Lewis, Jerry Lee Lewis, Lonnie Mack, Peter Noone, Ray Peterson, Pure Prairie League, Bobby Rydell, The Skyliners, Johnny Tillotson, Bobby Vee, The Vogues and others.
After several attempts to get another hit single during the 60's on the Atco, Colpix and Chalet record labels, Carl Dobkins Jr. left the music business. He followed in his father's footsteps and got a job with a trucking company. However, he did end up doing occasional concerts in the decades that followed, including a tour to Europe with Buddy Knox and Frankie Ford.
January 19, 2018
Ray McGinnis
Update: April 8, 2020: Carl Dobkins Jr. died at the age of 79 in April 2020.
References:
Carl Dobkins Jr., Rockabillyhall.com
Michael Jack Kirby, "Carl Dobkins Jr. My Heart Is An Open Book," waybackattack.com
Julie Melko, 6 Signs You Are Too Busy For Your Partner, amerikanki.com, April 14, 2013.
Teresa Newsome, "11 Signs You Aren't A Priority In Your Relationship," bustle.com, September 30, 2016.
Sam Roberts, "Gary S. Paxton, Whose Mixed Bag of a Life Was Filled with Music, Dies at 77," New York Times, July 22, 2016.
"C-FUN-Tastic 50," CFUN 1410 AM, Vancouver, BC, February 4, 1961.
For more song reviews visit the Countdown.