#738: A Teenager Feels It Too by Denny Reed
Peak Month: August-September 1960
7 weeks on Vancouver's CFUN chart
Peak Position #6
Peak Position on Billboard Hot 100 ~ #94
YouTube.com: "A Teenager Feels It Too"
Lyrics: "A Teenager Feels It Too"
Denny Reed was from Cahokia, Illinois, ten minutes east of St. Louis, Missouri. It is home to the St. Louis International Airport. Reed attended Cahokia High School. When he was sixteen years of age, among his favorite singers were Johnny Mathis and Bing Crosby. He listened to their records over and over again so he could sing just like them. Eventually, Denny Reed was able to sing higher than Mathis and lower than Crosby. In time he developed a four octave range. When he recorded "A Teenager Feels It Too", Reed had only sung in public on two occasions. Denny says, "I recorded 'Teenager' in Phoenix, Arizona at Ramsey's Audio Recorders. It was a tiny little studio, and the echo chamber was a 1000-gallon propane tank. They put a microphone inside and wired it into the control booth. Duane Eddy was also with Sill and Hazlewood." Sill and Hazelwood re-issued "A Teenager Feels It Too" on their Trey label distributed by Atlantic Records.
When Denny Reed tried to get the song good distribution, he recalls that the song was a sort of pre-bubblegum tune. The African-American men working for Atco and Atlantic, that had solid R&B catalogues, didn't know what to do with Reed's song. One of the men in Detroit told Denny Reed, "You got a cool record man, but it ain't really happenin' with my stations." Reed told Country Paul Payton in an interview decades later that if he'd been with RCA or Chancellor, he might have had a Top Ten record.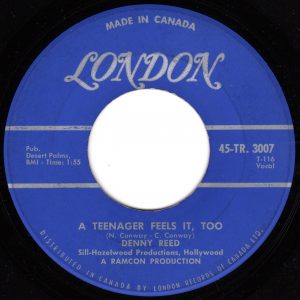 "A Teenager Feels It Too" was co-written by Connie Conway. He was a songwriter, producer, musician, singer and recording artist manager from Phoenix, Arizona. Conway also was co-owner of the MCI Label in Phoenix. The other co-writer was Connie Conway's spouse, Norma Conway. The song is sung from the perspective of teenage love and argues that the template for love's ups and downs in older relationships is also present in love between two teenagers. "There is really no difference between
love that is old or love in it's teens," sings Denny Reed. The romanic pair in the song are "only sixteen." The choice of lyric may have been to reference Sam Cooke's 1959 summer hit, "Only Sixteen", instead of phrasing it "just sixteen." Quite often song lyrics were written in the late 50's and early 60's to reference other song titles of hit singles. It was hoped that by doing so radio listeners and record buyers would positively associate the new song on the radio with "oldies." Another reference in the song is to youth telling adults they're "going steady," and the adults describing it as just a "puppy love." "Puppy Love" was the title of a Top Ten hit record for Paul Anka in April 1960. And the plight of the teenager in Denny Reed's song resembled the torture that Dion and The Belmonts sang about in their 1959 hit, "A Teenager In Love".
On the recording of "A Teenager Feels It Too" was Donnie Owens on rhythm guitar. And two of the background vocalists were Connie Conway's two daughters, aged 13 and 14. (Conway had once played in the same band in Phoenix as a piano player named Steve Allen, who went on to have a TV show in Hollywood). Connie Conway played the brushes on the snare drum for the recording of "A Teenager Feels It Too".
In the 19th Century, Americans and Canadians had two chronological categories: children and adults. In many communities school ended around Grade 8 or Grade 9. In 1861, 84% of the population in pre-confederation Canada was rural. Children moved into adulthood quickly as they took on a share of farming responsibilities. Before Canadian Confederation, it was not unusual for couples to marry at age sixteen. With the extension of public school education through the teen years, commentators began to refer to a cohort between childhood and adulthood as teenagers. The consolidated high school, with busing of students to larger schools instead of one room schoolhouses was also a factor. As was the availability of the automobile and youth receiving drivers licenses. A "teenage" culture was a subject of many sociologists, especially after World War II. "A Teenager Feels It Too", was an attempt to inform all the people who were analyzing youth, about the emotional life of teens when they were dating.
Denny Reed ended up making two appearances on American Bandstand. He also remembers Dick Clark telling him how challenging it was to have a hit record. Once, at an Arby's Restaurant in Hollywood, Clark told Reed: "Denny, it is mathematically impossible to have a hit record." Reed replied, "What do you mean, mathematically impossible?" Dick Clark elaborated: "Well, first of all, you have the top 40 that has to be played. Then you have anywhere from 400 to 500 records that come out per week counting all of the independents (which in those days were many). It takes about three to four weeks of concentrated airplay to "break" a record into the top 40. Multiply four weeks to break a record times 400 to 500 records being released each week and that's upwards of 2000 records released per month, most which will not even be heard much less played. So you see it is mathematically impossible to have a hit record. But you gotta keep trying anyway." Dick Clark said that last sentence after standing up from the table as a parting word of encouragement.
Deeny Reed was impressed with this story and dreamed of making it big too. Reed appeared twice on the American Bandstand show with Dick Clark. His debut was on August 4, 1960. "A Teenager Feels It Too" debuted on the CFUN and CKWX charts on August 6, a reflection of 'Bandstand's impact on play-listing records on pop charts on local radio markets. That summer and fall Denny Reed recalls, "I was travelling around with Kathy Young and the Innocents doing shows in California." Kathy Young had a hit in 1960 called "A Thousand Stars", a number one hit in November 1960 in Vancouver for three weeks.
Success on the US radio markets was elusive for Denny Reed. However, "A Teenager Feels It Too" managed to peak at #7 in Phoenix, #11 in Los Angeles and Ventura, #17 in San Bernardino, #18 in Chicago and #20 in Spokane, Washington. With these rare chartings of "A Teenager Feels It Too", Reed got his song to peak at #94 on the Billboard Hot 100. In Vancouver it peaked at #6 for two weeks, the best showing in any radio market in North America.
Denny's follow-up in 1961, "No One Cares" (Trey 3014), was composed, arranged and conducted by Connie Conway. But the song was released with such a time lag that there was no buzz. With no traction from his initial release, Reed moved back to Illinois. He stated in an interview, "I got back to Illinois and got a job in a copper metal plant where I worked for several months, and was eventually fired after getting in a fight and throwing a roll of copper at someone and knocking him over a machine. I then went over to St. Louis, Missouri, and found a 4-piece group and recorded the demos."
From there he moved to New York, hoping for a break. Eventually Reed recorded "I'm Comin' Home," written by Charlie Rich, on October 2, 1961. The disc made the play lists on radio in San Diego and San Bernardino, California. But the single was a commercial failure. Denny moved on to Dot in 1962, releasing one single, "Faithful To The End". It got some airplay in Phoenix, but little elsewhere. In 1962 he appeared on a TV show on location at Pacific Ocean Park (nicknamed POP) along with Joanie Sommers and Wink Martindale. He and Sommers got booed by the audience.
Denny Reed remembers lots of stories and rubbing shoulders with Paul Anka, Fabian, Jan And Dean and Clint Eastwood. Though he recorded lots of songs in the recording studio, Reed estimates about 85% to 90% of the songs he sang didn't get released. He remembers being so starved for cash that he went to Columbia Records. States Reed, "I was eating only one piece of bread with peanut butter for my entire meal for the day. I went down to the automat and would pour a water glass full of ketchup and add hot water and drank ketchup soup."
His next release was with Tower Records in 1965 titled "In This Town Of Heartbreak". After that Reed released a cover of the 1961 #1 hit for Bobby Lewis, "Tossin' And Turnin'". But by 1965 few recognized his name or that he'd had one appearance on the bottom of Billboard Hot 100 in August 1960. Eventually he wound up singing demos on the West Coast for Johnny Mathis, Andy Williams, Roy Orbison, Gordon Lightfoot, BJ Thomas and Marty Robbins. Reed wrote and sang on commercials, but he always had to have other work on the side to make ends meet. For years Denny Reed lived in Illinois, about 25 miles east of St. Louis, working as a voiceover artist for commercials and animated films.
In 2008, a high school reunion post gave news about Denny Reed's personal life: "I got absolutely great news from Denny Reed whose wife Marcia has been battling a severe form of cancer for almost two years. Denny writes, "Marcia and I have received a flat out miracle. They performed a PET scan which can pinpoint exactly where any cancer is in your body and it detected nothing." Denny says they are taking this news a day at a time and thanks a merciful God and all those who have prayed for Marcia and for him. Denny and Marcia live on what sounds like a beautiful 200 acre farm with a stream, springs and caves, near Branson, MO. They commute to Barnes in St Louis for Marcia's care." Barnes Jewish Hospital is in St. Louis, Missouri.
Denny Reed died in later January 2018. He was 76 years old. His song, "A Teenager Feels It Too", was featured in an ABC-TV episode of Splitting Up Together on May 6, 2018.
August 28, 2018
Ray McGinnis
References:
Country Paul Peyton, "Denny Reed: A Teenager Feels It Too – The Denny Reed Story," Spectropop.com
Denny Reed – Credits, Discogs.com
"Splitting Up Together, A Teenager Feels It Too," Fervor-Records.com
Denny Reed update, "Back To The Fifties – Cahokia, Illinois," Cahokia Classmates.blogspot.com, September 23, 2008.
Canada Goes Urban, Statistics Canada.
"Fun-tastic Fifty at the Fair!," C-FUN 1410 AM, Vancouver, BC, September 3, 1960.
For more song reviews visit the Countdown.